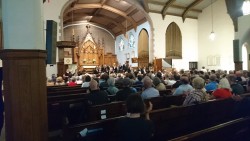 Toronto has a thing for early music. Audiences in this city can't seem to get enough of baroque-era music, including chamber, orchestra, choral and opera works. Into this community, there's a new festival in town: the Toronto Bach Festival, running this year from May 26 to 28. Just concluding their second year, a third is already on the books for 2018. Celebrated historical oboe specialist John Abberger is the festival's artistic director. Focusing on all things Bach, early music lovers in this city have much reason to support this venture.
The festival is based out of the Anglican Church of St. Barnabas on the Danforth – a sizeable church that provides ample room and appropriate acoustics. Three days of programming made up this year's festival: "Cantatas & Brandenburgs," featuring a host of local artists well-known to early music audiences including Asitha Tennekoon, Larry Beckwith, and Brett Polegato; a harpsichord recital by Christopher Bagan, known for his extensive work with Tafelmusik and the Canadian Opera Company, amongst many others; and a finale performance of the St Mark Passion. Many of the instrumentalists involved come from various Toronto-based early music groups, including the Theatre of Early Music, Tafelmusik and Opera Atelier.
The biggest work featured was the final Sunday concert, the St Mark Passion. Featuring Asitha Tennekoon in the very-hardworking role of the Evangelist, familiar faces Daniel Taylor and Agnes Zsigovics were also soloists. Joined by a small chorale of nine voices, this was an intimate performance, incredibly well-executed.
Bach's original score for this work does not survive in full to present-day; this performance followed the reconstruction by musicologist Simon Heighes. St Mark Passion is one of those examples of a historical relic that has come to us in very different shapes and sounds over the centuries. I know that there are many opinions amongst early music lovers about stringency to source material and performance practice of this piece – yet I won't try to be a Bach historian myself and delve into the intricacies of editorial decisions made in this particular performance. This was a beautiful delivery of music from Bach, even if it has passed through many hands in between.
The assembled musical forces were small but mighty. The orchestra was spirited and played very well for the choir, who took the lead with energy and artistry. The nine voices blended together seamlessly and should perform together regularly. Tennekoon's Evangelist was exceptionally well-delivered and a feat of endurance, as he performed probably close to half of the sung material in the entire work. Various solos throughout the performance were equally well-executed, including Brett Polegato's effortless but emotional "Eli, eli, lama sabachthani" (My God, my God, why have you forsaken me?)
Bach's St Mark Passion is not often performed because it is considered incomplete. The piecemeal assembly of this work makes it all seem a bit mismatched, unlike the superior Mass in B Minor or the Christmas Oratorio. Roseen Giles, in the program notes, provides us with an answer why this is so. Bach frequently reused his work, written in different contexts for different reasons, assembling them into "parodies". Almost all the choruses are church hymns, from performances during Lutheran ceremonies. There are hymns that make an appearance throughout the work in the Heighes version, including "Das Wort sie sollen lassen stahn" (A Mighty Fortress is Our God), the great Lutheran anthem. But this tune was not written by Bach, but rather, Martin Luther. "Ich will hier bei dir stehen" (O Sacred head, now wounded) makes an appearance as the last part of Act I, also written centuries before Bach, but with different text. A greater historian than I will have to explain why this might be and the relevance of these disparate hymns in this work.
Regardless of the history, this type of elite-level performance is unique to the choral world of Toronto. Early music is big here and certainly has an audience. But, with early music ensembles and audiences very much a homogenous group, I can't help but wonder who this music is meant for – and how its reach can extend further beyond those already active in the scene.
The final performance of the Toronto Bach Festival, of Bach's St Mark Passion, took place on May 28 at the Church of St. Barnabas on the Danforth in Toronto.
Follow Brian on Twitter @bfchang. Send info/media/tips to choralscene@thewholenote.com.