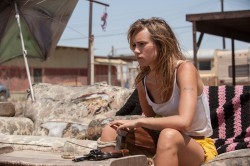 With its hallucinogenic mood, stunning cinematography, survival-revenge theme and lone-wolf protagonist, Ana Lily Amirpour's follow-up to her striking debut A Girl Walks Home Alone at Night shows off its confident director's singular vision of a post-modern western with aplomb.
Arlen (Suki Waterhouse) is a young woman unceremoniously dumped into the vast Texas desert, lumped in and fenced off with other marginalized rejects of American society known as the bad batch. She's soon caught by one of the area's many cannibals (bridge dwellers), who severs her right arm and leg. Managing to escape using her toughness, ingenuity and a skateboard, she's found by a Good Samaritan who brings her to the town of Comfort, where a Hugh Hefner-like, LSD-dispensing strongman known as The Dream (Keanu Reeves) holds its citizens in his thrall. But Arlen can't resist the call of the wild in the form of Miami Man (Jason Momoa) and his young daughter. As the story unfolds (with frequent satiric jabs), it's clear that Arlen is living out an allegorical distillation of the American dream of family and freedom.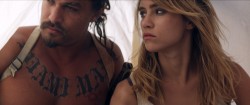 The Bad Batch's languorous dystopian atmospherics are enhanced, amplified and re-enforced by Amirpour's well-chosen soundtrack. Federale's All the Colours of the Dark, for example, begins sleepily, like the day itself. "I awoke in the dark / called out into the cold dark" it sings out, as the day unfolds in a series of landscapes and skyscapes matching the music's druggy somnambulance: "All the colours of the dark will remind you of someone who once was you."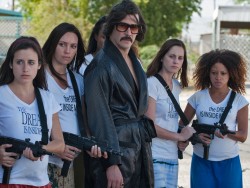 Black Light Smoke's Screws in My Head, with its cool, insistent beat, buttresses the carnival-like dance music played by Comfort's resident DJ (Diego Luna) that introduces The Dream and his coterie of pregnant machine-gun toting enforcers with their "THE DREAM IS INSIDE ME" T-shirts. Earlier, the same band's Firefly underscores Miami Man and his bridge-dwelling family with a rolling, hypnotic beat and pointed lyric: "I'm like a firefly trapped in the spotlight."
And what could be more apt than the lyric of White Lies' Fifty on Our Foreheads to put a bow on the movie's happy, if uncertain, ending: "A quilt of darkness dotted with our teardrops. The moonlight licked the face of danger."
If you're a fan of post-apocalyptic movies, The Bad Batch is a must-see.
The Bad Batch plays from June 23 to June 29, at TIFF Bell Lightbox.
Paul Ennis is the managing editor of The WholeNote.