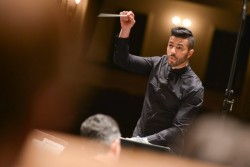 21C, the reliably stimulating and boundary-pushing new music festival, opened last night at RCM's Koerner Hall with concert that was a bit of a mixed bag, program-wise and in execution. Canadian Opera Company Orchestra and its music director Johannes Debus gave us a world premiere – Brian Current's Naka / Northern Lights – and a selection of recent works by Unsuk Chin, Samy Moussa, Matthew Aucoin and Current. Mezzo Emily D'Angelo sang with verve the wittiest part of the program, Chin's snagS&Snarls, the song-studies for what was to be Chin's Alice in Wonderland opera which was premiered at the Bavarian State Opera in 2007. Two songs were particularly captivating: "The Tale-Tail of the Mouse", with voice required to writhe and wind itself down as if through a mouse hole, and "Speak roughly to your little boy", with some well-managed screaming that grows in intensity. There were, however, serious issues with the voice-orchestra balance, and most of the cycle D'Angelo found herself drowned by the orchestra. The intricate textual lace of "Twinkle, twinkle, little star" was completely erased and there was very little voice heard amid the fervent orchestra.
D'Angelo was much better heard in Matthew Aucoin's dramatic cantata on the theme of Orpheus, The Orphic Moment (2014). Hearing it sung by a mezzo is a treat: the history of the piece shows a countertenor singing the role every time. Aucoin assigned the role of Eurydice to the first violin (here the COC Orchestra's concertmaster Marie Bérard) and there were some exquisite moments of attempted communication and unbridgeable distance between the voice and the instrument in the Moment. Composer's notes in the program hint at a flippant, hubristic Orpheus, but it wasn't possible to observe those nuances without the text which was, you discover after a good chunk of time into the performance looking for it, left out of the booklet.
Brian Current's Naka, a northern lights-themed work for orchestra, choir and narrator, came out of the composer's residence in the Northwest Territories and his collaboration with the Tłı̨chǫ First Nation (in anglicized spelling: Tlicho). Richard Van Camp, who also wrote the libretto, narrated the text in Tlicho and English. Rosa Mantla, a Tlicho Elder, translated the text and was the pronunciation coach for the Elmer Iseler Singers choir. It is a serene, playful, occasionally droll, animated through-and-through piece, set up as a conversation between the Tlicho-speaking choir and the bilingual narrator. Van Camp's twinkle-in-the-eye delivery was a particularly effective foil to the choir's more ghostly character that spoke as forces of nature.
Current's second piece in the program I found, at best, puzzling. Is Current taking a mystical turn? He of all composers, who is often heard saying that what contemporary music does best is trying to explore and express how we live our lives today? The composer is, we learn from the program, at work on a multi-movement cycle The River of Light with the texts of several religious traditions (Hindu, Christian, First Nations Canadian – which was Naka – Sufi, etc.) "that describe mystical journeys towards an exalted state." The Seven Heavenly Halls from the concert program was composed on the texts from a particularly mystical book of the Kabbalah. The passage through the heavenly halls is the passage of a man through the levels of heavenly exaltation. Or something? Reader, I lost interest halfway through the program note, and the music didn't manage to draw me back in at any turn. The music, alas, sounds almost programmatic: vast, swelling, spirit-rousing sounds, meant to evoke solemnity, meant to be epic; suitable enough for a religious ceremony. Tenor Andrew Haji maintained a modicum of individuality and pushed through amid all the choral and orchestral solemnity, but not even his precise and warm – if occasionally drowned by the orchestra – tenor could breathe life into this religious painting. My first question to composers eager to explore this or that side of religion in their new work is Why? If most of western choral music is religious already, and where are we, the non-religious, to go?
But then there was the Samy Moussa piece in the program, the orchestral non-concerto cheekily titled Kammerkonzert which he wrote ten years ago, just before he left Montreal for Berlin. My Samy Moussa luck has been such that whenever I happen to attend a concert containing a piece by him, that piece will be unlike anything I've ever heard before. This happened again last night. Kammerkonzert is a series of sound explosions multiplying into a theatre of war that is somehow contained within a symphonic orchestra of unamplified instruments. This comes nowhere near exhausting its interpretation – and another person would probably tell you they heard something different – but I witnessed something akin to a camera zooming out from sporadic shots to a bird's eye view of an out-and-out battlefield.
Or were we thrust in a particularly noisy cacophony of a large city, distilled to its harshest sound essence? Or should we abandon the imagery and the narrative altogether, and take Kammerkonzert as a visceral sound onslaught to be experienced and not overanalyzed? I hope I get a chance to hear it again in some form and make up my mind – or abandon any attempt to contain it in words.
Lydia Perović is an arts journalist in Toronto. Send her your art-of-song news to artofsong@thewholenote.com.