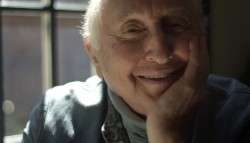 "Music is a reminder of our own potential for perfection."
-- Seymour Bernstein
With Seymour: An Introduction, actor Ethan Hawke (Boyhood, Before Sunrise, Before Sunset, Before Midnight) has given us a tender, warm portrait of the captivating pianist Seymour Bernstein. Among many things Hawke's documentary does, it debunks the axiom that those who can, do and those who can't, teach.
And it does so with wall-to-wall piano music highlighted by Bernstein's own playing of Chopin (Berceuse, Ballade No.1, Nocturne Op.37 No.2) and Beethoven (Bagatelles Op. 126, Sonata Op.111, "Moonlight" Sonata) among others, as well as some of his own compositions.