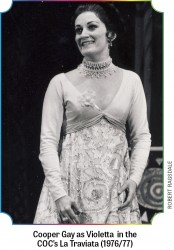 Ann Cooper Gay was born, raised and educated in Texas. There are two photographs that she digs out on cue to prove to disbelieving Canadians that she is truly a Texas girl. The first is a shot of her adolescent self in her backyard proudly carrying a rifle. The second confirms that she was a majorette in college, baton included. How this Texan became a prime mover and shaker in the Toronto music scene is an incredible journey.
Cooper Gay, 71, recently announced that she is stepping down as executive artistic director of the Canadian Children's Opera Company. In her life she has been a pianist, organist, flutist, opera singer, elementary school teacher, college instructor, instrumental conductor and choir director, not to mention social activist, master of languages and a talented tennis player. No one who knows her believes that Cooper Gay will actually settle into a life of quiet retirement. Somewhere she will find a place to make music.
Ancestors on Cooper Gay's maternal side arrived in Texas by covered wagon before it was even a state. Her paternal ancestors guarded cattle trains headed for the military, which included supplying the command of George Armstrong Custer.