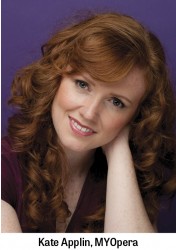 The classical music world's relationship with youth has definitely seen better days. But it has also seen worse. In recent years, performers, presenters and concertgoers have worked hard at debunking the myth, resilient to this day, that classical music is only for those much older and far richer than your average music lover. There are fatal misconceptions about the type of person you have to be to listen to classical music; for some, white hair and deep pockets are the necessary prerequisites for admission into the genre's inner circle. And with so many musical opportunities out there, no wonder so many younger people eschew the idea of becoming interested in a music genre that has only ever seemed to belong to the generation of their grandparents.
Opera is no exception. It can require a large cast, orchestra and production team to mount a show of traditional operatic proportions, which means that expenses can run high. So high, in fact, that down the line it means sometimes catering to the crowds who can afford to pay. It all gives the whole genre an aura of lavishness and grandeur that it only sometimes deserves.
Nothing, however, is so one-sided—and the tide is turning. In recent years, a number of smaller opera companies have cropped up in the Toronto area alone that are doing innovative work with fewer resources than might be expected. And often, that innovation goes hand-in-hand with a redirection towards more diverse opera audiences—proving that opera has the ability to go places that those used to the grand stage may not have imagined.