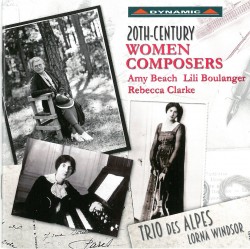 20th-Century Women Composers
Trio des Alpes; Lorna Windsor
Dynamic DCS 7717
This is inspired programming, with the works on this disc thoroughly complementing each other. All three composers represented here were born within a quarter-century of each other. They each write in an expressive style that marks the transition from romanticism to modernism. None are musical innovators. But as women, they are rightly regarded as pioneers today.
Amy Beach, who was born in Boston in 1867, is the most well-known composer here. Her Trio for violin, cello and piano is a complex, virtuosic work, which ends with a memorable flourish. Swiss soprano Lorna Windsor's performance of four art songs are engaging enough to make me want to explore more of Beach's enormous song repertoire.
English composer and violist Rebecca Clarke enjoyed what she called her "one whiff of success" when she introduced her Viola Sonata in 1919, and then, soon after, this lovely Trio. Flamboyant, intense, driven, this is an exciting work, especially as performed by the Swiss-based Trio des Alpes.
The youngest composer here, Frenchwoman Lili Boulanger (sister of the influential teacher and composer Nadia), was only 25 when she died in 1918. The Trio des Alpes brings out the moody expressivity of her two contrasting pieces for piano trio, the first, D'un soir triste, plaintive, the second, D'un matin de printemps, exuberant.
These fine pieces are too rarely heard, making this thoroughly enjoyable disc particularly significant.