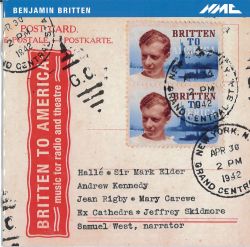 Britten to America: Music for Radio and Theatre
Hallé; Sir Mark Elder; Andrew Kennedy; Jean Rigby; Mary Carewe; Ex Cathedra; Jeffrey Skidmore
NMC NMC D190
This disc could be called "an entertainment," being a collection of short compositions disbursed with spoken passages. Some are satirical or humorous or quite serious but none is long enough to ebb the listener's interest. Britten collaborated with his good friends (at the time) W.H. Auden and Christopher Isherwood. The most productive and closest collaboration between Auden and Britten was between 1936 and about 1941 and by 1947 they rarely even spoke. Subsequently Britten had a succession of librettists and Auden went on to write the libretto for Stravinsky's The Rake's Progress. The Britten-Auden collaboration produced, among other works, the operetta Paul Bunyan (1941, revised 1971) and the two main items on this recording; The Ascent of F6 in 1936 and On the Frontier (1938).
The Ascent of F6, written by Auden and Isherwood is set around the climbing of F6, a mountain in Sudoland, a British colony of indeterminate location and the anti-hero Michael Ransom, a Renaissance man, who wants to climb the mountain because it is there. Essentially it is a didactic drama on social responsibility. The authors were enthusiastic about Britten and his little pieces, some robust, some irreverent and brash but all arresting, including a blues number! On the Frontier was a metaphorical play concerned with the rise of Fascism in the 30s. An American in England recreates some of the Edward R. Murrow broadcasts from the early 1940s with narrator Samuel West.
These stylized 2013 performances emulate the 1930s in this delightful and unusual recording revealing the young composer's diversity of styles. The vocal octet Ex Cathedra is heard in the potpourri of styles from chant to brash ensemble numbers, all in state-of-the-art sound.