Modern and Contemporary
Details

Paul Steenhuisen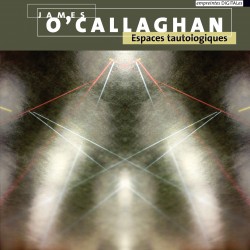 Espaces tautologiques
James O'Callaghan
empreintes DIGITALes IMED 16140 (electroCD.com)
On his recent electroacoustic CD Espaces tautologiques, composer James O'Callaghan takes us down the rabbit hole into a visceral, endogenous acousmatic wonderland. Although tautologies can be defined as needless repetitions, for O'Callaghan, they instead may be an ironic unifying premise for his vagabond auditory adventures, or append extra significance to compositional procedures such as varied repetition, imitation and augmentation. The first three pieces form a triptych that "imagine[s] the sounding bodies of instruments as resonant spaces." They contain crisp, natural and remodelled recordings of passages through remote instrumental spaces, and at times it feels as though the listener is situated inside the instrument. From the rim to the spine of a piano (Objects-Interiors), an acoustic guitar and toy piano (Bodies-Soundings), or the surfaces and recesses of instruments in a string quartet (Empties-Impetus), each piece celebrates the percussions and resonances of a similar, colourful palette of instrumental and digital treatments.
O'Callaghan demonstrates fluency with standard techniques of electroacoustic music, but it's the impetus of the philosophical aspects that takes the pieces to their most compelling territories. The last piece, Isomorphic, is a particularly captivating jaunt through protractions of carefully ordered squealing, chattering textures. While the work shifts from one archetype to another, it's coherently driven by consecutive, playful morphological relationships that extend from one sound to the next, despite differences of sound source and context. By virtue of the gesture, contour, pitch and timbral coherence of his materials, O'Callaghan proposes contrasting ways to consider the ornithological chirps, industrial doors and ambient environments. They can be heard as a perpetual flow, in which all sounds are related as one, or as a duality in which the listener simultaneously compares the ongoing profile similarities of the sounds with their wildly differing origins.
Details

Elliot Wright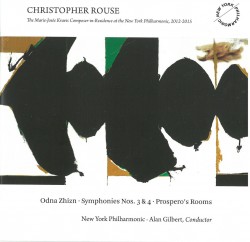 Christopher Rouse – Odna Zhizn; Symphonies 3 & 4; Prospero's Rooms
New York Philharmonic; Alan Gilbert
Dacapo 8.22611 (dacapo-records.dk)
Rouse is the most recent to hold the composer-in-residence position at the New York Philharmonic, and this new disc is his capstone project. It is actually the latest chapter in a decades-long relationship between composer and orchestra; the Phil premiered, along with many other of his works, Rouse's Pulitzer Prize-winning trombone concerto in 1993. Owing to these years of collaboration, this disc achieves an all-too-uncommon thing: music born from an understanding shared equally by conductor, orchestra and living composer.
Just as these three have found common ground, so has Rouse found common ground between the conceptual and the visceral. The harmonic language of Odna Zhizn, for instance, is tightly controlled and generated using a "code." If these words conjure up frightening images of angular serialist lines, however, fear not: "code" here refers not to forbidding pre-compositional matrices, but to the age-old tradition of encoding a loved one's name into the score by way of note names.
"Odna Zhizn" means "life" in Russian and Russian influences loom large here. Symphony No.3 is heavily indebted to Prokofiev's Symphony No.2, his symphony of "iron and steel." If Prokofiev's was the churning foundry, then Rouse's is its smoldering remains, brooding and charred. As for his Symphony No.4's "code," Rouse cites Tchaikovsky: "Asked whether listeners would devise the…meaning of his Pathétique Symphony, Tchaikovsky famously replied, 'Let them guess.'"
This disc's grand and unified vision is not to be missed.