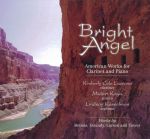 Bright Angel – American Works for Clarinet and Piano
Kimberly Cole Luevano; Midori Koga; Lindsay Kesselman
Fleur de Son Classics FDS 58019
Kimberly Cole Luevano has placed a document before us that celebrates the strength of American composition for clarinet, and in particular, by happenstance apparently, the no-longer remarkable presence of women in the ranks. The remark is made only because there is and continues to be an under-representative ratio of recordings of women composers to men. Bright Angel reflects that the status quo is shifting, for the better. All the composers presented, and all the performers as well, are women.
American composition is an impossibly broad category, and yet there is probably a future doctoral thesis accounting for the unifying elements. In one category at least, there is the mythologized western frontier, viewed through the contemporary lens. The title composition, by Roshanne Etezady, is a musical reflection of the architecture of Mary Jane Colter, who in the early 20th century, according to the liner notes, "often faced hostility in the 'man's world' of architecture," and who helped develop a "quintessentially American" style. The music references some of her structures built in the Grand Canyon and in the music you hear that American-made sound of openness and grandeur.
Joan Tower's Fantasy and Libby Larsen's Licorice Stick bookend the collection, sandwiching the real heart of the matter: Nattsanger, by Abbie Betinis. A beautiful song cycle in Norwegian (alas, translations only available online at the composer's website), there is fascinating and mysterious loveliness here, especially in the fearless voice of soprano Lindsay Kesselman. Toronto-based Midori Koga exercises her powerful new-music chops in support of her collaborators, and the performances are rich and assured. Cole Luevano certainly has a consistent controlled sound to hinge her flawless technique. Preference in tone quality is a personal matter for us all, and mine is for less edge than I hear on this recording. I don't think it was a wise choice to open the disc with the Etezady, where this quality dominates from the outset.
Max Christie