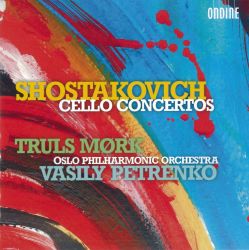 Shostakovich – Cello Concertos
Truls Mørk; Oslo Philharmonic Orchestra; Vasily Petrenko
Ondine ODE 1218-2
These concertos, particularly the first, are on my short list of favourite cello works. The Concerto No.1 in E-flat Major, Op.107 has been recorded by almost every prominent solo cellist and is a regular on the programs of symphony orchestras everywhere. Since Rostropovich premiered and recorded the first concerto in 1959 and the second in 1967 we have heard them recorded by, to name a few, Heinrich Schiff, Mischa Maisky, Natalia Gutman and an earlier recording by Truls Mørk himself with Jansons and the LPO from 1995.
My first impression of this recording was that while it is energetic, forward moving, heartfelt and entertaining, it is also light and happy in approach from both soloist and orchestra.
Shostakovich was such a genius that even with completely different approaches his music speaks to the listener effectively. An alternative take in this music is the digging-in with acidic and sarcastic statements. Shostakovich could be great as the "war-correspondent" or the smiling composer of dance music. Shostakovich devotees explore both interpretations and in between.
This new version enjoys remarkable solo playing wrapped in beautiful and warm sound. Under Petrenko, who has as of this writing completed all but one of his Shostakovich symphonies cycle, Mørk has precise and crisp orchestral support including excellent contributions from the solo winds. In addition, the wide-range recorded sound is superb, well balanced and transparent. While I still appreciate the acerbic Shostakovich of Rostropovich (the versions on Supraphon SU 4101), Messrs Mørk and Petrenko provide a very convincing second opinion.