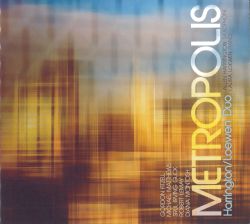 Metropolis
Harringon/Loewen Duo
Ravello Records RR7889
New Canadian saxophone music is taking flight recently, much as a result of the commissioning efforts of Winnipeg-based saxophonist Allen Harrington. Prairie composers Gordon Fitzell, Michael Matthews and Diana McIntosh are featured on this disc with pianist Laura Loewen.
Harrington's debut recording begins with a bang: literally, with the saxophone screeching and popping whilst the pianist hits the strings with mallets inside the instrument. Fitzell's Metropolis is a kind of sonic experiment, or lexicon of extended techniques for both instruments; the piece is always in motion, despite its fragmented form and sparse texture.
I find the crystalline sound and static drama of Sudbury composer Robert Lemay's modernism more successful: this composer has written many works for saxophone – and also uses every technique available – but Oran always has a clear motivation.
Harrington and Loewen show their years of collaboration successfully in the more traditional works on the disc: Srul Irving Glick's Sonata and Matthews' The Skin of Night highlight their sensitivity to lyrical passages – his alto saxophone sound has a warm intensity in the middle range and she has a dramatic and articulate touch on the piano.
Being the only Canadian to place at the Adolphe Sax Competition (in 2006), Harrington is a strong soloist. But it is his collaborative efforts with Loewen that are impressive; the recording (done at the Banff Centre) masterfully captures both instruments in equality. The saxophone and piano repertoire will continue to grow as this duo continues to inspire Canadian composers.