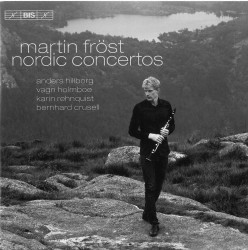 Nordic Concertos
Martin Fröst; Various Orchestras
Bis BIS-2123 CD
This disc is a repackaging of previous recordings, made between 1996 and 2003. The four performances feature four different orchestras and conductors. Three of the works are from modern or contemporary Nordic composers, the last from the early Romantic. They all demonstrate Fröst's mastery of the clarinet.
Fröst plays his strongest card at the outset. Peacock Tales by Anders Hillborg is an exciting work tailored to Fröst's outrageous abilities (which include dance). After an unaccompanied prologue the orchestra enters to provide the frame and backdrop for the peacock's haunted cries. A Turkish March, Big Band Battle and Gallop Macabre follow in harrowing sequence. A return to the opening material is accompanied this time by Copland-sweetened harmonies, and after some super-fast pointillist boogie-woogie, the piano and clarinet join in a last melancholic duet.
Concerto No.3, Op.21 by neo-classicist Vagn Holmboe opens with a fanfare followed by a mournful solo (must be a Nordic thing). The exceedingly prolific Holmboe produced over 400 works, including 13 symphonies and 21 string quartets along with more than a dozen concertos for varying instrumental combinations. Op.21 is listenable and satisfying, a clean spare aesthetic. It's suit and tie music, comfortable and finely cut.
Karin Rehnqvist's tone poem On A Distant Shore is the dourest of them all. Its five sections are The Dark (another brooding soliloquy!); The Light (blinding rather than illuminating); The Wild (ferocious, carnivorous music); The Singing (more pavane than song); and The Call (a call for…to…of… siren or seagull?). Understated and masterful writing.
Barging in on the solemn proceedings, like a jolly elder relative drunk at a funeral, Bernard Henrik Crusell's Introduction, Theme and Variations on a Swedish Air qualifies on account of its Nordic provenance. Why not include Nielsen's wonderful concerto instead? Perhaps it would have been one too many melancholic flights through madness.