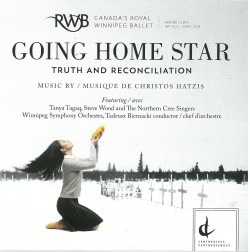 Going Home Star – Truth and Reconciliation (music by Christos Hatzis)
Tanya Tagaq; Steve Wood and The Northern Cree Singers; Winnipeg Symphony Orchestra; Tadeusz Biernacki
Centrediscs CMCCD 22015
The richly textured, eclectic cinematic score by veteran Toronto composer Christos Hatzis furnished for the ballet Going Home Star – Truth and Reconciliation for the Royal Winnipeg Ballet was premiered in October 2014 to considerable audience and critical acclaim. This impressive work is a superimposition of at least three culturally defined layers.
Hatzis directly quotes and echoes sections of iconic 20th-century European ballets Rite of Spring, Swan Lake and Prokofiev's Romeo and Juliet. In addition Christian liturgical chorales, medieval chant and dance music by Jean-Baptiste Lully are all skillfully reworked in Hatzis' characteristic tonal-centric style. To this he adds elements in multiple vernacular music genres, as well as acoustic and electronic soundscapes, diffused from the studio-produced digital audio track.
Another significant layer of this 2-CD musical journey is the contribution of North American indigenous voices. They are essential texts in this narrative centred on the suffering imposed on children in Canada's infamous Indian residential schools – with musical detours into the early contact between Europeans and First Nation peoples – ending with the possibility of personal and intercultural redemption and reconciliation.
Based on a story by Joseph Boyden, the ballet score is given a human voice by the extraordinary Polaris Prize-winning Inuk singer Tanya Tagaq, in the last scene's Morning Song eloquently performed by the Cree singer Steve Wood and through the pow-wow energy of the Northern Cree Singers infusing a visceral power into several scenes.
Is Going Home Star "the most important dance mounted by the Royal Winnipeg Ballet in its illustrious 75 year history," as described by one CBC TV commentator? Hatzis' cumulatively moving, highly eclectic score compels me to see Mark Godden's choreography and to find out how this important national story plays out on stage. I invite my fellow Canadians to join me on this journey during the RWB's upcoming 2016 national tour.