Ori's Stories: Jazz in the Clubs
Details

Ori Dagan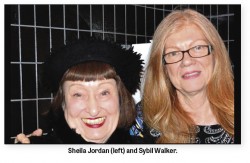 On November 8, my vote goes to Dave Young, for two reasons. First, that Tuesday evening will be the night that the legendary Canadian bassist/composer celebrates the release of his new recording This Way Up. Second, the release takes place at Jazz Bistro, which has another reason to celebrate: namely the fact that Sybil Walker, who for 15 years ran the Top o' the Senator jazz club (1990-2005) and has been the general manager of Jazz Bistro since its doors opened in 2013, has been announced as this year's recipient of the Ken Page Memorial Trust Lifetime Achievement Award
Anne Page, founder of the KPMT elaborates: "Sybil's versatile career in the restaurant and hospitality business has spanned several decades during which she has become a devoted and respected member of Toronto's jazz community. Sharing her creative expertise and extensive knowledge of the music, she has donned the roles of program director, general manager and presenter of both Canadian and international artists at the city's top jazz clubs, festivals and restaurants. As one of our unsung heroes, Sybil is a most worthy recipient of this award."
Among the hundreds of artists Walker presented in the heyday of the Top o' the Senator were Bill Evans, Joe Pass, Dexter Gordon, Shirley Horn, Blossom Dearie, Betty Carter, Jimmy Smith, Lou Donaldson, Ray Brown, Terence Blanchard, Christian McBride, Russell Malone and a budding Diana Krall, whose career she greatly aided. Yet to those in the Toronto jazz community, Walker is known not just as the booker of international talent, but as a loyal supporter of the jazz scene. For decades she has been an advocate for live music, ensuring that musicians get paid fairly and that audiences listen. To illustrate just how much she means to Toronto musicians, I asked two of her favourites for some words.
"Huge congratulations to Sybil Walker on this award," said multi-instrumentalist Don Thompson. "She has been a major force in Toronto's jazz scene for many years. A lot of great music happened because of her hard work and dedication, and the rest of us owe her a huge thank you." Bassist Neil Swainson had the following to add: "So many musicians rely – whether they know or acknowledge it or not – on a very few equally dedicated individuals, for an outlet for their talents. Without these few, there would be no flourishing jazz scene in this city. Sybil Walker has for the last 20 years, given as much to this music as we have."
Sybil Walker's award will be presented at The Old Mill Dining Room at the Ken Page Memorial Trust Fundraising Gala on November 17. The gala will feature an all-star team of musicians – jazzmen, if you will, since no women were selected – billed as the finest masters on the international jazz party circuit. They are Terry Clarke, drums; Alastair Kay, trombone; Jon-Erik Kellso, cornet; John MacLeod, trumpet; John MacMurchy, clarinet and saxophones; Mike Murley, tenor saxophone; Ken Peplowski, clarinet; Russ Phillips, trombone; Reg Schwager, guitar; Neil Swainson, bass; Rossano Sportiello, piano; Don Thompson, vibes/piano; and Warren Vaché, cornet.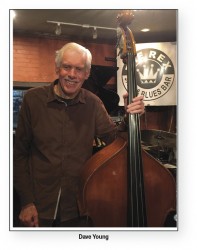 Now back to Dave Young (who I had the privilege of interviewing, on the fly, a couple of weeks back at The Rex). To see him live is to witness a soulful player, as well as an incredibly efficient technician. Those fingers. Gigantic yet graceful, with a swinging way of walking quartet notes that will knock you out.
As bandleader, Young's arrangements are clear and accessible, and as a trustworthy captain he navigates the ship effortlessly. Also on board that night were some of this country's very best: Kevin Turcotte on trumpet, Perry White on saxes, Terry Clarke on drums and Gary Williamson on piano. As Young says, "You're only as good as the musicians you play with."
Young was born in Winnipeg in 1940 and showed musical promise early on. Before long a young, ambitious Young started out playing the violin, switching to the guitar for five years in his teens. "There were a lot of very good guitar players in Winnipeg, including, of course, Lenny Breau. Then, I didn't exactly give up the guitar but I took up the bass. Actually I was playing guitar in a dance band when the leader said, if you want to keep this gig, I'm firing the bassist, so come back with a bass. The bandleader was an old buddy of mine named Vic Davies, in the late 50s, probably 1956 or 1957. So I went out and bought a bass and came in the next week with a bass! (laughs)."
Young famously toured with Oscar Peterson for a few good decades, and also enjoyed symphonic work as principal double bassist for the Edmonton and Winnipeg Symphony Orchestras and the Hamilton Philharmonic.
As a master of both classical and jazz music, he observes that they are entirely different artistic experiences:
"Playing either one of those disciplines is pretty demanding, so when you're playing one you kind of have to divorce yourself from the other. Especially when you're playing in the classical setting. The phrasing and the sound is quite different, and obviously there's no amplification. You get there and you have to read!"
Young decided to leave the Winnipeg Symphony Orchestra for the irresistible offer of touring with Oscar Peterson.
"I met Oscar in Banff in 1974, it was the very first Banff summer school program for jazz. This was organized by Phil Nimmons and he invited us both; that's how we met. When I got the offer to work with him I said, 'Who's in the band?' The lady said, 'There's you and Oscar. It's a duo for six months.' My first engagement was four weeks in Japan, 1975, and it was my first time there. I remember that it was relentless. We seldom had a day off. We were always on trains going here and there."
Summarizing his new recording: "The music is in the hard bop, East Coast jazz tradition, with a few standards. As for the originals, I'm inspired by the writing of Cedar Walton, one of my favourite pianists, as well as by the great Joe Henderson. Also by a guy named Marcus Belgrave, who just left us recently. He was a trumpet player from Detroit. And Freddie Hubbard has always figured big in terms of composition. I play a lot of tunes by these guys and they inspire my own writing."
At 76, Young remains one of the shining diamonds of the local scene. A decade ago he was inducted as an Officer into the Order of Canada, tonight he is playing The Rex Hotel on a Wednesday evening, probably for 100 bucks and change. There are fewer gigs than there used to be, and more competition. So, what has kept him motivated to continue creating all these years?
"You keep motivated by hoping that you'll play better tomorrow or next week. That's the whole carrot that's dangling in front of you. I can play better, improvise better, get a better sound, that's what keeps me going."
Here's to timeless music; to endless commitment and invaluable dedication; to jazz heroes and heroines alike.
Ori Dagan is a Toronto-based jazz musician, writer and educator who can be reached at oridagan.com.
Details

Ori Dagan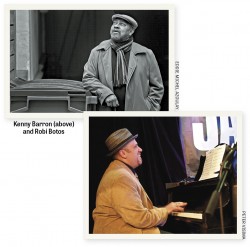 "Kenny Barron has been one of my favourite pianists for 25 years," says Mervon Mehta of the Royal Conservatory, recalling that it was pianist Danilo Perez who turned him on to the piano genius. "Danilo said to me that when he first arrived from Panama to New York he used to go and sit and watch the left hand of Kenny – how his fingers and his mind work, how he would play individual chords, melodies and percussion on the piano. So I listened more and more and realized that Kenny has a facility at the keyboard that very few have. He can play any style of piano from the past 50 years and he continues to sound relevant. On his new record he doesn't sound like a 70-year-old guy playing like he did in the 60s – he's playing for today."
As part of the Art of the Trio series presented by the Royal Conservatory and curated by Mehta, Barron's October 29 date at Koerner Hall is a double bill with gifted keyboardist Robi Botos. Born to a musical Roma family in Nyíregyháza, Hungary, in 1978, Botos is the winner of several international honours including the 2004 Montreux Jazz Piano Competition, the 2012 Festival international de jazz de Montréal TD Grand Jazz Award and the 2016 JUNO for Best Jazz Album of the Year for Movin' Forward. Among other influences, Botos certainly echoes the school of Oscar Peterson, not only recalling OP's dazzling technique but also his showmanship, treating each solo as an opportunity to knock it out of the park.
The Robi Botos Trio varies slightly from night to night. On October 29, he will be joined by two of the brightest lights in Canadian jazz: Mike Downes on bass and Larnell Lewis on drums. Says Botos: "The three of us have been playing together for a long time on and off in a lot of different musical situations. Working with Mike and Larnell is very easy. They're both amazing listeners and willing to serve the music. This way it's easy to keep things fresh and in the moment. We also recently recorded some of my original compositions. I'm really not into a lot of rehearsing because the best moments are always the unrehearsed ones. We do enough to make sure the compositions sound good and leave lots of room for improvising. That's how jazz should be played I believe."
Says Mehta: "I knew the only possible choice to co-bill with Kenny Barron would be Robi because they have a mutual admiration. I saw them interact at the Oscar Peterson 90th birthday celebration concert last year. I asked Robi then and he almost said no because Kenny Barron is such a huge hero for him, but thankfully he did say yes."
With a gentleness of spirit that comes in handy for his brand of musical sensitivity, Barron is one of the jazz world's living legends, winning just about every award possible – except perhaps a Grammy, for which he has been nominated nine times. While in his teens, he started out with Dizzy Gillespie in 1962 and worked with Freddie Hubbard, Stanley Turrentine, Milt Jackson, Buddy Rich and Yusef Lateef before recording his first LP as leader in 1974. Since then Barron has released over 40 albums, an astonishing discography if you think about the ratio between years and releases. I asked him what some of his favourite jazz trio recordings are, and why:
"Ahmad Jamal, live at the Pershing Lounge. [At the Pershing: But Not for Me]. It sounds so tight and the way he uses space. He uses the other members of the band to finish his phrases sometimes. You think he's going to play it and he doesn't. It's a unique approach and it always sounds very together. Then there is Tommy Flanagan. There are so many. One of them is an album called Overseas with Wilbur Little and Elvin Jones. It is the epitome of taste but for me, everything Tommy does is like that. That's what I call the real smooth jazz."
With regards to the trio that Toronto audiences will hear at Koerner on October 29, Barron reflects on his sidemen:
"I met (bassist) Kiyoshi Kitagawa when he first moved to New York from Osaka, Japan. He played around town with a lot of fine musicians like Winard Parker and Jon Faddis. He has been a part of my bands for almost 20 years now. I've known Johnathan Blake since he was seven or eight years old – his father is the wonderful violinist John Blake and we used to play together, so I watched Johnathan grow up. His first instrument was violin and he later switched to drums. He studied at William Paterson University in New Jersey right outside of NYC so I was able to hear him frequently.
"The three of us started working solidly as a trio about ten years ago, touring around the world and the US. It seemed time to make a recording of our time together so we went into the studio and came out with 20 songs in two days! That's how Book of Intuition came about…Working as this trio doesn't require hours of thought or rehearsal. I usually say here's a song and let's see what we can do with it and they do. I don't tell them what to do – they respond and we go with it. They bring in music and make suggestions too. They push me."
The "Art of the Trio" concert on October 29 is sold out but the series continues – November 19: Stefano Bollani Trio & Roberto Occhipinti Trio; December 10: Joey DeFrancesco Trio & Jensen/Restivo/Vivian Trio; April 1: Jason Moran and the Bandwagon & Alexander Brown Trio; May 13: Christian McBride Trio & James Gelfand Trio.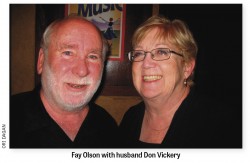 Fay's Home (Smith): That being said, the notion of the jazz trio being an art is explored very frequently at the intimate Home Smith Bar at the Old Mill, thanks to the booking of Fay Olson and the loyalty of the owners to live jazz programming. I last wrote about Olson in October 2009 and since then she has not missed a week of booking local jazz talent at the Old Mill and elsewhere. Says Olson:
"Then-owner of the Old Mill Inn, Michael Kalmar, first gave me the mandate to enhance jazz programming at the Home Smith Bar toward his vision of it becoming a 'first class jazz room' at the beginning of 2009. The first thing I did was add Thursday nights to the schedule and book trombonist Russ Little with a trio for a 'Jazz Thursdays' residency that ran that whole year. I'd actually been on the books at the Old Mill Inn as a marketing PR consultant for a couple of years before that, helping promote shows Michael had scheduled into the Dining Room."
A much-prized occasion each year in the Home Smith Bar is New Year's Eve, which once again this year will be hosted by June Garber and her trio.
"She's uber-talented, but I think the ideal NYE experience should be so much more than a great performance, and June delivers in spades. She has the kind of warmth and personality that make everyone in the room feel as though they're attending a blowout house party. One of the staff said when June hosted last year that she treats everyone as though they're her personal dinner guests."
If you check out the Jazz Listings section you will see how difficult it would be for Olson to recommend just three shows to WholeNote readers…nevertheless, I asked her to try her best, to which she replied:
"When I'm booking the Home Smith Bar, my mission is to present a monthly lineup that ensures no matter which first Tuesday, Thursday, Friday or Saturday someone chooses to be there, they'll be assured of enjoying jazz performance of the highest calibre, whether delivered by the best established artists or some of the most talented emerging artists on the Toronto jazz scene.
"Soooo, my three recommendations are by no means intended to place anyone higher on the October roster than anyone else booked, but here you go:
"On Thursday, October 13, the great drummer (and head of the Drum Department at Humber College) Mark Kelso presents his stellar Trio (pianist Brian Dickinson, bassist Mike Downes) but with a twist people don't usually expect from Mark. His outstanding singing talents will also be on display. I first heard Mark sing a jazz arrangement of The Rainbow Connection with Brigham Phillips' band a few years ago and was knocked out. I kept pushing him to make singing a bigger part of his act for the Home Smith Bar, so he finally did, and he's great!!
"On Friday, October 14, the superb singer and musical theatre actress/singer Alana Bridgewater (she's wonderful on June Garber's new album, and a veteran of the Charlottetown Festival) makes her debut starring appearance at the Home Smith Bar. Alana has sung there before as the guest of an instrumental trio, but never leading her own ensemble (Scott Christian on piano, Henry Heillig on bass).
"Saturday, October 29 is a rare departure from mainstream jazz - a special blues edition of the 'Year 'Round Jazz Festival' when outstanding blues guitarist/singer Brian Blain relaunches his New Folk Blues recording lampooning life in the music industry (in collaboration with saxophonist Alison Young, Michelle Josef on drums, bassist George Koller and an 'element of blues-tinged electronica' by Joel Blain."
One important thing to note, which distinguishes the Home Smith Bar from other rooms, is that there are no reservations taken. Seats are assigned on a first-come, first-serve basis, which appears to be working quite well! Glasses raised to audiences who respect, listen to and support trios everywhere.
Ori Dagan is a Toronto-based jazz musician, writer and educator who can be reached at oridagan.com.
Details

Ori Dagan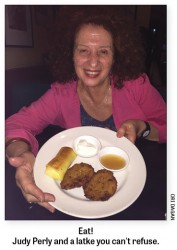 Toronto musicians have been cutting their teeth at Free Times Cafe for 35 years. That's how long owner Judy Perly, a local hero to Toronto musicians and audiences alike, has been booking: since the early 1980s, over 12,000 evenings of music, more than 400 poetry readings, 500 nights of comedy and improv, 100 original art shows and nearly 1000 concerts of klezmer and Yiddish music.
Located just seconds from Kensington Market at 320 College Street, Free Times is a casual, inviting, warm restaurant and music venue. The live music is presented in the cozy back room, seating approximately 50. According to Perly, the much buzzed-about "Bella, Did Ya Eat?" Sunday brunch literally keeps her business alive. "It's not unusual that we will do in sales more at the brunch than in the back room the entire week. The brunch averages 100 to 200 people a week. The reason it works is because there is nothing else like it – in the world!" Indeed this might be the only place on earth that has weekly klezmer and Yiddish music accompanied by an all-you-can-eat buffet, serving 50 items from smoked salmon and potato latkes to gefilte fish and blintzes. Bella's Bistro, the front room where the Brunch is served, is sentimentally decorated with a variety of art including a large portrait of Perly's mother, painted by Judy herself.
"I wanted to do something for my mother after she passed away. And the more connected I got with my mother, the better things got. My mother would always get the right ingredients – she worked very hard all the time. People say I work hard, but I say she worked way harder. She had a husband and three children."
Growing up, the Perly family's record collection contained everything from the blues and reggae to folk icons like Ian and Sylvia, Joan Baez and Buffy Sainte-Marie, as well as classic jazz from Holiday to Sinatra.
"The other connection I have to jazz is that late in their lives, my parents started following Dixieland jazz. My mother even made up this crazy dance! (laughs). In fact Jim Galloway played for free at my parents' 32nd anniversary because he loved them so much …"
I pause to tell Judy about Galloway's work for The WholeNote and his support for the Toronto jazz community, and she reminisces about the great jazz musicians that walked through her doors, especially in the early days.
"I would say the music started on a regular basis in 1982. The very first time was a year earlier, at an art opening. I was going out with a man who was a part-time bass player [in the] Sam Miya Trio – Sam and Roy Miya who were Japanese Canadians – and I was going with Sam. He played bass and Roy played piano. Then Sam's nephew was studying at York University and he asked me, 'Can we play on Saturday night?' We had a very small room in the back in those days. So he started on Saturdays, and we gave him some food, and then other people asked. So many great musicians.
"If you scrape the surface of the Toronto music scene you will find a lot of people who started out at Free Times. We didn't even have a stage. It was a lot of folk singers at that time. Tex Konig, Mose Scarlet. Ian Tamblyn, who is coming back here in September, he's from Ottawa. Sneezy Waters is another icon. David Rea who played guitar with Ian and Sylvia. And then I hired a gentleman by the name of Michael Katz who used to bring all these musicians from the great folk festivals. Soon we were packed every night. We were one of the only places as there weren't a lot of clubs like ours. George Koller was here all the time. Micah Barnes, Fern Lindzon, Brian Katz, Rob Piltch. We had a poetry series with major poets …
"But I have to tell you, the economics of jazz are hard. This is a small room and jazz audiences don't spend a lot of money. They sit on a drink, it's not a party night, it's a little bit more serious, right? So I never really sought it out, but of course I always welcomed it, and the first time we had music it was jazz."
But it wasn't always easy, to say the least:
"It was a real struggle. And the downside to all of this where the music was concerned was that for quite a few years – five years I would say – I didn't even enjoy the music. I just wished that it would go away! I was mean, I was nasty, I never was here at night. After I started the brunch I realized I could do $2000 to $3000 in five hours and the whole night of live music was $300. From a business point of view sometimes it feels like banging your head against the wall. But I didn't have a choice – I tried to kill it and it wouldn't die! (laughs) Isn't that interesting that it just wouldn't die. And of course, it's because of the music that I've been able to go on, because as you know music is a healer. It makes you feel so good about everything, and you have those moments. Like any relationship there are the ups and the downs … and I realized that I had to change my attitude. I had to go through a spiritual evolution in order to do this because things weren't going to go my way, and I had to deal with it. I'm happy that I was able to get out of that."
Speaking of healing music, one of the series that Perly is most excited about presenting these days happens on the third Wednesday of every month called "Where Have All the Folk Songs Gone" hosted by folk duo Sue and Dwight. Covering classics by Dylan, Seeger, Peter Paul and Mary and many more, this is a popular series in its fourth year that often sells out.
"People are practically in tears and they keep coming back! A lot of my brunch customers heard about it on the newsletter and once they come once, they are hooked!"
After all these years of hard work and determination, does she consider herself a success?
"I've lasted. I guess I'm sort of successful now, but I worked for nothing for years, and I cried for ten years straight! (laughs). Nobody helped me. They'd say, too bad, so sorry! I used to want to quit every day, then it was every week, then monthly and now it's maybe once a year.
The thing is with me that I'm not coming at this with an agenda. That's why the club has lasted. I'm a conduit – I allow other people to do things. My agenda is keeping my business going."
Meet Judy Perly in person at the Ashkenaz Festival where she will be a featured guest, speaking on Saturday September 3 at 6pm on the Fressers Summit and a not-to-be-missed special demonstration of her potato latke-making on Monday September 5 at 2pm, including latkes!
Ori Dagan is a Toronto-based jazz musician, writer and educator who can be reached at oridagan.com.
Details

Ori Dagan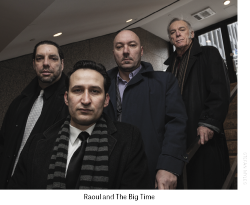 Pat Taylor, co-founder, with the late Jim Galloway, of Toronto Downtown Jazz, producers of the the TD Toronto Jazz Festival has stepped down this year, after 30 years on the job. Stepping in as CEO is Howard Kerbel, who has for nine years been a member of the eight-person TIFF (Toronto International Film Festival) leadership team, with a special focus on branding and marketing strategy. Taylor remains as a member of the programming team and an advisor to Kerbel.
"This transition will allow me more time to focus on strategic initiatives and allow Howard to develop one of the country's favourite brands," states Taylor in the official release announcing Kerbel's appointment. "After 30 years at the helm, I have confidence that Howard has the passion to build upon this foundation and take it to the next level."
What that "next level" will be is anyone's guess. (After all, when TD Toronto Jazz started out 30 years ago, who would have thought it would end up with such places as the Second Cup at King and John, or the posh department store Holt Renfrew for that matter being listed as "official festival venues"? And how does a pop star headliner Sarah McLachlan at the Sony Centre or film star Kiefer Sutherland playing country at the Horseshoe fit into a jazz festival lineup? Taylor is refreshingly blunt. "Balancing the books," he says. "Thirty years ago we were the only game in town. Now there are 21 jazz festivals in the GTA. Every concert hall has a jazz series. That's what we wanted to see happen. In our mind, jazz is doing well in town. I'm not making a living as a musician but I'm sure it's better than 30 years ago…"
As a musician trying to make a living now, particularly since the Internet took over the world, I'm not so sure about the "better" bit. As in many industries, the value of music has so drastically changed that as of the time of this writing, each play on Spotify equates to small fractions of a penny, and even the penny has been discontinued as physical currency due to its worthlessness.
Speaking of balance, the free outdoor shows of any music festival are crucial to the creation of new musical connections, for audiences and musicians alike. As unexpected as venues like Holt Renfrew and Second Cup are, it sure would be nice to see live music in these places all of the time, if only for the element of surprise that is so essential to jazz music. It's fun to watch passerby reaction, especially when it's with a smile and a head bop.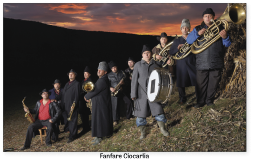 And if you'd like to get to know a budding musician, on Saturday June 25 between 2 and 4pm the Regent Park School of Music will help animate Nathan Phillips Square with musical demonstrations and interactive opportunities. Following the performances, the audience is invited to try out the instruments, or as it has become known, an "instrument petting zoo." Perhaps best of all, Dave Clark and his Woodshed Orchestra will lead you on "a raucous, romping march" through Nathan Phillips Square. Not to be missed!
Nathan Phillips Square is once again the hub of TD Toronto Jazz, balancing paid and free performances throughout the festival. The lunchtime concerts at 12:30pm will introduce ears to a diverse offering, including the Toronto Mass Choir, Brian Barlow Big Band's salute to Ellington at Newport with special guests Guido Basso, Dione Taylor and the Backsliderz and Jim Galloway's Wee Big Band, directed by Martin Loomer. And an additional outdoor stage at Nathan Phillips Square will include jazz and blues performances during the afternoon and early evening, from the sizzling soul of Tanika Charles (Sunday June 26 at 2:30pm) to the disco-flavoured spun vocal sugar that is The Spandettes (Monday June 27 at 6:30pm) to charismatic blues brother Raoul and The Big Time (Saturday July 2 at 6:30pm), and…to a visiting artist worth highlighting: Welsh singer, songwriter, multi-instrumentalist Gwyneth Herbert (Thursday June 30 at 6:30pm) who will be making her Toronto debut.
I met Herbert unexpectedly, sharing a cab in Bremen, Germany, en route to the Canadian Blast concert at jazzahead, just weeks before writing this article and was blown away, both by her story and how she told it. (You'll get some sense of this unique individual in the sidebar to this piece!)
In this crazy age of streaming music for fractions of pennies, my hope is that when Gwyneth Herbert performs her free June 30 concert (right before a Molly Johnson-Jane Bunnett double bill!), that all will sell out of CDs and merchandise. To support this music, all you have to do is show up! Look for ticket contests on the festival's social media outlets.
Sometimes these ticketed shows can be priceless. Jazz piano fans should not miss Oliver Jones (June 28 at Jane Mallett Theatre), now 81 years old and still swinging his behind off. Beyond this, one concert that I would guarantee a good time or your money back will take place at the Opera House on Wednesday, June 29. Romanian super band Fanfare Ciocarlia opens for local band of heroes Lemon Bucket Orkestra. Do YouTube searches of both brilliant bands! Instant fanhood is guaranteed.
Finally, an exciting development at the Toronto Jazz Festival this year is the returning commitment to a nightly late night jam session at the Rex Hotel Jazz & Blues Bar, hosted by local saxophone great Chris Gale nightly at 1am. Seen frequently around town as a sideman who sensitively adds just the thing to any musical situation, Gale has been hosting the weekly Tuesday night jam beautifully and inclusively. Please come out and support the jam session!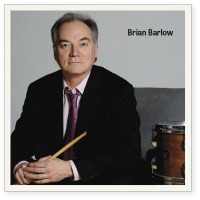 Botos and Barlow at PEC Jazz fest: Speaking of jazz jams that are worth the drive to Picton, reading up on various festivals that will take place in July and August, I stumbled upon the programming of the 16th Annual Prince Edward County Jazz Festival, which features a jazz jam hosted by the Robi Botos Trio, no less. I contacted PEC creative director, drummer/bandleader Brian Barlow to discuss PEC Jazz, starting with the success of these jam sessions.
"The After Hours Jam Sessions have been very popular" he told me. "One of the things that make our festival unique is that we encourage musicians to spend time in the county by providing them with multiple gigs over a number of days. It's not unusual for a musician to have six or seven gigs in the five or six days they spend with us. This not only works out well for them financially, it also give them the opportunity to relax and get to know the county. Since they're staying overnight, and there's not a great deal to do in Picton after 10pm, they tend to come out to the jam sessions. Robi has done these often but not every year. Many of the mainstage Regent Theatre artists have come to the jam sessions, including Ellis Marsalis, Vincent Herring, Louis Hayes, Guido Basso, Ranee Lee and Chet Doxas."
Prince Edward County is a magnet for people in the arts and they are all very supportive of each other, so the local audience tends to be quite hip and informed where jazz is concerned, Barlow tells me. "There are many fine jazz musicians living in the county and surrounding area. Guido Basso has lived here for over 35 years, and Belleville is home to the Commodores' Orchestra, a big band that holds the record for being the longest continuously performing big band in the world, having been formed in 1928." And the festival builds its audience from very early spring (as early as February in some years) with our Jazz Dinners and then in April "our TD Jazz Education Program that finishes up with a concert at the Regent Theatre. So the festival itself has an almost six-month presence in the county."
A unique feature of this festival is that Prince Edward County is an island, forming a natural boundary to work within. "We usually have about 40 events at venues from the soft-seat Regent Theatre, to wineries, restaurants, pubs, community centres, churches (and church steps), a farmers' market and a cemetery. We also have a Jazz Van that drives around the county putting on concerts.
The band is all acoustic with nothing to set up so they simply arrive, jump out and play a 45 minute set. Then they jump back in the van and drive to the next location. It's very popular and some people spend the day following them from place to place. This festival is all about Prince Edward County and all it has to offer, from art galleries, to beaches, to wineries.
It's also all about cultivating the future of the music. "Our programs for young musicians have been a main focus for us for many years now and will probably be the most important legacy of the festival" Barlow says. It begins with their TD Jazz Education Program in the spring, with four high school jazz ensembles chosen out of the many who ask to come each year. "This year we hosted 90 students. We tend to look for schools from the smaller communities where funding for music programs is not as readily available, but we do have schools from the GTA from time to time. We also like to have schools come two years in a row when possible. We find that the second year the students know what to expect and get in the groove a lot quicker." And then there's the "Rising Young Star" that is a feature of every August's festival. "We receive applications from all across Canada and the chosen candidate receives a cash award plus the opportunity to perform each evening at the Regent Theatre with our mainstage artists. The RYS is also featured at our evening Jam Sessions and performs a concert of their own on the Friday of the festival week." Many of these musicians have gone on to be professional players and several have come back to the festival as main-stage artists (Marika Galea, Ian Wright and Eli Bennett).
And then there's their Young Jazz Series, providing paid concert performances for students in the post-secondary school system (UofT, Humber, York). Among several other excellent young artists, vocalist/pianist Hannah Barstow will appear, as well as versatile singer Kalya Ramu who can be heard around Toronto regularly singing not only jazz standards but also blues and rock with Angora, and winning folk in the duo Mermaid and the Bear.
From jazz as big brand to keeping the real thing alive, here's hoping you, dear WholeNote reader, will come around the jazz clubs this patio season, get out and about, and spread the word. Without an audience, live music cannot live. And live music can't be Spotified!
Ori Dagan is a Toronto-based jazz musician, writer and educator who can be reached at oridagan.com.
Gwyneth Herbert's Toronto Honeymoon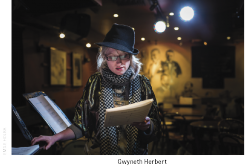 How did you end up on a label so quickly?
When I was supposedly studying English Literature at university, I actually spent the majority of my time singing jazz with fellow student Will Rutter, a guitarist and kindred spirit with whom I'd roam the cobblestones of the North of England – along with Edinburgh, Paris and Amsterdam in our holidays – busking and hustling for gigs in pavement cafes. When we graduated we moved down to London together, a couple of wet-eared country kids with no concerts, no money and no contacts, and picked an area of the city a day…armed with an A-Z map, Will's guitar and a fistful of demos recorded in a bedroom, we went into every pub, wine bar, cafe and restaurant and asked if they'd give us a gig.
You kind of got used to asking the tattooed, muscle-necked landlord if he'd mind turning down the racing while you played Fly Me to the Moon to the corner clientele who'd just tried to sell you a VCR on the way in, and invariably if the bar-owner didn't offer us a gig they'd give us a drink on the house. At the end of one of these long, street-peddling days, I'd sipped enough Dutch courage to go into the legendary Pizza Express Jazz Club in Soho. The visionary manager there at the time, Peter Wallis, was famed for championing new talent – he gave Norah Jones and Diana Krall their first breaks in the UK. Fired up by my day's refreshment, I asked to speak to the manager, and when asked if I had an appointment, I ordered a large brandy (which I'd never drunk before, but it seemed like it sounded sophisticated) and said, "Just tell him it's Gwyneth Herbert." When Peter arrived, I came clean and said that of course he had no reason to know who I was, but that I loved music more than anything and that I wasn't looking for a gig, but any advice would be so gratefully received, and with shaky fingers thrust our little demo into his hand.
He gently but firmly explained that he received over 300 such demos a week, but, admitting that no one had quite approached him like that before, said he'd try to give it a listen. Within two weeks, Will and I were signed to his indie label Dean Street records, had the amazing vocalist Ian Shaw as a mentor and producer, and were recording our debut album First Songs and touring with Jamie Cullum and Amy Winehouse soon after. Jamie Cullum sang a duet on that record, it started getting some airplay and - riding high on their recent success with Jamie – it wasn't long before Universal came sniffing and snaffled me up.
But you left the label to pursue life as an indie artist. Why? Having a major deal gave me lots of great things. The ability to work with exceptional musicians, a press profile, a new haircut…I'm so pleased that I had that opportunity as for so many artists it – even in the current climate – remains the holy grail. But it just didn't work for me. I got signed so young and I soon found that it was my own stories that I wanted to tell, that didn't fit in with the label's marketing strategies and formulas. Much of the discussions had nothing to do with creativity and everything to do with finance – naturally, because a big label's purpose is to make money. I'm also really grateful because it gave me something to kick against – I got signed so young before I had a clear idea of what I wanted to say and make, and it made me find answers through the questioning.
As an artist who frequently records your own compositions, what degree you fit within the term "jazz." I grew up listening to jazz and blues. I'd sit and learn all of Billie Holiday's phrasing and mimic Big Maybelle's tone and try to feel Anita O'Day's timing deep in my bones. As a tiny teen in an ever-so-English village in a totally different era, I'd hear and hold the heartbreak and the joy and feel it as if it was all my own. I still love those old songs – they speak of huge human experience in simple poetic language and they're true and vast. And I love diving back into them now, from time to time, to see what they help me discover.
But now I live the miraculous life of a discoverer, a story hunter – finding and animating hidden stories, finding new ways to give them breath. There are melodies and rhythms everywhere, and the flavour of my work's always informed by the music and language of the particular world it inhabits...There are seagull cries and pub chatter, there's the rattle of a ship mast and the hum of an escalator. There are shanties and funerals and newspaper headlines. I do work with amazing jazz musicians in my band, and one of the wondrous things about playing with people with that sensibility is the improvisatory language they bring – there's a push and a pull and then we navigate the journey together. It's fresh and it's a different kind of magic, every time.
And the British music scene in London and beyond? After 13 years in London, I've run away to the sea – I live on the beautiful south coast in Hastings. There's a real buzz about this little town, people making things everywhere, skiffle and poetry and metal in the pubs, parades through the streets. I love coming back to London – my favourite club is the 606 in Chelsea which feels like an extension of my living room, an underground secret dive bar vibe with the most amazing international musicians both on the stage and hanging at the bar and some delicious nachos. Performing for me is like coming home, but I spend most of my time these days working on wonky art/music/film/theatre commissions in collaboration with sculptors and directors and clowns and communities all over the country and beyond…Today I was exploring the process of contraception through the medium of dance for a music theatre piece I'm writing with playwright Diane Samuels called The Rhythm Method. I have so many hats that are interchangeable on a daily, sometimes hourly basis – it's exhausting and challenging but somehow each hat feeds the others and I'm constantly learning - as a performer, as a writer, and as a general human being stumbling through the world.
You've been to Montreal before but this is your Toronto debut, yes? This is indeed my Toronto debut, and I am so excited to be exploring so much more of Canada for the first time. I'm joined by the incredible percussionist and multi-instrumentalist Dave Price, and also my very newly wedded husband Ned Cartwright on piano – I have a feeling this is going to be a musical honeymoon to remember!
Details

Ori Dagan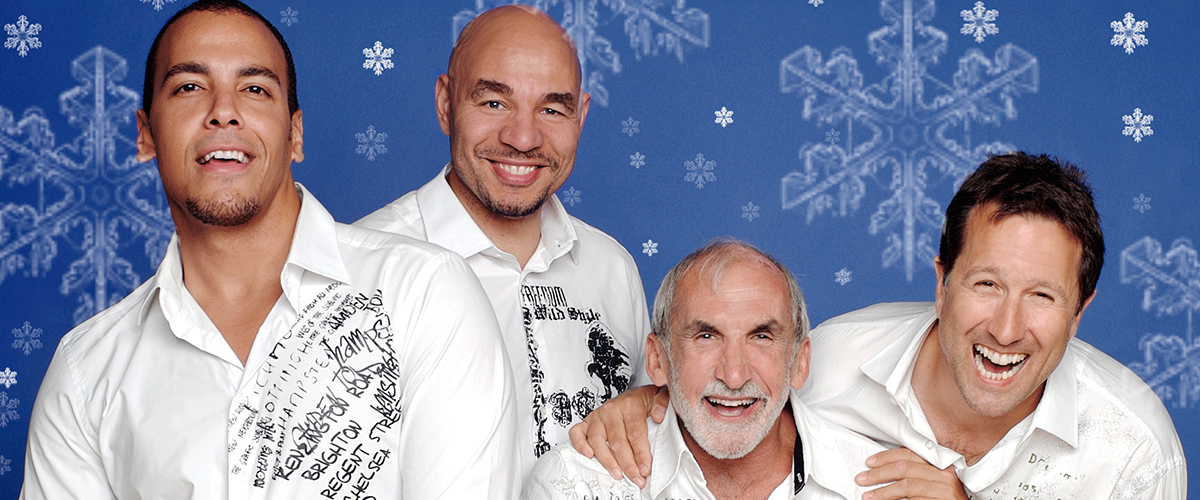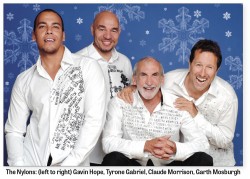 The fact that festivals are becoming as ubiquitous in Toronto as ways of collecting, and spending, frequent flyer miles, shouldn't deter one from paying attention when really good ones come along. Over the past few years, SING! – the Toronto Vocal Arts Festival – has stuck to the task of shining the spotlight on the diverse world of a cappella music – including great visitors and top talents who grace the scene year-round. This year the fest will illuminate some of the best, including an appearance by veterans of the scene, the Nylons, as part of their Farewell Tour.
Founded in 1978 by Paul Cooper, Mark Connors, Denis Simpson and Claude Morrison, the Nylons became one of the most prolific collectives in the a cappella world. After 37 years, the only surviving original Nylon is Morrison, now 63 and ready to embark on semi-retirement, but not before an extended farewell tour that includes a SING! concert May 14 at the Jane Mallett theatre.
"When we began I was the youngest, now I'm the oldest – the mileage is beginning to catch up with my body. I find that the less I do, the more I enjoy it, and sometimes the less I do, the better I do it. That said, it won't be over until about a year from now. We are taking the show across Canada and into the United States, so it's a bit of an extended farewell, kinda like "I can't miss you if you don't leave!" (chuckles) It's been a good long run. I can't even think of many groups who have been around for this long. It's been a great life – more than a living, more than a lifestyle, it's been a life."
It has been said that a cappella found the Nylons and not the other way around; but Morrison, who was working as a professional dancer at the time, recalls it thus:
"I remember Mark [Connors] saying to me, we're going to form this a cappella group, we want you to be in it, and we're going to go all over the world and be really famous. So Mark seemed to have an idea that this was going to take off, and we just kind of stumbled head over heels into this and never looked back. For some reason, at the time four guys singing a cappella was considered to be outrageous. We played fashion shows, parties, benefits, and word of mouth took off very quickly. We became media darlings here in Toronto. Fast forward to a couple of years later, we self-financed our first album which was self-titled. That went Gold in about a month and Platinum in about two months, so there was a market out there."
Is there a particular recording you're proud of?
"Our version of This Boy by the Beatles has got this breathtaking key change, and I remember the night we recorded it, thinking, I'm going to remember this night forever because I was dealing with an unrequited love, and all my pain went into that key change. Of course, The Lion Sleeps Tonight has been really good to us. One arrangement I'm personally proud of is O Canada which they still play in the schools! I remember we did a show on Canada Day on Parliament Hill, and at the end of it everybody joins hands and sings O Canada and it was like Kumbaya. I remember thinking, where is the energy here? Who died? So I thought, let's do a version where there's a beat to it. People seemed to love it. We did it at Game 6 of the Blue Jays World Series in 92, down in Atlanta, which was very exciting. We did a show recently where someone yelled out, 'Do O Canada!' and I said, 'Well that's a cheap way of getting a standing ovation!'"
Your reaction to the thriving a cappella scene?
"I'd like to think that we contributed to it somehow. So many people from that world come up to us and say, we owe this to you, because we probably wouldn't have done it unless we had seen that you were able to do it, and it gave us the boldness to go for it. So that's really gratifying to know that you've made a difference in people's lives, that you inspired them."
FreePlay: One such talent is Dylan Bell, who went on to produce and arrange for The Nylons. As Claude Morrison puts it, this man is "a bundle of talent, wonderful to work with and all over the place! Performing with four or five different groups, he's like a moving target that's hard to hit."
Bell first heard the Nylons at age ten, then went on to become a Bobby McFerrin devotee and didn't stop there:
"I still remember the moment I got my copy of Take 6's debut record. I ran into our music room and said to my friend Kevin Fox: 'Stop everything, and listen to this.'" Shortly after that, Suba Sankaran and I met at York University, where we were both members – and later directors – of the student-run a cappella group Wibijazz'n'. That was in 1993, and we've been singing together ever since. Kevin now sings with the Swingles, and Suba and I have since made a cappella singing the cornerstone of our musical careers."
Partners in crime, Bell and Sankaran perform together as the FreePlay Duo, and I'm willing to bet that even the most ardent a cappella fan would be wowed by this act. FreePlay's voices are as impressive as their arrangements, where Bach, bebop, solkattu and hip-hop harmoniously transcend cliché. Very much a modern group, they even add a loopstation to the mix in order to create a multilayered sound in live performance. With the help of various granting organizations, Bell and Sankaran have taken their act on the road, with stops in North America, Europe, East Asia, India and Africa.
One memorable highlight: "In 2013, we embarked on our first trip to Africa, specifically Nairobi. Mary Tangelder, Suba's former jazz choir member and voice student, wanted to create a program to explore using music as a tool for cross-cultural communication and healing. Living in a multicultural environment such as Canada, we take cross-cultural enrichment for granted: in Africa, exchanges between members of different tribes or linguistic groups can be tense or even dangerous. As part of our workshop, we taught a simple vocal counting exercise, and as part of the cross-cultural component, we had workshop participants teach each other the exercise across languages. What seemed a simple exercise for us was novel for them: the idea of teaching your language to another tribe was almost unheard of, and was an eye-opening experience for all of us. One workshop participant, hearing about our workshops, came in from eight hours away, near the border with Somalia. Being from a strict Muslim sect, he had never made music before in his life, and the experience for him, he told us, was life-changing."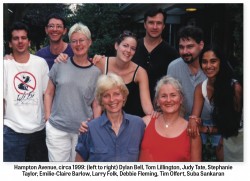 Hampton Avenue: Just how did Debbie Fleming go from versatile vocalist to sought-after arranger and founder of a cappella group Hampton Avenue?
"Well, to start, I had my Grade 8 piano in high school and took Grade 2 theory just so that I could have an extra subject in Grade 13. When I married my ex-husband (Gordon Fleming), he was one of Toronto's major B3 R&B players, but couldn't read a note. I became his copyist – so I became pretty adept at hand-writing music. Then Atari Notator came along, and I was so scared to get into computerized stuff, but damn it, it was so exciting! And suddenly, I thought, you know what? This would make the music far easier for singers to read. So because I had the computer, and I had the ideas in my head, I started to think about arranging more seriously.
"Actually I was motivated to put together another vocal group thanks to David Blamires. He had come home from a tour with Pat Metheny – he was touring with him at the time as a singer – and when they were in Holland of all places, he heard this fantastic vocal group, Take 6, and you couldn't buy them here. He brought a tape back for me and I freaked when I heard them, I thought, that is the kind of harmony I want! And one of the first things I did was, I sat down and I tried to lift the six parts that they did of Quiet Place. I thought, maybe I could do this. It was one of the most difficult things I've ever done in my life. Hearing the outside parts was easy, but hearing all their little crunchy things in the middle – it was a trial but it was a joy, because it kind of honed my ear.
"So I put together a bunch of singers who did studio work and could read really well, and one of them was Emilie-Claire Barlow, Judy Tate's daughter. I remember Judy said, 'Why don't you bring Emilie in?' and I said, are you kidding? And she said 'Oh no she really reads well!' and I thought, well okay, let's try her. So she worked out like a dream, and we would sit around my dining room table, all these people, Elaine Overholt, Laurie Bower, and we would just love to do this.
"I discovered Suba Sankaran and Dylan Bell through Phil Dwyer. I said to Phil, 'You're teaching up at York University and I'm always wanting to find people who can read and who like jazz harmony.' He took me to see Suba and Dylan, they were only 19 years old, and they knew Tom Lillington because they were part of Wibijazz'n' – they started that group. So they joined us.
"We had regular rehearsals, and our first concert was at the Music Gallery, before we had recorded, which was in 1996. It was kind of hard to get people out, as it is now. I had to do a lot of promotion and publicity. In 1997 we did our Christmas CD.
"By the time we were first written up in The WholeNote – 1999 I think it was – we had two concerts a year. It was happening, but it wasn't something that hit the major population – jazz a cappella wasn't really a huge thing. But for those who dug it, we were it. We did the crunchy harmonies – we'd hold a chord and it would be so great with sharp elevens and the whole damn thing and then there would be dead silence and you could hear everyone go 'Ahhhh.'" (laughs)
The distilled version of the group, The Hampton Avenue Four, will be performing at the SING! fest. Also this month, Fleming is thrilled to be releasing a new recording, Back to Bacharach, featuring an all-star band led by all-star pianist Mark Kieswetter. But why Bacharach?
"I was at one of Laura Marks' jams out on the east end. I got up and sang one of my all-time favourites, A House Is Not a Home, which I have been singing for years. It's not jazz but it's one of those songs that gets me right in my heart. Well, Maureen Kennedy was there, and she came up to me and said, 'You know, that was really nice. I could never really sing Bacharach, because it's really hard to do it well.' So I thought, BINGO! I wanted to do another album, and I was looking for something that would set me apart from all the other great singers in town. There are so many who sing the American songbook like the phone book for God's sake. But I have never fit into a slot. I've done everything from classical to rock 'n' roll to country to R&B which is my heart and soul, and jazz. And this was like water off a duck's back – yes, rangy, yes, melodic, but I could perform Bacharach with no problem. Since Dionne Warwick started off as my favourite singer, and later on Aretha Franklin, and both of them did covers of Bacharach, I thought Back to Bacharach. We recorded it at Studio Number 9 and the release is Thursday May 26 at Jazz Bistro.
For all the SING! listings visit singtoronto.com. May this festival, along with the Canary Pages, inspire YOU to sing, Toronto!
Ori Dagan is a Toronto-based jazz musician, writer and educator who can be reached at oridagan.com.