Early and Period Music
Details

David Podgorski
Before George Frideric Handel was hired by King George III, England was in some aspects a cultural backwater, at least as far as music was concerned. The main problem was a lack of patrons. The English court couldn't spend as lavishly on entertainment on the same scale as, say, Versailles under Louis XIV or Vienna under Leopold I, and the Church of England didn't exactly have much of a budget either. England was, unfortunately, a musically dull country, but encouraging culture was considered both a worthwhile political goal and a civic duty by liberally minded politicians around the turn of the 18th century.
For similar reasons, there was a push in England to both foster a native opera scene and build a national opera house in London – an ambitious project in an age when opera was still less than a century old, and far from the accepted musical institution that it is today. And opera has always been a hard sell for people not already inclined towards music or unwilling to accept the idea of a sung drama. While Italy and countries with an Italian influence on their culture embraced the opera readily, the English in particular didn't warm to it. Italian opera had been performed in England in 1674; an early 18th-century writer, Colley Cibber, was still protesting that opera was "not a plant of our native growth, nor what our plainer appetites are fond of, and is of so delicate a nature that without excessive charge it cannot live long among us."
But that didn't stop the most ardent English opera devotees from trying to popularize opera. They successfully had an opera house – the Queen's Theatre – built in London in 1705, by enlisting several like-minded (and wealthy) patrons and pre-selling subscriptions. And they commissioned an opera with an English libretto. There was just one problem. After rehearsals had started, the backers realized that the opera (Semele, by John Eccles) wasn't very good. Changing their plans on the fly, they decided instead to make the debut performance at the new opera house the even more forgettable Gli amori di Ergasto, by Jakob Greber.
The result was a disaster. For one thing, it was sung in Italian, which few audience members could understand, by Venetian singers who, at least one audience member complained, were "the worst that e're came from thence." As a national cultural project, it was also a failure. The national ambitions of English opera also came under fire from critics, as some felt that it was a bad idea to debut a new national opera house with an Italian turkey rather than "a good new English opera." And of course, with so much political capital riding on the success of the venture, political opponents as well as critics had been busy sharpening their knives. They were merciless, decrying the opera house and its lacklustre start as an example of hubris, and its patrons as "Creators, Givers of Being, and God Almighties." The fact that the opera was in Italian was a particular problem for the audiences of the day, and an easy target for satirists, who predicted that future historians would be misled into thinking that average 18th-century Londoners understood Italian fluently.
With so much jingoistic sentiment lurking in the background, a distinctly anti-opera attitude, a backwater musical community, a dearth of native musical talent, and a composer of any worth seemingly nowhere to be found, English music – and English opera – needed a hero.
Surprisingly, they may have already had one in their midst, in the form of Henry Purcell and his epic opera Dido and Aeneas. Purcell's opera had everything the English were looking for: an all-English text and a talented composer who was able to incorporate French and Italian musical style into a music that was distinctly his own as well as sounding very typically English. Unfortunately for the Purcell opera, its subject matter (a monarch who is led astray by Satan-worshipping witches) made Dido and Aeneas, with its implied indictment of the English monarchy, too politically charged and too inflammatory to be performed in a contemporary English opera house.
Given Eccles and Greber as the only alternatives, the tragedy of lack of compositional talent on hand to give the English the opera they needed was complete – Purcell having died the previous decade.
Comeback: With Dido having been overlooked by its contemporaries, and no other English-language opera able to fill its place, it's nice to see that it has been making a comeback in recent years. Opera Atelier in particular has chosen it to kick off their 2016/17 season, and it seems that Purcell's overlooked masterpiece will finally get the treatment it deserves. After some 300 years, the story of an ancestor of Romulus and Remus, founders of Rome, reads more like a foundational myth than an indictment of English royalty today. With a slew of dance numbers, airs and choruses, this is one of a very few operas that's actually catchy. With a cast of established and rising young stars, top-tier staging and costumes, arguably the best theatre in Toronto, and one of the best opera orchestras in the world, Opera Atelier is the ideal company to be performing this opera. It's playing this month at the Elgin Theatre from October 20 to 29. Go see it.
Music for Bloody Mary: If you're not much of an opera fan, if you're more inclined towards choral music, or if you just prefer Renaissance music to the Baroque, English music is once again on the menu with the Tallis Choir's performance of Music for Bloody Mary, at St. Patrick's Church on October 15 at 7:30pm. The Tallis Choir is being much kinder to Mary I than most historians – it's hard to get too nostalgic over a monarch who ruled for just five years and whose main accomplishments were religious purges – but the concert is filled with some forgotten gems of the English Renaissance. Tallis' glorious Videte Miraculum and Loquebantur Variis Linguis are the highlights here, and you can also get a rare chance to hear a John Taverner Mass and the almost never-heard composer John Sheppard. The Tallis Choir is a solid vocal group who has made Renaissance polyphony their specialty – this group is one of the best early music vocal groups in the city.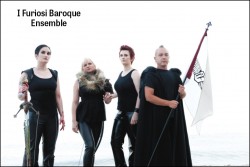 I Furiosi: Another chamber group in town that I haven't written enough about is the great I Furiosi Baroque Ensemble. The ensemble was founded in 1999 by cellist/gambist Felix Deak, soprano Gabrielle McLaughlin and violinist Tim Haig. Deak and McLaughlin were joined soon after by violinists Julia Wedman and Aisslinn Nosky, and that core ensemble remains intact almost two decades later. This is a group that stands out for their fun, engaging thematic concerts featuring a potpourri of Baroque instrumental and vocal music (with the occasional pop tease thrown in) featuring blistering performances and spirited interpretations from a top-tier ensemble to boot.
This month on October 21 at 8pm, I Furiosi will feature music by Fux, Rameau and Lully, in a concert titled "Both Alike in Dignity" at Calvin Presbyterian Church. The group will also be joined by the Toronto's reigning baroque bassoon virtuoso, Dominic Teresi, who is the closest thing to technically flawless I've ever seen in a bassoon player. Consider checking out this group if you're a fan of chamber music.
David Podgorski is a Toronto-based harpsichordist, music teacher and a founding member of Rezonance. He can be contacted at earlymusic@thewholenote.com.
Details

David Podgorski
But for a few instances of momentary curiosity of a few brave, or possibly foolhardy, musicians, modern concert audiences might have never heard the sound of historical instruments at all. A great case in point is the pianist Malcolm Bilson's discovery of historical keyboards back in 1969.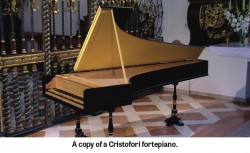 When Bilson decided to give a concert on "Mozart's piano" the result was very nearly a disaster. "I have to admit now that I really couldn't handle the thing at all," Bilson said in a lecture. "I must be the least gifted person for the job: my hands are too big, and I don't have the necessary technique such an instrument required. In trying to operate this light, precise mechanism, I really felt like an elephant in a china closet. But I kept at it all week and practised hard and after several days began to notice that I was actually playing what was on the page. Suddenly I found that I really didn't need much pedal and that the articulative pauses actually made the music more expressive." Concert audiences and audiophiles should certainly be grateful that Bilson persevered – he was one of the first 20th-century fortepianists, and without him it's doubtful we'd even hear a fortepiano today.
We're also kind of fortunate Bilson opted to try using a fortepiano in the first place – the instrument itself is something of an oddity. Even to its inventor, it couldn't have been considered to have much potential – it was initially a research and development project for the wealthy Florentine Medici family by the Italian instrument maker Bartolomeo Cristofori way back in 1700.
Cristofori fit the stereotype of the eccentric inventor quite well indeed. As if inventing a new keyboard instrument wasn't ambitious enough by itself, Cristofori also tried making harpsichords out of ebony as well as building his own upright harpsichords from designs by other inventors. It's not known what Cristofori's patrons thought of the instrument, but it was likely positive, as he continued to develop his invention over the next 20 years and the technology and building of pianos spread across Europe. By the 1730s, J.S.Bach had a chance to play one and recommended the builder make changes (which out of respect for the composer's expertise, he duly did, much to Bach's satisfaction). Still, the harpsichord was generally regarded as the superior, or at least, the more affordable, of the two keyboard instruments until the century's end.
In the classical era, Haydn composed for the harpsichord for most of his early career, and wouldn't buy a fortepiano until he was in his 50s, but Mozart, being 20 years younger, would come to favour the fortepiano exclusively. Just 50 years after Haydn's death, pianos were becoming louder, more uniform in sound and more durable – and with the coming of the Industrial Revolution, mass-produced in factories and available to a middle-class market.
Andrea Botticelli: The fortepiano revival owes much to that first adventurous concert Malcolm Bilson gave in 1969, and there's been a steady increase in fortepiano players since, but there hasn't been a professional fortepianist who's called Toronto home until now. Andrea Botticelli is a recent graduate of the University of Toronto's doctoral music program in piano performance who has decided to specialize in fortepiano and Classical repertoire. Like Bilson, Botticelli found playing a different instrument to have an almost immediate effect on her interpretation. "Playing a fortepiano was such an eye-opening experience," Botticelli says. "All the performance issues that are such a struggle on the modern piano – texture, clarity, balance between the hands – become so much easier on the fortepiano." According to Botticelli, all the exacting details that composers like Mozart and Schubert took such care in writing, all those little slurs, phrase markings and articulations that pianists struggle with, were actually written for the old 18th- and 19th-century instruments, and a modern Steinway can't really negotiate the difficult terrain as easily.
"So much of what I was trying to add in terms of expression is really inherent on this instrument," she says. "Once I really started playing the fortepiano, I wondered how I could have gone through a whole undergraduate degree without ever having heard one." Botticelli will be making her solo debut later this month at the Richmond Hill Centre for the Performing Arts on September 24 at 6:15 pm, playing fantasies by Mozart, Haydn and Hummel, as well as a Mozart piano sonata.
It's really about time there was a resident fortepianist in the GTA, and the fact that Botticelli is willing to base herself in Toronto is yet another sign that the local arts scene has grown to world-class size. There's been a steady creep of historically inspired practice around the world since the 1970s from medieval/renaissance repertoire through the Baroque period and well into the 19th century, and professional fortepianists have been starting to pop up in major cities around the world in recent years. It's as if an extinct species has been found again in the wild and is starting to propagate. Like audiences in London, Amsterdam and Vienna, Torontonians will now be able to hear period performances of classical and romantic keyboard music on this compelling period instrument.
Christophe Coin: There are few musicians worldwide as accomplished as Christophe Coin. A gambist, cellist and protégé of Jordi Savall since the mid-70s, Coin has gone on to record over 50 albums ranging from Gibbons' consort music to Schumann's cello concerto. Coin also directs the Ensemble Baroque de Limoges and is the cellist for Quatuor Mosaïques, so he's quite adept in conventional baroque and classical repertoire. It will be exciting to see him as both musical director and soloist for Tafelmusik in their upcoming concerts October 5 to 9 at Trinity-Saint Paul's Centre. It's clear from this program that Coin is no slouch as a soloist – he'll be playing both a Boccherini and a Haydn concerto – and he'll also be leading the orchestra in symphonies by C.P.E. Bach and Dittersdorf – repertoire that both Tafelmusik and Coin excel at. If you're at all interested in classical music, this is a concert well worth attending.
Rezonance: Finally, if you'd like to hear a chamber music concert this month, or just want to get out of the concert hall for a change, consider making it out to hear my group Rezonance Baroque play the music of J.S. Bach at the CSI coffee pub at 720 Bathurst St. (home base of The WholeNote), on September 25 at 2 pm.
After Bach settled in Leipzig as the resident music director of St. Thomas's Church, he was left without a venue to perform any of his secular compositions or chamber works. Fortunately for the master, Gottfried Zimmermann, the owner of the local café in Leipzig, was already one of the hottest music venues in town. Rezonance will perform an all-Bach program that could have easily been heard at Zimmermann's, including a cantata he composed for the café in honour of coffee. While it's easy to imagine Bach as overwrought, overworked, and dependent on a caffeine fix to get through the day, this concert features exciting and whimsical repertoire that shows that the brilliant composer may have had a sense of humour after all.
David Podgorski is a Toronto-based harpsichordist, music teacher and a founding member of Rezonance. He can be contacted at earlymusic@thewholenote.com.
Details

David Podgorski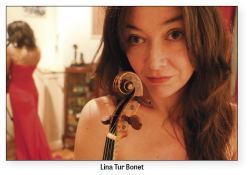 With the arrival of summer weather – and the attendant cottage weekends – it's a safe bet that it'll be a few months at least before next season starts up again for most major early music ensembles around town. Most of their concert seasons wound down the year by the end of May, but there are a few concerts to catch around Toronto, most of them free. But if you can make it out of town, or you're willing to take a chance on some music festivals, you can actually hear quite a wide variety of good music this summer.
Montreal Baroque: It's completely impossible to talk about early music festivals over the summertime without mentioning Montreal Baroque, which completely dominates the musical landscape every year. Its four-day, long-weekend-in-Quebec extravaganza is packed with nearly 30 concerts, lectures, free public events, and just out-and-out weird ideas, and features top-tier Canadian talent salted with a few international artists who fetch top dollar anywhere in the world.
And the festival isn't just about spectacle alone – this year's is actually delivering a sizeable chunk of the Bach catalogue, including some rarely performed works. A casual glance at their program shows there's about a half dozen must-see concerts packed into one weekend. The festival will feature Bach's complete sonatas and partitas for solo violin, played by rising star Lina Tur Bonet. Then, in the weird ideas category, there's a concert devoted to The Art of Fugue featuring Les Voix Humaines and the electric guitar collective, Instruments of Happiness, which as a concert idea is likely the perfect way to get people interested in what's probably the most academic composition of the classical canon. But if you need further motivation to pack your bags for Montreal, here are two other concerts make the road trip worth it: the near-legendary Italian gambist Paolo Pandolfo will be joining the festival for a concert of Bach cello suites (which he's decided, somewhat mercurially, to transcribe and play on viola da gamba); and harpsichordist Eric Milnes will direct the Montreal Baroque Festival band, which includes the festival's best soloists, for an all-star concert of Bach cantatas.
And there's plenty more good music to see: a concert of instrumental music composed by Purcell and his contemporaries; soprano Jacinthe Thibault singing late 18th-century French cantatas; and a fantastical concert dedicated to the music of Jean-Féry Rebel, to name a few. If the idea of taking a weekend off to hear non-stop Baroque concerts appeals to you, consider giving this festival a look. It takes place on and around the McGill University campus in downtown Montreal from June 23 to 26.
Tafelmusik Summer Baroque: To some, getting outside the city for a weekend of concerts might be a bit ambitious. Fortunately, Toronto's top baroque band has a little festival of its own. The Tafelmusik Summer Baroque Festival features a series of free concerts running from June 6 to 18, and while the group isn't forthcoming on details, they're solid enough to take a chance on, particularly when they're free. A couple stand out: Tafelmusik soloists will be playing a mixed program of chamber music on June 11 at 12:30 in somewhat baroque-unfriendly Walter Hall in the Edward Johnson building; if you prefer a full, woody orchestral sound, consider checking out their concert for choir and orchestra at Grace Church on-the-Hill on June 18 at 7:30.
Cappella Intima: One lesser-known group that's been putting on some great concerts for a while now is also worth a listen this month. Tenor Bud Roach's ensemble Cappella Intima has been getting quite a reputation for its exciting, well-researched concerts of late-Renaissance Italian vocal music, and their next show promises to be more of what the group does very well. "The Paradise of Travellers" will be an evening devoted to the Venetian stop on the grand tour, featuring canzonettas, arias, and sacred motets written by the composers (Monteverdi, Croce, Banchieri, and, somewhat later, Rolla) with accounts of the city of Venice by tourists from the early 17th-century (spoiler: not all of them thought the city lived up to its reputation). You can catch this show at Trinity St.-Paul's Centre on June 22 at 8pm.
Have cello, will travel: I've always liked the idea of casual classical concerts; so, if you're not in the mood for a formal evening at the concert hall, consider giving this show a try. Steuart Pincombe is an American baroque cellist who has recently come back to North America after doing a degree at the Royal Conservatory at The Hague. Not content to tough it out on a more conventional, and in all probability, slower, path to a musical career, he has taken the artistic lifestyle to new extremes. He has bought a used trailer, in which he now lives, and is putting on a series of concerts all over North America in whatever venue will put him up.
His current solo project, "Bach and Beer" is a pay-what-you-can concert of three of the Bach cello suites, which he'll be performing at the Rainhard Brewery in the Junction on June 16 at 7 pm. Each suite is paired with a brew from Rainhard's own selection. As a concert idea, Pincombe's approach is fun. But as a beer aficionado, don't get me started! (Did you know people have been brewing beer using recipes that are hundreds of years old and changing them gradually over time? Sort of the same way music has evolved? Surely I'm not the the first person to suspect the craft beer movement as being a thinly applied intellectual veneer meant to rebrand alcoholism as a fun hobby...oh dear, there I go.)
Anyway, as I said, you can't deny it sounds like a fun idea. I am all in favour of getting classical music out of the concert hall and into as many different venues as possible. Bach, in particular, is rarely if ever performed on the bar scene; letting the audience relax with some food and drink while listening is a great idea for winning over a new audience.
Summer Music in the Garden: Speaking of the cello suites, the Music Garden at the foot of Spadina, landscaped to follow the structure of the Bach suites, is a good reason to take a trip down to Harbourfront and find an oasis in the middle of downtown. Among the twice-weekly concerts that will take place there till well into September, this summer some younger Montreal-based musicians will be giving a spirited performance of some composers who don't get much attention at all. Soprano Andréanne Brisson Paquin joins Pallade Musica chamber ensemble – harpsichordist Mélisande McNabney, violinist Tanya LaPerrière, lutenist Esteban La Rotta, and JUNO-nominated cellist Elinor Frey – to perform two female baroque composers (Elizabeth-Claude Jacquet de la Guerre and Rosa Giacinta Badalla) together with the English composer, John Eccle, and the Polish composer, Adam Jarzębski, in a free concert on July 14 at 7pm. This is definitely a group that can take risks with their concert programming, and you can be sure they will play everything on the program with dedication and verve.
David Podgorski is a Toronto-based harpsichordist, music teacher and a founding member of Rezonance. He can be contacted at earlymusic@thewholenote.com
Details

David Podgorski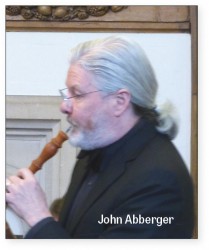 Funny how new initiatives that should be big news have a way of sneaking up on you. Case in point, apparently there's a Bach festival (three concerts) happening in town next month and nobody told me! Titled "Four Centuries of Bach. First Annual Toronto Bach Festival" it appears to be the brainchild of John Abberger, who besides being a principal oboist for Tafelmusik and the American Bach Soloists, recorded an album of Bach organ concertos for Analekta in 2006 as well as an album of Bach's Orchestral Suites 2 and 4 in 2011. His principal accomplice appears to be Phillip Fournier, organist at the Oratory of St. Philip Neri, on King St. W. Fournier will doubtless dazzle the audience May 28, in the middle concert of the three, performing Bach's Toccata and Fugue in d BWV 565 and other works on the Oratory's historically inspired Gober and Kney instrument.
The other two concerts, bookending this one, May 27 and May 29 take place at St. Barnabas Anglican Church, 361 Danforth Ave and are, I suspect, Abberger's "babies." The first is a concert that includes two of Bach's Weimar cantatas (Weinen, Klagen, Sorgen, Zagen and Herz und Mund und Tat und Leben), with a vocal lineup featuring Ellen McAteer, soprano, Daniel Taylor, alto, and Lawrence Wiliford! Info for the Sunday closing concert is somewhat vaguer – sonatas and trios by J.S. Bach, played by "Musicians of Four Centuries of Bach." But if the calibre of the players in the first two concerts is anything to go by, we're in for a three-part treat!
Given that the scope of the project is fairly ambitious, the people responsible really should devote more time to publicity. To wit, their website lists only concert titles, venues and dates, and a chance to order tickets. And that's pretty much it. You may see some concert programs if they update the website by the time you read this, but it doesn't look like they will. So being somewhat diligent about these things, and wishing always to provide a service to my readership, I did a little sleuthing and managed to uncover a few details, with which I can make some conclusions about this little-known upstart of a music festival.
Which leads me directly to my second reason for exhorting you to catch this Bach festival while you can, which is that the organizers seem to be burying their light so deep beneath a bushel - lack of publicity, last-minute organization - that "Four Centuries of Bach" might end up being how long it takes Abberger et al to get through Bach's catalogue of compositions for at least (wait for it) four centuries.
Grumbles aside, Abberger has enough experience with Bach's cantatas and other works to be able to craft a better-than-average performance. And Fournier is a gifted musician: I've enjoyed listening to him play a Bach sonata or two on at least one occasion.
Calling anything a "First Annual" festival is equal parts hubris and hopefulness. May the latter prevail!
Toronto Masque Theatre: If you're looking for a good show to see this month, you need not make any decisions based on trust, either of the abilities of the musicians on stage or of the conjecture of any music critics, look no further than Toronto Masque Theatre's performance of Purcell's The Fairy Queen, which will be given at the company's new digs at the Arts and Letters Club of Toronto, May 27 to 29 at 8pm. TMT was conceived with the idea of doing English 17th-entury repertoire, for which Purcell fits the bill perfectly, and the work will be staged and danced to by the redoubtable Marie-Nathalie Lacoursière, who has chosen to spice things up by setting the story contemporaneously. This is the kind of show that TMT was created to do, with singers, dancers and musicians who will do it very well. If you feel like something operatic, this concert is a sure win.
Monteverdi: If you're not in the mood for English opera, consider attending a performance of one the masterworks of one of the greatest composers of the 17th century, performed by the ensemble in the city that's most qualified to do it. I'm speaking of course about Toronto Consort's final concert of the season, a complete performance of Claudio Monteverdi's Vespro della beata Vergine, which they'll be doing at Trinity-St. Paul's Centre, May 6 to 8. I can't tell you the number of times that other groups' recordings and performances of this particular work have left me disappointed in the past, particularly with the oft-repeated decision to perform the Vespers a cappella, and I'm happy to say that the Consort will not be duplicating this particular faux pas. They'll be bolstered by a Montreal-based consort of sackbuts, La Rose des Vents, and that implies that some continuo will also be on hand – entirely necessary for a major work that was performed in a positively palatial church in one of the richest cities of the Renaissance. English tenor Charles Daniels will also lead the group, so you can bet the Consort is going to end this season on a high note.
Tafel's Two-City Tale: Of course, all these picks lead up to the Toronto early music scene's safest bet this month. Tafelmusik will be performing another program designed by Alison Mackay, this one based around the coffee-house scene of the early 18th century. "Tales of Two Cities: The Leipzig-Damascus Coffee-House" brings Canada's number-one baroque orchestra together with oud player Demetri Petsalakis, percussionist Naghmeh Farahmand and singer Maryem Tollar in a concert of Arabic music along with the music – if the Leipzig connection is any indication – of J.S. Bach. It seems like there's something in this concert for everyone. Not interested in hearing just another Tafelmusik Bach concert? The Arabic angle adds an interesting perspective. Not particularly keen on world music? Tafelmusik does a good enough job of Bach. You can catch this cultural cross-pollination at Koerner Hall, May 19 to 22, and George Weston Recital Hall, May 24.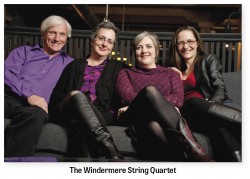 Windermere Fan: And finally, there's a lesser-known group in town that deserves to be gambled on. The Windermere String Quartet is a string ensemble that features some interesting repertoire and is capable of a very spirited performance indeed. Their next show, on Sunday, May 15, will feature a couple of standards of the string quartet repertoire, namely a Haydn quartet and Schubert's Death and the Maiden. But the WSQ has also found a hitherto-unknown composer, the early 19th-century Spaniard, Juan Chrisóstomo Arriaga, who died at the tender age of 20. The WSQ has a following already, puts on a fun show, and is willing to explore the entire length and breadth of the quartet repertoire. They're worth a shot.
David Podgorski is a Toronto-based harpsichordist, music teacher and a founding member of Rezonance. He can be contacted at earlymusic@thewholenote.com.
Details

David Podgorski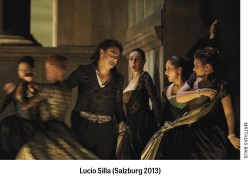 Count Hieronymus Joseph Franz de Paula Graf Colloredo von Wallsee und Melz, by the grace of God both spiritual and temporal ruler of the city of Salzburg, had ambitious plans for his new city. Although an unpopular choice with other church officials, as his election on the 13th ballot would indicate, Colloredo had no intention of currying favour with the common people either. His intentions were loftier. He wanted reform.
Reform, in any age, means not worrying over the popularity of your policies, and a certain optimism that you'll be appreciated for them later. For the archbishop, a well-educated eighteenth-century modernizer and would-be statesman, this also meant embracing the ideals of the new Enlightenment. The religious superstition that still clung to Catholicism after a millenium was to be officially suppressed. No more pilgrimages, and worshipping relics was frowned upon. There were to be no more religious processions through the streets, no kitschy decorations hung in churches and no lengthy orchestral musical interludes during the Mass. Colloredo's new modern church was to shed medieval superstition for the new ideals of reason and science – and if this meant he could save himself a bit of work, and a bit of money, along the way, then so much the better.
For the 16-year-old Wolfgang Amadeus Mozart, Colloredo's reform, especially the part that involved budget cuts, was an unmitigated disaster. As the prince-archbishop's new concertmaster, less music in church (call it cuts to arts funding) meant fewer commissions, and therefore less money, for composers like him. Furthermore, as what we might today refer to as an emerging artist, there was less opportunity for the young Mozart to distinguish himself by writing large-scale works that could get him a better appointment in the future. So faced with fewer opportunities Mozart did what artists typically do – he left to find work elsewhere. In this case, Mozart left for Milan to write an opera.
The result of Mozart's journey to Milan was Lucio Silla, an opera seria based on the story of Julius Caesar's predecessor (and Rome's first dictator) Lucius Sulla. As a career move, the idea of putting on an opera in Milan circa 1772 seemed like a bit of a sure thing. This was the third opera the teenage wunderkind would be writing for the Milanese stage and he would be working with a capable librettist, the Teatro Ducale's new appointment, Giovanni di Gamerra. Mozart also had a few months to devote to the project, more than enough time for a hyper-prolific composer who had already written some 25 symphonies, seven operas, and four piano concertos. Success, it would seem, was guaranteed.
Sadly, Lucio Silla didn't go over quite as Mozart planned, and it wasn't his fault, either. The lead tenor fell ill and his replacement couldn't handle the part, so many of the best arias in the opera had to be rewritten or cut out entirely. The other singers were late arriving in the city and had to begin rehearsing behind schedule. Not only did they bomb in the premiere, but the opera was considerably longer in performance than during rehearsal – imagine, if you will, a poorly sung opera that seems to never end, and you'll probably have some idea of how the premiere went. Lucio Silla would be the last opera written by Mozart for an Italian audience, and after a catastrophic run the chastened young composer crawled back to Salzburg and the archbishop, a failure at 16.
I think it's safe to say that Opera Atelier's Canadian premiere of Lucio Silla will raise the admittedly low bar set by its initial premiere. But they will likely do a lot better than that! Atelier's artistic directors, Marshall Pynkoski and Jeannette Lajeunesse Zingg played a significant role in the show's triumphant return to Milan at La Scala last year, under the baton of Marc Minkowski, and an even more extensive role in the triumphant production of the opera in Salzburg two years prior to that (including the participation of the Atelier Ballet in the Salzburg run). Now they get to bring the opera, in their very own production, to Toronto audiences from April 7 to 16 at the Elgin Theatre, including the stars of of the Salzburg and La Scala runs (Kresimir Spicer and Inga Kalna). Unlike Mozart's Milanese collaborators, Opera Atelier never fails to put on a great show, and this is a Canadian premiere that is long overdue! If you see one concert this month, make it this one.
The Orlando Consort, with over 25 recordings to their name, doesn't come to town very often (although as a soloist their tenor, Charles Daniels, is well known to Tafelmusik audiences, and a welcome guest), but any chance to hear them live is certainly welcome. The medieval-themed a cappella vocal group is known for their imaginative concert programming as well as some exceptional singing. Their latest project is certainly as imaginative as choral concerts get; they've devised a program of music known to have been extant in France during the lifetime of Joan of Arc and used it to score a compilation soundtrack to the 1928 silent film classic La passion de Jeanne d'Arc, by Carl Theodor Dreyer.
As either a work of scholarship or of film scoring, this would have been a formidable workload. The fact that the Consort has accomplished both demonstrates incredible artistic vision and dedication, and I have no doubt the veteran singers will be able to pull it off splendidly. You can catch this at Koerner Hall at the Royal Conservatory of Music, April 3 at 3pm.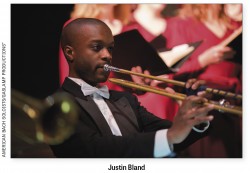 Zelenka at Tafelmusik: One composer who's been getting some well-deserved attention in recent years is the Czech composer Jan Dismas Zelenka. Since his rediscovery by fellow Czech composer Bedřich Smetana in the mid-19th century and the publication of a catalogue running to nearly 200 works, early music audiences have had more and more chances to hear him over the last few decades. Indeed, Tafelmusik audiences should already be familiar with the composer – the group performed his concert overture, Hippocondrie, earlier this concert season, and an excerpt from one of his sonatas made it on to their fantastic Galileo Project.
A double bassist, kapellmeister and avid contrapuntalist, Zelenka had the good fortune to work in the epic Dresden court of Augustus the Strong, where he wrote sacred works for choir and orchestra. Zelenka was also well-connected. Besides working with the great violinist, Johann Georg Pisendel, he was also a personal friend of Bach and was much admired by both composers. This month, Tafelmusik honors both Bach and Zelenka as composers of sacred music with a concert of Zelenka's Missa Omnium Sanctorum and Bach's cantata Weichet nur, betrübte Schatten at their home base at Trinity-St. Paul's Centre, April 28 through 30 and May 1.
Bland by name only! A good trumpet player is hard to find, and an excellent one harder still. It's again still rarer to find a great player of the baroque trumpet, since the instrument is considerably harder to play than its modern counterpart (smaller embouchure, no valves) and this may explain why Justin Bland is so darn busy and why he plays with, well, basically everyone. The Copenhagen-based musician will be visiting Toronto to play with Scaramella in a concert dedicated to music for baroque trumpet, and featuring the music of Bach, Melani, Merula and Purcell at Victoria College Chapel on April 16. The up-and-coming virtuoso will be playing with Scaramella artistic director Joëlle Morton on violone, the talented young soprano Dawn Bailey and local hotshot violinists Michelle Odorico and Rezan Onen-Lapointe, which means that this concert will feature a considerable amount of talent as well as youthful exuberance. (In the interest of full disclosure, I should also say that the concert also features this columnist on harpsichord, whose talent and/or exuberance you will have to judge for yourselves.)
David Podgorski is a Toronto-based harpsichordist, music teacher and a founding member of Rezonance. He can be contacted at earlymusic@thewholenote.com.