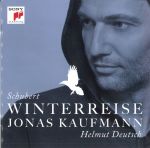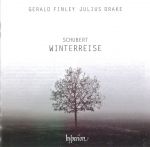 Schubert – Winterreise
Gerald Finley; Julius Drake
Hyperion CDA68034
Schubert – Winterreise
Jonas Kaufmann; Helmut Deutsch
Sony 88883795652
Only one of these two new versions of Winterreise seems to be able to take seriously one of Schubert's most harrowing delineations of despair.
Finley and Drake provide an object lesson in rendering these pieces as more than mere entertainment, whereas Kaufmann and Deutsch seem content with simply providing a well-sung song cycle. Both singers are consummate operatic artists and their pianists are both good but Drake is by far the better at conveying subtle nuances. Kaufmann is certainly an expressive singer but does not yet really have those skills that can project the psychological internalization of drama and tragedy. It is Finley and Drake who have all the essential extra skills in the strategies of lieder singing. These qualities are omnipresent throughout the entire cycle. In the final song, "Der Leiermann," Kaufmann certainly gives an engaging rendition, carefully projecting to his audience a muted picture of aimlessness. But listening to Finley and Drake we learn how bereft and suicidal the subject really is, making it painfully clear that he has lost all hope and is looking for his death. Mention must be made of the appropriate salon acoustic that crowns the Finley, versus a much larger venue in which Kaufmann appears.
Winterreise is Schubert's most trenchant metaphor of his own life and tragedy. It is a difficult piece and it is rare to hear such an unflinching probing of this sad masterpiece as Finley's, which may indeed be the best version ever.