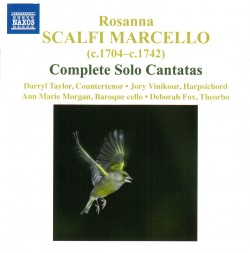 Rosanna Scalfi Marcello – Complete Solo Cantatas
Darryl Taylor; Jory Vinikour; Ann Marie Morgan; Deborah Fox
Naxos 9.70246-47
Rosanna Scalfi was an initially self-taught singer with a strong voice and an exceptionally wide range. Her social background was quite humble. Benedetto Marcello, the Venetian nobleman and composer, heard her and she became first his pupil, then his (secret) wife. These cantatas used to be attributed to Benedetto Marcello and have only recently been assigned to Rosanna Scalfi Marcello. They are her only known compositions.
The cantatas are very much in the style of Alessandro Scarlatti and the young George Frideric Handel earlier in the 18th century. Each cantata has two arias, separated by a recitative; in many cases a recitative also comes before the first aria. Each aria is structured as a da capo: the initial section establishes the key of the piece, a middle section gives us a contrasting key or keys, while the conclusion goes back to the key originally established. John Glenn Paton, in an informative essay that comes with these discs, points out that there is considerable experimentation within the conventional framework. The second recitative in the cantata Ecco il momento, for instance, begins in F-sharp minor, then works its way towards the remote key of F Minor before moving back to the original key.
It is a pity texts are not available, not even on the Internet. There is, however, a recent edition of the score by Paton and Deborah Hayes, published by ClarNan Editions (clarnan.com).