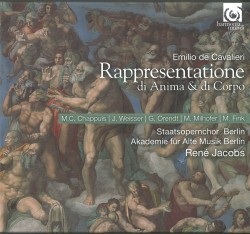 Emilio de Cavalieri – Rappresentatione di Anima e di Corpo
Soloists; Staatsopernchor Berlin; Akademie fur Alte Musik Berlin; René Jacobs
harmonia mundi 902200.01
Cavalieri's Rappresentatione di Anima e di Corpo (1600) dramatizes how the Body and the Soul both reject the blandishments of Pleasure and of Worldly Life and choose Eternal Life over Damnation. Such a summary makes the work seem very dreary but it can hold the attention of a modern audience, as was demonstrated by the Canadian Opera Company in its 1983/84 season. Although the Rappresentatione is not, in my view, an opera, it undoubtedly influenced that newly emerging genre through its staging and through its use of solo singing with chordal accompaniment.
Both the singing and the instrumental playing on this CD are very fine. The performance is based on that of a production at the Schiller Theater in Berlin in 2012. Although the work's first publication provided the melody and the bass line, a performance can only be realized by enriching the chords needed and by adding further melodic and contrapuntal lines. There is a great deal of instrumental variety on this recording. Of particular interest is the arch-cittern or ceterone (which bears a similar relationship to the cittern as the theorbo does to the lute). The instrument used here was built for the Musée de la Musique in Paris on the basis of an original preserved in Florence.