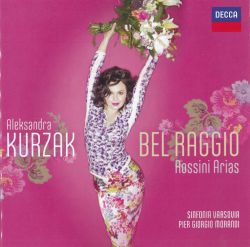 Bel Raggio – Rossini Arias
Aleksandra Kurzak; Sinfonia Varsovia; Pier Giorgio Morandi
Decca 478 3553
Now here is a disc that once and for all will put a stop to people moaning that the "golden age of singing is over." Those lucky enough to have attended L'Elisir d'Amore in December 2012 at London's Covent Garden with Aleksandra Kurzak (and Roberto Alagna) or even before, in 2008, at Kurzak's sensational debut there in Rossini's Matilda di Shabran will certainly protest vehemently. The young Polish coloratura non-plus-ultra is following the footsteps of the great Joan Sutherland with her opening number Bel Raggio lusinghier here, the phenomenal aria from Semiramide – and to put it mildly if she (Dame Joan) were still alive, she'd better watch out for her job. Without a doubt "her voice is stupendous, firm, crystal clear in coloratura, beautifully rich in legato" – as The Times of London raves.
This is indeed a stunning recording, one that you'd want never to end and to listen to over and over again. There are nine arias of immense difficulty, emotional scope and a vocal range extending from strong deep notes into the stratosphere of shattering high notes, which unfortunately I cannot identify (not having perfect pitch). The hair-raising Rossini fioraturas she sails through lightly as a feather and she refers to these "as the easy part." Kurzak comes from a musical family; her mother was an opera singer and her father a horn player and she is also ravishingly beautiful with a lovely stage presence. Splendid accompaniment too by Sinfonia Varsovia conducted with great flair by Pier Giorgio Morandi. This is her second release for Decca and it's a winner.