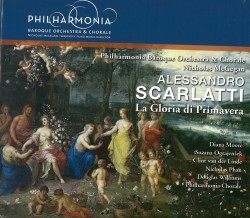 Alessandro Scarlatti – La Gloria di Primavera
Moore; Ograjenšek; van der Linde; Phan; Williams; Philharmonia Baroque Orchestra & Chorale; Nicholas McGegan
Philharmonia PDP-09
Alessandro Scarlatti was a major composer of the early 18th century, particularly known as a composer of opera. Since then his work has virtually disappeared. La gloria di primavera is not an opera but a serenata composed to mark the birth of the Archduke Leonard, the son of the emperor Charles VI, in 1716. Structurally the work is like an opera seria, with its alternation of recitatives and arias (mostly da capo), only one duet and few ensembles. The characters are allegories of the four seasons: Spring (the mezzo Diana Moore), Summer (the soprano Suzana Ograjenšek), Autumn (the countertenor Clint van der Linde) and Winter (the tenor Nicholas Phan). The four cannot agree on who can take the credit for the birth of the baby and they agree to ask Jove (the bass-baritone Douglas Williams) to adjudicate.
The singing and the orchestral playing on this CD are splendid but overall my sense is that the work does not represent Scarlatti at his best. The section near the end contrasting the devastation caused by the War of the Spanish Succession with the peace established in 1713 (the Peace of Utrecht) is splendid, but the basic plot strikes me as pretty flimsy.