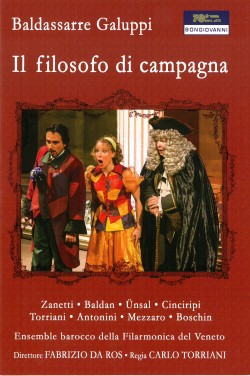 Baldassarre Galuppi – Il filosofo di campagna
Zanetti; Baldan; Unsal; Cinciripi; Torriani; Antonini; Mezzaro; Boschin; Ensemble Barocco della Filarmonica del Veneto; Fabrizio da Ros
Bongiovanni AB 20030
Opera buffa dates from the beginning of the 18th century. It was essentially a Neapolitan art form; it was farcical and lightweight. By the late 1740s it had metamorphosed into the dramma giocoso which was still comic but had more plausible situations with semi-serious parts and a more realistic psychology. These works were usually Venetian and they included librettos by Carlo Goldoni, set to music by Baldassare Galuppi – as is the case here. In this opera Eugenia wants to marry the young nobleman Rinaldo but her father, Don Tritemio, insists that she marry the wealthy farmer Nardo, the philosopher, instead. Things end happily, of course: Eugenia marries Rinaldo and her maid Lesbina marries Nardo, while Don Tritemio makes do with Nardo's niece Lena.
The DVD gives us a live performance from the Teatro Comunale in Belluno, which took place in October 2012. The director, Carlo Torriani, makes a clear distinction between the more rounded characters like the young lovers and those who are conceived more farcically: the crusty father and especially the notary, who is affected by interminable bouts of sneezing. I suspect that it is the latter which will prove most difficult to take in subsequent rehearings or reviewings. The conductor, Fabrizio da Ros, presents the music with loving care and the work is well sung. I especially enjoyed the soprano Giorgia Cinciripi, who sings Lesbina.