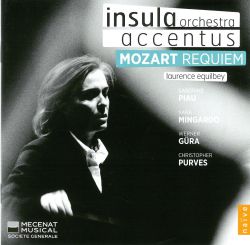 Mozart – Requiem
Soloists; Accentus; Insula Orchestra; Laurence Equilbey
naïve V 5370
There are many recordings of Mozart's Requiem. My own favourite is the live recording made in 2001 by Les Violons du Roy and La Chapelle de Québec, conducted by Bernard Labadie, with Karina Gauvin, Marie-Nicole Lemieux, John Tessier and Nathan Berg as soloists, and with a brilliant cameo part by the trombonist Alain Trudel (on Dorian; at present only available as an MP3).
The Requiem was unfinished when Mozart died and was subsequently completed by his student, Franz Xaver Süssmayr, with some input by Jakob Freystädtler and Joseph Eybler. It is likely that they based their work on sketches by Mozart himself but, since these sketches no longer exist, we cannot be certain about that. Most performances adopt the Süssmayr completion: it may not be all Mozart but it is the closest we can get to Mozart's conception of the work. The Labadie performance, however, uses a revision and completion by Robert D. Levin.
The version on the present recording is more traditional. It features a new period ensemble, the Insula Orchestra, and a very fine choir, Accentus, which has been in existence for 20 years. The soloists are Sandrine Piau, soprano, Sara Mingardo, contralto, Werner Güra, tenor, and Christopher Purves, bass-baritone. They are also very good. The booklet that comes with the CD has a useful chart outlining what Mozart completed and what was completed by others. I could, however, do without passages like: "And so he laid down his pen after the first eight bars of the 'Lacrymosa' ... For he was not God, but a man, and could bear no more."
Although my allegiance is still to the Labadie performance, I liked the new one and recommend it.