On Opera
Details

Christopher Hoile
As the Canadian Opera Company's production of Bellini's Norma continues its run, two Baroque operas will receive full-scale productions in Toronto in October. The first to open will be the COC's first-ever presentation of Ariodante, an opera from 1735 by George Frideric Handel, running from October 16 to November 4. The second will be a new production from Opera Atelier of Henry Purcell's masterpiece from 1689, Dido and Aeneas, running from October 20 to 29. The productions provide a contrast in approach to operas from the same period and country of origin.
Dido: Opera Atelier presents Dido and Aeneas, after a hiatus of ten years, in a new production. Writing in the Opera Atelier blog, Marshall Pynkoski said: "Of all of Opera Atelier's repertoire, Dido remains perhaps the closest to our hearts. In 1986 Opera Atelier was officially launched with Canada's first staged production of Purcell's Dido and Aeneas, which took place at the Royal Ontario Museum. Since that inaugural production, Dido has become one of Opera Atelier's most important calling cards internationally." Dido has in fact toured internationally more than any other Canadian opera production.
"Why stage a new production and what constitutes a new production for a period performance company?" I put these questions to Opera Atelier co-artistic director Marshall Pynkoski.
Pynkoski explains: "Opera Atelier has been moving more into the storytelling itself. We had a wonderful beginning focusing on period style, but we had to ask what does this mean as a means of communication rather than a means of gorgeous display. I want people to listen and take in what these operas have to say. And so we've been stripping back the look of the company. If you look at our early productions and how incredibly elaborate they were with the wigs, the makeup, the sets, and what they've become now, I like to think we're getting closer and closer to the core of what this work is.
"I still love period productions, I like exploring within that idiom, but the idiom isn't dictating to us now. It's become much more a means of expression. So with the new Dido, the set designs and the costumes have been simplified tremendously with far less applied detail. Instead of wigs, all the women are wearing their hair down for the first time. Instead of the tight control over design we're allowing a more human element to enter everything. To increase the drama we're allowing everyone a little bit more freedom in how they're moving through the aesthetic gesturally and rhetorically.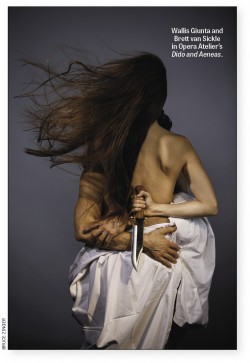 "We still want to work within a framework that allows this very stylized art form, but the stylization isn't going to dictate to us. Instead it becomes a point of departure and a means of creating something new." Pynkoski says his point of reference has always been George Balanchine who could not have created something new for American Ballet Theatre without having been steeped in the strictures of Russian classical ballet. "Balanchine asked how much he could take away from the art form and still have it remain classical ballet."
As for the common practice of updating productions to the present or recent past, Pynkoski says, "If we do that we lose all sense of history and what we can learn from history. If we insist on seeing everything as a mirror of ourselves, we see ourselves as a little moment in history that is divorced from everything that has come before. The past informs us. We're part of the past. Rather than being provocative, an updated setting puts us into the realm of the familiar and the familiar gives us comfort and acts as a buffer. In my experience it is the past that can jolt more than the present. Familiarity can make us miss an enormous amount that is there."
In the all-Canadian cast of the new production, rising mezzo-soprano Wallis Giunta makes her role debut as Dido and tenor Christopher Enns makes his role debut as Aeneas. OA mainstay Meghan Lindsay will sing Belinda, Dido's sister and confidante, beloved mezzo Laura Pudwell returns to sing the Sorceress and tenor Cory Knight sings the Sailor. In a nod to the work's first performance at Josias Priest's girls' school in 1689, the Toronto Children's Chorus will be the Chorus. As usual, Pynkoski will direct and David Fallis will conduct the Tafelmusik Baroque Orchestra.
Ariodante: Taking a non-period approach to performance is the Canadian Opera Company's production of Handel's Ariodante, a co-production with Festival d'Aix-en-Provence, Dutch National Opera and Lyric Opera of Chicago, already seen in Aix and Amsterdam.
Ariodante derives its plot from Cantos 5 and 6 of Ludovico Ariosto's epic poem Orlando Furioso (1532). Ariosto's 46-canto work is set during Charlemagne's reign as Holy Roman Emperor (800-814AD) during a fictitious war on Europe waged by the Saracen "King of Africa." The action involving Ariodante takes place in Scotland, where Ginevra, daughter of the King, is happily betrothed to Ariodante. When Ginevra rejects the lewd advances of Polinesso, the Duke of Albany, he tricks Ariodante and her father into believing she has been unfaithful. As a result Ariodante attempts suicide and Ginevra is condemned to death. Fortunately, Ariodante's brother Lurcanio challenges Polinesso to a duel, which Lurcanio wins, and forces Polinesso to confess his treachery.
For Andrea Marcon, who conducted the premiere of Richard Jones' production at Aix, Ariodante is the "perfect" Handel opera in its structure, in the strength of its melodies and arias, and in the consistency of its melancholic tone. Many critics have noted that Ariodante is written on a much more intimate scale than some of Handel's other operas. It is perhaps because of this and because of the work's sombre tone that British director Jones has almost totally changed the opera's setting, doing away with all the trappings of heroism and chivalric romance and relocating the action to a small Scottish fishing village in the 1970s where Ginevra's father is not a king but merely a powerful man. The emphasis is thereby shifted to a more contemporary aspect of the plot – the intolerance of a small religious community that shuns a woman simply because she has been accused of immorality.
Since Handel had available the services of dancer Marie Sallé and her company for this opera and for Alcina (1735), these are the only two operas by Handel that contain so much dance music, especially in interludes at the end of each act. A company like Opera Atelier with a resident corps de ballet would have no problem with the inclusion of dance as it showed in its 2014 production of Alcina. Yet, according to reports from Aix and Amsterdam, while Jones does include Scottish dancing, he intriguingly substitutes table-top puppet shows for the end-of-act dance interludes to foreshadow developments in the plot.
British mezzo-soprano Alice Coote, last seen at the COC in 2014 as Dejanira in Hercules, will sing the role of Ariodante, originally written for a castrato. Canadian soprano Jane Archibald will sing the much abused Ginevra. Armenian mezzo Varduhi Abrahamyan sings the trouser role of the villainous Polinesso, no longer a duke but reconceived by Jones as a Protestant minister. Canadian soprano Ambur Braid is Dalinda, Ginevra's servant who is secretly in love with Polinesso. And Canadian tenor Owen McCausland is Ariodante's brother Lurcanio. With Ariodante, COC music director Johannes Debus conducts his first Handel opera.
Christopher Hoile is a Toronto-based writer on opera and theatre. He can be contacted at opera@thewholenote.com.
Details

Christopher Hoile
Based on the schedules that have already been announced, the 2016/17 opera season in Toronto will feature an intriguing mix of old favourites, revivals of major rarities and world premieres.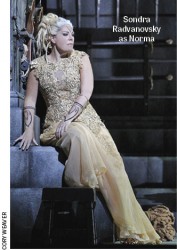 The Canadian Opera Company opens the season with a new production of Vincenzo Bellini's Norma (1831), an opera not heard at the COC since 2006. Alternating in the title role of the Druid priestess will be Sondra Radvanovsky and Elza van den Heever. Pollione, her fickle Roman lover, is Russell Thomas, while Pollione's new love, Adalgisa will be Isabel Leonard. Dimitry Ivashchenko will sing Norma's father Oroveso. Stephen Lord conducts the eight performances running from October 6 to November 5.
Alternating with Norma, the COC continues its exploration of Handel with the company premiere of the composer's 1734 opera Ariodante based on an episode from Ariosto's epic poem Orlando Furioso (1532). Alice Coote sings the trouser role of Ariodante, Jane Archibald is his beloved Ginevra and Varduhi Abrahamyan sings the second trouser role of the jealous Polinesso. Johannes Debus conducts his first ever Handel opera for seven performances running from October 16 to November 4.
The winter season sees the revival of two COC productions, Mozart's The Magic Flute running for 12 performances from January 19 to February 24 and Wagner's Götterdämmerung running for seven performances from February 2 to 25. Andrew Haji and Owen McCausland share the role of Tamino, while Elena Tsallagova and Kirsten MacKinnon sing the role of Pamina. Joshua Hopkins and Phillip Addis alternate in the role of the bird catcher, Papageno. The Queen of the Night is Ambur Braid. Sarastro is sung by Goran Jurić in his Canadian debut and by Matt Boehler. Ashlie Corcoran directs the revival of the 2005 production and Bernard Labadie makes his COC debut at the podium.
The COC's production of Götterdämmerung, last seen in 2006, stars the acclaimed Christine Goerke, who continues Brünnhilde's journey that she began in Die Walküre in 2015 and continued in Siegfried in 2016. Her Siegfried this time will be Andreas Schager. Martin Gantner is Gunther, Siegfried's rival, Ileana Montalbetti is Gunther's sister Gutrune, Ain Anger is Gunther's dangerous half-brother, Hagen, and Robert Pomakov is the dwarf Alberich. Johannes Debus conducts his first-ever Götterdämmerung and Tim Albery returns to direct.
The highlight of the Toronto opera calendar occurs in the COC's spring season. From April 20 to May 13, the COC presents a new production of Louis Riel by Harry Somers, written for Canada's centennial in 1967, remounted in 1975 and now revived for Canada's sesquicentennial in 2017 in a co-production with the National Arts Centre in Ottawa. Generally regarded as Canada's greatest opera, Louis Riel runs for seven performances from April 20 to May 13 in Toronto and from June 15 to 17 at the NAC.
In the all-Canadian cast, Russell Braun sings the title role of the controversial Métis leader; James Westman is Sir John A. MacDonald; Simone Osborne is Riel's wife Marguerite; Allyson McHardy is Riel's mother Julie; Michael Colvin is Thomas Scott, an Orangeman executed on orders by Riel; and John Relyea is Bishop Taché, who is duped into helping betray Riel. Peter Hinton directs and Johannes Debus conducts this momentous production.
Alternating with Louis Riel is the Puccini warhorse Tosca, in the now-familiar production directed by Paul Curran last seen here in 2012. The 12 performances run from April 30 to May 20 and will use a double cast. Adrianne Pieczonka and Keri Alkema will sing the title role, Marcelo Puente and Kamen Chanev sing Tosca's lover Cavaradossi and Markus Marquardt and Craig Colclough sing the villainous Scarpia. Canadian maestra Keri-Lynn Wilson, making her COC debut, conducts.
Opera Atelier's season features two revivals of late 17th-century operas – Purcell's Dido and Aeneas (1689) and Marc-Antoine Charpentier's Medea, (Médee, 1693). Dido and Aeneas, running from October 20 to 29, will feature Wallis Giunta as Dido, Christopher Enns as Aeneas, Meghan Lindsay as Dido's confidante Belinda and Laura Pudwell as the Sorceress. Medea, running from April 22 to 29,will see Peggy Kriha Dye as Medea, Colin Ainsworth as Jason, Mireille Asselin as Jason's wife Créuse and Stephen Hegedus as Créon. Both productions will be directed as usual by Marshall Pynkoski with David Fallis conducting the Tafelmusik Baroque Orchestra.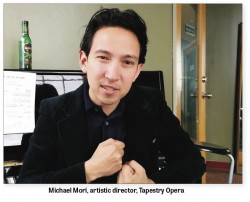 Tapestry Opera has an especially exciting season. The season begins with the Toronto premiere of Naomi's Road (2005), composer Ramona Luengen and librettist and director Ann Hodges, based on the novel by Joy Kogawa. Set in Vancouver during World War II, the opera follows nine-year-old Japanese-Canadian Naomi and her brother who are sent to internment camps in the B.C. interior and Alberta. The opera runs from November 16 to 20, 2016, at St. David's Anglican Church, the home of St. Andrew's, the last Japanese-Canadian Anglican parish in Toronto.
Running from May 24 to 30, Tapestry presents The Enslavement and Liberation of Oksana G., its largest-scale production since Iron Road in 2001. Oksana G. by composer Aaron Gervais and playwright Colleen Murphy is the story of a young Ukrainian girl lured into the world of sex trafficking by a Georgian recruiter who unexpectedly falls in love with her. When Oksana escapes to a refugee shelter, she finds herself entangled in a complex triangle between the recruiter and the Canadian priest who runs the shelter. With its fierce, contemporary heroine, Oksana G. sets out to challenge the operatic convention of the tragic victim. The premiere is led by acclaimed director Tom Diamond and conductor Jordan de Souza.
Toronto Operetta Theatre also has two fully staged revivals on offer. Running from December 27, 2016, to January 8, 2017, is Gilbert and Sullivan's The Pirates of Penzance (1879) with Colin Ainsworth as Frederick, Curtis Sullivan as the Pirate King, Elizabeth Beeler as Ruth and Vania Chan as Mabel. COC resident conductor Derek Bate wields the baton. Running from April 26 to 30 is The Chocolate Soldier (1908) by Oscar Straus, based on Arms and the Man (1894) by George Bernard Shaw. The popular operetta features Jennifer Taverner, Anna Caroline Macdonald, Stefan Fehr and Michael Nyby. Peter Tiefenbach conducts. Guillermo Silva-Marin directs both productions.
Toronto Masque Theatre has a fascinating lineup. Its first production running from November 17 to 19 is Handel's cantata Apollo e Dafne (Apollo and Daphne,1710) starring Jaqueline Woodley and Geoffrey Sirett and staged by Marie-Nathalie Lacoursière. This is paired with Richard Strauss' unusual melodrama for piano and spoken word, Enoch Arden (1897) based on the 1864 poem by Tennyson. TMT's second production is a world premiere, The Man Who Married Himself, composed by Juliet Palmer to a libretto by Anna Chatterton based on a Karnataka folk tale. The singers include Scott Belluz, Subiksha Rangarajan and Alex Samaras and the dance will combine Eastern and Western traditions just as will the makeup of the orchestra. Hari Krishnan will direct and choreograph the piece and Larry Beckwith conducts both productions.
VOICEBOX: Opera in Concert again helps to fill in the void in repertoire left by the larger companies. This season will begin with the second Bellini of the season in the form of I Capuleti e i Montecchi (1830), Bellini's version of Romeo and Juliet, on November 20, with Caitlin Wood, Anita Krause and Tonatiuh Abrego. On February 5 is Franz Joseph Haydn's delightful L'Isola disabitata (1779) accompanied by the Aradia Ensemble with Kevin Mallon conducting. And on March 26 is Modest Mussorgsky's Khovanshchina (1886). Although not all of Toronto's opera companies have announced their offerings, the season already presents an embarras de choix.
Christopher Hoile is a Toronto-based writer on opera and theatre. He can be contacted at opera@thewholenote.com.
Details

Christopher Hoile
It used to be that come June Ontarians had to leave the province to seek opera performances elsewhere. That's not the case this summer which is surprisingly filled with opera, especially with new ones.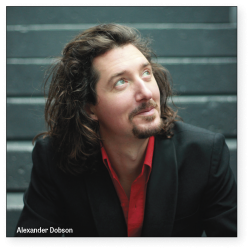 The season begins with a brand new opera festival – the Toronto Festival of Children's Opera – running May 29 to June 12. The festival includes lectures and symposia and performances of four operas. There is the Adventures of the Magic Tree Fort created by the After School Opera Program; the world premiere of Dean Burry's latest work, The Sword in the Schoolyard by VIVA! Youth Singers of Toronto; a version of Hansel and Gretel by Shoestring Opera and a remount of Dean Burry's successful 2004 opera, The Hobbit, presented by the Canadian Children's Opera Company June 9 to 12 with Giles Tomkins as both Gandalf and Smaug.
The same month Opera 5 concludes its 2015/16 season with an immersive performance of Die Fledermaus (1874) by Johann Strauss, Jr. The operetta is set in the midst of a party going on at 918 Bathurst Street with card playing and alcohol available. Michael Barrett sings Eisenstein, Rachel Krehm is Rosalinde, Julie Ludwig is Adele and Keith Lam is Falke. Patrick Hansen conducts an 11-member ensemble and a 13-member chorus and Aria Umezawa is the stage director. The party featuring dancers and surprise cabaret acts is set for June 8 to 11.
Also in June are three performances by Opera by Request, the company where the singers choose the repertory. First up on June 10 is the rarity La Wally (1892) by Alfredo Catalani. The opera is best known for the aria "Ebben? Ne andrò lontana," made popular as the stolen recording in the 1981 movie Diva. Sarah Hood sings Wally (a nickname for Walburga), Paul Williamson sings Hagenbach whom Wally loves and Michael Robert-Broder sings Gellner who also loves Wally. One reason the opera is seldom produced is that it ends in an avalanche, but that will be no problem for Opera by Request since the work is presented in concert.
Also on OBR's schedule is Stravinsky's The Rake's Progress (1951), an opera not seen in Toronto since 1985. Will Ford sings the role of the aptly named Tom Rakewell, Sharon Tikiryan sings Tom's betrothed, Anne Trulove, and Michael York sings Nick Shadow, the Devil in disguise who leads Tom astray. The single performance takes place June 17.
OBR's final offering on June 25 is Verdi's Aida (1871). Carrie Gray will sing the title role, Paul Williamson will sing Aida's beloved Radames and Ramona Carmelly will sing the jealous Amneris. For all three operas in concert, the tireless William Shookhoff will provide the piano accompaniment.
June 26 will see the first production of the mysterious Confidential Opera Project. In a unique arrangement, COP co-creators Marion Abbott and Gregory Finney choose and cast an opera and distribute the scores to the cast with the proviso that they keep the opera a secret. With no rehearsals, the cast and music director meet for the first time on the night of the performance and start the opera. The audience shows up without knowing what opera they're going to see. The challenge for the performers is to create an ensemble on their feet in front of an audience. In his COP blog, Finney revealed this much: "Our first show, like all the ones we have planned after, is a beloved part of the Opera canon and let me tell you this: each and every one will leave you thrilled, awed and amazed!"
Farther afield the Westben Arts Festival in Campbellford is presenting the world premiere of The Pencil Salesman with both music and libretto by Brian Finley. The fully staged opera concerns Boris Ball, the patriarch of a family of inventors. While he lives in his glory days when he invented the Personal Touch Typewriter, it takes a pencil salesman to bring him into the present to get to know his own granddaughter. Among the eight-member cast, John Fanning plays Boris, Donna Bennett his wife Rose and Alexander Dobson the Pencil Salesman. Daniel Warren conducts a chamber orchestra; stage direction is by Michael Mori, artistic director of Tapestry Opera. The opera runs June 25, 26 and July 1, 2 and 3. There are also a series of workshops and vocal intensives connected with the opera.
Moving on to July, opera returns to Toronto Summer Music in the form of The Rape of Lucretia (1946) by Benjamin Britten on July 22. This, the first of Britten's chamber operas, is based on a French play by André Obey, which gave the librettist Ronald Duncan the idea of having the story narrated by a Male and a Female Chorus who interpret the action from a Christian point of view. Set in Rome circa 500 BC the opera focuses on Lucretia, wife of Junius Brutus, who, after being raped by Tarquinius, chooses suicide rather than a life of dishonour.
The production, co-produced by Against the Grain Theatre and the Canadian Opera Company at the Winter Garden Theatre, features Emma Char as Lucretia, Iain MacNeil as Tarquinius, Owen McCausland as the Male Chorus and Chelsea Rus as the Female Chorus. Topher Mokrzewski conducts a 13-member ensemble and Anna Theodosakis directs.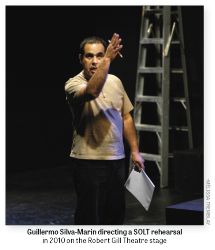 The end of July and beginning of August is the time of the productions of the Summer Opera Lyric Theatre, founded and directed by Guillermo Silva-Marin and this year celebrating its 30th anniversary. SOLT presents fully staged operas with piano accompaniment at the intimate Robert Gill Theatre at the University of Toronto. On July 30 and August 2, 4 and 7, it presents The Tales of Hoffmann (1881) by Jacques Offenbach. On July 30 and August 3 and 5, it presents Handel's Giulio Cesare (1724).
On July 29 and 31 and on August 6, as part of its anniversary celebrations, SOLT presents its first-ever world premiere, A Tale of Two Cities with music by Victor Davies to a libretto by Eugene Benson. Based on Charles Dickens' 1859 novel of the same name, the opera concerns Charles Darnay, an exiled French aristocrat, and Sydney Carton, a disreputable but brilliant English lawyer, who become enmeshed through their love for Lucie Manette and drawn against their will to Paris at the height of the Reign of Terror.
Davies and Benson informed me that they began the piece as a musical before they became occupied with the operetta Earnest, The Importance of Being that Toronto Operetta Theatre premiered in 2008. They returned to the work and reshaped it as a grand opera with a large-scale scenes at a ball and in the courtroom. As Davies says, "The stuff of opera was always there, with the vocal requirements, high lyricism and large dramatic gesture." Though the SOLT production will use only piano accompaniment, Davies says that an audience will easily be able to imagine the orchestral sound he intends. Michael Rose is the music director and Guillermo Silva-Marin the stage director.
In August the SummerWorks festival will include the opera Mr. Shi and His Lover by Njo Kong Kie, his fourth opera to appear at the festival. The most recent was the well-received Señorita Mundo in 2009. Mr. Shi and His Lover, commissioned by the Macau Experimental Theatre in 2013, is based on the same real-life story that inspired the play M. Butterfly (1988) about a Chinese opera performer and his French Diplomat lover who believed him to be a woman. Jordan Cheng from Macau and Po Jen Chen from Taiwan sing the two roles. The composer conducts an ensemble of piano, marimba and Chinese percussion and Johnny Tam from Macau will direct. The work running from August 5 to 13 is sung in Mandarin with English surtitles.
Christopher Hoile is a Toronto-based writer on opera and theatre. He can be contacted at opera@thewholenote.com.
Details

Christopher Hoile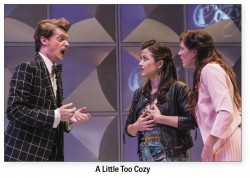 Opera this May is about making things new and making new things. Not only will Tapestry Opera stage the world premiere of a Scottish/Canadian collaboration but two other companies will provide new librettos to well-known works.
First up is Against the Grain Theatre's production of A Little Too Cozy. The production, workshopped at the Banff Centre last year, reimagines Mozart's 1790 opera Così fan tutte as a television game show. This will complete AtG's series of "transladaptations" of the three Mozart/Da Ponte operas after Figaro's Wedding in 2013, with the audience conceived of as wedding guests, and #UncleJohn, staged in 2014 as the wedding reception for Zerlina and Masetto. Like the previous two, AtG artistic director Joel Ivany has provided Mozart's opera with a new English-language libretto.
Ivany is not the first to write a new libretto for Così fan tutte. The work was unpopular when it first premiered and had only ten performances in Mozart's lifetime. In 1791, Friedrich Schröder called Da Ponte's libretto "a miserable thing, that debases all women." In 1875, critic Eduard Hanslick made the famous statement that "the boundless triviality of the libretto everywhere deals a death blow to Mozart's lovely music." Because of this attitude, which many people still hold, there were several unsuccessful attempts to rewrite the libretto. Only after the Glyndebourne Opera revival in 1934 did the work with Da Ponte's libretto become standard repertoire.
In Ivany's adaptation, the audience becomes the studio audience for a live taping of the final episode of a reality show called "A Little Too Cozy." The show asks its contestants, "Can you fall in love with someone you've never met?" The opera will be presented in a real TV studio, CBC Toronto's Studio 42 at 25 John Street. Before the show begins, the final four contestants have already found their match, but as the final test of the show, the women have to meet an additional set of people before they're finally allowed to be with their fiancés. After that, the women must then decide if they still love their fiancés – whom they have never met in person – since from the start the men and women have been separated by the so-called Wall of Love. As Ivany says, "These four contestants go on the show because they're tired of this superficial way that relationships are presented now, and they're looking for something more authentic, more real, more rooted in our being. But then over the course of the show, they get messed around and played with."
The two female contestants are Felicity (i.e. Fiordiligi) sung by soprano Shantelle Przybylo and Dora (i.e. Dorabella) sung by mezzo-soprano Rihab Chaieb. The two male contestants are Fernando (i.e. Ferrando) sung by tenor Aaron Sheppard and Elmo (i.e. Guglielmo) sung by baritone Clarence Frazer. Baritone Cairan Ryan plays the host of the show, Donald L. Fonzo (i.e. Don Alfonso), and soprano Caitlin Wood is his lovely assistant Despina. As with AtG's previous productions conductor Topher Mokrzewski has also arranged the music The opera runs from May 12 to 21.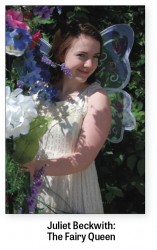 Toronto Masque Theatre: A second opera in May also has a libretto that has impeded its regular performance. This is The Fairy Queen from 1692 by Henry Purcell. As many people will know from recordings, the work contains some of the loveliest theatre music Purcell ever wrote. The problem is that this music what was called a "semi-opera" of the same name, adapted by an anonymous author from Shakespeare's A Midsummer Night's Dream. Purcell's music is concentrated in five masques, related only thematically to the play, each following one of the play's five acts. The adaptation of the play is generally deemed to be dreadful and to perform it with Purcell's music would take up to six hours.
Ever since the score was rediscovered in the early 20th century, the question has been how to redeem Purcell's music from its original context. Various solutions have been adopted: having actors play selected scenes from Shakespeare's original comedy before the five masques; or having a narrator recount the action of the play, rather than subjecting the audience to it.
Toronto Masque Theatre has come up with a far more ingenious solution – to do away not merely with the play but with the spoken word entirely. Director/choreographer Marie-Nathalie Lacoursière has reconceived the work in such a way that it consists solely of Purcell's music but will still tell a story. Lacoursière's starting point is the first lines of the first air: "Come, come, come, let us leave the Town / And in some lonely place, / Where Crowds and Noise were never known / Resolve to spend our days." Rather than an arcadian scene, Lacoursière imagines nine singers and two dancers as vaguely contemporary people waiting at a train station. The scenario follows the individuals as they seek love, happiness and meaning in life. To tell the new story Lacoursière has had to reorder the musical numbers.
In a telephone interview, TMT artistic director, Larry Beckwith, was reluctant to reveal too many details about the new story so that they will come as a surprise. He did say, though, that the figure of the Drunken Poet sung by Alexander Dobson, would feature prominently. Besides Dobson, the cast includes sopranos Juliet Beckwith, Vania Chan, Charlotte Knight and Janelle Lapalme; alto Simon Honeyman; tenors Cory Knight and Jonathan MacArthur; baritone Graham Robinson and dancers Stéphanie Brochard and Lacoursière herself. Beckwith conducts a seven-member baroque ensemble from the violin. Performances take place at the Arts and Letters Club May 27 to 29.
Tapestry's Winner: In addition to presenting old operas in new ways, May also brings the world premiere of an opera co-commissioned by Toronto's Tapestry Opera and Scottish Opera. This is Rocking Horse Winner by Irish-Scottish composer Gareth Williams, with a libretto by Canadian Anna Chatterton.
When asked how this collaboration came about, Chatterton wrote: "Gareth and I met in the 2009 Tapestry Lib Lab (a ten-day "speed dating" program for composers and writers to collaborate together by writing a five-minute opera in 48 hours). We really enjoyed working together and recognized a similar aesthetic and appreciated each other's artistic style. Gareth also has a great sense of dramatic form, which is fantastic for collaborating on new ideas. We wanted to write something longer together and Gareth suggested adapting D.H. Lawrence's haunting short story, Rocking Horse Winner."
Lawrence's short story was first published in 1926 and was made into a classic British film in 1949. The story focuses on a young boy, Paul, who lives in a family that feels it is dogged by bad luck. The family, however, also lives beyond its means and Paul's Uncle Oscar and the gardener Bassett seek to increase the family income by betting on horses. Paul is literally haunted by mysterious voices in the house that tell him "There must be more money." To solve the problem he rides his rocking horse until the name of the winning horse magically comes to him.
Chatterton says that she and Williams changed certain details of the story: "We set the story in the present and made the pivotal character Paul – originally a young boy in Lawrence's short story – into a young man who is on the autistic spectrum." Bassett is changed from a gardener to Paul's health-care worker. Nevertheless, Lawrence's original themes are still there and still relevant. As Chatterton says, "The story is very much about entitlement and greed, and also about a mother who can't feel love for her son and all the complexities that come with that disconnect. We feel these themes still speak to today's society."
The cast features soprano Carla Huhtanen as Ava, Paul's mother; tenor Keith Klassen as Paul's Uncle Oscar; baritone Peter McGillivray as Bassett; and in his professional debut with Tapestry Opera, tenor Asitha Tennekoon as Paul. Tapestry's artistic director Michael Hidetoshi Mori will direct and Jordan de Souza will conduct. Performances take place May 27 to June 4.
Christopher Hoile is a Toronto-based writer on opera and theatre. He can be contacted at opera@thewholenote.com.
Details

Christopher Hoile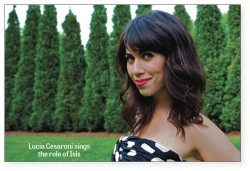 With more companies scheduling operas in March and May, April does not quite overflow with opera performances as it used to. Nevertheless, an astonishing variety of works are on offer from warhorses to rarities and from the eighteenth century to the present.
The month begins with the world premiere of the Canadian opera Isis and Osiris, Gods of Egypt composed by Peter Anthony Togni to a libretto by poet Sharon Singer. The opera, presented by Voicebox: Opera in Concert, concerns the central figures of ancient Egyptian myth.
Via email Singer explained the importance of the myth and the genesis of the opera: "I have been working on this project since before Peter became involved. My fascination with ancient Egypt goes back many decades. The myth of Isis and Osiris is the overarching myth of ancient Egypt since it explains and describes the creation of the world and how evil came into the world and the afterlife. The spine of the myth is the concept of ma'at which is the Egyptian word for law, order, truth and justice.
"The opera, Isis and Osiris, Gods of Egypt is inspired by this strange and compelling myth that centres on one of the world's great love stories. Four siblings, children of the gods – Isis, Osiris, Seth and Nepthys – come to earth to live as human beings. The idealistic King Osiris and his sister-wife, Queen Isis, bring their people the gifts of civilization: agriculture, weaving, a code of laws, the arts, and worship of the gods. Their brother Seth, however, is jealous of their power, their wisdom and their devotion to each other. He murders Osiris and usurps the throne, provoking a conflagration that Isis with all her strength, love, and magic, must try to extinguish.
"This story cried out to be created as an opera, which had never been done before. It's a larger-than-life tale filled with sibling rivalry, jealousy, fratricide, brutal murders, magic and resurrection. In spite of this bedrock of a story from prehistory, the opera is very contemporary in the issues that it explores such as the eternal battle between good and evil, the selfish and power-mad Seth, versus the idealistic Osiris, who seeks to create a peaceful kingdom founded on justice, fairness and compassion."
"I had written the first draft of the libretto for the opera and I was looking for a composer. Peter and I were introduced by a mutual friend, mezzo-soprano Andrea Ludwig, who was enthusiastic about my libretto and recommended it to Peter. When he read it, he emailed me these words, 'I read the libretto and I love it! Very dramatic, very singable…I would love to make this happen!!!' Four years later, it is having its world premiere."
Though the story deals with gods, Singer sees them as very human: "Since Isis and Osiris are incarnated as human beings, they had to have human as well as divine qualities."
For his part, Togni explained his approach to composing the opera: "I have tried to be true to Sharon Singer's wonderful libretto. In my musical response I am going for the humanity – a bright and rich sound rather than an approximation of what the music might have sounded like or a tip of the hat to Verdi! Much of music is already influenced by mystical and exotic sounds such as medieval chant and eastern scales. You will find this in my choral music for example – music that is ancient and modern at the same time. I am telling the story in my own harmonic language. I really wanted the opera to dance and as result I use many Arabic rhythms and scales.
"There is a slightly baroque influence mixed with that and the influence of some of the Russian romantic composers. Like a film score, the sound changes from scene to scene and the range is wide, everything from ancient sounding chords to shrieking jagged, blood-on-the-floor orchestral screams! The Egyptians were very forward thinking and I hint at this with my use of the electric organ and harmonies not unlike Pink Floyd and Coldplay. If anything, my music depicts them as a futuristic people.
"I have scored it for a chamber orchestra – two violins, viola, cello, double bass, oboe, clarinet, harpsichord, harp, organ and percussion – lots of percussion! Rather like a baroque band, it has to be tight and crisp sounding."
Isis and Osiris stars soprano Lucia Cesaroni as Isis, tenor Michael Barrett as Osiris, mezzo Julie Nesrallah as Nepthys and Michael Nyby as Seth. With Robert Cooper conducting the chamber orchestra and the OIC Chorus, the opera runs April 1 and 3.
A Mozart Premiere! Next up is the rarity, Lucio Silla (1772), by the 16-year-old Mozart presented by Opera Atelier, April 7 to 16. This is the opera that director Marshall Pynkoski and choreographer Jeannette Lajeunesse Zingg staged to great acclaim first at the Mozartwoche Salzburg and the Salzburg Festival in 2013 and later at La Scala in Milan in 2015. Two stars of the La Scala production will sing in Toronto – Kresimir Spicer as the Roman dictator Silla (i.e. Lucius Sulla, 138-78 BC) and Inge Kalna in the trousers role of Cinna. Joining them will be Peggy Kriha Dye in the second trousers role as the senator Cecilio. Mireille Asselin is Celia, Silla's sister. And Meghan Lindsay is Giunia, Cecilio's beloved, who is desired by Silla. David Fallis conducts the Tafelmusik Baroque Orchestra.
The COC's Cuban Carmen: Playing from April 12 to May 15 is Bizet's Carmen presented by the Canadian Opera Company. Because of the long run there is a double cast. Georgian mezzo Anita Rachvelishvili and French mezzo Clémentine Margaine alternate in the title role. American tenor Russell Thomas and Canadian David Pomeroy sing Carmen's lover Don José. American bass-baritone Christian Van Horn and American baritone Zachary Nelson sing the toreador Escamillo. And Canadians Simone Osbourne and Karine Boucher sing Micaëla. Paolo Carignani conducts.
The COC last presented Carmen in 2010 and premiered the current production designed by Michael Yeargan and François St-Aubin in 2005. The most exciting aspect of this revival is that it will be directed by Joel Ivany, the artistic director for the Toronto alternative opera company Against the Grain Theatre, which has presented such innovative productions as La Bohème staged in a real pub and recently a fully staged and choreographed Messiah.
I spoke with Ivany about what challenges there are in directing a pre-existing physical production where others have made the design choice to move the location to Cuba and the time to the 1940s.
Ivany says, "I've had to try and get inside the mind of the original artistic team to see what they were after. Thankfully the COC had all their reference material, including the original sketches, to find out why it was important for them to set Carmen in this time period.
Ivany tells me that he noticed "that some elements of those original sketches weren't implemented into the production. I had a design person [Camellia Koo] look at it with me to see if we actually could add anything anywhere or change some elements from how this production had been done before." The result will be that "the first three acts therefore are going to look a little bit different from what Toronto audiences have seen before."
The area where Ivany can most exercise his creativity is in directing the acting, especially since the company is doing the original version with dialogue instead of recitatives. Ivany says, "For me so much happens in those dialogues. The storytelling is so incredibly crucial."
Ivany states his goal: "What I'm going for is a good, character-driven spectacle event of what this piece is, within this set and within this company. The best approach is to celebrate what is best about this production and this piece and use its visual strengths and the chorus to the best advantage."
About the contrast between working with his own company and with the COC, Ivany says, "It's great to be able to do the big, but also to be doing experimental work with Against the Grain and seeing where that can lead. I think that's what's unique and great about Canada, and Toronto as well, and I think there are some good days ahead with leaders who are taking chances on those ideas to make sure that this art form keeps evolving and moving forward. It's variety that spurs the creativity."
Silva-Marin's Zarzuela Love Affair: From April 27 to May 1 Toronto Operetta Theatre presents the Canadian premiere of the 1923 zarzuela Los Gavilanes (The Sparrow Hawks) by Jacinto Guerrero (1895-1951). TOT artistic director Guillermo Silva-Marin introduced the zarzuela, the Spanish version of operetta, to Toronto audiences, starting in 2003, immeasurably broadening the palette of music theatre in Toronto.
The action is set near a Provençal fishing village in 1845. Juan, now aged 50 and known as the "Indian," has returned to the village after having made his fortune in Peru. He left hoping to make enough money to marry his beloved Adriana, but he finds that in his absence she married, had a daughter, Rosaura, and is now a widow. Because Rosaura so much resembles the Adriana he left behind, Juan vows to marry her, much to the anger of the village and of Rosaura's boyfriend Gustavo.
Los Gavilanes will be the sixth full zarzuela that Silva-Marin has programmed, but this one has a special meaning for him. As he wrote via email, "Los Gavilanes was the first zarzuela I attended when it was performed in San Juan while I studied at Universidad de Puerto Rico. Actually, it was my first encounter with the lyric theatre during a time when I had little thought that I would someday become a singer."
Silva-Marin notes that Guerrero's music may remind TOT fans of another great operetta composer. As he says, "Years later, I found myself thinking about Los Gavilanes in Toronto. By this time I had researched and presented Imre Kálmán's works Countess Maritza, The Gypsy Princess and Der Zigeunerprimas. On revisiting Los Gavilanes years ago, I was struck by Guerrero's similarity to Kálmán in sonority, orchestration and predilection for melodic invention, and smiled at recognizing that Madrid and Budapest were not truly too far apart. Being 1923, verismo in operetta was not at all an anomaly. Los Gavilanes cannot avoid a Spanish musical sensitivity, but it is not committed to a folkloric palette, rather a more universal sound evolving from the purely comical and satirical in operetta of previous decades."
The dialogue will be in English and the songs sung in Spanish. Miriam Khalil will sing Adriana, Sarah Forestieri will be Rosaura and Ernesto Ramirez will be Gustavo. Guillermo Silva-Marin himself will sing the role of Juan. Larry Beckwith conducts the TOT Orchestra and Silva-Marin directs, assisted by Virginia Reh.
COC's Seventh Rossini: The month closes with the COC's company premiere of Rossini's Maometto II from April 29 to May 14. Acclaimed Italian bass-baritone Luca Pisaroni makes his COC debut in the title role in this production created for Santa Fe Opera in 2012, directed by David Alden and conducted by early music expert Harry Bicket. This will be the seventh Rossini opera the COC has staged and only its second Rossini opera seria, after Tancredi in 2005. Many people will know the opera better under the title Le Siège de Corinthe, the name Rossini gave it when he rewrote the work for Paris in 1826.
Loosely based on history, the central character of Maometto II is the Ottoman Sultan Mehmed II (1432-81) who conquered Constantinople in 1453 and later, in 1470, the Venetian colony Negroponte on the Greek island of Euboea where the opera is set. In Maometto II, the Venetian debate how to deal with the Turkish threat. Calbo counsels the governor, Paolo Erisso, to continue to fight while General Condulmiero counsels surrender. Yet, as with most opere serie, the focus is more on love than politics. Erisso wishes his daughter Anna to marry Calbo but she confesses that she is in love with a man known to her only as "Uberto." As one might expect Uberto turns out to be none other than Maometto II.
Joining Pisaroni is tenor Bruce Sledge as Erisso, soprano Leah Crocetto as Anna, mezzo Elizabeth DeShong in the trousers role of Calbo, tenor Andrew Haji as Condulmiero and tenor Aaron Sheppard as the Muslim noble Selimo.
These five operas are only the largest scale works on offer in April, yet one could hardly hope for more varied and unusual fare.
Christopher Hoile is a Toronto-based writer on opera and theatre. He can be contacted at opera@thewholenote.com.