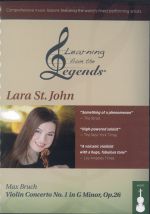 It's an idea so obvious that you have to wonder why the market isn't already flooded: a DVD that features a world-class soloist going through a major concerto almost bar by bar, explaining the problems and challenges, and discussing ways of addressing them. DVDs of masterclasses are occasionally issued, but I don't know of anything quite like the Learning from the Legends series (learningfromthelegends.com), which has recently started its catalogue with two 2-DVD sets featuring Lara St. John playing and dissecting two of the most popular violin concertos in the repertoire: the Bruch G Minor and the Mendelssohn.
The Bruch set came my way recently, and it's absolutely fascinating and engrossing. DVD1 features St. John playing the concerto with pianist Eduard Laurel, but with the work broken up into short segments, often of only a few bars. The violin music appears at the foot of the screen, and St. John discusses just about everything you can think of before repeating the section: technical challenges and problems; interpretation; performance issues; tips and advice; fingering; bowing; practising and learning the solo part. The first movement dissection takes 45 minutes; the second 33 minutes, and the finale 43 minutes.
DVD2 has the uninterrupted performance of the concerto by St. John and Laurel, a piano-only accompaniment, and a selection of short help sections from St. John: The Importance of Finding a Teacher; Practice Philosophy; and eight short Technical Exercises.
St. John's relaxed and friendly presentation-style is perfect, and her commentary always apposite and perceptive. The camera work is almost entirely close-up, with every possible angle of fingering and hand position shown clearly.
It's absolutely indispensable stuff for student violinists, and offers fascinating and revelatory insights for anyone interested in how concert performances are built. Sheet music for St. John's own edition of the solo part is available for download through the publisher's website.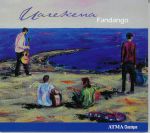 Quebec's Quatuor Fandango was formed six years ago as a student ensemble at the Conservatoire de musique in Gatineau. Uarekena, their debut CD, presents an attractive program of short works and some excellent ensemble playing (ATMA ACD2 2707).
The disc opens with Comme un Tango and closes with Carnaval, two short pieces by Patrick Roux, the quartet's teacher and mentor in Gatineau. Dušan Bogdanović's Introduction and Danse was inspired by the music of Eastern Europe and Sérgio Assad's title track reflects his Brazilian heritage.
Grieg's Peer Gynt Suite is followed by Leo Brouwer's Paisaje cubano and Jürg Kindle's Berimbao, the latter named after the African instrument that consists of a steel string struck with a stick. There are some particularly interesting sound effects in the Brouwer and Kindle pieces – and yes, you can play the guitar with a pencil!
The recorded sound is warm and resonant, the balance excellent and the playing terrific. The group rightly points out that the guitar quartet is a relatively recent addition to the list of performing ensembles, and the repertoire continues to grow, both in original compositions and arrangements and transcriptions. This CD is a welcome addition to the quartet discography, and a debut disc to be proud of.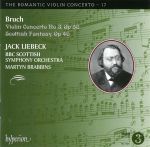 Given that the outstanding Hyperion series The Romantic Violin Concerto has mostly highlighted lesser-known composers, the selection of Max Bruch for Volume 17 (CDA68050) may, at first glance, seem a bit surprising. The huge popularity of the Concerto No.1 in G Minor, however, overshadowed the two later concertos, both in D minor, which Bruch wrote for the instrument.
The Violin Concerto No.3, Op.58 is the main feature here. It's a long work, with absolutely gorgeous music throughout, and a particularly lovely slow movement. The melodies are perhaps less immediately memorable than those in the G minor concerto, which may help to explain why the work never really established itself, but it's easy to see why Bruch grew so annoyed and frustrated when violinists always preferred to play the earlier concerto.
If there is a bit of a surprise here, it might be the choice of the Scottish Fantasy, Op.46 as the accompanying work, instead of the even less-heard and perhaps more obvious Violin Concerto No.2; still, it's such a lovely and familiar work that it's hard to complain, and it shows, perhaps, the difference that strong melodies that stay with you after just one hearing can make to a work's impact.
The English violinist Jack Liebeck is in superb form in both works, with Martyn Brabbins and the BBC Scottish Symphony Orchestra providing excellent support.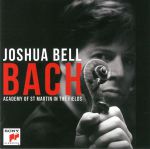 Joshua Bell joins the Academy of St. Martin in the Fields as soloist and music director in performances of the two solo violin concertos by J. S. Bach on his latest CD, Bach (Sony Classical 88843 08779). The Concerto No.1 in A Minor, BWV 1041 and the Concerto No.2 in E Major, BWV 1042 are both given bright, sympathetic readings with beautiful playing from all the participants. The slow movements are heartfelt without ever being overplayed, and the finales have a genuine dance feel to them.
It's hard to understand now how anyone could ever have felt that any of the Bach solo Sonatas & Partitas needed a piano accompaniment, but in the mid-19th century both Robert Schumann and Felix Mendelssohn did just that, Schumann supplying a piano part for all six works, and Mendelssohn – who was mainly responsible for the revival of Bach's music in the first place – writing an accompaniment for the great D minor Chaconne. The Chaconne is included here with the Mendelssohn accompaniment, but Bell takes it a step further by using an orchestral arrangement of Mendelssohn's piano part that he created with the Philharmonia Orchestra violinist Julian Milone. Bell openly admits that the Bach original cannot be improved upon, but appreciates that it does give him another way to experience the work and the opportunity to play it with his friends in the Academy. It's an interesting experiment, and one that is repeated with the Gavotte en Rondeau from the E major Partita, this time with Schumann's accompaniment getting the Milone treatment. A lovely reading of the Air from the Orchestral Suite in D Major completes an excellent CD.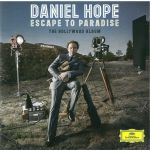 The title of violinist Daniel Hope's new CD, Escape to Paradise: The Hollywood Album (Deutsche Grammophon 4792954), is a bit misleading. Hope's focus is on composers who escaped from Hitler's Europe to the warmth of the Hollywood movie scene, but there's non-Hollywood music here from pre-and post-war Germany – including a Korngold work from 1908 – as well as non-escapee music from second-generation Hollywood composers like John Williams and Ennio Morricone.
Hope and the Royal Stockholm Philharmonic Orchestra under Alexander Shelley display a big Hollywood tone right from the opening notes of Miklós Rózsa's Love Theme from Ben Hur, and carry the same style into the major work on the disc, Erich Korngold's Violin Concerto Op.35; the concerto was built around themes from Korngold's Hollywood movie scores. It's a fine performance of a lovely work.
The remainder of the CD is given over to 14 short pieces, most of them arrangements; five are for duo or chamber ensemble, including three that feature members of the Deutsches Kammerorchester Berlin. Ex-Police frontman Sting sings his own lyrics (replacing Berthold Brecht's!) to a song from Hanns Eisler's Hollywood Liederbuch, and German singer Max Raabe contributes a flat (unfortunately in both meanings of the word) performance of Kurt Weill's Speak Low.
The best tracks are those for soloist and orchestra, including the themes from Rózsa's El Cid, Morricone's Nuovo Cinema Paradiso, Williams' Schindler's List and Thomas Newman's American Beauty. The disc ends with a slow, low-key and really quite odd solo violin arrangement of As Time Goes By.
The CD is a strange mixture in many ways; some moments resonate less than others, and the vocal tracks in particular seem more like intrusions than contributions, but Hope's playing is stylish and of a very high standard throughout. Editor's Note: Alexander Shelley succeeds Pinchas Zukerman as conductor of the National Arts Centre Orchestra in September 2015.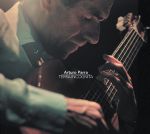 Terra Incognito, featuring the Colombian-born guitarist and composer Arturo Parra, is the debut CD from the new Montreal music and book publishing company La Grenouille Hirsute/Shaggy Frog Productions (LGH1301).
The sub-title of the CD is Seven sound portraits, Parra having spent time with seven men and women from different parts of the Americas before composing seven original pieces "at the request of their subjects" in response to what he had heard. The title, Terra Incognito, refers to the phrase that used to indicate unknown territory on early maps and globes. More on that in a minute.
I didn't quite know what to expect from this disc. Parra has extensive experience with contemporary mixed media compositions for guitar, and, we are told, "…has to date invented over fifty extended guitar techniques and forms of guitar/vocal expression, and continues to expand the expressive range of his instrument through his sonic explorations." Not that you would know that from this CD: from reading the promotional material I expected a far more edgy, experimental approach, but it's mostly riffs and improvisations on standard classical guitar etudes, patterns and techniques, with the occasional extraneous sound – clicks here, a swoosh there – and some fairly standard guitar sound effects – string slides, percussive knocks and the like.
The relevance of the Terra Incognito title is explained by the album's representing "a vast fresco of a grand journey through unknown lands… a journey that ultimately leads [listeners] back to their home port." The language throughout the entire package – and particularly in the almost impenetrable booklet notes on the seven track titles – is, to put it mildly, opaque. Here is Parra expounding on his view that every portrait is also, in some way, a portrait of its author: "Each of us is, to another, a two-way mirror watching us watching ourselves while we believe we are watching someone else; a mirror in which we stare into infinity, entranced by our own features, while the mirror stares at itself believing it is staring at us." Um… OK. "Would I have written the portraits in full knowledge of how naked they would leave me? Don't know, can't say." The entire booklet notes are of a similar nature, either at the far edge of perception or simply pretentious – take your pick – but it doesn't really matter; the point is that they bear absolutely no relation to the end product and to what you hear.
Don't get me wrong. Make no mistake: this guy can play. Parra is an extremely talented and proficient guitarist and composer, and the pieces here show an advanced technique and a refined awareness of the instrument's range and colour palette. There is, however, little sense of the individual pieces being portraits of anything; the whole CD, far from feeling like a journey, feels more like a series of improvisational – albeit high quality and beautifully played – studies.
The recording quality is excellent, and there is a great deal to enjoy on this disc. I just have a big problem believing that it actually does what it claims to do.