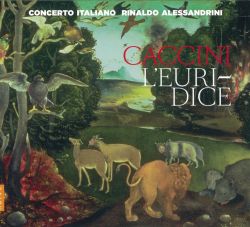 Caccini – L'Euridice
Soloists; Concerto Italiano; Rinaldo Alessandrini
Naïve OP 30552
In 1607 Carlo Magno wrote to his brother that there would soon be a performance of "a piece that will be unique because all the performers speak musically." The piece was Monteverdi's Orfeo and the letter clearly shows that a work that was sung throughout or, as we would call it, an opera, was felt to be a new thing. The earliest opera was Jacopo Peri's Dafne (1597 or 1598) but, since the music for that work has not survived, opera is generally thought to begin with the two Eurydice operas (written to the same libretto) by Peri and Giulio Caccini, both of which date from 1600. Musicologists have usually dismissed the Caccini version. On the other hand, the printed material that comes with an earlier recording of the Caccini (conducted by Nicholas Achten, on the Ricercar label) claims that Caccini, not Peri, was the true founder of the new genre.
The musical language of Caccini's opera, the stile rappresentativo, is based on the impassioned speech of the solo voice. It is more melodious than mere recitative but it never develops into aria. Nor does it have the musical inventiveness or instrumental variety that characterize Monteverdi's opera only a few years later. Whether or not the Caccini is inferior to Peri's version, it has a great deal of dramatic power and is certainly worth listening to, especially when it is sung and played as well as it is here. Rinaldo Alessandrini and the Concerto Italiano have given us many fine recordings, particularly of the Monteverdi Madrigals, and this CD does not disappoint.