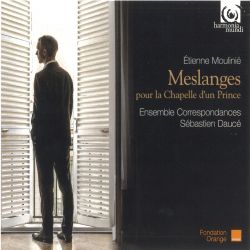 Étienne Moulinié – Meslanges pour la Chapelle d'un Prince
Ensemble Correspondances; Sébastien Daucé
Harmonia Mundi HMC 902194
Étienne Moulinié served for 30 years as musician to Louis XIII's brother the Duke of Orléans; his sacred music is important to the development of mid-seventeenth-century French music. This CD brings together twelve singers in imitation of the original standard configuration, and ten musicians.
The serenity of this arrangement – together with its sometimes excitable stretches – is brought home in the first three pieces by Moulinié. Antoine Boësset's Jesu nostra redemptio is far more spiritual, introducing parts for higher vocal registers as well as organ and viol. This ethereal quality continues in Cantate Domino (despite the words which exhort the listener to praise God with trumpets, cornets and horns – direct biblical quotations) and the organ playing of director Sébastien Daucé in O bone Jesu. Reflecting the sound choice of pieces on the CD, Boësset's Populus meus sets words of reproach to yet another celestial arrangement.
Two allemandes by François de Chancy are included in the anthology. They demonstrate the compositions thatMoulinié could incorporate into his repertoire, reinforcing his position with the duke, and also the early stages whereby country dances such as the allemande were adopted by court circles and eventually became staples as baroque movements.
The duke took a second wife in 1632, a pious lady to whom Moulinié dedicated the most inspiring and yearning piece in this compilation. The Litanies de la Vierge comprises a series of entreaties to the Trinity and many other sacred beings. Eleven voices create a moving spirituality, imploring but never despairing.