Early, Classical and Beyond
Details

Jack MacQuarrie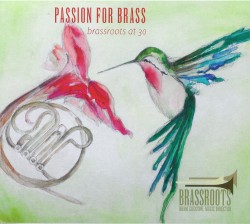 Passion For Brass: Brassroots at 30
Brassroots; Bram Gregson
Independent CB-B-07 (brassroots.ca)
Although they are little known outside of their home community of London, Ontario, Brassroots is one of the finest brass ensembles in Canada. With this recording they are celebrating their 30th anniversary. In 1986 when the famous Philip Jones Brass Ensemble disbanded, Karl Hermann, a trombone student at the Western University, organized a brass ensemble with the same instrumentation of four trumpets, one horn, four trombones, one tuba and percussion. Over the years there have been changes in personnel, but the only significant change has been an enlargement of the percussion to enable performance of a more expansive repertoire. Under the direction of veteran conductor Bram Gregson, Brassroots can certainly be proud of this 30-year-celebration recording.
The CD opens with the Music for His Majesty's Sackbuts and Cornetts by Matthew Locke (1621-1677), arranged for modern instruments. This is a stunning performance in its precision. It's followed by works by Venetian composer Giovanni Gabrieli and Tylman Susato, a composer from Antwerp in the same period. Then, the recording moves on to Point Pelee by Howard Cable. One minute you are hearing Baroque and Renaissance music. Then you are ushered in to contemporary music from Billy May, Harold Arlen and George Gershwin. For a radical departure, with The Cat by Jimmy Smith, the ensemble is turned into a hard-driving big band complete with a Hammond B-3 organ.
The CD comes with excellent program notes which are not printed on the package but are on a separate brochure. Unfortunately, the listing of the selections does not indicate track numbers. To select and play a specific track it is necessary count down the listings to determine the track.
In all, this recording covers a great spectrum. My personal favourites are the Locke work and a stunning rendition of the famous Czardas of Vittorio Monti. The soloist, Michael Medeiros, proves that a tuba in the right hands can be a fine lyric solo instrument. Over all this is a first-rate CD covering music over three centuries.
Details

Janos Gardonyi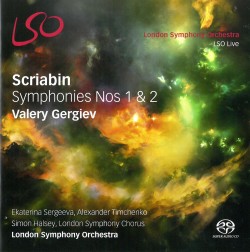 Scriabin – Symphonies 1&2
London Symphony Orchestra and Chorus; Valery Gergiev
LSO LSO0770
Those who love to classify composers into neat categories will certainly have a stumbling block with Scriabin. He is Russian, but doesn't sound a bit Russian (more like Richard Strauss if anyone, yet the Slavic spirit is unmistakable); his music doesn't follow any rules and for the casual listener it all sounds more or less the same. He has been bypassed and rarely performed at concerts, as conductors do not like to take chances, but I suspect very few of them are capable of interpreting it, as the music is completely free with no comprehensible structure. But with total engagement and absorption, repeated listening and a great conductor like Gergiev, this music will conquer and you'll never tire of it.
Gergiev has already recorded the better-known symphonies, the Third and Fourth (Poem of Ecstasy), with the London Symphony, one of the best orchestras in the world, in state-of-the-art sound, and here we have the two earlier symphonies from his formative years. The five movement Symphony No.2 is already a mature work and so makes a deep impact while Symphony No.1 has a vocal ending fashionable in those days à la Liszt, Berlioz or Mahler, with fine soloists and chorus, but so poorly received by the public at its premiere (1900) that it was condemned to oblivion.
Gergiev however quickly convinces us to the contrary. Luckily I have seen him a few times and can just picture him conducting without a baton as he hypnotizes the orchestra by his razor sharp gaze and with his undulating body and they follow his every movement. He and the orchestra become one organic unit with an inner logic that this indeed exalted, passionate music demands. A wonderful new issue I've enjoyed tremendously.