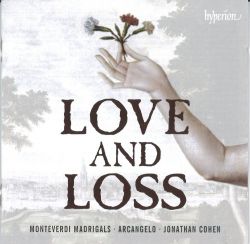 Love and Loss – Monteverdi Madrigals
Arcangelo; Jonathan Cohen
Hyperion CDA68019
The works on this CD consist of a well-chosen selection from the last three books of madrigals by Claudio Monteverdi. The ensemble Arcangelo was founded in 2010 by the British conductor Jonathan Cohen. Its performances have been acclaimed and the group has issued six CDs, of which this is the latest. On this recording the group consists of six singers and twelve instrumentalists. They are joined by the tenor James Gilchrist, who, eloquently and movingly, narrates Il Combattimento di Tancredi e Clorinda, a passage from Tasso's La Gerusalemme liberata, in which the Christian knight Tancredi mistakenly kills his beloved. The record ends with the sestina, Lagrime d'amante al sepolcro dell'amata, written as a lament for the soprano Caterina Martinelli, who was to have sung the title role in Monteverdi's Arianna but who died from smallpox when she was 18.
John Whenham, who contributes a fine essay, suggests that the ballet Volgendo il ciel may have been sent to Vienna in 1636 for the coronation of the new emperor. Halfway through, the score indicates that music for a dance is played, but Monteverdi did not write that music. On this recording a beautiful chaconne by Tarquinio Merula is added. That insertion works very well.
Perhaps the finest item on the record is the duet for two sopranos, Ohimè, dov'è il mio ben, beautifully sung by Katherine Watson and Anna Dennis. It is full of deliciously painful dissonances which are then slowly resolved.
These are all terrific performances.