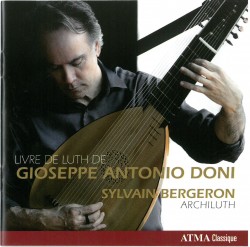 Livre de Luth de Gioseppe Antonio Doni
Sylvain Bergeron
ATMA ACD2 2724
This lovely album has the poetry and wisdom needed to fuel the imagination of all romantics out there. But that is not all – it is also a fine display of Sylvain Bergeron's mastery on a 14-string archlute and a testament to the abundance and variety of Italian lute music from the onset of the 17th century.
Gioseppe Antonio Doni was most likely an amateur lute player, possibly of noble descent, who compiled the manuscript of early 17th-century lute pieces into the collection known today as The Doni Lute Book. This collection, well known among lute players but relatively obscure among larger music circles, consists of almost 100 pieces by several different composers, including Doni's teacher and lute virtuoso Andrea Falconieri as well as Giovanni Girolamo Kapsberger, Giuseppe Baglioni and Archangelo Lori.
According to the liner notes, Sylvain Bergeron first encountered the book in his early days as a lute student and has continued to enjoy the collection ever since. For this recording Bergeron chose 25 compositions from the manuscript and grouped them into five sets, according to tonality and mood, thus creating a musical portrait of characters and colours. All sets but one contain Toccatas (some of them virtuosic and with daring modulations) and among many Correntes, there are some that are alluring illustrations of dreamy tenderness.
The relative simplicity of these pieces brings out the delicacy of Bergeron's marvellous sound – here is the refined and astute player who brings tales from the past to his captivated audiences.