Editor's Opener
Details

David Perlman
"I've lasted. I guess I'm sort of successful now, but I worked for nothing for years, and I cried for ten years straight! (laughs). Nobody helped me. They'd say, too bad, so sorry! I used to want to quit every day, then it was every week, then monthly and now it's maybe once a year."
To know who's being quoted in the lines above, you're going to have to turn to Ori Dagan's "Free Times Thirty Five" (on page 52 in the September print edition). Safe to say, though, if we had ten bucks for every musician, idealistic publisher or arts dreamer in town who can relate to the quote, we'd have had way less trouble raising the dollars to pay this month's print bill!
The title "Ten Years Straight," coincidentally, would also work just fine as a reference to now-nonagenarian columnist Jack MacQuarrie's remarkable ten year tenure as our Bandstand columnist (page 36). In this month's column, MacQuarrie points out the fact that composer/arranger Howard Cable was featured in the very first column he wrote for us, and is featured again in this one, albeit for poignantly different reasons.
Composer/arranger Howard Cable, a towering figure on the Canadian musical landscape, is also affectionately and entertainingly remembered in this issue by guest writer Michele Jacot ("The Unstoppable Howard Cable," page 52). Although their professional association was relatively brief, it was also, as you will read, unforgettable.
Interestingly, another Cable collaborator, Martin Loomer (who worked with Cable as his copyist for decades, literally until the day before Cable died) also features, if somewhat indirectly, in this issue. Loomer, you see, is now music director of the Jim Galloway Wee Big Band. For Toronto jazz lovers, Galloway's name is synonymous with the Toronto Downtown Jazz Festival, of which he was the longtime artistic director. WholeNote readers in particular will also remember Galloway as our 14-year "Jazz Notes" columnist, and a tireless advocate for live musical performance.
All this to say, on September 15, the Wee Big Band, under Loomer's direction, will reconvene, for the second time in the Garage - the performance space at 720 Bathurst Street, home-base of The WholeNote. Presented by the Ken Page Memorial Trust in support of the Trust's educational scholarship fund, it promises to be a rousing musical evening in celebration of Galloway's life. (Details can be found in a little ad on page 37 of this magazine.)
I'll hope to see you there! In fact, if you tell me you found out about the event by reading this column, I'll even let you buy me a drink!
Fools rush in: For those in the know, September 15 (date of the aforementioned Galloway gig) is a pretty brave time to be scheduling a live musical event in Toronto. In fact any day between September 8 and 18 this year runs the risk of falling into the media shadow of TIFF (Toronto International Film Festival), one of the largest festivals of any description on the Canadian landscape.
As WholeNote managing editor Paul Ennis can attest, TIFF precipitates an annual loyalty crisis for any WholeNote reader with a passion for film. Fortunately, Ennis comes to the rescue with "Music Lovers' TIFF" (page 12), his fifth annual guide to films of musical significance at the festival.
Kensington Jazz: Also daring to tiptoe into the TIFF lion's den this year is a brash 2016 festival upstart, the first annual Kensington Market Jazz Festival (KMJF), scheduled to run September 16 to 18, TIFF's final weekend. Far from being daunted, Molly Johnson, the KMJF's artistic director actually relishes the challenge. She has somehow roped in nearly 100 musicians who read like a Who's Who of Canadian jazz. (See Bob Ben's "A Kensington Jazz Story" on page 15.)
The WholeNote traces our earliest roots, in the early 1990s, to a column called "Pulse" in a little independent community newspaper called The Kensington Market DRUM. This new arrival on the festival scene brings our own history full circle, in a rather fine and dandy way.
So, I'll hope to see you there too. In fact, if you tell me you found out about the event in this column, I'll even let you buy me a drink!
Not ready for fall: Blame it on climate change, if you will, but this September issue it's been even harder than usual to let go of writing about what we all did with our summer vacations, and to settle into the serious business of the musical seasons ahead.
A case in point is guest writer Peter Goddard's "Aix Marks the Spot" on page 8, which deals with an important summer opera festival in the south of France. It's not all hindsight, though; as Goddard explains, there's an interesting explanation for how and why what shows up at Aix in the summer may well show up at the Canadian Opera Company in the fall (and a serious object lesson, based on Brexit as a case study, as to what can happen to the cultural community as a whole, when individual entities within that community decide to go it alone.)
And if all this isn't enough on the festival front, Wende Bartley ("In with the New," page 26) and Andrew Timar ("World View," page 35) both zero in (albeit for refreshingly different reasons), on yet another festival that is a new kid on the block – "in/future" at Ontario Place from September 15 to 25.
Reading between the lines, "in/future" looks to me like a profoundly important attempt to establish artistic squatters' rights to a profoundly important social and cultural public space otherwise ripe for the wrecker's ball. So check it out!
(If I see you there, I'll buy you a drink.)
The inside view: One of the things that make this magazine a bit different from many is that a number of of our regular writers are players (literally) in the music scene they write about here. Bartley, for example, is an active participant in in/future, the festival her column revolves around this issue. And harpsichordist David Podgorski, whose ""Early Music" column (page 34) is, in the main, an entertaining discourse on the renaissance of the fortepiano, wraps up by referencing a concert by his own period ensemble, Rezonance, that like the aforementioned Wee Big Band gig takes place here in the Garage at 720 Bathurst Street, on September 25. (Mention to him that you found out about the concert in this column, and I'm sure he will let you buy him a drink.)
Speaking of the inside view, this issue also includes the 12th installment of former CBC Radio Producer David Jaeger's ongoing series on the Golden Years of CBC Radio (page 78), over the course of which he has taken us from the early years of Glenn Gould's association with CBC Radio through to the apparent end, in 2008, of the CBC's commitment to the nurturing of the music that fills these pages.
Now that the overall terrain of the story has been surveyed, it will be interesting to discover, in this next go round, where he chooses to drill down!
Welcome (and welcome back): With the upcoming October issue, "the season" gets off and running in earnest. Both on stage and behind the scenes, we'll hope to be your companion through its twists and turns, highs and lows.
Start your engines.
publisher@thewholenote.com
Details

David Perlman
Perspectives by incongruity 1
In this particular version of an ancient allegory, the Editor-In-Chief summons two scribes to his lofty perch and says, "Go forth and ascertain the health of the operatic art form in our realm during the months when shorts are shortest and the sun is at its highest in the sky."
So off they go, and in due course they return and the one scribe steps forward and says:
"A peculiar thing happens each year around mid-May in this, the largest, busiest city of Canada: Toronto opera life all but shuts down, give or take an intrepid indie daring a short, early-June run. And the season stays shut until the latter half of September."
"Aha!" says the Editor-In-Chief. "Thank you!"
Then the other scribe steps forward and says:
"It used to be that, come June, Ontarians had to leave the province to seek opera performances elsewhere. That's not the case this summer, which is surprisingly filled with opera, especially with new ones."
"Aha!" says the Editor-In-Chief. "Thank you!"
At this point, the Managing Editor, who has been observing all this with an almost imperceptible frown, steps forward: "They can't both of them be 'Aha!'" the Managing Editor says. (And the Senior Proofreader, who has also been observing all this, nods in almost imperceptible agreement.)
"Aha!!" says the Editor-In-Chief. "Thank you!"
Perspectives by incongruity 2
When Luminato first burst onto the Toronto scene a little over a decade ago, (as, among other things, a civic vaccine for SARS), their mission statement/slogan was "Bringing the World to Toronto," and I remember feeling a grudging admiration for the sneakily clever ambiguity of it all.
"Way to hedge your bets," I thought at the time. If the global public does come to see how wonderfully cultural we are, mission accomplished. If, on the other hand, those of us who can't afford plane and concert tickets get to take in some of the great art and culture of our time right here in our own backyard, then mission still accomplished!
(That being said, I will forever remain grateful for the opportunity to take in the Ex Machina/Robert Lepage production of Lip Sync at the Bluma Appel Theatre in 2009. It was worth every penny, at a time when pennies were still worth something.)
I'm quite sure, though, that this ambiguity of mission has not served Luminato very well over the years. "And if they still don't get that it doesn't serve them well, then it serves them right," is what I would have said, right up until a few months ago. But methinks, as Andrew Timar intimates in his World View column this issue, there may be some hope on the eastern horizon.
The decision to tie Luminato's fortunes to a single location – the decommissioned Hearn Generating Station in the eastern portlands represents for me, the recognition, finally, that the stated goal of attempting to turn the whole of downtown Toronto into a ten-day cultural wonder of the world has been as much of an exercise in futility as it would have been be to try to turn the outfield at the Rogers Centre into a world-class rose garden.
I don't know enough about the inner workings at Luminato to know whether this decision is a final virtuosic flourish from outgoing artistic director Jörn Weisbrodt. But bravo to someone for what is simultaneously an act of humility and outrageous grandiosity. "Hey guys, we've decided to think global and act local. So let's go score us the biggest honking locale we can!"
How they go about getting us locals to go there in droves (so we're eventually worth some global gawking at, while we play) is another question. But, I say this year, give them the benefit of the doubt. Go experience the potential of the place – imagine, for example, what a remount of Apocalypsis would have been like at the Hearn instead of the Sony Centre!
Lessons learned:
Here's to Brian Barlow's Jazz Van during the PEC JazzFest careening around the county, stopping to unload sounds of brass into the Quinte roadside air!
Here's to the visionary individuals in places like Elora, Parry Sound, Clear Lake, Indian Springs, Stratford, the Beaches, and yes, even downtown Toronto, who looked at some particular place, thought of some particular time, imagined the music that belonged there, and did something about it.
Here's to all our future musical places yet to discover!
Here's to open air music in all our downtowns, little and large.
Here's to getting to recharge our musical batteries over the summer so we come back in the fall with fresh ears!
Last print issue till September
We are done in print now until the beginning of September. So now's the time to register, on the front page of our website, for our e-letter, HalfTones, which will publish June 15, July 4 and August 10, bringing you news, updated listings, contests and links to newly posted videos, audios, concert reports and more!
publisher@thewholenote.com
Details

The WholeNote Staff
What are the odds of two concerts both involving recreations of Zimmermann's Coffee House in Leipzig (circa 1725), both happening on Saturday May 21, 2016, one in Toronto and one in Bethlehem, and that I will get to go to both of them? Pretty good actually because they're both happening on other nights as well, and it's only a short-haul hop, skip and bus ride from Toronto's Island Airport to Bethlehem, Pennsylvania. But it's a pretty neat coincidence, as Alison Mackay agrees. (All is revealed in my conversation with Alison Mackay, starting on page 16.) That story, by the way, is excerpted from a much longer conversation taped in what we refer to, rather grandly, as "our studio" in The WholeNote offices. The entire conversation is one of two (the other is with choral conductor Lydia Adams) recently made available as a podcast on our website at thewholenote.com.
Still on the topic of May 21, what are the odds that the other concert this month I really don't want to miss (Ernie Watts, Brad Goode, Adrean Farrugia et al.) also takes place that very same night, at the George Weston Recital Hall in North York. Steve Wallace explains why it's a concert not to miss (the story starts on page 13).
Still on the subject of odds, it was a pretty safe bet that Toronto would be one of the venues as 37-year-old iconic a cappella group the Nylons kick off a yearlong farewell tour. Ori Dagan talks with sole remaining founding member Claude Morrison in a great little meander through the evolution of our a cappella scene from those beginnings to today (page 11).
Simple coincidence throws up all kinds of interesting patterns and synchronicities when one views things, that maybe just happened to have taken place at the same time, from a particular point of view. Face to face with the momentous, we can look back on some small moment as the one that started it all. Listening to Tanya Tagaq with the Kronos Quartet on the opening night of the upcoming 21C Music Festival (see Wendalyn Bartley's cover story) for example, it will be hard for me not to wonder what would have happened had David Harrington not listened all the way through to track 18 of that particular CD on that particular plane on that particular night 13 years ago.
Odds are, I suppose, that if one compiles enough stories and facts about all the interesting musical stuff going on around us all the time, the resulting document will always contain enough different threads for the individual reader, depending on your likes, to weave into pleasurable patterns of interesting connectedness. Maybe for you, somewhere down the line, you will look back on something you found in this issue of the magazine as having changed things for you in some interesting way – a piece of music that fell fresh on your ears, a new ensemble or performer or recording. Or, for that matter, a band or choir to join, so that making music became (again) an integral part of your life.
Odds of the latter happening this month are somewhat higher than usual, because this is the month we publish our Canary Pages choral directory (you'll find it following page 34, just ahead of the daily concert listings). This is our 14th annual Canary Pages, and if perusing it leaves you a step closer to thinking that maybe finding a choir that would suit you is a distinct possibility, it will have served its task.
Longtime readers will have to forgive me for telling those of you who haven't heard this story how in the first heady year of compiling this directory, we called it our Choral Yellow Pages. That was before we received friendly legal advice to cease doing so before we were ordered to cease and desist. Canary seemed a clever alternative but drew an almost immediate reproach from a reader who pointed out that canaries were solitary songsters, charged with the grim responsibility of singing in cages in mines so as to warn miners, by falling deathly silent, of the impending threat of lethal gas in the mines. "So, not a very cheerful name," our reader opined.
I see it a bit differently, still. Choirs have long been the bedrock of our thriving music scene and, especially while music sits sidelined in our school system, perhaps our greatest hope. As art, yes, but also as a social, communal force. Count the canaries! Take heart from the fact that they haven't fallen silent! Better still, join the singing! Odds are good that where there's this much musical life, there's hope.
publisher@thewholenote.com
Details

David Perlman
I
n the cracks between the stones, new soil gathers and waits, just as in the interstices between clearly defined genres of music and canons of taste, new collaborations arise; musical preferences and practices morph and change.
Between and around and beyond and outside of our temples of art, our cathedrals of culture, our venues custom-built for this or that, music creeps and seeps and sprouts and shouts in new and unexpected places.
As the clearly defined lines between the "this" and the "that" start to erode – this is a proper concert, that is not; this is classical, that is jazz; this is the performer, that is the audience; this is art, that is politics; this is music, that is noise – so too, opportunities for growth, new and hopeful, take root in the soil in the cracks between the stones.
And as those cracks widen and expand, the stones themselves, the hard chunks of convention, of dictum and dictate and decorum, begin to fragment under the relentless, battering, grass-root pressure of the fact that art will always just happen to exist.
Case in point #1: Is this a concert or a what?
I wrote a note to David Goldbloom the other day. His day job is psychiatry, at College and Spadina, within the walls of what in the neighbourhood we still collectively refer to as "The Clarke."
He also plays the piano and for a while, many years ago, helped steer Off Centre Music Salons, pianists Inna Perkis and Boris Zarankin's eclectic concert-cum-salon series, now entering its third decade.
I last got in touch with Goldbloom in September 2005 in connection with a story I was writing about Off Centre Music Salon for the October 2005 issue, at the time of their tenth anniversary. Just prior to that, Goldbloom had helped bring about, and spoken at, an Off Centre event built around the theme of composers and their doctors – Mozart and Mesmer; Brahms and Billroth; Rachmaninov and Dahl.
This time I wrote to him because I noticed he had just been announced as a speaker at this year's "High Notes Gala for Mental Health" which takes place April 28 at the Richmond Hill Centre for the Performing Arts. It's an event that's hard to describe – a blend of speakers, professional and personal, and performers across a wide range of musical genres – think Luba Goy, Richard and Lauren Margison, Ron Korb and David Goldbloom and you start to get a sense of the range. And it's not so much a fundraiser (although it is that) as part of the attempt to bring the conversation about creativity and mental illness out of the shadows. "What's changed over the ten years since we last talked?" I asked.
"I would say that we have come a long way and we have not come far enough" he replied. "When I spoke [at Off Centre] a decade ago, it was about long-dead composers and their long-dead therapists, knowledge that was already in the public domain. 'High Notes for Mental Health' is not an historical exegesis as much as a bold statement about problems facing every Canadian family now. It's a conversation about the present, not the past, about those people close to us, not distant admired musicians. Today I would aim for the kind of personal disclosure that requires both courage and candour, that illustrates that people with talent and success – as well as those without – can be vulnerable to the impact of mental health problems and illnesses, without it necessarily eroding their identity or their gifts. If any of the performers were to ask the audience to raise their hand if someone they know and care about has experienced some form of mental illness, every hand would be up in the air."
Case in point #2: The "Garage" is not a garage, it's Galloway's:
I think it was six years ago that Jim Galloway and I, three times, took the freight elevator from just outsideThe WholeNote office on the fifth floor at 720 Bathurst Street down to the then-abandoned ground floor and surveyed the space, rife with potential, its high ceilings, exposed brick walls, old wooden pillars and beams. I remember how his eyes gleamed at the thought of what a jazz venue it might be, in the spirit of the Montreal Bistro and some of the other venues he loved and lamented in the 16 years he wrote his column for The WholeNote. The building at 720 Bathurst was between owners then, and for a few heady weeks, oh how we dreamed and schemed.
Almost miraculously, after five years of ownership by the Centre for Social Innovation, that ground floor space still exists, with room for dreams and schemes and for a "wee big band" to play in, right in front of that selfsame freight elevator. So that, dear friends, is what will be happening April 14 from 7pm to 10. For one shining moment the back half of the space, whimsically called "The Garage" because of its large rollup door, will become "Galloway's" as the "Wee Big Band" under the direction of Martin Loomer makes the building ring with music in memory of Jim.
Join us! (Invite details are on page 18.)
Case in point #3: Salon West Meets the 18th Century
I found myself ever so slightly out of my comfort zone the other day, attending a gathering of something called Salon West, in a little rooftop solarium, with seating for around 25 people, on the fifth floor of the Spoke Club at Portland and King. Salon West bills itself as "a forum for much-needed dialogue on the arts and public policy in Toronto," with the goal of "creating positive change through the arts" and inspiring "actionable solutions to the issues facing our great city."
Guests on this particular day (March 23) were both from Tafelmusik - violinist Julia Wedman - and the orchestra's recently appointed managing director, William Norris, described in the Salon West program note as being "dedicated to pushing the boundaries of a traditionally conservative art form to attract new audiences."
It was a fascinating encounter. As readers of last November's magazine may recall, Norris, from his description of his previous role with London's Orchestra of the Age of Enlightenment, is already firmly committed to finding new ways of taking this music that he is clearly passionate about to new audiences, on their own turf. And he has strong views too about how some of the more rigid aspects of concert etiquette impose on how we listen to music constraints that the composers of that music would themselves have been uncomfortable with. "The music tells you when to applaud and not to," for example, is a tenet with interesting implications. Just think of the cracks in decorum that might result if it were applied without qualification to our town's typical concert halls!
Wedman's contribution was to interweave brief moments of music and musical treatise (Telemann, Mattheson) with detailed information about the unique characteristics of her baroque-style bow and instrument, before concluding with two movements from Bach's Sei Solo Sonatas and Partitas. It was an object lesson in everything, from technical and intellectual skill to visceral and emotional commitment, that this music demands of its practitioners.
I left with a spring in my step – with the image in my mind of a solution already well under way, rather than some burdensome problem to be gnawed over; 25 to 30 people sat and stood, listening as one to unamplified Bach in a rooftop room at twilight, oblivious to the noise of the building's mechanical plant and the dull roar from dining and meeting rooms below.
Happy reading! There are many more musical moments inside!
publisher@thewholenote.com
Details

David Perlman
Intersection 1: Esprit and the Iselers.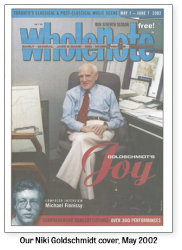 There's a slight pause at the other end of the line and then, "Put it this way, I could not have written this earlier," he says. The speaker is composer Alex Pauk, founding artistic director and conductor of the Esprit Orchestra. The "this" he is referring to is his Soul and Psyche, a 30-minute, five-movement "devotional" work for choir and orchestra that will be performed March 31 at Koerner Hall, by the combined forces of Esprit and the Elmer Iseler Singers, under Pauk's baton. It will be the final work in the final concert of Esprit's 33rd season. For the Iselers, in this, their 37th year, there are two concerts to go after this. But this is one that they are approaching with a particular gusto. "We do all kinds of music," Iseler conductor Lydia Adams says. "But this choir absolutely relishes the opportunity to take on a new work. They are completely dedicated to their craft, absolutely open to whatever a new work brings."
And new this work certainly will be! With a month to go, the proverbial ink is not yet dry on the fifth movement, and Pauk confesses on the phone to tinkering with the text of the first movement, which is based on "Taoist writings on the life force of the universe," sneaking in a topical reference to gravitational waves. Pauk agrees with Adams' assessment of the Iselers' readiness, referencing their "full virtuosic capabilities" and comparing their spirited open-mindedness to that of his own orchestra. "Ready to give it the full go" is how he describes it; "always singing the music not the notes."
As to what to call the work, genre-wise, Pauk is understandably reluctant to be too categorical. At one point in the literature about the piece, it's referred to as "contemporary mass in five movements." At another, it's referred to as "spiritual and uplifting in nature without being strictly religious," a description borne out by the inclusion of texts ranging from Inuit poetry to ancient Chinese poetry, a fragment from Goethe's Faust, a Balinese prayer for departing souls, Biblical passages and the composer's own words.
Had Pauk written the piece when the idea was first presented to him, he tells me, it would have been a mass by name and nature. "It was Niki Goldschmidt who suggested I write a mass," he says "right after the very first Toronto International Choral Festival in 1989" (a festival that included repertoire as diverse as The Death of a Buddha by R. Murray Schafer, commissioned by the BBC for the BBC Singers, Songs of Creation by Srul Irving Glick, commissioned for the Toronto Mendelssohn Choir, and a performance of Verdi's Requiem at Roy Thomson Hall.) But it didn't happen at that time, or at any time since (although Pauk and Jessie Iseler talked about it often enough over the years, he says, at the level of "we really should do that mass we keep talking about.")
Simply put, it was something that Pauk had to be ready to do. "Ready technically, ... musically, ... spiritually?" I ask. And then comes that pause on the line. "Put it this way," he says. "I could not have written this earlier."
I am looking forward to this particular concert, not just for the premiere of Pauk's piece, but for the pleasure of watching these two pioneering musical organizations intersect and interact.
Intersection 2: Winter's Summer
This is the time in the year when thoughts of summer are either a scourge or a solace: scourge, if all they bring are pangs of longing for the unattainable; solace, if used as an opportunity to put plans in place for what to do during that other season that seems, amid the slush, unattainably far away. You will find our annual summer music education resource guide tucked away on pages 54 to 59. It is, as usual, an extraordinarily suggestive compilation of 32 summer music educational opportunity, for all ages and levels and ability. It makes no grand claims to comprehensiveness (although, as in previous years, it will likely continue to grow online at thewholenote.com/resources, as the summer draws nearer.) So seize the day! Take action now to make 2016 a musical summer worth spending the winter looking forward to.
It's a Watershed Moment – Ask LUDWIG!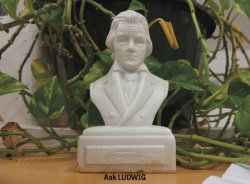 LUDWIG, for the uninitiated, is an acronym for Listings Utility Database for WholeNote Information Gathering. It was Colin Eatock, during his time here as Managing Editor/Listings Coordinator who coined the phrase to describe our painstaking multi-year project to reinvent the way we gather and repurpose the live musical listings that are the backbone of what we are and what we do. Much of the work that has gone into LUDWIG to this point has been invisible to readers, revolving around the way we process listings, rather than how we supply them to you. Simply put, we used to word-process everything; now our listings gathering is based on data entry. It's been a challenge and a big change; but over time, LUDWIG has made the task of listings generation a lot easier.
But you have still had no easy way of hunting down the particular listings you're interested in, short of searching through the listings day by day; no way easily to search the listings by keyword, by artist or presenter, by genre, by date or date range, by geographic zone ... .
BIG NEWS is that very soon you will! In fact, you already can, if you are willing to help us! You can participate in public testing of Ask LUDWIG by going to thewholenote.com. Find the listings tab, then scroll down to Ask LUDWIG and click.
Watershed moment? You tell us what, for you, would make it so.
publisher@thewholenote.com