This month's issue contains at its centre our 15th annual "Blue Pages" directory of presenters - a compilation of around 150 players in Southern Ontario's musical life. As it says in the Blue Pages intro, we make no claim to completeness.
For one thing, there's no such thing as completeness in the area of live musical endeavour; like music itself, new voices and venues arise out of, and return, to silence. For another thing, there is no perfectly definable boundary to the range of genres we include in these pages, partly because we have limited space (in print, anyway) and partly because you our readers have limits to the time you want to spend wading through events you are not interested in, searching for the ones you might be. Again this is more of an problem in print than in digital media. Speaking of which, there are some VERY significant milestones just ahead for The WholeNote on the digital front - as next issue's opener will reveal.
Beyond the question of logistical constraints to the range of what we cover, there is also the very interesting question as to whether the method of dividing up the musical universe into discrete musical genres, each with a separate "beat columnist," will stand up to the demands of what promises to be an era of increasingly fluid musical practice. (Witness Andrew Timar's story on David Dacks and the Music Gallery on page 16 and Wende Bartley's thoughts on transculturalism immediately following it.)
Anniversaries: devotedreaders of this column both know that I have a love-hate relationship with the topic of anniversaries. (If you are reading this on our website you can simply click here to read my October 2008 reflections on the subject.) It's a particularly thorny topic in October, when we are trying to come up with a cover image which reflects, on behalf of ALL our Blue Pages members, the range and spirit of the music we cover – a task to which we bring the same high seriousness that the Canadian Olympic Association does when choosing the country's flagbearer for the opening ceremonies of each Olympic Games.
Anniversaries aren't always the deciding factor, though. Otherwise this year would have been no contest, with the Toronto Mendelssohn Choir, celebrating an astonishing 120 years of continuous existence (see the write-up of my chat with the TMC's Noel Edison in "Conversations <at> TheWholeNote" on page 14).
Ten years ago Inna Perkis and Boris Zarankin of Off Centre Music Salon graced our October cover. This was partly because they had started out the same year we did, and with the same lack of any official endorsement or precedent. And partly because of their unique formula: virtuosic two- and four-hand piano playing along with chamber music and art song contributions by guest artists, all in the spirit of a 19th century salon, with ideas being tossed around with the same verve as the music. Happily they are still at it; this October 26 is the 20th installment of their annual Schubertiad, kicking off yet another four-salon season at the Glenn Gould Studio.
Turning from the topic of the cover of the magazine to the cover of the Blue Pages, how does a photo of the city's second largest concert hall speak to the range of music we cover? Well, there is the music that RTH/Massey presents, spanning a range of genres and cultures. Then there's the fact that the photo covers two performance spaces – the hall inside, and the great outdoors. Then there's the hall's anchor tenant, the Toronto Symphony Orchestra whose individual members are the animators and architects of dozens of other small musical ensembles in the city. And finally, there are the one-time entrepreneurial "upstarts" such as Attila Glatz and Show One Productions, for whom conquerin,g "the Hall" for the first time was a significant milestone on their road to credibility in our ever evolving, endlessly fascinating musical scene.
(Besides which, its a gorgeous photo.)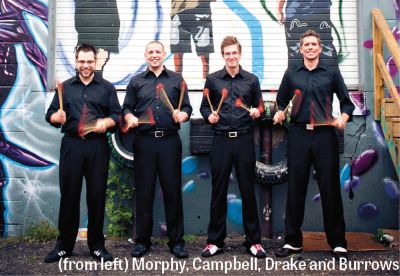 If you had found yourself at Stratford Summer Music this past July anytime between July 15 and July 20, you might well have spotted a sign or two pointing the way to something called "Tom Percussion Island." Had you followed the signs, you'd have found yourself meandering among what The WholeNote's new music columnist Wende Bartley described in our summer issue as "nine percussion-based instrumental exhibits on display for audiences to engage with, including a tongue drum made from a hollowed-out apple tree trunk, fire drums made from cut and tuned fire extinguishers, a piano dulcimer made from a 110-year-old piano flipped on its side and a Dream Gong Maze for you to get lost in."
If you were lucky, you'd also have run into the percussion quartet TorQ there, "performing their own 'pop-up concerts' or joining with the public in exploring the sounds of these instruments in the outside environment."
"This past summer's Stratford residency was great" TorQ's Jamie Drake told me. "The educational side of things has always been a huge part of what we do – up to 70 elementary and secondary school shows a year (mostly through Prologue to the Performing Arts). This was a chance to take it a step further, to show a broader public how accessible it all can be – the joy of making music with other people … It's always been part of what we do. I think the very first public performance we gave was a school show in Smiths Falls which is where Rich [Burrows] is from."
From left to right, as they appear in this issue's cover photo, taken at the side door of the The Cameron House in downtown Toronto in 2009, TorQ consists of Daniel Morphy, Richard Burrows, Adam Campbell and Jamie Drake, and they are heading into the fall at a hectic pace.
"It feels like our momentum has really picked up in the last year or so," Drake says. "Most immediately, we're incredibly excited to be making our debut with the TSO - we're playing a number of educational shows for school groups in November, and then we're presenting a concert titled "Shake, Rattle and Roll" in April as part of their Young People's Concert series. We've just started touring in the U.S. and 2014-2015 will see us perform in Illinois, Alaska, Utah and Idaho, among other places. We're also going to be touring Dinuk [Wijeratne]'s concerto, Invisible Cities, at universities across Canada. And on top of all of that, we're continuing with our Toronto concert series. So lots of exciting things on the horizon!"

A quick search of The WholeNote October listings confirms the momentum he talks about: participation in an October 4 Nuit Blanche all-nighter at the Canadian Music Centre, titled Global Motives; an October 16 U of T Faculty of Music free noon concert in Walter Hall; back to back appearances October 24 and 25 in the Grand Philharmonic Choir's performance of Carl Orff's Carmina Burana in Kitchener.
And finally, in this cycle anyway, the icing on the cake – a November 1 8pm concert titled TorQ Turns 10, back at Walter Hall. The concert is billed as "a milestone celebration of TorQ's first decade together, featuring favourites from their repertoire; works by Cage, Hatzis, Wijeratne, Morphy and others."
"Percussion can fit into so many different situations," says Drake. "Perhaps because of our diverse interests, we've always actively sought out different musical settings to satisfy different aspects of performance. Because of that broad approach, we often end up with seemingly dissimilar gigs close to one another; we might be playing a classical concert with an orchestra one week, a bunch of school shows the next, then a show in a bar the next week. We seem to thrive on that sort of variety."
A closer look at the program for their November 1 "Milestone" concert tells a story: "Often the way that we choose a program is by pure and simple democracy and a lot of back and forth," says Drake. "Pretty much every concert we've ever played has always had some amount of input from each member." The main criterion is that all four of them have to enjoy playing every piece that they perform. "We each have slightly different tastes in music, but it's important that we don't play pieces that one person really doesn't like – if someone isn't into a piece, it's much harder for the group to have a convincing performance."
You can hear their individual voices, and a sense of their journey as an ensemble, as they describe, in no particular order, the repertoire for the November 1 concert.
"Third Rule of Thumb by Barbara White ... was on the very first concert that TorQ ever played (in Walter Hall)," says Richard Burrows. "We played it on that concert because it was one of the pieces on the suggested repertoire list for the Luxembourg competition, which was the original motivation for putting the group together. It was probably the first piece that TorQ ever learned."
John Cage's Third Construction is, in Drake's words "a seminal work – one of the first great [non-pitched] percussion quartets ever written. It's become part of the canon ... as fresh today as it did when it was written in 1941. It's musically brilliant and incredibly fun to play. Pieces like this motivate us to do what we do."
Nocturno is part of a longer work Modulations 1, by Christos Hatzis. "He is one of Canada's greatest contemporary composers," says Adam Campbell. " It was composed in conjunction with our involvement in his graduate level course Composing for Percussion at U of T. It was our second collaboration with Christos; the first resulted in the quartet version of In the Fire of Conflict, which is on our album two+two."
Dance of Joy and Whimsy by Elisha Denburg, was also the result of TorQ's first involvement with Hatzis' Composing for Percussion class. "It was one of our favourites from the class," Dan Morphy says. "We liked it so much we recorded it on our first album. Elisha has since become a good friend, and has written us other great pieces, including as part of the Toy Piano Composers collective."
"Ersilia is a percussion quartet-only movement from our first concerto commission, Invisible Cities, by the incredibly talented Dinuk Wijeratne" says Cunningham. "We premiered it in March with the University of Saskatchewan and will be playing it all across Canada in the next couple of years with other members of the commissioning consortium. We'll also be showcasing it in July in San Jose at the World Association of Symphonic Bands and Ensembles Conference; we're hoping to start to perform the piece with American ensembles as well."
Thrown from a Loop is one of numerous pieces that members of TorQ have written for the group. "We all feel that contributing to the repertoire is really important," says Morphy. "It increases the Canadian content, and it also allows us to play music that no one else plays (at least at first). Loop also showcases our diverse influences – not only the classical and university training side of things, but how various modern genres (including pop music) have influenced us."
Awakening Fire was TorQ's very first commission. "Jason Stanford has always been a great supporter of the group," Drake says. "The piece is beautiful. It was also the first piece we ever played that involved electronics."
No TorQ concert would be complete without improvisation. Burrows explains: "As former students of the members of NEXUS, we've always been influenced by their amazing improvisations; the opportunity to spontaneously combine our musical interests and ideas has always held immense appeal to us, and it's been an important part of our music-making since the formation of the group." They are releasing their third album, Without A Map, at the November 1 concert. "This is our first all-improv album, and creating and recording the music for it was a real joy for each of us."
Their respect for NEXUS is not a one-way street either; their album two+two was described by former NEXUS member Robin Engelman as a "landmark recording […demonstrating] an artistry that puts TorQ squarely on par with the best percussion ensembles in the world."
Life in TorQ requires dexterity and versatility. But that being said, while they "all do almost everything, and like to mix it up" they do have their preferences. "I enjoy vibraphone over marimba," says Drake. "Dan [Morphy] is our biggest marimba talent; he has amazing chops, so if there's a killer marimba part it's his …"
"How about sonata for kitchen sink and kazoo?" I interrupt, jokingly. He does not hesitate. "I do a mean kitchen sink," he says. "And Adam is king of the kazoo."
It's been five years since that Cameron House photo shoot in front of John Marriot's iconic mural (alas no more). It's also the closest they've come, so far, to playing the Cameron as a group. But with their collective appetite for everything musical, I wouldn't count on it staying that way!
David Perlman can be reached at publisher@thewholenote.com