---
---
---
---
---
---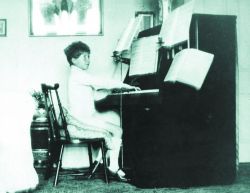 Born on St. Cecilia's Day and named 25 times in this issue of The WholeNote.
Miss Ethel taught piano using the Seppings Music Method: "… taught to feel a great sense of key relationships, which is valuable even in these days of atonality."
Know our Mystery Child's name?
Send your best guess to This email address is being protected from spambots. You need JavaScript enabled to view it. by November 24.
At home in London, England, 1921.
You can view a video of this entire conversation, or listen to a podcast of it by clicking here.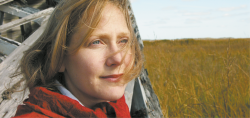 I got a sense of how far ahead Suzie LeBlanc dreams and plans very early in my conversation with her the morning of October 22, 2013. We were sitting in a book-lined seminar room at Massey College in the University of Toronto, talking about the reason for her 24-hour in-and-out flying visit — an event at Massey College that same evening to celebrate the launch of I Am in Need of Music, songs on poems by Elizabeth Bishop, a CentreDiscs CD that not only showcases LeBlanc's soaring soprano but also testifies to her tenacity and vision as a questing collaborative artist with considerable staying power.
The poet Elizabeth Bishop of the CD's title was born in Dorchester, Massachusetts in 1911; so 2011, her centenary, was the raison d'être for this particular project. But as LeBlanc explains, "It started even sooner than that with me finding out about Elizabeth Bishop in 2007 ... In 2007 I found this leaflet [about Bishop] in Great Village, and soon after I met Sandra Barry, an independent scholar who knows everything there is to know about Bishop ... She'd had a dream. Elizabeth Bishop was born in Massachusetts so she was American by birth. She spent a lot of time in Great Village, Nova Scotia as a child, and three of her grandparents were Canadian — were actually Maritimers — and she always wanted to be Canadian. She wrote, 'I'm three quarters Canadian and one quarter New Englander.' And she stuck to that story. She was very attached to this land, which was like her motherland."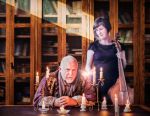 Queen Elizabeth the First thought farts were hilarious. I learned this, and many other scatalogical facts about England in the 17th century, from "Brief Lives: songs and stories of old London," a co-production between Toronto Masque theatre and Soulpepper currently playing as part of the Global Cabaret Festival at the Young Centre for the Performing Arts. William Webster, himself a founding member of Soulpepper, stars in Patrick Garland's one-man cabaret staging of John Aubrey's manuscript Schediasmata: Brief Lives. Aubrey is credited with founding the biography as a literary form, and should probably be lauded as the true father of the celebrity tell-all as well. Although he delights in lurid anecdotes involving famous people -- his text was never intended for publication, one should point out-- "Brief Lives" is a fascinating look at life in England from the Golden Age of Elizabeth I through the Civil War and Restoration, brought vividly to life by director Derek Boyes and featuring songs from the period by musicians Katherine Hill, Terry McKenna, and Larry Beckwith.
Please click on photo for larger image.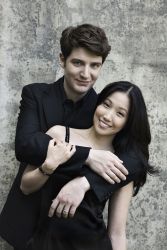 Walter Hall was filled October 17 for the first concert of the 116th season of the Women's Musical Club of Toronto. The husband-and-wife team of Alessio Bax and Lucille Chung brought the enthusiastic audience to its feet with the centrepiece of their varied recital, Stravinsky's original transcription for piano four hands of his second ballet, Petrushka. Bax spoke to the audience mentioning the work's origins as a rehearsal piece for Diaghilev's dancers and then added an anecdote about his own obsession with it since he was eight years old.
Bax had been studying and thinking about this version for several years when the Ottawa Chamber Music Festival suggested he and Chung team up for a two piano/four hands concert in 2004. The two weren't yet married but had known each other since meeting at the Hamamatsu International Piano Competition in 1997. Bax had finally found a partner for a piece of music he had literally been carrying around for almost two decades. A more elaborate version of the story can be found in a piece he wrote for the Huffington Post earlier this year.
Onstage at Walter Hall, each pianist sat on the edge of a piano bench turned 180 degrees and placed side by side. Chung, sitting closer to the audience, played the primo part, while Bax manned the pedals and reached in between Chung's hands on several occasions. Even turning the pages of this cravenly complicated score was a feat of legerdemain.
Without the colours of the orchestra in play, the rhythm comes much more to the fore in this version. Chung's prodigious accuracy was uncanny. And the two players' cohesion in maintaining their togetherness in the face of enormous technical challenges was remarkable as they conveyed Stravinsky's ingenious emphasis on the beat in his transcription. Whether capturing the full orchestra feeling in Scene IV ("The Shrovetide Fair [Towards Evening]"), the captivating depiction of dancing puppets or the otherworldly ending, Bax & Chung's performance was brilliant --even as Chung played right on top of Bax's fingers or Bax reached far into the upper register over Chung's hands.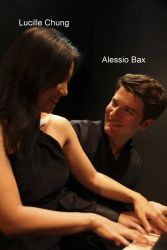 After intermission, each pianist revealed a solo side before reuniting for their arrangement of a group of tangos by Astor Piazzolla. Bax delivered clear-eyed melodic lines in Rachmaninov's famous Prelude in C-sharp Minor, Op. 3, No. 2 and his own arrangement of the composer's Vocalise in C-sharp Minor, Op. 34, No. 14, perhaps most familiar as a violin encore. No chickens were harmed in these non-schmaltzy performances.
Chung then took to the piano in two Scriabin preludes and two etudes by Ligeti. She brought out the lines of Op. 16, No.1 in B impressively and made the dreamy evanescence of Op. 11, No. 21 in B-flat memorable. The Ligeti pieces, Nos. 11 and 10 from Book II, were conveyed with great clarity, the pianist skillfully singling out the melodic line above the African-based rhythms of No. 10, which, curiously enough, resembled those of Petrushka.
The Piazzolla tangos – on the basic score of which, as Chung put it in her introduction, the duo improvises -- found Bax playing the primo part with Chung doing the pedalling. The melody carried the first, "Lo Que Vendra," while the couple's understated romanticism literally and figuratively – Chung looks knowingly at Bax before he moves into a slow elaboration of the tune -- shone through in "Milonga del Angel." One of the composer's major works, "Libertango," brought the printed program to a satisfying conclusion. Here the arrangement was more complex and the duo's interplay more back and forth and intricate, though no less intimate. The encore, Piazzolla's Tango No. 2, proved to be a bittersweet farewell to two new musical friends.
On November 19, Signum Classics will release Bax & Chung's new CD with music by Stravinsky, Brahms and Piazzolla.
---