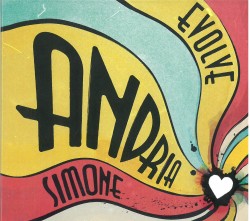 Evolve
Andria Simone
Independent GKM 1018
(andriasimone.com)
There's been a major resurgence of R&B/soul singers in the last several years, led by the fabulous and tragic Amy Winehouse. Many singers have tried to imitate Winehouse's singing style and production
techniques and, as a result, most blue-eyed soul records released lately sound very similar and, frankly, tired. So it's a real pleasure to hear a relatively new singer who is treading her own path. With the aptly named Evolve, Toronto-based singer Andria Simone is developing a style all her own. That said, there are influences apparent in her big, gutsy voice, but how can you be a blues and soul singer and not have greats like Janis Joplin and Aretha Franklin show up?
Evolve establishes Simone not only as a singer to be reckoned with, but as a songwriter of note too. The majority of the tracks are co-written by her and producer Greg Kavanaugh and there are touches of a variety of styles in the mix, but all are hard-driving. The one cover, Sunshine of Your Love, burns with the heat of a thousand suns. Simone's backing band – and I hesitate to call them a backing band since they contribute so much to the overall musicality and funkiness of the record that they're more like collaborators – consists of bassist Mark Wilson, guitarist Dave Kirby, saxophonist Brian Dhari, drummer George Nikolov and keyboardist Anthony Brancati. Evolve doesn't break brand new ground, but it delivers solid groove and energy.