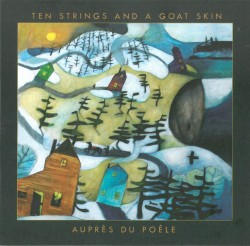 Auprès du Poêle
Ten Strings and a Goat Skin
Independent (tenstringsandagoatskin.com)
Woodstoves, community, dancing, good cheer, fire in the heart – such is the atmosphere on this album, and the aura of this music. It brought dance to my feet and the love of life to my mind, in no particular order.
This is the third CD released by the acoustic trio from Prince Edward's Island. Rowen Gallant (fiddle, viola, tenor banjo, vocals), Jesse Périard (guitar, pump organ, backing vocals) and Caleb Gallant (bodhràn, foot percussion, snare, cajón, clawhammer banjo, vocals) may be young but each is a very accomplished musician in his own right.
While rooted in Acadian and Scottish roots and their love for traditional maritime music, Ten Strings and a Goat Skin were able to expand on this album into truly original interpretations and add unique compositional voices of their own, spicing it with indie and world music flavours. Thus this album comprises of a curious mix of original and traditional tunes and features an array of guest musicians, including Leonard Podolak (also producer of this album) and the members of Les Poules à Colin.
The title track, Auprès du Poêle, moves along with elegance and drive, and features a lovely scat voice/violin duet towards the end. Among many engaging tunes, my favourite were tracks 4, 5 and 6. When First I Came To Caledonia is a beautifully arranged traditional Cape Breton ballad – the dark viola timbre and the mellow voice add the melancholy touch. Shoot the Moon, one of the original tunes, has a few world music twists and a beautiful fiddle/percussion episode. Finally, Maluron Lurette, starts with a solitary melody that continues through progression of instruments and voices.
Sizzling fiddles, dynamic guitars and banjos and ever driving percussion – this album promises and delivers good times.
Concert Note: Ten Strings and a Goat Skin's busy summer schedule includes three stops in Ontario – July 7 at Hugh's Room in Toronto, July 8 at the Almonte Celtfest in Almonte and July 9-10 at the Mariposa Folk Festival in Orillia.