Features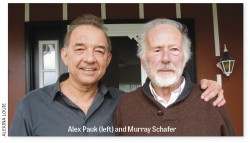 Esprit Orchestra founder and music director Alex Pauk will take the podium at Koerner Hall on the evening of October 23 to lead his orchestra in a heartfelt tribute to Canadian composer and cultural icon, Murray Schafer (b. 1933). Pauk has collaborated with Schafer for over 42 years on a wide range of innovative musical projects that includes 60 performances of Schafer's works with Esprit alone, not to mention many others that began when the two met in Vancouver in 1973. "The time is right for this tribute," Pauk told me. "It's right for Murray, it's right for Esprit and it's right for me." He went on to say that the concert "reflects the amazing relationship between Murray, me, Esprit and the audience."
When they first met, Pauk was engaged by the Vancouver Youth Symphony Orchestra (VYSO) and Schafer was in his last years of teaching at Simon Fraser University (SFU). In 1974 Pauk conducted Schafer's North/White, a work composed that year for full orchestra and snowblower, with the VYSO. At that time, Pauk was looking for academic work at SFU, and he asked Schafer if he might help or offer advice. Schafer's reply may have turned Pauk's fate. He said: "You'll be better off if you stick to conducting contemporary music, and the rest of us will be better off too."
The VSYO released Pauk from his conducting position in 1977, in what Pauk felt was a reaction to his programming of "too much contemporary repertoire." But by then Pauk had met the Romanian/French composer/conductor Marius Constant. Constant was touring the world conducting contemporary repertoire, including his own, and he found frequent conducting opportunities in Vancouver with the CBC Vancouver Orchestra. Constant provided a career archetype for Pauk, one that matched the guidance Pauk had received from Schafer. He befriended Constant, and the two discovered they shared artistic interests. For example, Constant remarked how very interesting the works of Schafer were, particularly those he had conducted with the Radio Orchestra in Vancouver.
The freshly inspired Pauk returned to Toronto in 1980 with a mission to create a contemporary music orchestra and in 1983 founded Esprit Contemporaine, soon to be renamed Esprit Orchestra. The works of Schafer figured prominently in Esprit's programming from the very beginning. Alex told me that it was while preparing a performance of Schafer's Dream Rainbow Dream Thunder that he was suddenly struck by the realization that Schafer's ear and skill with the art of orchestration was extraordinary. He realized as well that "Schafer's orchestral music is about ideas – BIG ideas!" And his sonic palette was designed to project those powerful musical aspirations.
This observation about Schafer's extraordinary gift for writing orchestral music was not lost on me, as I began to expand my own appreciation of his music through hands-on experience. Having created Two New Hours, the network contemporary music series on CBC Radio Two (1978-2007), I began recording and broadcasting concerts with Esprit Orchestra almost from its inception. Among the many fascinating new orchestral compositions my broadcast team and I encountered, it was the works of Schafer that stood out. We were impressed with the orchestration, the breadth and power of the ideas and simply the realization that Schafer's writing sounded brilliant in every way, especially given the exceptionally high standard of performance delivered by Esprit. These were the characteristics that would make for compelling radio, and we were inspired to do our utmost to help make these works sound as vivid and convincing on air as they were in the concert hall.
I had known Murray since first meeting him in 1971 during the Dayspring Festival at Toronto's Metropolitan United Church. His artistic leadership was immediately apparent, as he showed no fear whatsoever for being out among the throng, constantly challenging and provoking people. He was also fearless about taking music away from its comfort zone in the concert hall. A wilderness lake was just as good a venue for music, complete with its built in audience of loons, chipmunks, frogs and, yes, even bears and wolves.
My engineers and I went with Murray and his hand-picked group of musicians to Wildcat Lake in the Haliburton Forest and Wildlife Reserve to make a radio program called Wolf Music in 1996. This was to be a radio program made of Schafer's music, played in the wilderness, interspersed with his gently spoken reflections on the relationships between mankind and nature. The recordings we made at dawn when the wind was still, using groups of microphones positioned around the lake were eventually assembled, synced in our editor and broadcast, both on CBC's Two New Hours and also in Germany, on Westdeutscher Rundfunk. Wolf Music received a special citation at the 1998 Prix Italia in Assisi. The recording is available on the Centrediscs label (CMCCD 8902).
This adventure proved to be a mere test for us to determine whether it might be feasible to record and broadcast the 1997 Patria Music/Theatre Projects' production of Schafer's environmental opera, Princess of the Stars. On the strength of Wolf Music, this subsequent challenge was agreed to, and the entire cast of singers, canoe paddlers, stagehands, puppets and the members of Esprit Orchestra, all decamped to Wildcat Lake for the duration of the production in the late summer of that year. The Two New Hours team went along too, and several performances were recorded and eventually broadcast on CBC Radio Two. In 1999 that production won a medal for excellence in broadcasting in the International Radio Festival of New York.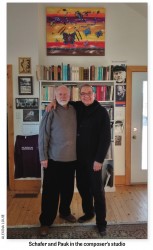 Nearly 20 years and hundreds of compositions later, Schafer has written music for all situations: the wilderness, the countryside and, alas, even the concert hall. I had several opportunities to commission works from Schafer for broadcast on Two New Hours, including the dramatic aria, Thunder, Perfect Mind. This work, based on an ancient Egyptian text, had its premiere in a performance by Esprit Orchestra and Pauk, with soprano Eleanor James, Schafer's wife, at Jane Mallett Theatre in Toronto in 2004. We subsequently recorded the work in Glenn Gould Studio for release on Atma Classique. That recording, which also includes James' performances with Esprit and Pauk of Schafer's Letters from Mignon and an orchestration of his early work, Minnelieder, is currently available in the Atma Classique catalogue.
The Esprit concert at Koerner Hall later this month will include a rarely performed Schafer composition, Adieu Robert Schumann (1976) – a CBC commission, written for Maureen Forrester), incorporating writings from the diaries of Clara Schumann detailing her ailing husband Robert's decline, and using as well fragments of Schumann's own compositions. The soloist, Krisztina Szabó, speaking about her role as Clara Schumann, says she is "struck by the poignancy of Clara's thoughts," as she watches her husband slip away. Szabó, who grew up singing Schafer's choral music as a member of the Toronto Children's Chorus and who has been a soloist in other Schafer works says, "I love the evocative colours in his vocal writing … "I find that Schafer's music calls to me."
Two works on the concert that are more commonly associated with Esprit are the Concerto for Flute and Orchestra (1985), which was, in fact, the first work of Schafer ever performed by Esprit, in 1987, and the Esprit-commissioned Scorpius (1990), a sort of orchestral scherzo. Esprit has programmed these works often and, in the case of Scorpius, has realized excellent value from one of their five Schafer commissions.
Flutist Robert Aitken, the soloist in Schafer's flute concerto, says this will be his 18th performance of the work. He told me: "It's the most successful flute concerto of our time. Whenever it's played, it's a huge success, it always steals the show." Pauk added, "It's simply one of the great flute concertos of all time."
Esprit's tribute to Schafer underscores a long and fruitful relationship between Canada's most revered composer and the country's only symphony orchestra exclusively devoted to the creation and performance of contemporary music. Pauk told me that "Schafer's music embraces so many dimensions, ideas, emotions, theatricality, spirituality and even humour, all unified within a musical experience." He says that this completeness is what makes Schafer so enduring, and this concert is perfect proof of that.
Murray Schafer and Eleanor James will attend the Esprit concert on October 23; one week later, on October 30, coincidentally also at the Royal Conservatory of Music, they will be present as harpist Judy Loman launches a 2-CD compilation of Schafer's complete works for the harp. Loman told me: "Because it's my 80th birthday, it has now become my birthday present to myself to include the launching of this CD." Schafer composed seven major works for the harp, five of them for Loman and two for her students, Lori Gemmell and Heidi Krutzen. The CD, titled Ariadne's Legacy, will be available from Centrediscs, the record label of the Canadian Music Centre.
David Jaeger is a Toronto-based composer, producer and broadcaster.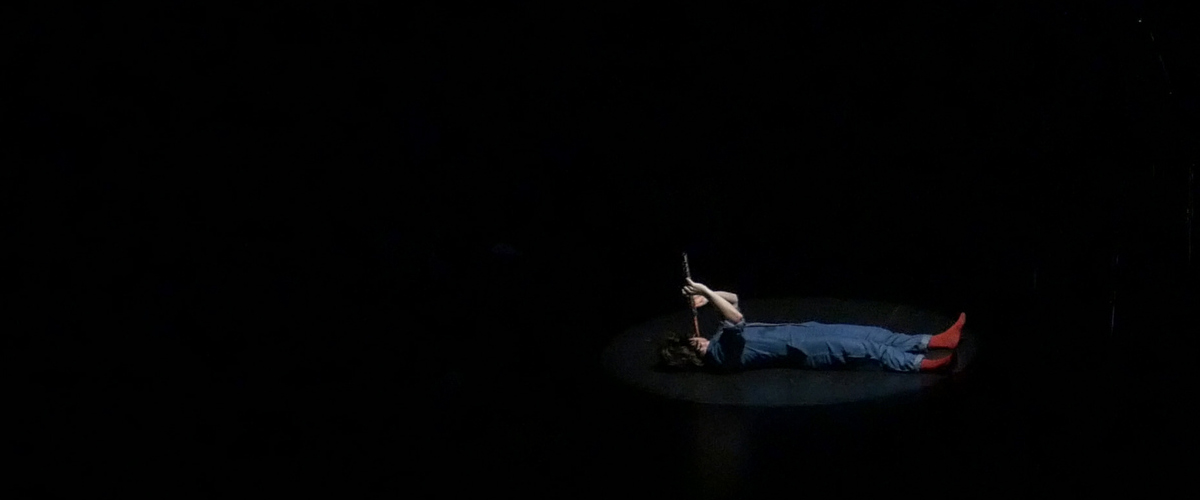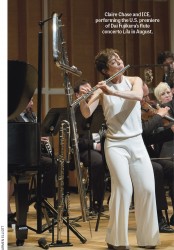 When Claire Chase speaks there is a sense of urgency in her voice, as if she's always on the verge of a discovery that she can't wait to reveal. It's not exactly an incorrect assumption to make – Chase is famous for being a musician who is always reaching ahead of her time. As flutist/founder of New York's ICE (International Contemporary Ensemble) and an active performer of newly composed works, Chase has always looked towards the future – creating the music that until now has yet to be heard.
To that end, she's already accomplished a lot. Praised in The New Yorker as "the young star of the modern flute," Chase is one of new music's most relentless advocates. She's a prolific soloist and recording artist, and a frequent collaborator with composers both established and emerging. She's a recipient of a 2012 MacArthur "Genius Grant" for her work in visioning an artist-driven business model that emphasizes giving performing musicians the freedom to direct their own career paths. She's also, incidentally, slotted as a co-artistic director of summer music at the Banff Centre for 2017 – but in the meantime, she comes to Toronto this month as a guest of Soundstreams, for two shows inspired by the musical future of the flute.
Density 2036. The first, "Density 2036," is part of a 22-year-long centenary celebration in the making. Tracing its roots to the premiere of Edgard Varèse's solo flute masterwork Density 21.5 in 1936, Chase's project is a series of annual commissions, leading up to a 24-hour flute recital in the year 2036. Each year she collaborates with a different roster of composers to premiere a recital-length solo set, with the objective of performing all 22 years' worth of music as a 100th-anniversary celebration of the Varèse original.
On October 4 at Buddies in Bad Times Theatre, Chase (along with sound engineer Levy Lorenzo) will open Soundstreams' new Ear Candy concert series with a selection of music from the last three years of the Density project. The show will sample from a daunting breadth of musical language: two older works – Steve Reich's Vermont Counterpoint and of course, Varèse's Density 21.5 – as well as pieces from Density 2036's three-year archive of commissions, including recent works from Marcos Balter, Mario Diaz de León and Du Yun.
When it comes to Chase's choice of composer-collaborators, nothing is out of bounds. "The only rule that I've given myself for the project is that every time a piece is created through Density, the piece that follows it has to be a complete departure," she says. "I don't want to repeat collaborations. I don't want to repeat language. I want every new Density birth to really be a birth – so in choosing composers, I'm interested in those who are really going far outside their comfort zones…and who are as fiercely and fearlessly committed [as I am] to the idea of creating something new: new for them, new for me, new for the instrument.
"It's a very difficult thing to ask someone to do," Chase concedes. "But I love that question. I love the space that it opens up. I love the vulnerability and the malleability that results. So I look for people who are up for that adventure – and who want to jump off that proverbial cliff with me."
As the soloist leading that cliff-top jump, preparing for an end goal 22 years in the future is no easy task. However, for Chase it is in part this long-term, cumulative nature that gives Density 2036 its appeal. "It's about the idea of really setting the bar high for myself," she says. "Of saying, okay, what would it be like to build up to being able to play continuously for 24 hours when I'm 58 years old? It'd be an Olympic sporting event – but it'd have to also be something that really is in service of the music. How could I do that and what would my training look like over these decades? It was such an interesting question that I had to start the project immediately.
"And it's about saying, okay, the goal is to create this repertory. If I can commit seriously to making it, performing it, and putting it out there for myself, but be just as committed to disseminating it and making sure that it is available for other flutists – for them to study, to learn, to make it their own, to play it better than I can – then that would be really cool."
Magic Flutes. Chase's second Toronto appearance, titled "Magic Flutes," will open Soundstreams' mainstage season at Koerner Hall on October 12. At first glance the concert program, which includes works by long-revered composers for the flute like Debussy and Takemitsu, fulfills all the expectations of a standard flute recital. But at Soundstreams – especially with Claire Chase in tow – "standard recitals" are not what they do. A second look reveals that the show will feature five flutists (Chase, joined by Marina Piccinini, Patrick Gallois, Robert Aitken and Leslie Newman) positioned in what Soundstreams bills as a "surround-sound" setup, pairing classic 20th-century flute repertoire with less-known works and a world premiere from local composer Anna Höstman. According to Soundstreams artistic director Lawrence Cherney, the show takes its cue from the tale of the Pied Piper, and harnesses the potential of the flute as "both a force for good, and a force for evil."
And if Soundstreams plans to reshape what the flute can do – and what it can represent – in this concert, then Chase is game. "What excites me most about the flute," Chase explains, "is that it is our oldest musical instrument. Our little tube, our little pipe, was the first musical instrument, other than the voice, and percussion in its earliest iteration. That's really moving to me, really inspiring to me, and it makes me think about all the ways that this instrument – and the way that we tell stories through it – can still evolve."
"Ideally, we are getting smarter," Chase continues, laughing. "Ideally our brains are evolving. And so our instruments and the way that we play them, but most importantly the way that we communicate with them – the new languages we develop through them – we have a responsibility to evolve that as well. And flute is front and centre in that effort, because it was the first."
A Self-Identified Termite. Of course, musical evolution, at least as Chase describes it, is a multifaceted thing – not only about the music that performers play and how they play it, but about shifting the social structures upon which that music is built, for the better. The work that won Chase her MacArthur fellowship focused on just this. Her own unique brand of musical entrepreneurship – what she calls an "artist-driven organizational model" – is about giving performers the agency to perform with intent, and to direct their own professional development. It's about seeing the musical artist as a whole person, and strengthening the connective tissue between that person and the spaces around them.
Says Chase: "This model is [about enabling] the artist as a fully empowered agent of the work of her community. That's something that's deeply important to me. It's the reason I formed ICE; it's also the reason why I am an advocate for many other organizations and ensembles. I just believe deeply in the power of young artists doing for one another what, frankly, institutions are doing a lousy job of doing for us. I think that in some ways that message has been misconstrued to say, 'oh, we can do this for ourselves, you guys are off the hook!' That's not it at all. It's more of a termites-vs-elephant way of looking at the world. And as a self-identified termite, I believe it's my duty, and it's our duty, to help do for one another what is not going to happen with these big cultural gatekeepers."
And the advice she would give to young artists, who are hoping to do just that?
"My best advice is from Oscar Wilde: that you should 'be yourself, because everyone else is taken.' That's the truest way to say it. It's not just that being yourself is something we all walk around doing effortlessly. It's a lifetime of work and it's a daily slog…it's also a daily joy, to figure out who we are.
"But being committed to being ourselves and celebrating that, indeed, 'everyone else is taken,' is not the path that is encouraged by all institutions, by all teachers…It's certainly not the path I was encouraged to take. It's not the reigning conservatory advice. In fact, what we're taught to do, in many music programs, is exactly the opposite. It's, 'how can I make myself more like this mold? How can I follow this path? How can I follow the shine of this person?' Of course we learn from each other, by repetition and by emulation. But we also learn by noticing, and by feeling, and by trusting ourselves. If there's one thing that I can do to help a younger generation of flutists and artists trust themselves and trust one another, it would be that."
It's clear that she lives by her own advice. The sense of who Chase is as a person is intimately tied to what she does. The sense of her own individuality, her own physicality, permeates her playing, such that audiences can hear in the music her own unique voice. It's a hopeful thought, that she believes that we all can trust our own paths, our own selves, our own potential shine. And a success story, as well – because that's what she did, and she is luminous.
Sara Constant is a Toronto-based flutist and musicologist, and is digital media editor at The WholeNote. She can be reached at editorial@thewholenote.com.

On October 23 at 2pm the unique Shen Yun Symphony Orchestra will perform at Roy Thomson Hall, one of the last three performances in a tour which includes Taiwan, Tokyo, New York, Boston, Chicago and Washington D.C.
As we know, simply maintaining, let alone touring, a symphony orchestra is a large, complex and challenging undertaking, so where does this orchestra come from and who is responsible for it? The short answer is that the orchestra is based in New York and is part of Shen Yun Performing Arts. And from the Shen Yun Performing Arts website: "In 2006 a group of leading Chinese artists – all Falun Dafa practitioners - came together in New York with one wish: to revive the true, divinely inspired culture of China and share it with the world."
Who these specific artists were and who is responsible for the organization's ongoing operation is not revealed. The reason for this probably lies in this statement a little further along in the website: "Over the past 60 years the [Chinese] communist regime has treated Chinese values – centred on the idea of harmony between heaven and earth – as a threat to its existence…bringing 5,000 years of civilization to the brink of extinction." According to the website the Chinese government has felt so threatened by Shen Yun's presence that it has sent out competing shows and even gone so far as to slash the tire of a tour bus in Canada.
Art and ideology: The threat that art poses to ideology is not so difficult to understand: one has only to reflect on the impact of the signal sent rippling through the Soviet Union when Glenn Gould was allowed to present a program of Bach's music in Cold War 1957, or the McCarthy-led crackdown on the arts in the U.S. at the same time. The current Chinese situation becomes a little murkier when one considers that this same government's Ministries of Education and of Culture support and sponsor the Beijing Modern Music Festival, to which Toronto's New Music Concerts recently toured, a tour recapitulated in NMC's September 30 opening concert. It would appear that the largely secular and formalistic music of contemporary Western composers is no longer perceived by the Chinese authorities as a similar threat to that posed by the music and dance of Shen Yun.
Shen Yun's artistic methodology is to bridge traditional Chinese and Western musical cultures, integrating traditional Chinese instruments into an otherwise "standard" symphony orchestra which performs symphonic orchestrations of traditional Chinese music, sometimes interspersed with arrangements of Western Classical repertoire. (With the number of Chinese students who have embraced the Western musical tradition, studying it in China as well as at North American and European music schools there is a potentially huge pool of Western-trained orchestral musicians for Shen Yun to draw on.)
One of these is violinist Chia-chi Lin, now in her tenth year with the Shen Yun Symphony as a member of the first violin section. She was also the conductor of the pit orchestra for the Shen Yun Dance Company's performances in Toronto last May. She studied at Rice University and at the Peabody Conservatory before becoming the principal second violinist of the Honolulu Symphony Orchestra, then moving on to become a member of the Pittsburgh Symphony for several years before joining Shen Yun.
After one of the performances at the Sony Centre last May I sat down with her to chat. She told me that while she had been happy with her job in Pittsburgh, she moved to Shen Yun because of the Falun Dafa connection and its mission to revitalize traditional Chinese music and dance. (Her connection with Shen Yun also includes the vice presidency of Fei Tian College in New York which trains young dancers and musicians in the traditional Chinese art forms.)
Shen Yun's mission is to infuse traditional Chinese music and dance with new life to rescue them from the threat of extinction; paradoxically it is doing this by means of a fusion of Chinese and Western musical resources, so that it transcends race and nationality. Likewise, the message of harmony and connection between heaven and earth is one which is equally central to many of the composers whose music is performed in the concerts listed in this magazine.
I recently came upon these words about the impact of music by French writer, Amin Maalouf, in a concert program. They are worth repeating in this context. "In addition to the aesthetic emotion, we feel another which is even more intense – a sense of magical communion with reconciled humanity."
Flutist Allan Pulker is chairman of the board of The WholeNote.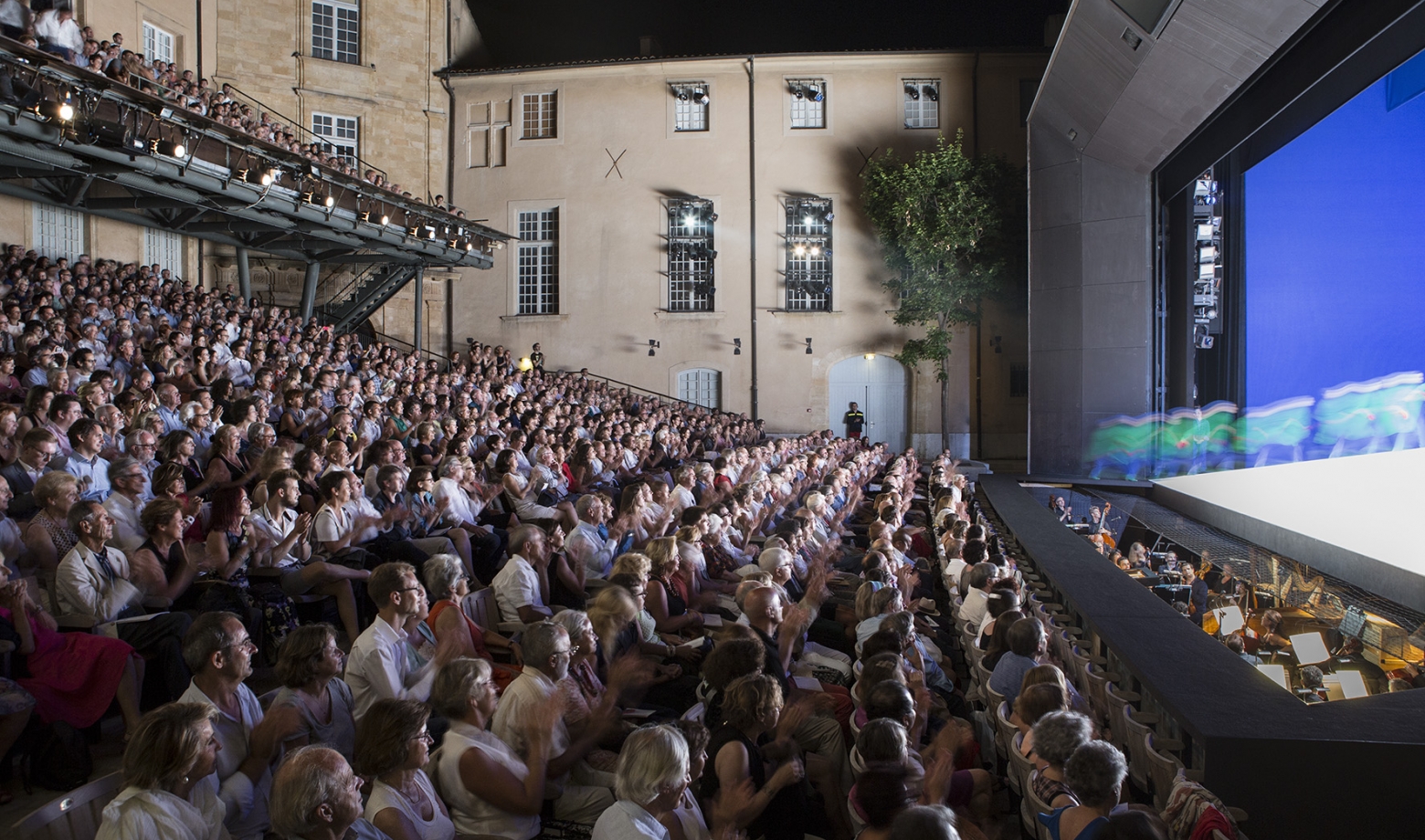 The end-of-June late-morning sun promises to fry the brains of the assembled Who's Who of international opera critics. No one dares though to leave the press conference in the cloisters of the Théâtre de l'archevêché until we deal with what we are here to discuss, and that is not just the Festival d'Aix-en-Provence.
So we wait, as a trio of officials fills the shiny air with bright promises of newly re-imaged old work – Mozart meets Mussolini in Così fan tutte to open the festival's 68th iteration – and as company director Bernard Foccroulle, frazzled-looking most times yet now cool as a glaçon – extols outreach programs, "school support," administrative breakthroughs … We wait, plastic water bottles draining as steadily as the temperature mounts. Then: "Brexit."
The word, spoken not shouted, came from out of nowhere – maybe from Foccroulle himself? Or who knows? It didn't matter. It was as if a code had just been cracked; a world of information started spilling out.
The "British exit" was inevitably the talk of this European summer, its implications growing thornier with every new detail. For this assembled music crowd, the very thought of the United Kingdom's decision to sever all ties from the European Union (EU) was a stark reminder that unfettered border crossing has been to opera's advantage, long before Handel took his act from Halle to London.
Bottom line: if there's a Brexit-induced clawback of arts funding in Europe or a redistribution of funds, the shrinking effect will be felt soon enough worldwide most particularly when it comes to operatic co-production.
For opera and theatre in England, minus the 16 percent of its budget originally from the EU, it will mean a "great sadness," Katie Mitchell, Aix's genius-in-residence, chimed in from somewhere behind Foccroulle at the festival-starter press conference. (Note: the formidably stern Mitchell, frequently called Britain's "greatest living director," has worked mostly away from England the past few years. Her introspective take on Debussy's Pelléas et Mélisande is likely to be one of this festival's two legacies.) Brexit pushes the EU-needy English National Opera even closer to the brink of collapse, if that were indeed possible (although some fightback came this summer by way of the company's Tristan und Isolde, with sculptor Anish Kapoor's sets drawing much of the attention).
The more the talk continued, the more the sense of worry grew. What, for example, would Brexit auger for the broader reaches of the co-production ideal of the sort that has the Canadian Opera Company bringing Richard Jones' Aix debut production of Handel's Ariodante to the Four Seasons Centre, October 16 to November 4 this year, a co-production with the COC, Dutch National Opera and Lyric Opera of Chicago? (As a matter of interest, the record, going back to the 2006/07 season, shows that the COC has presented 19 co-productions including this year's October 6 to November 5 Norma, directed by Kevin Newbury, a co-production with San Francisco Opera, Lyric Opera of Chicago and Barcelona's Gran Teatre del Liceu.)
And what will Brexit mean for an Aix festival that's arguably the world's centre for international musical wheeling and dealing? Foccroulle looks less than happy at the thought. "Artists need to travel," he tells me after the press conference. "And for opera it is crucial to work with other cultures, other languages, other ways of producing art – also to be in contact with other disciplines. How much is dictated by the European Union? Well, a lot is facilitated by it, supported and subsidized."
If any torpid Mediterranean city can be described as go-go, it's Aix. The city downtown has its share of timeless moments. Cours Mirabeau, the coolest summer-strolling corridor this side of Barcelona's La Rambla, is lined by a row of former grande bourgeoise homes on the south. Some are now banks. Here and there are any number of nearby ornate fountains – "Aix" comes from the word for water – such the Baroque Fontaine de Quatre-Dauphins where dolphin-like gargoyles spew water (not a quartet of future French kings, as the fountain's name might suggest). This is not to forget painter Paul Cézanne's airy studio that's an obligatory visit for every bus tour heading north of town.
Aix's cultural clout has been on the rise pretty much since the festival's founding in 1948 as home for Mozart aficionados. It's a photography and arts research centre. The festival itself can now brag about 97.9 percent full houses for opera and slightly over 94 percent for the many concerts. Otherwise Aix is France's version of Silicon Valley with high-end university research facilities and credit card microchip processing plants edging their way out into some of the best olive-growing hectares in all the South of France. ("There are a great many wise people there" was written into the founding act for the Royal University in Aix, 1413.)
Translated: this means money. Elsewhere, to describe anyone in the arts as a "money person" might be an insult. But not in Aix and not when it comes to Foccroulle who also happens to have led Brussels' La Monnaie for the past decade and a half. Foccroulle, leaving the
festival after the 2017 season, is the king of co-production, with Aix connecting opera academics from Ghent's LOD muziktheater to the Polish National Opera in Warsaw, and with a good half-dozen co-productions on the bubble at any given time. Pierre Audi, of the Dutch National Opera in Amsterdam, will have a lot on his plate when he takes over Aix in 2018.
Foccroulle's most lasting accomplishment – and his most audacious manoeuvre – may well lie in resetting Aix's compass from North to South, a reset requiring a lot of creative thinking. (Cairo was a significant Aix connection/collaborator this year.) Foccroulle may be further emboldened in this decision by the recognition accorded to Aix's longtime nearby bigger coastal rival, Marseille, as European capital of culture. It seems the European south is now more than boule-playing by old guys. (Picking Marseille evidently preceded the debut airing of Marseille, the French-made big-city corruption yarn – on Netflix in Canada – barely kept alive by the bulky genius of Gérard Depardieu.)
How do we integrate opera into a world where globalization is changing everything? Foccroulle asks himself. "We have to open the doors to other cultures," he answers. "That's the reason for [Moneim Adwan's] Kalila wa Dimna and for our Mediterranean program."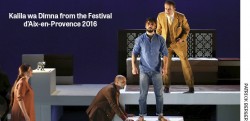 Like Aix, other major European arts festival such as the Edinburgh Festival and the Holland Festival, both starting in 1947, were post-war efforts to better unite Europe. Foccroulle sees beyond that.
"When I arrived here ten years ago, I was often asked what was the identity of the festival," he tells me. "They were expecting me to answer in terms of programming of directors and so on and so forth. I think our role however is the big mutation of the role of opera in a global world. That means doing many things to open doors for living artists. In Italy, for example, young artists, young composers and directors have nothing to do because the Italian opera houses don't offer them anything. The older generation does almost everything. We also have to open the doors to other cultures and to regenerate opera through new forms."
In keeping with this southern strategy, for his Così fan tutte French film director Christophe Honoré has re-imagined Lorenzo Da Ponte's 18th century Neapolitan comedy as a grim Fascist parable set in the Italian-run Eritrea of the late 30s. Remarkably, the grumbling after the opening was that Honoré didn't push the malevolent comedy as savagely far as it could go. The Trump effect?
Back to Katie Mitchell's Pelléas, the opening of which saw a less-than-full house (which did, however, include Christine Lagarde, head of the International Monetary Fund). The work is already being described as her masterpiece – the true successor to her 2012 international hit, Written on Skin, by George Benjamin and Martin Crimp. But for this to play out, in my view, future co-productions of Mitchell's Freudian dreamworld where its secrets are about more secrets, will require considerably more orchestral oomph than was provided by Esa-Pekka Salonen leading the Philharmonia Orchestra. They will also have to find a Mélisande with some of the daring physicality, aggressive sexuality and exhilarating singing Canadian soprano Barbara Hannigan brought to the role in this production. Aix's reputation at being good at money may be facing some challenges. Its reputation for great casting remains intact.
Aix's Axis
North-South Reset
Katie Mitchell's mysterioso production of Debussy's Pelléas et Mélisande will probably emerge as the mainstream signature work from this season's Festival d'Aix-en-Provençe. But the production mostly likely to have reverberations far into the future is Kalîla wa Dimna by Palestinian composer Moneim Adwan.
As a bilingual chamber opera in French and Arabic based on an eighth century translation of fables by Persian poet/scholar Ibn al-Muquaffa, everything about it is a world-first, we're told. Yet there's nothing new, or never-before, about its accessibility. Told in flashback by Kalîla (the Hawaii Pacific University-trained contralto, Ranine Chaar, at Aix), the story of a manipulated despot driven to violent extremes has a contemporary feel by way of the libretto by Fady Jomar and Catherine Verlaguet. Dimna (sung by Adwan himself) is a young hotshot on the make, a human jackal – toy animals are used in fetish fashion as narrative illustrations – waiting for the low-hanging spoils of the back-stabbing intrigue he creates.
A sense of nondescript modernity was conveyed by the sets by Eric Charbeau and Philippe Casaband; Nathalie Prats' lumpen costumes were equally unimaginative. So visually, this Kalîla won't change the world. No matter. Adwan's score elevates everything to another level. Accompanied by an onstage quintet led by conductor/ fiddler Zied Zouari – an electro/groove player on his own time – Kalîla wa Dimna offers one of the most impressive melds of Middle Eastern melismas and straight-up western tonality I've come across.
So if a category needs to be found for Kalîla it might be filed under "folk opera" – closer to Béla Bartók's Bluebeard's Castle than to George Gershwin's Porgy and Bess, please – or as important "regional theatre," as COC director Alexandre Neef characterized it to for me shortly after he'd seen it at Aix.
The festival has gone in this direction before only last year with Serbian-Canadian composer Ana Sokoloviç's Svabda (Wedding) which like Kalîla was offered at the festival's Théậtre du Jeu de Paume. Opened only a few years back, this jewel-box space is found tucked away around the corner from the Musée Granet, an exceptional mid-size gallery that can trot out A-list Cézannes or Picassos whenever pressed to do so, which is never enough.William Christie's Il ritorno d'Ulisse in patria was an earlier success at the Jeu de Paume.
Kalîla wa Dimna wasn't meant to stand alone this season. The world premiere of another cross-cultural Aix commission, Czech composer Ondřej Adámek's Seven Stones was on the festival's early schedule only to be "postponed" at relatively the last moment according to a festival spokesperson, "mainly for budget reasons to avoid taking financial risks. This should allow the festival to also find additional co-producers." (As it is, Seven Stones has enormous cross-cultural possibilities as the story of a mineralogist who goes on a worldwide search from Europe to South America for the single stone about to be hurled at the woman saved by Christ after being accused of adultery.)
Only days after the Kalîla wa Dimna premiere, Lyon Opera, only a few hours up the autoroute, produced its new Abduction from the Seraglio, by Mozart, with new dialogue by Wajdi Mouawad, the French-Lebanese writer/director intended to rethink the work's burlesques of Muslim Turks.
"You have to constantly redefine what you are, especially as a large organization," Neef went on. "You don't give up your core. You do what you do best. And there's always a temptation to run after the next thing. But you don't just keeping doing what you do. I was very fascinated with Kalîla wa Dimna. I was taken with the storytelling. In Canada we have a wide indigenous population and we have not told their stories in a big way."
Ariodante auf Orkney
Let's see now. With Handel's
Ariodante
– Richard Jones' version premiering at the Four Seasons Centre with the Canadian Opera Company October 16 to November 4 – we have a love-wracked title character who makes Hamlet seem like a laugh riot, living in Scotland's Orkney Islands, you know, remote, lonely and windswept where they have mean, seaweed-eating North Ronaldsay sheep, little summer to speak of and folks going around in thick woolly sweaters that render most forms of sexual contact tricky, if not extremely itchy.
Jones' punky production, which premiered in 2014 at the Aix Festival, goes whole hog, er, whole sheep, with this Orkney claustrophobia vibe. Besides excess tartan there's lots of wallpaper. "What made my mind up about the production was Jones' idea to move the setting from Scotland itself to the Orkneys," says COC general director Alexander Neef. "He turns it into an even more remote place. Handel thought Scotland itself was a remote place."
The new setting is Scotland of the recent past, where the heroine, Ginevra, suffers mightily to be with the man she loves, Prince Ariodante – British mezzo soprano Alice Coote, a Jones favourite, for the COC performances – only to be accused of being unfaithful to him.
"The story is wintry," Jones tells me enthusiastically on the phone, his tone anything but wintry. "The music is baroque but the setting is 1970s Scotland. There is a tension between the two. People look at it more acutely because of that."
Besides tension we get lying, cheating, the hero's attempted suicide and lots of knitwear. How much fun is that? Well, lots actually. "Yes, there is this sense of melancholy that is found in many pieces of the period which I find intoxicating," says COC music director, Johannes Debus. Despite a childhood spent as a pianist/fiddler in Baroque-rich West Germany, he's making his Handel-conducting debut with Ariodante. "There is a lushness to the score. Opera at his time was an entertainment at an extremely high level; an entertainment is a form to allow you to forget your daily life."
Debus was born in 1974, the year David Bowie released Diamond Dogs. Rock is not foreign to his musical thinking: his understanding of it will not likely inhibit his still-growing reputation. Ariodante, produced in 1735, was the by-product of an aggressive new marketing venture by Handel which would have made Andrew Lloyd Webber proud. In 1734, Handel moved his company from the Haymarket's King's Theatre to John Rich's Theatre Royal, newly installed at Covent Garden, to find a better location and a company with a chorus and dancers. (Speaking of location: along with the COC and Aix, this Ariodante is a co-production with the Dutch National Opera and Lyric Opera of Chicago.)
"Handel always had dancers in mind: this music itself was based on dance, the sarabande, the gavotte and the bourée," Debus continues. "Baroque music uses words the way rock does: there is always a certain rhythmical aspect to them. It's an expression of youth. And there is the aspect of popularity in the music itself. The singers at the time were all pop stars of the period, idolized by everyone. When people went to the opera then it was not as it is today. They chatted. They might have sung along to the music. There was no holy, sacred atmosphere."
Ariodante's Aix debut was interrupted by France-wide strikes by arts-related workers fearful of cutbacks in their benefits. One British singer had her entrance blocked by "about 40 protestors who were blowing klaxons." By then though, the current Handel revival – one to rival the composer's last period of rediscovery in the 1920s – was in full swing. "I was a latecomer to Handel," COC general director Alexander Neef admits, "but once I rounded that corner I saw him next to Mozart and Verdi."
The Aix success this season of Krzysztof Warlikowski's young and restless take on Handel's Il trionfo del tempo e del disinganno, confirms what Jones and Debus believe is Handel's intrinsic connection to today's popular culture. Handel wrote for the street and his own generation. Il trionfo, Handel's first oratorio, was written when he was just 22.
Jones himself comes to Ariodante through the prism of pop not opera seria. The formulaic courtliness observed by Handel's characters and understood by his audience is not replicated in Jones' direction, although his characters, turning themselves into manipulatable puppets, are looking for motivation from somewhere. But where, the TV? The movies? Today's sitcom, not George II's 18th century court, informs this Ariodante.
Maybe this hardly promises the signature shock and awe involved in some of Jones' earlier productions like his recent grit'n'grimy version of A Midsummer Night's Dream, his Royal Shakespeare Company debut, which had him labelled a "vandal."
Believing that "theatre and opera are marginal to most people," Jones says, "I am selfishly willing these great works work. And I am trying to work with people who can stimulate."
Debus is on board with that. "I cannot say I have a vast experience with Baroque music although I've conducted it here and there and one of my favourite composers is Bach," he says. "At the end though, no matter how much you do research on how the music may have been played at the time, in the end it's the interpretation that makes the music work. You have to have someone with the right instinct for the music and the vastness of the emotion there. The result can be a very lively performance that also touches you."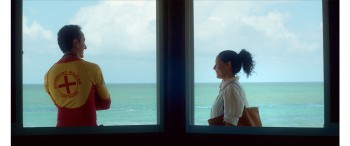 The WholeNote's fifth annual guide to the Toronto International Film Festival (TIFF), 41st edition, aims to once again alert you to films in which music plays a significant role. After pouring over the list of 296 films from 71 countries, the following 26 titles represent a loose guide for music lovers with a taste for cinema. Highlights include a handful of music docs, Damien Chazelle's original musical La La Land, films with scores by the likes of Robi Botos, Jesse Zubot, Son Lux, Lesley Barber and Gabriel Yared, as well as movies with characters connected to music.
Lutz Gregor's intimate and moving Mali Blues looks at the plight of the Malian people - since music was banned by the jihadi takeover of the country's north - through the eyes of four Malian musicians.With a keen cinematic eye backed up by a hypnotic guitar groove, Gregor gives us the backstories of Fatoumata Diawara, Ahmed Ag Kaedi (pictured on our cover), Bassekou Kouyaté and Master Soumy . Heweaves them in and out of ordinary people in close-up and scenes that take us from Bamako to the desert, showing how integral music is to all of their lives. It's essential viewing, especially if you missed hearing Diawara in her 2014 Koerner Hall concert (with Kouyaté on ngoni) or seeing her memorable performance in Abderrahmane Sissako's Timbuktu.
For its subject matter alone, Chasing Trane: The John Coltrane Documentary caught my eye. Early word has it that John Scheinfeld's new film is the definitive portrait of one of jazz's seminal figures. Made with the cooperation of the Coltrane family and the owners of his recordings, the doc is said to contextualize Coltrane's life within the roiling social and cultural landscape of which he was a key component while vividly bringing his story to the screen.
Iconoclastic American indie filmmaker Jim Jarmusch has two films in the festival. Gimme Danger, is a scrupulous two-pronged documentary look at the Iggy and the Stooges phenomenon. Iggy (aka Jim Osterberg) provides a detailed historical chronology, paying particular attention to the band's musical origins and influences. From the 1950s TV show Lunch With Soupy Sales to the idiosyncratic American composer Harry Partch, from Iggy's brief, meaningful relationship with Nico (on the rebound from Lou Reed) to Miles Davis' Bitches Brew, James Brown and Maceo Parker, the film drops one memorable nugget after another. At his press conference in Cannes (where the film premiered) Iggy also mentioned his indebtedness to Bo Diddley, Link Ray, Frank Zappa and Karl-Heinz Stockhausen. Fascinating.
Paterson, Jarmusch's clever neo-minimalist film, chronicles seven days in the life of a Paterson, New Jersey, bus driver (named Paterson), his happy marriage and daily routine. In this city of the poet William Carlos Williams, Paterson (Adam Driver, bringing sensitivity to the role) is also a poet. So is Jarmusch in his own refreshingly natural and observant way. It's two hours of serenity, a musique concrète of city sounds and overheard conversation, the music of daily life. The spare, ambient score is by SQURL and Drew Kunin.
Part jazz history, part true-crime tale, Kasper Collin's I Called Him Morgan uses extensive archival footage and new interviews to tell the tragic story of the talented hard bop trumpeter Lee Morgan and his common-law wife Helen, who murdered him in a New York bar in 1972. Possessed of enormous technique with a warm, vibrant sound reminiscent of Clifford Brown, Morgan was only 33 when he died. In his last interview (some of which will undoubtedly be in the film) he eloquently described the place of black American art in American culture. This is one doc I'm particularly looking forward to.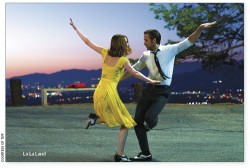 Damien Chazelle has followed his critically acclaimed and popular success, Whiplash, with an original musical comedy, La La Land, about an ambitious jazz pianist (Ryan Gosling) and an aspiring actress (Emma Stone) who fall in love while pursuing their dreams of stardom, in what TIFF calls a "dazzlingly stylized homage to the classic Hollywood musical." Justin Hurwitz composed the score, just as he's done for each of Chazelle's other feature films.
Agnès Varda's One Sings, The Other Doesn't, which originally showed at TIFF in 1977, contagiously popular in its day, now newly restored, puts on a shiny face as part of the Cinematheque section of this year's festival. A feminist musical about a pop singer dedicated to women's liberation and her ongoing relationship with her old friend, a single mother of two who has moved to the country, it's a tender reminder of another time.
In Kleber Mendonça Filho's Aquarius, legendary Brazilian actress Sonia Braga (Kiss of the Spider Woman) memorably plays a retired music critic (Clara) fighting to keep her Recife apartment building from the hands of developers in this spirited portrait of a strong-willed 65-year-old. Needless to say, music plays a major part in this sun-dappled film whose storyline cannot be divorced from its social context. From Villa-Lobos to Maria Bethânia, Jobim and Tropicalia to Recife, Minha Cidade, Aquarius will leave you in love with the best of the Brazilian soul. Here's the director describing the importance of music in the film: "I like the fact that Clara has LPs at home—those she bought over a period of 40 years, or those sent to her while she was working as a critic. I also like the idea that, even though she has a vinyl collection, she doesn't refuse to listen to tracks on her phone. It was only natural, since she listens to music, for music to occupy scenes. Music also gives an indication of her tastes and moods."
Master jazz pianist Robi Botos was approached by Jean of the Joneses' music supervisor Michael Perlmutter who put him in touch with writer/director Stella Meghie and producer Amos Adetuyi. "After a meeting with Stella we really connected," Botos said in an email. "So she gave me the green light for the score. I just tried to give the movie the right vibe. It's bittersweet so the music has that role too." The film got rave reviews when it premiered at SXSW earlier this year. Sean L. Malin wrote in the Austin Chronicle that "Meghie's feature debut suggests an exciting new voice. Highly visually controlled, snappily edited, and beautifully acted, Jean of the Joneses is a clever New York comedy about the Caribbean diaspora."
Bruce McDonald has always had a good ear for musical found objects to buttress his films which are often sparked by road trips. In Weirdos, he teams with veteran playwright and screenwriter Daniel MacIvor for this offbeat coming-of-age dramedy, about two Nova Scotian teens who hit the road in the summer of 1976 accompanied by the laconic ghost of (the still-living) Andy Warhol. The 70s' pop soundtrack includes some real oddities (Which Way You Goin Billy, the title song from the Peter Lynch movie The Hard Part Begins) and performers of the day like The Poppy Family.
Nathan Morlando, whose cinematic intelligence permeated every frame of his film debut, Edwin Boyd: Citizen Gangster (which won Best Canadian First Feature at TIFF 2011), had the cinematic good sense to hire Max Richter to compose the music for his debut film. When Richter was unavailable for Morlando's follow-up, Mean Dreams, he turned to Son Lux. The enterprising composer made the soundtrack a mirror of this parable of two teenagers escaping their intolerable Northern Ontario lives. Evoking memories of Malick's Badlands, it's finely calibrated filmmaking that nicely integrates the landscape while the luxuriant soundtrack occasionally acts as a kind of Greek chorus.
"In composing the score, I turned to acoustic sounds and colours that are beautiful on their surface, but hide a certain dystopian quality," Son Lux said. "I chose my tools mostly from acoustic sources. With the help of a small team, I extensively recorded a variety of things, including lots of rare and one-of-a-kind instruments. One sound at a time, we created a huge, unique library of complex sound material … Through extensive editing and programming of these isolated sounds, as well as fragments of improvisation, we created playable 'virtual instruments.' This gave me an enormous amount of flexibility and control in order to compose the score."
Kim Nguyen's Two Lovers and a Bear features music by Jesse Zubot (who performs it on violin, viola, synths, sub bass, drums and programming), vocals by Tanya Tagaq; also recorded samples taken from Genetic Memory and Rabbit from Animism by Tagaq and Sun Up from The Element Choir at Rosedale United. A Tribe Called Red's Sisters, two tracks by Gil Scott-Heron and an excerpt from Tchaikovsky's The Sleeping Beauty ballet are among other sounds energizing this unusual Arctic romance, filmed close to the North Pole in all of its magnificent splendour.
Montreal native Xavier Dolan won this year's Grand Prix (second place) at Cannes for It's Only The End Of The World, an emotionally riven chamber piece about a writer who returns to his family after an absence of 12 years to announce that he has a terminal illness. In a series of confrontations, tensions driven by resentment and lack of understanding are revealed. Working in France for the first time with an all-star French cast, Dolan's camera lingers on his characters in close-up, accentuating pauses, building to the affective climax. Gabriel Yared's warm, empathetic symphonic score and pop music outbursts like Camille's Home Is Where It Hurts, Grimes' Oblivion and the Moldovan pop group O-Zone's Dragostea Din Tei are essential ingredients.
With J: Beyond Flamenco, Carlos Saura has come full circle. After decades of memorable films devoted to music (Blood Wedding, Carmen, Sevillanas, Tango, among many) he has returned to his birthplace, Aragon, where jota had its origins. "La Jota is folk music and dancing so powerful that it has been able to attract renowned musical composers such as Liszt, Saint-Saëns, Massenet, Falla, Granados and Albéniz," Saura said in the press notes. "Its influence is evident in the Spanish geography. Its unique rhythm, cheerful and contagious, has kept improving over the years." Musicians in this music and dance celebration include battente guitar virtuoso Francesco Loccisano, composer and cello virtuoso Giovanni Sollima, flamenco pianist Miguel Angel Remiro and his quartet, world music star and Galician bagpiper Carlos Núñez, guitarist Enrike Solinis and jota singer Nacho del Rio.
Terrence Malick, who touched on the origins of the universe in Tree of Life, puts his singular cinematic vision to work in Voyage of Time: Life's Journey, a documentary look at the same subject that promises to be a celestial experience. Malick has always leaned heavily on classical music as a foundation for his films and this new sound and image poem features a playlist that could serve as a Who's Who of the music of the spheres. The soundtrack includes excerpts from Giya Kancheli's Evening Prayers, Bright Sorrow and Morning Prayers, Beethoven's Symphony No.9, Poulenc's Gloria, Penderecki's St. Luke Passion, David Hykes' Hearing Solar Winds (part 8), Arvo Pärt's Da pacem Domine, In Principio and Litany, Mahler's Symphony No.2 in C Minor ("Resurrection"), Haydn's The Creation and Bach's Mass in B Minor (IV). Malick also makes use of Eleni Karaindrou's evocative Hecuba's Theme I, Exodos and Terra Deserta, Keith Jarrett's Spheres, pieces by Paul Horn, Michael Baird, Francesco Lupica, Simon Franglen, Hanan Townshend and even sounds from the Voyager's mission to Jupiter's smallest moon Io.
In Past Life, two Israeli sisters, one of whom is an aspiring classical musician, delve into the dark mystery of their father's former life in Poland during World War II in this new film by Avi Nesher, best known for his highly praised The Wonders. One of the two performers recreating the amorous correspondence (1948-1967) between poets Ingeborg Bachmann and Paul Celan in Ruth Beckermann's The Dreamed Ones is experimental Austrian musician Anja Plaschg (Soap&Skin). Kevan Funk, who made the genre-defying Vancouver sextet Brasstronaut's Mean Sun music video, hired its leader, Edo Van Breemen, to score his small-town hockey drama, Hello Destroyer. After making a key contribution to Kenneth Lonergan's unforgettable You Can Count on Me, stalwart Canadian film composer Lesley Barber is back with the master observer's latest, Manchester by the Sea, critically acclaimed at Sundance earlier this year.
Actor/rapper Nick Cannon wrote, directed, financed and stars in King of the Dancehall about a Brooklynite who visits family in Jamaica and falls in love with the island's music and culture. Jamaican dancehall luminaries T.O.K. and Beenie Man appear, along with Jamaican-Canadian singer Kreesha Turner, Ky-Mani Marley and Busta Rhymes. Also in the cast is Carl Bradshaw, part of Jamaican film history since 1972's The Harder They Come. In The Sixth Beatle, co-directors Tony Guma and John Rose profile Liverpool concert promoter Sam Leach who offers a spirited account of his two-year roller-coaster ride with The Beatles in the pre-Brian Epstein era.
In Andrea Arnold's naturalistic road movie, American Honey, newcomer Sasha Lane plays a teenager who joins a group of magazine subscription salespeople who criss-cross the American Midwest in vans; Riley Keough is her hard-nosed boss and Shia LaBeouf (in a return to early form) a super salesman. The energy of the young cast is reminiscent of Larry Clark's Kids and the extensive soundtrack, from Springsteen, Steve Earle and Rihanna to country singers Sam Hunt and Lee Brice, Juicy J, Quigley, Mazzy Star and so much more, is the engine that drives it all.
Music plays small but key roles in two Japanese films. Hirokazu Kore-eda's finely observed family drama, After the Storm, took its Japanese title from a lyric by Teresa Teng, the "diva of Asia." It was a link to the popular music that played in Kore-eda's home growing up. "Teng's songs are about dramatic love, which connects with the concept of not everyone being able to become the adult they wanted to be," he explained. But the movie's score and theme song were composed by Hanaregumi, a more contemporary pop figure. In Koji Fukada's chilling Harmonium, a charming ex-con ingratiates himself into the life of family by helping the young daughter learn to play her harmonium.
Edoardo De Angelis' Indivisible is "about Neapolitan Siamese twin sisters who are exploited as a novelty singing act by their father," reports Screen Daily's Melanie Goodfellow. "Kept in isolation, outside of their paid performances at social occasions, the girls start to rebel against their reality when one of them falls in love and they discover they can be separated."
The New Yorker's Richard Brody called Terence Davies' A Quiet Passion - in which Cynthia Nixon portrays Emily Dickinson - "an absolute drop-dead masterwork." He continued: "Davies films his literary script with a directorial daring that's both precise and free, blending delicately composed close-ups and group portraits with audaciously confrontational and uninhibited visual imagination … He also makes exemplary use of Dickinson's poetry, recited by Nixon, on the soundtrack, playing like a sort of music that meshes with the actual music track, which is dominated by well-chosen touches of further New England audacity, such as Charles Ives' The Unanswered Question."
Davies' musical ear is evident in a soundtrack that ranges from Bellini's "Ah non credea" and Schubert's Nacht und Träume to the haunting 17th-century songs by Thomas Ford and Thomas Ravenscroft arranged by British saxophonist/composer John Harle and sung by British soprano Sarah Leonard, supplemented with snippets of 19th-century piano pieces and Ives' Decoration Day.
I've seen ten of the 26 films previewed here and am looking forward to viewing many of the others (and more) during TIFF 2016. Watch for reports on these and other discoveries in my Music and the Movies blog on thewholenote.com over the months to come. The Toronto International Film Festival runs from September 8 to 18. Check tiff.net for further information.
Paul Ennis is the managing editor of The WholeNote.