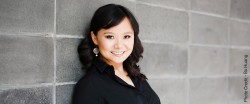 A brave little girl is wakened on a sweaty night in Nanjing by her father around 10pm. They ride double on his bike to the train station, about an hour through the city. They get on a midnight train and she sleeps a little – maybe on a luggage pile, or on some newspapers on the floor under a seat. They arrive in Shanghai at 6am and have a little breakfast. She has an 8am violin lesson. Then they travel all the way home again. And they do this every weekend.
Young Teng Li devoted much of her childhood to the violin. She was not yet a teenager when an important instructor at the Beijing Central Conservatory, who also taught viola, complained about the calibre of viola students in general and demanded that she switch because he wanted "the best." It was a bigger instrument, the articulation more difficult, the sound projection different. Li accepted the challenge and so began her visceral bond with an instrument that sings with an almost human voice.
At 16, speaking very little English, she auditioned for, and earned a place at, the Curtis Institute in Philadelphia. Her new teacher, the renowned Michael Tree, offered this new challenge: he said he had no worries about her playing, but that she must also become the best human being she could. She was embarking on a journey during which competition and being "'the best" can push aside the physical and mental health of young artists, and the isolation of rigorous practice and study can turn out emotional and social misfits. Tree's admonition hit the right note, and resonated – what she understood was that if you are not a good person it will show in your music.
Li was still a student when she was invited by Peter Oundjian to audition for the first viola chair of the TSO. She returned to play Beethoven's Ninth Symphony under Oundjian's direction and found herself hooked on the symphony. At the start of the 2004/05 season she became the TSO's youngest player at the age of 21 and the orchestra's first chair viola, a position she retains today.
She rose to this new challenge with the same combination of grit and grace that saw her through the earlier ones: the sheer volume of repertoire; the numbers of rehearsals and engagements; earning the trust of the other players whom she is quick to credit for helping her learn on the job. The outcome has, according to all accounts, been mutually rewarding. Alongside her vigorous TSO schedule, including appearances as featured soloist she's been establishing herself as a violist internationally, with regular engagements as soloist. She is busy as a chamber musician and collaborator, appearing in major international festivals and competitions. She is one-third of Trio Arkel, along with violinist Marie Bérard and cellist Winona Zelenka. She teaches at the University of Toronto Faculty of Music and the Conservatoire de Musique de Montréal.
Last summer she released her debut recording, 1939, with collaborators Meng-Chieh Liu (piano), and Benjamin Bowman (violin). The CD is an extraordinary collection of chamber works by Jongen, Ullmann, Hindemith, Hua and Klein. In the liner notes Li says "I wanted to showcase the works of different composers at that point in history to express how human beings from all walks of life can be affected during such horrific times." (See Pamela Margles' review in The WholeNote's DISCoveries, September 2015.)
Please see Interview, We Are All Music's Children.