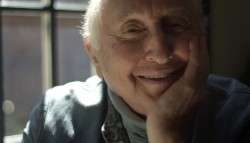 "Music is a reminder of our own potential for perfection."
-- Seymour Bernstein
In last September's issue of The WholeNote, in my preview of the Toronto International Film Festival, I wrote that the film I was most looking forward to was Ethan Hawke's Seymour: An Introduction. It had been Hawke's explanation of Bernstein's teaching mantra (responding to Hubert Vigilia's question on flixist.com, two years ago just as the film was taking shape) that piqued my curiosity and made the film a must on my TIFF to-do list.
Said Hawke: "He's a very deep guy. I was touched by him, and I thought he had a lot to teach me about acting, and then I slowly realized that the way he's talking about the piano relates to every profession."
I was touched, charmed and inspired by Hawke's moving documentary when I saw it at TIFF and couldn't wait to see it again. Six months later, it's begun an exclusive engagement at the Cineplex Varsity Cinemas. The second time I was even more moved. Be prepared to be charmed and inspired when you see it. It's unmissable.
Hawke (Boyhood, Before Sunrise, Before Sunset, Before Midnight) has given us a tender, warm portrait of the captivating pianist Seymour Bernstein. Among many things Hawke's documentary does, it debunks the axiom that those who can, do and those who can't, teach. And it does so with wall-to-wall piano music highlighted by Bernstein's own playing of Chopin (Berceuse, Ballade No.1, Nocturne Op.37 No.2) and Beethoven (Bagatelles Op.126, Sonata Op.111, "Moonlight" Sonata) among others, as well as some of his own compositions.