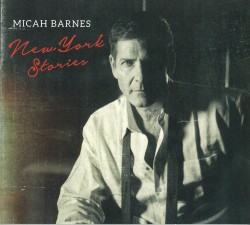 New York Stories
Micah Barnes
LoudBoy ODCD02
(micahbarnes3.bandzoogle.com)
Micah Barnes has long established himself as one of the most engaging vocal performers and contemporary, jazz-infused tunesmiths on the scene today. Perhaps best known as a member of the iconic vocal group The Nylons, Barnes has also crafted a serious solo career by employing his considerable skills as a musician/keyboardist in conjunction with his sumptuous baritone voice, quirky narrative humour, showmanship and innate ability for direct emotional (and artistic) communication.
Barnes' new recording is the result of many live performances that were focused on perfecting his original material prior to ever stepping into the recording studio – and the highly personal songs (of which three were co-written with J.P. Saxe and one with Russ Boswell) easily bring the rapt listener along for the wild ride. Barnes has surrounded himself here with a fine ensemble, including Michael Shand on keyboards, talented brother Daniel Barnes on drums and voice, the above mentioned Boswell on bass and voice and Saxe on vocals.
Top tracks include New York Story – a nostalgia-saturated valentine to the great city itself and the clever After the Romance (The Rent) – a character song in search of a Broadway show. Barnes' voice has never been richer and more laden with experience, and his vocal control has never been more succinct, as illustrated by the bluesy standout Starting Tomorrow and the funky cool Harlem Moon. The heart-rending Some Other Man clearly establishes Barnes as a fine contemporary songwriter and the closing track, I've Been Awake Too Long evokes incredible, bittersweet longing.