New Music
Details

Wendalyn Bartley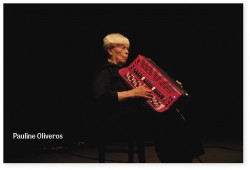 Back in the mid 1960s, two composers in their mid-30s took part in a summer workshop being offered by the University of Toronto. The course was in electronic music and at the time, the studio at U of T was one of the leading centres in the field. Those two composers were Pauline Oliveros and R. Murray Schafer. During Oliveros' most recent trip to Toronto in the summer of 2014, she noted that fact during a talk she gave at TIES – the Toronto International Electroacoustic Symposium. At the time when I heard her tell us this anecdote, I couldn't help be struck by the fact that these two people sharing the same creative environment in the bowels of an electronic studio in Toronto would go on to radically alter the way we understand the process of listening.
One can only wonder what aspects of that workshop influenced their ideas around perception of sound and listening. For me personally, I know that spending endless hours in a studio has made all the difference in my own listening behaviours and approach to composing. And now, during the month of October, separate events are taking place in the city which highlight the work and legacy of these two musical pioneers. Oliveros is one of the featured artists in the Music Gallery's X Avant XI Festival running from October 13 to October 16, and Schafer will be honoured at Esprit Orchestra's concert on October 23.
This theme for this year's X Avant Festival is reverberation – including both how the use of reverb in sound marks distinctive styles, and how specific ideas move through the world and leave their legacy. One of the distinct elements of Oliveros' legacy is what she calls Deep Listening. During the same talk she gave in 2014 at TIES, she also told the story of how that term came to be. Curiously, it started off as a pun. In 1988, Oliveros and her ensemble made a recording in a deep cistern well in Washington State that has a reverb time of 45 seconds. After the recording, she made a joke to her colleagues about the experience as one of "deep listening." Up to this point in her career, she had been developing a practice she called Sonic Meditations, a way of approaching composing and performing through listening, focused awareness and attention. After the cistern experience, the term Deep Listening was coined; she currently defines it as "listening in every possible way to everything possible to hear no matter what one is doing." This encompasses exploring "the difference between the involuntary nature of hearing and the voluntary, selective nature – exclusive and inclusive – of listening." That the term arose in part out of an experience of reverberation is an interesting connection to the X Avant theme.
Oliveros will be returning to Toronto to perform at the X Avant Festival on October 14. To get an idea of how her Deep Listening legacy has reverberated out to a younger generation of musicians, I spoke with one of the other performers in her concert, Doug Van Nort. Van Nort first encountered Oliveros' work when he began his MFA studies in electronic arts in 2001 at Rensselaer Polytechnic Institute in Troy, NY, where she was teaching. During his second year, despite his main focus on learning music programming and thinking about electronic compositions, he was invited to become a teaching assistant for her Deep Listening course, and within no time found himself facilitating some of the DL exercises and receiving feedback from Pauline on how he was doing. This experience was to have a profound impact on his future career.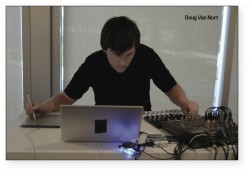 During his PhD studies at McGill University, Van Nort continued to have a connection with Oliveros and the rich worldwide community of deep listeners, eventually returning to RPI to engage in research around questions of telematic performance, systems thinking and composing for electronic spaces. Essentially, telematic performance involves performing with others who are in different locations while the idea of creating telepresence raises the question of whether we actually feel we are sharing the same space or not. During this research phase, he performed weekly over a five-year period with Oliveros and colleague Jonas Braasch.
Since an intersection between deep listening and technology is a signature aspect of Oliveros' work, I asked Van Nort about how the relationship between these two elements expressed itself in his own work. His response was curious: "My first pass is always to say I'm not interested in technology, even though I have a degree in music technology." He explained that this is his way of distancing himself from a fetishization of technology in order to bring attention and focus back to what is unique about technological mediation in performance. It comes down to the idea of creating systems for musical performance that has kept him close to Oliveros as both his mentor and collaborator all these years. How can sonic events, gestures and sounds spread and circulate within an integrated network or web and still be perceived as a musical performance with instrumental-like qualities? He mentioned that this approach was present even in Oliveros' early works such as I of IV which was created in the U of T studio in 1966.
The outcome of Van Nort's research and performance collaboration with Oliveros has been the creation of GREIS (pronounced "grace") – the Granular-Feedback Expanded Instrument System, which even in its title is a nod to Oliveros' own Expanded Instrument System (EIS) which she has developed over many years. During the X Avant XI Festival concert on October 14, Van Nort will be performing with GREIS in interaction with Oliveros on her digital accordian, Anne Bourne on cello, and Ione with spoken word. GREIS is a system that fundamentally puts things in motion and requires the performers to react to it. In the ensemble context, everyone is both generating their own gestures as well as reacting with what is coming back from GREIS – which can happen at any point in time. "What results is the creation of a tight organism that has to respond together and move in a given direction. It doesn't work without Deep Listening."
Van Nort's input into the system will be sourced from his large library of field recordings that he will stretch and filter. A second layer will be his capturing and reshaping of the sounds coming from Bourne's cello and Oliveros' digital accordian and then fitting these gestures back into the musical flow at some point. In addition, there will be a spatialization component that GREIS will contribute by generating various types of movements over eight speakers – a wide and fast motion for example, or a tight and slow motion. And finally, Ione's spoken words will sit on top of this entire sonic field in their pure acoustic form. Van Nort sums up the full experience with these words: "The core intent is to create something that is a breathing living organism that has to have at its essence an organic motion to it regardless of whether there is digital technology inserted in the path or not." For the listener, it will be an enveloping and immersive improvisational environment within which one is invited to be mindful of both global and focal attention – taking in both the entirety of the sound field while also following the individual lines as much as possible. Alternating between both fields is a fundamental aspect of the Deep Listening experience. Toronto is fortunate to now have Van Nort as a professor of digital performance at York University where he runs the DisPerSion Lab and the Electro-acoustic Orchestra.
The music of R. Murray Schafer will be the focus of Esprit Orchestra's concert on October 23, "Power On." This tribute to Schafer will include three works spanning 1976 to 1990 and feature performers Robert Aitken, Ryan Scott and Krisztina Szabó. Schafer's music compositions include an extensive repertoire of works for the concert hall, his 12-part cycle of musical/theatrical works he calls Patria, and a series of pieces composed for performance in outdoor environments. As I mentioned in the opening paragraphs, Schafer has also had an enormous influence on how we listen. Early in his career, he became aware of the increasing amount of noise in our everyday environment, leading him to undertake research into this growing phenomenon that no one was paying attention to. This research led him to coin the term "soundscape" along with other terms to describe the ecology of the acoustic environment. Much of this research ended up in the recordings and booklet of The World Soundscape Project and his extensive book, The Tuning of the World, published in 1977. Part of Schafer's legacy is bringing awareness to how we listen to the sounds of the environment and their impact on us both individually and collectively. This approach to listening has influenced his approach to composition, as well as the development of both educational resources and community-based experiences to bring awareness of the world of sound around us.
Soundstreams and New Music Concerts. The legend of the flute will be the focus of Soundstreams' season opener events. Density 2036, a project begun by virtuoso flutist Claire Chase to create a new body of works for solo flute, will be on display October 4 in one of Soundstreams' "Ear Candy" events. On October 12, their concert "Magic Flutes" will feature Chase along with four other virtuoso flute players performing a repertoire of works in a surround-sound environment, including a world premiere from Canada's Anna Höstman.
The New Music Concerts event on October 30 will feature the return of the Ensemble contemporain de Montréal and the latest edition of Generation 2016, their biennial project designed to mentor, rehearse and tour works by four young Canadian composers. This year's roster includes Taylor Brook (Alberta), Symon Henry (Quebec), Sabrina Schroeder (BC) and Adam Scime (Ontario).
QUICK PICKS
Oct 15: Toronto Messiaen Ensemble performing George Crumb's Makrokosmos, among other works.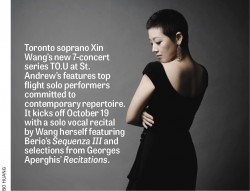 Oct 19: Xin Wang of TO.U Collective performs Berio's Sequenza III along with works by Webern, Georges Aperghis and others.
Oct 25 and 26: Talisker Players perform Schafer's Beauty and the Beast, Morlock's …et je danse and Louie's Songs of Enchantment.
Oct 30: Toronto Chamber Choir premieres David Barber's Remember Not.
Nov 6: The Royal Conservatory presents percussionist Steven Schick in works by Lei Liang, Mark Applebaum, John Cage and Iannis Xenakis. Free tickets available October 6.
Wendalyn Bartley is a Toronto-based composer and electro-vocal sound artist. sounddreaming@gmail.com.
Details

Wendalyn Bartley
Something unique and original is happening this September in the world of music and art – the in/future Festival at Ontario Place running from September 15 to 25. The festival is the vision of Art Spin, a project founded in 2009 to create experiences in alternative venues that create a dialogue between the Toronto art community and the public. With in/future, they are transforming one of the most beloved places in Ontario into a series of site-specific projects by visual, sound and media artists, as well as programming several world music concerts and film/video screenings.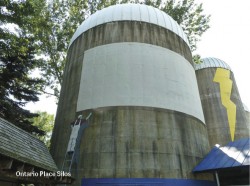 Ontario Place opened in 1971 fuelled by optimistic and utopian notions of the future strongly reflected in the design of the buildings as well as in the content of the exhibits. In the words of the original Ontario Place theme song, it was a "once-in-a-lifetime, never-before place." One thing that is sure to occur for many during the festival is the triggering of memories of what the future once looked like. And that is the point really. The art installations will offer opportunities to look back at a particularly 1970s vision of things. In the words of New Adventures in Sound Art's artistic director Darren Copeland, "We who are now in that future are looking at the past's view of us." Copeland was approached by Rui Pimenta, one of Art Spin's directors, to curate sound installations in one of the old exhibit silos. There are close to ten of these structures, that once housed exhibits on the natural elements, that will be turned into performance and installation sites for the festival.
Central to NAISA's aesthetic vision is the spatialization of sound, so the opportunity to put sound into a round, acoustically reverberant space was a perfect match. During our interview, Copeland stressed the importance of describing the works that NAISA is curating for their installation as "site-responsive" rather than "site-specific." For the NAISA installation (running from September 19-25), Copeland provided a production framework with his spatialization software and eight-speaker setup for three composer/performers (Anne Bourne, Lisa Conway and myself) to create pieces that are personal responses to not only the acoustics of the silo, but the entire entity and vision of what Ontario Place was.
When I asked Copeland to describe the process for him as curator and producer, he stated that "each piece had different ways of using the space, with different configurations and processes, none of which I knew before we started recording in the silo." And although the composers could bring materials with them for the recording, it was "a process of discovery for them as well, once present in the environment. A combination of the artist's ideas, the ideas I brought, and the architecture of the space conspired in the moment to provide the direction and substance of what was made. That wouldn't have happened if we had been in a neutral space – the third ingredient would be missing. It would have been a planned project that happens in spite of the location," he said.
Anne Bourne chose to record and layer multiple tracks of cello and voice improvisations in the silo space. During the process though, a curious thing happened – memories of her experiences performing on the circular revolving stage at Ontario Place's popular Forum venue surfaced. As Bourne described it to me, the significance of the round stage meant that everyone had an equal and inclusive experience of connection with the performers, and every voice was equidistant from the centre. This is in contrast to the more hierarchical nature of the proscenium stage. It was being in the round architecture of the silo that triggered her performance memories and led her into taking on the role of transmitter of those inclusive values while improvising. It's not hard to see here the connection between the architecture and the futuristic visions of the early 1970s.
Lisa Conway was also influenced by the structure of the silos, but took her piece in a very different direction. She chose to work with recordings of the materials generally associated with silos – sand, grain and salt sounds – and played with the concept of these sound textures within large resonant spaces as the focus for her piece. For my own work, I created a prerecorded electroacoustic soundtrack made up of Ontario Place soundscapes, a variety of pre-composed vocal drones, and processed excerpts from the original Ontario Place theme song. In the silo, I improvised a vocal track while listening to the prerecorded track, playing with the words of the theme song and the acoustics of the silo. The final format for the entire installation will present all three pieces mixed and spatialized amongst the eight-speaker array and played sequentially in the reverberant silo environment.
I also spoke to two other artists working with sound in their installations for in/future.
Simone Jones, a multidisciplinary artist who works with film, video and electronics, is working on two pieces for the festival. The first is collaboration with visual artist Laura Millard that will be installed in the former Ice Silo and is a dialogue between sound and lightbox images. The images are created from aerial drone shots of circular and intersecting snowmobile patterns on a frozen lake, and the two artists have chosen to keep the original icebergs from the silo exhibit as part of their installation to emphasize the wintery environment. For the sound, Jones improvised on Philip Glass' Etude No.1 and edited her piano recordings to highlight the repetitive pattern. The soundfiles will also be treated spatially with panning movements between two stereo speakers.
Jones' second work will be located at the observation decks at the southwest tip of Ontario Place. Video footage of a body in water, as well as images of water itself will be projected onto a large scrim placed between the two decks and high enough that it will appear to float. The soundscape will include recordings of water as well as an introduction created and performed by 14-year old cellist Will Smyth. For Jones, what is exciting about this project is the opportunity to create work with a deliberate connection to place. "I like to be nostalgic about Ontario Place and the idea of recapturing some of that optimism that was so evident in the visual motif of the silos and the dome of the Cinesphere. The creation of public space is one of the most important things that we can do as a society."
The theme of urban space also surfaced during my conversation with sound artist and producer Michael Trommer. Trommer's piece will be located just to the east of the observation deck along a stretch of beach, also facing the open water. Using field recordings made during the night at various lakes up north and at Georgian Bay, Trommer's intention is to transpose a very different time and place onto an urban beach through his amplified soundscape. This will create an ambiguous environment in which people will be hearing sounds that belong and yet don't quite belong. Ideally, the ambiguity will be further emphasized by hiding the speakers from view and also using a subwoofer speaker to accentuate the low frequencies. Because the recordings were made at night when sound can travel far more easily, he ended up capturing soundscapes that were five to ten kilometres away: loon calls, Wasaga Beach clubs, and people speaking at a cottage for example. Trommer is drawn to liminal locations such as waterfronts that transition from urban to natural and where you have a shift in materials, going from dense concrete to open space. Having grown up in Montreal, and in close proximity to La Ronde, the site of Expo 67 (a similarly utopian vision), "there is something that resonates for me about these places which are replicating natural shapes like the dome rather than the rectangular and stacked slab-like shapes of our urban environment."
Personally, the opportunities to return to Ontario Place this summer, as well as speaking to the other artists I've written about for this column, have reaffirmed for me the importance of creating pieces in response to place. Connecting with memories and revisiting a space that holds collective values worth reconsidering makes the in/future project a crucial event for all to experience. It will no doubt generate an ongoing conversation about this iconic urban oasis. Ontario Place is scheduled to reopen in 2017 with a new mandate.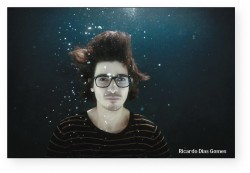 The Opening Concert Season. Although most of our new music presenters wait until October to get their seasons rolling, there are some events coming up in September that are important to look at. In keeping with the theme of sound in resonant environments, the Music Gallery will present a concert on September 17 of three artists united by their fascination with drones and reverberant spaces. Bassist and composer Ricardo Dias Gomes will perform his intimate yet aggressive drones, surrounded by a visual design of his own making. Montreal saxophonist Ida Toninato's performance will feature her love of big sounds in big spaces, while emerging multidisciplinary artist Kat Estacio will play with notions of nostalgia and decolonization in her performance.
On September 30, New Music Concerts presents "Beijing Memories," a concert of highlights from their China tour. This past July, eight musicians from NMC were invited to be the ensemble-in-residence at the Beijing International Composition Workshop. The evening will feature highlights from the three concerts performed as part of that residency in Beijing, with compositions by Brian Current, Omar Daniel, Wen Deqing, Lei Liang and competition winner Zhao Yi from China.
The Thin Edge New Music Collective is busy this month with three different events. First, on September 2, they will be performing in Contact Contemporary Music's annual INTERsection event on Labour Day weekend at the Music Gallery along with guest guitarist Elliott Sharp. INTERsection continues on September 3 all day at Yonge-Dundas Square with an impressive lineup of performers. Then on September 15 and 16, Thin Edge is hosting the Feldman Festival at Array Space, performing works by composers Morton Feldman, Linda Catlin Smith and Barbara Monk Feldman. And finally on September 29, their fundraising event will present works by Nick Storring, Scott Rubin, Xenakis, Cage and others.
QUICK PICKS
Sept 2: National Ballet of Canada/Art Gallery of Ontario present "The Dreamers Ever Leave You," with live music composed by Lubomyr Melnyk.
Sept 18: Niagara Symphony Orchestra's concert premieres Toward Light, a new commissioned work by Canadian composer Roydon Tse.
Sept 21: University of Waterloo Department of Music presents Earth Piece by Canadian composer Carol Weaver.
Wendalyn Bartley is a Toronto-based composer and electro-vocal sound artist. sounddreaming@gmail.com.
Details

Wendalyn Bartley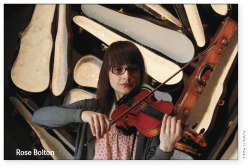 As I sit to write this column, I'm still feeling the after-effects of the May 25 concert with the Kronos Quartet and guest performer Tanya Tagaq at the Royal Conservatory's 21C Music Festival – an event that was featured in last month's WholeNote. It was a truly sublime moment in time, making it difficult to find words that encapsulate the experience of being transported into a kaleidoscope of global musical styles and then beyond into uncharted territory – and all within the scope of the two violins, viola and cello, plus voice. The anticipated commission from Tagaq for the quartet was, as first violinist David Harrington said during his introduction, "unlike anything you've ever heard for the string quartet." With a string quartet score created from transcriptions of recorded improvised vocalizations made by Tagaq in a studio a few months ago, and Tagaq adding a live vocal layer, it was as if the earth itself was opening up to reveal new layers and aspects of what's possible. It began with creaking string tones and subterranean vocal tones which started out so low in range that I couldn't help be reminded of another vocal pioneer, Roy Hart, whose principle of the eight-octave voice was at the heart of his company's research throughout the 1960s and 70s. It was this push into stretching vocal boundaries that opened up possibilities for composers to write for the extended voice. The performance of Nunuvut, the second work performed by Tagaq and the quartetin the concert, was more improvisational in nature, with a series of intense, intimate and sensual duets that Tagaq engaged in with each individual performer before turning to the capacity audience to deliver a sonic portrait of our collective presence. It was a spectacular beginning to the upcoming summer season.
Launching into the summer season usually means it's festival time, which often translates into opportunities to experience music that pushes at the far outer edges. Certainly with the Luminato Festival this year, this will be the case, and not just with its music programming since this year's primary venue, the Hearn Generating Station, will be making its own artistic statement. Situated on the waterfront, it's the site of a de-commissioned power station that will be turned into a temporary cultural venue for the next ten years of Luminato. With a series of interlocking areas designed for performances and exhibitions, along with restaurant and club spaces, the building will take on the air of an architectural installation. Another in-house feature of this environment will be a state-of-the-art surround sound system and projection space with multiple screens. Which, as it turns out, is the perfect venue for the fully immersive music and visual concert piece created by composer Rose Bolton and filmmaker Marc de Guerre being performed on June 22.
The piece, Song of Extinction, is just as its title suggests – a work that raises the critical issue of species extinction through the combination of melody, word and image. And although songform is at the heart of Bolton's compositional language for this piece, the musical scale of the project is extensive, combining youth and adult choirs, an instrumental chamber ensemble, percussion, two keyboard players, and electronics. The work was originally initiated by Music in the Barns under the direction of Carol Gimbel whose specialty is in creating multimedia and site-specific installation concerts.
Despite the focus on the difficult and critical theme of what is happening to the mass disappearance of species on our planet, the work is not activist in nature. As de Guerre explained in a recent conversation both he and Bolton had with me about the piece, "I believe in the power and beauty of images. In the same way that music gets under your skin and moves you, and you don't really know why or what it means or what it's doing to you, the images are functioning in very much the same way." He continued to reflect on this topic by saying "I find it odd given what's happening on the planet that there hasn't been a body of work with this theme from a more art perspective rather than it just being about political activism."
And that's why using song is so important for both of these creators. They think of the piece as "a heartbreak song in the same way that songs are about heartbreak. This is about our heartbreak because of what we do to the earth, to the planet." Their ultimate priority is to make a work that is emotionally powerful, to lead people into an experience of "feeling what we are doing to the earth." In fact, de Guerre says, "If I don't feel anything when I experience a work of art, then I don't consider it to be successful." Thus the nature of the piece is a poetic, impressionistic and non-literal approach to the theme, with the film images conceived around the music.
Bolton's approach to song was to create melodies that people would love to sing and love to hear – melodies that would "stick in people's heads after the performance." For inspiration, she first turned to the songs of Robert Burns and his way of writing that asks universal questions. The next step was to ask the Order of Canada-appointed poet Don McKay to become involved. She asked him if he could write in a similar way, creating texts that addressed her questions related to the theme of extinction. The Newfoundland-based McKay is a poet whose strong personal connection to the land infuses his work, creating poetry that both Bolton and de Guerre described as "grounding." His way of using precise language to create images that are sweeping and allegorical in nature was a perfect fit, and with these texts, Bolton was able to take their essence and turn them into lyrics for the songs. The texts will also be published as a book of poems that will be available at the concert.
The songs will be performed by both the VIVA! Youth Singers of Toronto and Tafelmusik Chamber Choir, with the adults representing the current generation and the children the generation of the future. Both choirs will be engaged in conversations between the present and the future. The keyboard players will also perform on the harpsichord as well as electronic keyboards, with the composer performing the electronics on her laptop as well as triggering the spatial movement of the sound amongst the multiple speaker sound system. The electronics are more ambient in nature, like a wash, and will include live processing of the instrumental sounds with simple delay effects. The overall arc of the piece begins with an air of innocence in the first half, with almost a feeling of reverence towards nature and nonhuman species. Then at a pivotal point, things take a turn for a more solemn and desperate view towards our world and the reality of extinction. Song of Extinction promises to be a powerful and evocative meditation on those realities that are often difficult to cope with. No doubt however, we as audience members respond, we will be left with more stirring questions than solid answers.
One of the other boundary-pushing musical events of Luminato is the return of Unsound Toronto, a two-night sonic playground on June 10 and 11 combining ambient, drone, noise and other forms of experimental soundmaking. As well, a giant listening party is being planned on June 16 for all those who want to experience the recording of last year's Apocalypsis performance composed by R. Murray Schafer and performed by a cast of 1000 or more.
Parallel to these events at the festival is the concert celebrating 40 years at the Music Gallery on June 11. Combining new music, video, performance and site-specific installation works, the evening promises to be a sonic portrayal of past, present and future. Starting the evening off will be a performative walking tour of St. George the Martyr's courtyard highlighting oral histories, followed by performances with Mridangam master drummer Trichy Sankaran, Tenderness (aka Chrissy Reichert) alongside dancer Allison Peacock, and turntable artist SlowPitchSound (Cheldon Paterson) who will mine the Gallery's sound archives to create new visions out of past performances. And while on the topic of summertime wild and untamed sound events, I must mention the Electric Eclectics festival that takes place from July 29 to 31 in the countryside near Meaford. Directed by Gordon Monahan and Chris Worden, the festival combines experimental music, sound art, DJ artists and sound installations in a relaxed camping environment. Check out their website for the extensive lineup, which includes two noteworthy duos: Not the Wind, Not the Flag, and the duo of Jennifer Castle and Mary Margaret O'Hara.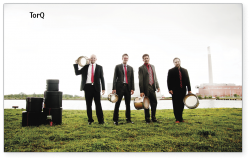 The Rest of the Summer: Here are my listings of what else to look out for during the hazy and hot months ahead.
JUNE
One highlight early in the month is Spectrum Music's Tower of Babel concert on June 4 with new compositions evoking various interpretations of this iconic story which appears in Christian, Islamic and Jewish religious texts. The pieces will explore the question of whether this ancient story can shed any light on contemporary divisons amongst nations and religious groups. Globally acclaimed oud player, Amos Hoffman, will be one of the performers. For improvised music lovers, there is DroneDoctor, a drone music meditation concert on June 5; the CCMC performing at Gallery 345 on June 11; and Audio Pollination on June 25.
Sounds of the Next Generation (SONG) will be performing Spirit Garden: Spring Planting by R. Murray Schafer, an outdoor music drama, running June 11 and 12 on a farm in Cold Springs, near Cobourg. The piece involves planting a garden, and will be followed up by a harvesting concert on September 25. On June 25 the Canadian Music Centre presents new works by Chris Paul Harman including his Five Japanese Children's Songs and the world premiere of his Five Pieces for Clarinet and Piano. Other new and traditional works inspired by Japan will also be included.
JULY
On July 17, Soundstreams Salon presents the premiere of Emilie Lebel's collaboration with Jumblies Theatre and community participants. Over at the Stratford Summer Music Festival, TorQ Percussion will perform Strange and Sacred Noise by John Luther Adams, on July 26. The work is a visual and aural exploration of the sonic geography of Alaska, answering the composers question "What would it sound like if the wilderness could sing, and I could hear it singing?"
One of the largest summer festivals to include an extensive amount of new concert music is the Ottawa International Chamber Music Festival. I've compiled a summarized overview, but I also recommend checking the listings for more details. On July 22, there is a concert of seven Canadian works for oboe and piano. Two events for new music lovers take place on July 26: a performance of Reciprocity, a multidisciplinary work by UK composer Patrick Cohen is followed later in the evening by a series of boundary-crossing works performed by Jesse Stewart, David Mott and Ernst Reijseger. On July 29 the Cecilia String Quartet performs works by four Canadian women composers, while on July 31 Morton Feldman's masterwork, Clarinet and String Quartet, will be played by James Campbell and the Quatuor Bozzini.
AUGUST
Continuing with the Ottawa Chamberfest, their special New Music Miniseries comprised of three concerts spread throughout the day on August 1. The first includes works by Canadians Palmer, Di Castri and Murphy, followed by a second concert of seven works by Canadian composers for violin and piano. The miniseries ends up with a more international concert, with two works by Pierre Boulez among others. The final new music work of the festival is a performance of Christos Hatzis' landmark multidisciplinary spectacle, Constantinople, on August 2.
Mr. Shi and His Lover, a contemporary Chinese language music theatre work composed by Torontonian Njo Kong Kie will be presented as part of this year's SummerWorks Performance Festival, running from August 5 to 8 and 11 to 13. The Classical Unbound Festival which occurs in Prince Edward County has a Living Canadian Composer Stream of concerts, with pieces by Morlock Buczynski and Mozetich spread throughout their concerts on August 19, 24 and 26. And finally, Summer Music in the Garden's September 1 concert will feature works by Ann Southam.
Have an enjoyable and relaxing music-filled summer and keep your eyes posted for details of Contact Contemporary Music's annual extravaganza on Labour Day weekend at Dundas Square.
Wendalyn Bartley is a Toronto-based composer and electro-vocal sound artist. sounddreaming@gmail.com.
Details

Wendalyn Bartley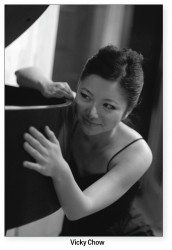 If you are a fan of minimalist music and are craving more after the recent performances of Steve Reich's music in Toronto, you'll want to experience Surface Image, performed by Vancouver-born pianist Vicky Chow and composed by American Tristan Perich. The hour-long piece characterized by a constant pulse of repetitive rhythmic patterns for piano and electronics will be performed at the Music Gallery on May 14 and at the Open Ears Festival in Kitchener on May 28. Chow commissioned the work in 2013 and already there is a recording on the New Amsterdam label along with a growing list of live performances. As she said in a recent phone interview, "It just happens to be a piece people are interested in, and I end up performing it a lot."
The piece begins for solo piano, with patterns based on one harmony and simple rhythms. As the first section unfolds, the electronics slowly enter, and before you know it you're immersed in a huge sea of piano and electronics. Throughout the piece, the relationship between the live piano part and the electronics changes, as human and machine dance with the other. Accompanying, supporting, leading, following and departing from one another, each of the sections highlights different ways the piano and electronic sounds interact with one another. Each section is like a different planet with a completely different mood, becoming almost like its own island in the larger ocean of sound.
The electronics component consists of 40 speakers, each individually connected to an electronic circuit board. Each of these boards has its own program which generates lo-fi 1-bit electronic sounds through its attached speaker. Once the entire system is turned on, it runs on its own. Chow likened the process to an electronic greeting card, where once you open it, the piece turns on and just goes. Unlike Reich's Music for Eighteen Musicians for example, where the number of repetitions of patterns can be varied, Surface Image is precisely notated from beginning to end. The main variations that occur happen due to the type of acoustic space the work is performed in and the way the sound is reflected. Usually the 40 speakers are set up flanking the piano, but if the space is narrow, a different arrangement will be needed, with the speakers closer together. Chow told me, "Every time I play the piece, I hear different parts of the electronics. Depending on the space, the sound bounces in different ways and there have been times when I've wondered if I was in the right place in the score, since I hadn't heard that part before."
Chow is the pianist for the well-known Bang on a Can All-Stars ensemble based in New York City. She initially met Perich through a Bang on a Can summer festival, and was drawn to his work because of his ability to combine 1-bit sound technology with writing for the acoustic piano. It is this mix of piano and electronics that lies at the heart of her musical passions. And although Surface Image can be defined as being part of the minimalist aesthetic, she doesn't consider herself a minimalist pianist. She's more interested in finding ways that push at the boundaries of the piano repertoire and canon, rather than just a specific genre of music.
Besides her work performing with the All-Stars ensemble, Chow has a flourishing solo career and is increasingly finding herself working with Canadian composers such as Eliot Britton from Winnipeg and Adam Basanta from Montreal. In this context, she is able to pursue her interest in piano and electronics. For example, in a work by Basanta created for piano and hand-held mini transducers, devices that needs a resonant body in order to make sound, Chow performs the work by manipulating the transducers on different areas of the piano strings and frame. Her forthcoming album on the New Amsterdam label will feature six works for both prepared piano and piano with different forms of electronics, including tape, prerecorded piano sounds and live processing. One upcoming venture will be a collaboration with Montreal-based drummer Ben Reimer. Together they have commissioned works from Canadians Vincent Ho and electronics wizard Nicole Lizée to be premiered at next years PuSh Festival in Vancouver.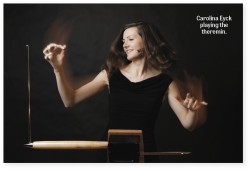 Open Ears Festival: From May 26 to June 4 the Waterloo region will once again be taken over by the sounds of the Open Ears Festival. At the heart of this festival is the act of listening to a diverse range of musics – including new classical, electroacoustic, musique actuelle and sound installations. As mentioned, Surface Image will be performed on May 28, and the composer and media artist Tristan Perlich will be in attendance on May 29. He will be presenting an artist talk at 1pm covering the range of his work, including his Machine Drawings which will be on display, and his explorations into 1-bit music and other sound-based technologies.
Continuing on with the theme of electronics, the concert June 2 will focus on works for the theremin, the world's first motion sensor music instrument patented in the United States in 1928 after being originally developed by Léon Theremin when he lived in Russia and was working on a government research program. The concert at Open Ears will begin with author Sean Michaels reading from his historical novel, Us Conductors, to set the scene for the theremin's beginnings. Next, an influential work for the theremin and chamber ensemble, composed in 1944 by Czech composer Bohuslav Martinů will be heard, followed by a new work for Karlax – a new-motion sensor instrument designed and performed by D. Andrew Stewart. The highlight of the evening will be the opportunity to hear Carolina Eyck, the world's foremost theremin virtuoso. She will perform several works, including the ones previously listed, as well as a new work by Omar Daniel involving Nicola Tesla's high voltage coil invented in 1891. And because Open Ears is all about listening, the appearance of three Listening Choir events makes complete sense. From May 27 to 29, the Listening Choir project by Christopher Willes and Adam Kinner will invite participants on group walks through urban spaces to experience collective and individual ways of listening. The walks will also include the recording of different places, objects, language and ideas within the soundscape using homemade recording devices. Thus the act of listening becomes an act of performance. For a complete overview of the full range of the festivals program, definitely check out their website: openears.ca
Sounds of Finland, Japan and the Indonesian Gamelan: This month offers opportunities to tune into the sounds coming out of these three distinctive cultural traditions. First of all, the music of Finnish composer Tomi Räisänen will be performed on May 19 at a concert presented by the junctQin keyboard collective. Finnish-Canadian pianist Heidi Saario will join the junctQin collective in the performance of two world premieres by Räisänen: Falls, for piano six hands, and Superdodecaphonium for solo piano, as well as others of his works.
On May 24, two days before their Japan: NEXT concert at the 21C festival, Continuum Contemporary Music will be presenting another event at Gallery 345 to celebrate the Japanese concept of Ma. In music this concept translates into the idea that what you don't play is as important as what you do play. It's the space or tension between sounds, and to take it further into the nonmusical domain, the space between two people or two objects. Lining the walls of Gallery 345 will be an exhibition of 30 prints courtesy of the Japan Foundation, some of which deal with Ma in graphic design. Beginning with a film on how Ma is expressed in woodblock art, the concert will then showcase the Okeanos ensemble, a UK-based group of westerners who will perform both traditional works for the koto and sho and contemporary works, all focused on the communication of Ma.
Finally on May 19, the Evergreen Club Contemporary Gamelan, will perform a concert of works from their recent CD, Higgs Ocean. Evergreen Club is an ensemble committed to the performance and commissioning of contemporary music for the gamelan, an ensemble of bronze and wooden instruments from Indonesian culture. In this concert they will team up with the Bozzini string quartet to perform five works by Canadian composers especially written for this collaboration of strings and gamelan sounds.
Additional New Music Performances
May 1: Royal Conservatory. Kaija Saariaho: Changing Light for soprano and violin.
May 4 and 5: Toronto Symphony Orchestra. John Adams: Scheherazade.2 – Dramatic Symphony for Violin and Orchestra.
May 4 to 8; 11 to 15: Coleman Lemieux et Compagnie. Against Nature/À Rebours. Music by James Rolfe.
May 5: Royal Conservatory. Glenn Gould School New Music Ensemble; works by Boulez, A. Norman and Sokolović.
May 13: Canadian Music Centre. "Fantastic! Barbara Pritchard in Recital"; works by Beckwith, Pentland, McIntyre, Hatch, Pearce and Parker.
May 25 to 29: Royal Conservatory's 21C Music Festival; seven concerts with 28+ premieres.
May 26: Music Gallery. Emergents IV: Kiri Koto Ensemble and Boomwhackers.
May 26: Canadian Music Centre; premiere of a new work by Chris Paul Harman, Julia Den Boer, piano.
May 28: Array Music Young Composers' Workshop Concert 2016.
Wendalyn Bartley is a Toronto-based composer and electro-vocal sound artist. sounddreaming@gmail.com.
Details

Wendalyn Bartley
This month's column takes a behind-the-scenes look at two quite different upcoming events in April – the Curiosity Festival presented by the Toy Piano Composers and an upcoming concert by the independent pianist/improviser/composer Marilyn Lerner which while different in nature from the TPC event was also surprisingly similar to it, in some very interesting ways. There was the piano connection of course; but also the artists' interest in combining different elements, influences and genres to create their own unique creative statements. This is certainly a theme that comes up regularly in this column, but I wasn't necessarily expecting to find this commonality when I set out to interview both parties.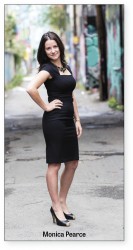 Monica Pearce: Beginning early in April, the TPC's first festival, the Curiosity Festival, aims – in the words of co-founder Monica Pearce – to "bring together three unique musical explorations that go beyond what the collective already does." Known primarily for their chamber concerts highlighting music written by their composer members, this festival has three strikingly different components: a series of operas performed in collaboration with the Bicycle Opera Project on April 1 and 2; a sound installation at the Canadian Music Centre created by TPC member Nancy Tam on April 6 and 7; and a chamber concert on April 9 that highlights all things metal, including the presence of metal music, that genre of rock that developed in the late 60s and 70s with the rise of bands such as Led Zeppelin and Deep Purple.
The TPC, now in their eighth season, began from a desire by co-founders Pearce and Chris Thornborrow to create opportunities for their music to be performed once they had completed their music studies. At the same time, Pearce acquired a used toy piano and started writing pieces for the instrument. They both agreed that calling their new collective Toy Piano Composers would be a playful and imaginative name. Although the toy piano does not always appear in all their concerts (a risk, Pearce admits, in terms of managing audiences' expectations), they have decided to stick with a name that reflects so clearly the group's spirit of playful adventure.
The first concert of the festival, "Travelogue," celebrates TPC's ongoing vigorous collaboration with the Bicycle Opera Project. Bicycle Opera cycles from concert to concert as a way to make the operatic art form more relevant, intimate and accessible. Their environmentally friendly approach to travel merged with their vision of showcasing emerging talent has won them enthusiastic crowds wherever they happen to go. At the Curiosity Festival, they will be performing four operas – three composed by TPC members Pearce, Elisha Denburg and August Murphy-King, and the fourth composed by Tobin Stokes on recommendation from the Bicycle Opera directors. All four pieces include aspects of travel – from the bicycle to the space shuttle – with each work tapping into the terrain of human struggle with life's circumstances.
Playback, the sound installation by Nancy Tam at the Canadian Music Centre's Chalmers House home, features her expertise and interest in sound art and theatre. It's a site-specific work for ten participants at a time who will be guided around the CMC space listening over headphones hooked up to individual portable audio players. Tam's audio walk will contain excerpts from interviews she conducted with composers across Canada, as well as recordings of Tam's music and soundscape elements. For the interviews, composers were asked such questions as "What is Canadian music, what is your relationship to composition and to the CMC?" as well as being asked to try to remember what the Chalmers House used to look like before the renovations.
The "Metal" concert includes works by TPC members Fiona Ryan, Chris Thornborrow, Bekah Simms, Daniel Brophy, Ruth Guechtal and Alex Eddington. Both Brophy and Guechtal have incorporated the metal genre influence into their overall compositional style, and this concert will give them an opportunity to let this influence become an integral part of a chamber concert. Other thematic approaches to the idea of metal include Thornborrow's exploration of the metals of industry, Ryan's interest in metal at a chemical level, and of course the use of metallic instruments. And, in keeping with their name, music for the toy piano will also appear on this concert.
The inaugural Curiosity Festival takes its place among the other new music festivals in the city, and although not as big and well-funded as New Creations or 21C, it is the first festival coming from the younger generation of presenters, Pearce told me. As for its future, TPC will assess the impact of the festival to see if it has made a positive contribution and if so, how often to repeat it. Other future visions include recording, touring and collaborating with ensembles such as Chamber Cartel from Atlanta who also present music for the toy piano. And even though they now have a core ensemble made up of flute, clarinet, piano, percussion, piano, double bass and conductor, they are committed to remaining composer-focused, despite the various challenges such as lack of sustainable funding opportunities that this presents.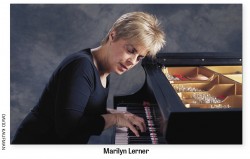 Marilyn Lerner: No stranger to collaboration with a wide variety of ensembles and individual artists, pianist/composer and improviser Marilyn Lerner decided to take a leap into solo performance for her upcoming concert at Gallery 345 on April 16. For those not familiar with Lerner's music, she has created her own unique and dynamic blend from a variety of influences, the most central ones being jazz, free improvisation, contemporary classical and klezmer. Within her current ensemble, The Ugly Beauties, with cellist Matt Brubeck and drummer Nick Fraser, she is able to navigate these various genres and bring a compositional style that combines the notated with the improvised. This way of working is in fact, she says, a genre unto itself, with the main question being "How do we get from one composed section to another?" That's where the improvisation kicks in. The art of lieder combined with Yiddish poetry is another love of hers and has been behind her collaborations with singers such as Toronto's David Wall and New Yorker Adrienne Cooper.
So what to expect on April 16? I suspect it will be a fine blended soup of all of it. In our interview, Lerner told me her plan is to pull out many pieces she has previously written but which haven't yet been performed. "I love harmony, and even though I play a lot of improvised and free music, this side of me doesn't get to come out of the closet. I've written a lot of beautiful songs, and would like a chance to play them, as this seems truer to my own sensibilities." She used the phrase "abstract lyricism" to define her approach, with an interest in an unfolding, restless harmony much like that which you find in the music of Wagner and Strauss. Influences from French impressionists Ravel and Debussy also find their way in there, as well as her love of playing Bach.
And even though these pieces have a composed element to them, she will bring her improviser self into the mix. In her preparation for the concert, she will practise various improvising approaches, but in the moment of the performance it will be a spontaneous treatment. "I strive to play the piano as a horizontal multi-voiced instrument, no matter what I'm playing. Interesting, considering that I love harmony," she comments. No matter what style or genre she embarks upon however, ultimately, "my heart is in writing pieces that express how I'm feeling."
Ensemble Goings-on:
New Music Concerts concludes its busy season on Apr 24 with "Flutes Galore," a concert featuring 24 flute players performing several works and premieres by Canadian composers. NMC artistic director and flutist, Robert Aitken, has three works on the program, including the world premiere of his latest work Caracas. Other world premieres include Impulse, a NMC commission by Alex Pauk and Two Fancies by Robert W. Stevenson. Works by Bruce Mather and Christopher Butterfield complete the extravaganza concert in what promises to be a unique sound event with the presence of multiple flutes on stage.
Kitchener-Waterloo: This year marks the 40th anniversary of the music faculty at Wilfrid Laurier University in Waterloo and the new music organization NUMUS is celebrating this milestone with orchestral concerts on Apr 2 and 3 featuring world premieres by Stephanie Martin and Glenn Buhr. In their Apr 23 concert, SlowPitchSound presents his hypnotic rhythms and unconventional uses of the turntable as an instrument in conjunction with cinematic images and the movements of modern dancer Lybido. Also in the area, Ensemble Made in Canada performs works by Canadians Omar Daniel, Apr 8, and John Burge, Apr 9, for the Kitchener-Waterloo Chamber Music Society.
The Music Gallery presents "Emergents III" on Apr 8 in a show curated by Alex Samaras. The program begins with a set by the duo The Science of What? with Jessica Chen and Justin Orok performing improvisations and deconstructions of popular song. The second set presents the music of Jeremy Bellaviti, an emerging composer whose style merges contemporary classical with the rhythmical influences of folk music. The concert will also feature the premiere of his new work for violinist Sarah Fraser-Raff.
Arraymusic's Apr 5 concert, "Four New Works," presents world premieres by Anna Höstman, Gregory Newsome, Adam Scime and Scott Wilson, with guest soprano Carla Huhtanen. Continuum is heading west in April for a tour of British Columbia in collaboration with Ballet Kelowna and four choregraphers. Reimagined Renaissance Music is the theme that will be explored musically in works by Rodney Sharman, Jocelyn Morlock and Michael Oesterle. Toronto audiences will have the chance to see and hear this show in the fall.
Additional Listings
Apr 7: Women's Musical Club of Toronto. Commissioned premiere by Zosha di Castri.
Apr 8: Essential Opera. Several contemporary operas, each focused on a different facet of women's lives featuring composers Leslie Uyeda, Anna Pidgorna, Anna Höstman, Fiona Ryan, Elizabeth Raum, John Estacio and Jake Heggie.
Apr 23: mmmm Composers In Concert. New works by Michel Allard, Marco Burak, Michael Dobinson and Michelle Wells. Stratford.
Apr 27: Canadian Music Centre. Three commissions of Canadian works by Katarina Curcin, Nicole Lizée and Kati Agócs performed by the Cecilia String Quartet.
April 28 and 30: Toronto Symphony. towards Osiris (2005) by German composer Matthias Pintscher.
Wendalyn Bartley is a Toronto-based composer and electro-vocal sound artist. sounddreaming@gmail.com.