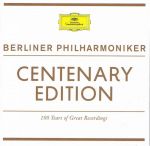 The Berliner Philharmoniker Centenary Edition (DG 4791049, 50 CDs) celebrates "100 years of Great Recordings." The first disc, of interest only to archivists, contains the usual orchestral excerpts from Parsifal conducted by Alfred Hertz (12 to 16 September 1913) and Arthur Nikisch conducting Beethoven's Fifth Symphony (1913) and Le carnaval romain (1920). Disc two contains a Beethoven Fifth from Furtwangler (Oct 1926), Fingal's Cave conducted by Bruno Walter (1924) and into the electric era, short works and overtures conducted by Richard Strauss and Hans Knappertsbusch, both from 1928. On disc three Jascha Horenstein conducts the Bruckner Seventh from that same year. On disc four Karajan's first Pathetique Symphony (1939) is well played and recorded as is a very affectionate Moldau (1940). Discs 5/6/7/9 feature Furtwangler in the Beethoven Fifth (27 March 1947), Mozart 39th (1942/43), the Schubert Ninth, the Haydn 88th and his own Second Symphony (all 1951) plus the Brahms First (1952) and the Schumann Fourth (1953). There are 42 more discs of notable performances by eminent artists who played with this great orchestra in good times and bad. See the complete details at arkivmusic.com.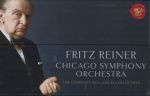 When Fritz Reiner came to the Chicago Symphony Orchestra in 1953 it presaged an exceptional, albeit short-lived era during which they produced recordings that half a century later are still lauded and sought out for their spectacular performances and exceptional sonic excellence. The Hungarian conductor arrived in the United States to take the post as conductor of the Cincinnati Symphony where he remained until 1931. Reiner had found it very difficult to get an engagement in the 1930s. He was disregarded by orchestras across the country until 1938 when he began his ten-year engagement as music director of The Pittsburgh Symphony Orchestra where he recorded extensively for Columbia. Thence he became a familiar conductor at the Met.
After Arturo Toscanini, RCA's star attraction, conducted his last concert on April 4, 1954, it was necessary for RCA Victor to fill the void. They had recorded Reiner conducting pick-up groups in New York and the Reiner/Chicago Symphony marriage was garnering some critical acclaim where RCA had already recorded an extraordinary Also Sprach Zarathustra in Chicago in March. So there it was ... RCA's new star attraction in the quality of sound never accorded "The Maestro." By April RCA had assigned Richard Mohr as producer and the now legendary Lewis Layton as recording engineer and there followed a stream of superlative recordings of distinguished performances of repertoire from Richard Strauss, Brahms, Prokofiev, Beethoven, de Falla, Tchaikovsky, et al. to Rolf Liebermann's Concerto for Jazz Band and Symphony Orchestra.
When RCA issued their Living Stereo Series many of these recordings were the backbone of that program as they were of the SACD issues. Mohr and Layton, who would eventually be deified by audiophiles, also produced equally fine-sounding recordings elsewhere, particularly in Boston with Munch and Fiedler, which discs are still available on RCA Living Stereo.
Fritz Reiner Chicago Symphony Orchestra – The Complete RCA Album Collection (RCA 888837019828, 63CDs ) has all 130+ recordings newly re-mastered from the original analogue tapes, each sturdily sleeved in reproductions of their original LP covers. A 150-page, full-colour hardcover book gives biographical material and details of each recording. Soloists include Maureen Forrester, Arthur Rubinstein, Byron Janis, Jascha Heifetz, Inge Borkh, Emil Gilels, Lisa Della Casa, Antonio Janigro, Rosalind Elias, Van Cliburn, Leontyne Price and many more.
This set is a trove for both discerning music lovers and devoted audiophiles alike. Those who worship analogue sound will be very happy here. You can find full details at arkivmusic.com/classical/album.jsp?album_id=1014187.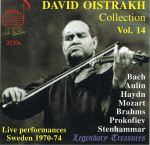 In the November issue of BBC Music Magazine David Oistrakh was voted by today's leading players to be the greatest violinist of the 20th century. Coincidently, Doremi issued David Oistrakh, Volume 14 (DHR-8020-21, 2 CDs) containing five concertos, in excellent stereo sound, derived from Swedish Radio archives of 1970 to 1974. These performances appear for the very first time with three items that are new to his discography; the Haydn Sinfonia Concertante Op.84 and two works by Swedish composers. The collaboration between soloist and the Swedish musicians is of the highest quality imaginable, treating us to a stirring Brahms Double Concerto, a crisp Bach Concerto for violin and oboe, a refreshing Mozart Third and an involving Prokofiev First. The romantic Stenhammar Sonata and a Berceuse by Tor Aulin bring this collection to a pleasing conclusion. These were played by Oistrakh in the last years of his life yet his proficiency and artistry are undiminished.
Footnote: Oistrakh's universally acclaimed first concerto recordings in the West (June 1954, Beethoven and Sibelius) were made in Sweden as were, ironically, these swan song performances.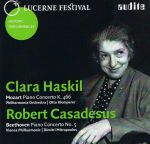 Finally, two historic concertos from the Lucerne Festival. From September 8, 1959, Clara Haskil, Otto Klemperer and the Philharmonia Orchestra play Mozart's Piano Concerto No.20 K466 and from September 1, 1957, Robert Casadesus, Dimitri Mitropoulos and the Vienna Philharmonic play Beethoven's Emperor Concerto. "She was sent to earth to play Mozart" wrote a critic quoted in the accompanying booklet. Never were truer words written. Haskil and Klemperer are hand in glove in this exceptional performance which she declared "unforgettable." French pianist, Robert Casadesus, too, was a highly respected Mozart interpreter as his recorded legacy attests. Also Beethoven, and the sense of occasion in this grand performance is unmistakable. The perfectly balanced sound on this disc (Audite 65.623) was transferred directly from the original analogue master tapes and not off the air.