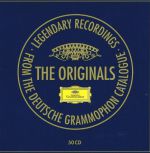 The Originals (Deutsche Grammophon 4793449), 50 CDs in the now familiar compact cube, is an exceptional collection of outstanding performances from the second half of the 20th century that are significant in three aspects: repertoire, performance and sound. The composers range from Bach to Orff performed by artists who were acknowledged masters of the works chosen for inclusion in this edition beginning with Bach – the Oistrakhs' Violin Concertos and Pierre Fournier's Cello Suites; Beethoven with the Fifth and Seventh Symphonies by Carlos Kleiber; the Sixth from Böhm and Karajan's 1963 Ninth. Wilhelm Kempff plays the fourth and fifth concertos (BPO/Leitner) and four sonatas.
Throughout the 50 discs, the reality of the remastered sound is a revelation and at times startling. For example, the patrician performance of the Mahler First with Rafael Kubelik, taken from his complete edition, is a reminder of this conductor's always intuitive readings of whatever he conducted, heard here in freshly minted, realistic sound. Carl Orff's remarkable Carmina Burana received its definitive recording in October 1967 conducted by Eugen Jochum under Orff's personal supervision with an all-star cast including Gundula Janowitz, Gerhard Stolze and Dietrich Fischer-Dieskau. That recording, heard on disc 33 of this set, is a model of remastering, sounding a tad cleaner than the original Originals single CD.
Karl Böhm's entries include his celebrated versions of Magic Flute, Tristan and Isolde and the late Mozart symphonies. This set is a well-considered collection of close to 100 works of symphonic music, concertos, chamber music, instrumental solos and vocal music of interest to music lovers and audiophiles alike. Check out full contents on the DG site and listen to samples from every track in the set at deutschegrammophon.com/en/cat/4793449.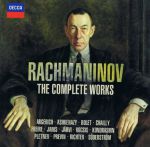 Ask the average music lover if they like Rachmaninov and the usual answer is a knowing yes. They mention the Rhapsody on a Theme of Paganini and the Second Piano Concerto and perhaps the Prelude in C-Sharp Minor. Then they are obliged to repeat the usual demeaning put-down about the four piano concertos being merely one concerto orchestrated four times. What a surprise then that Decca could devise a 32 CD set of Rachmaninov: The Complete Works (4786765) performed by top-notch orchestras and conductors, chamber groups, choruses, soloists et al., recorded over the years when the performers were in their prime.
Disc one, track one is, rather appropriately, the aforementioned prelude played by Vladimir Ashkenazy followed by the complete Op.23 and Op. 32 Preludes. Ashkenazy is featured many times in the collection both as pianist and conductor. Some of the works he plays are the four piano concertos and the Paganini Variations all conducted by André Previn; the First and Third Symphonies, the Symphonic Dances, the "Youth" Symphony and The Bells, all with the Concertgebouw Orchestra. The symphonic poems, Prince Rostislav and The Rock and Five Etudes-Tableaux (orchestrated by Respighi), the Scherzo in D minor, and Vocalise are all with the Sydney Symphony Orchestra. On disc 32 Ashkenazy very frankly discusses Rachmaninov and his music.
There are many other artists, of course, Mikhail Pletnev, Sviatoslav Richter, Zoltán Kocsis, Jorge Bolet, Alexis Weissenberg, Martha Argerich, Nelson Freire, Byron Janis, the Beaux Arts Trio, Olga Borodina, Neeme Järvi and many others. Here is the chance to get to hear the entire published works by Rachmaninov including all the operas and not to be missed, the complete songs sung by Elizabeth Söderström. Complete contents and excerpts can be found at deccaclassics.com/en/cat/4786765.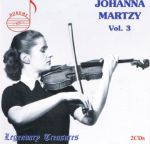 Thirty-five years after her premature death at the age of 54, Hungarian violinist Johanna Martzy is still an icon among violin aficionados and record collectors. In addition to a spectacular concert career, working as soloist with luminaries such as Bernstein, Szell, Cluytens, Fricsay, Kletzki and Sawallisch, Martzy was featured as a recording artist of two of the world's leading companies, Deutsche Grammophon and EMI. In addition to these recordings, documents of her live performances are much sought after. DOREMI has issued a third volume of mostly unreleased live performances and radio broadcasts (DHR-8034/5, 2 CDs). Gems include a 1959 radio recital from Johannesburg, preserved in pristine sound of works from Vivaldi to Bartók. A pleasant revelation in these tracks is her empathetic partner, the South African pianist, Adolph Hallis (virtuoso pupil of Theodor Leschetizky). Here is real music making! Also heard are two stylish viewpoints of Mozart's third violin concerto (both 1961) and an impassioned Bartók's First Rhapsody with George Szell (Cleveland 1960). The set ends with the finest performance I know of Suk's Four Pieces for Violin and Piano, Op.17. In this sparkling performance from 1969 she is partnered by the fine Hungarian pianist, István Hajdu (Arthur Grumiaux's accompanist).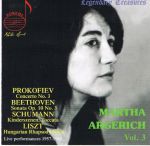 Similar to the repertoire presented in volumes one and two, DOREMI's Martha Argerich Volume 3 (DHR-8030) includes her live performances when around age 20. Argerich shot to world fame when she won the 1965 Chopin Competition in Warsaw. She has maintained her status to this day and listening to her early performances, her magic was already in evidence. Over her long career, she came to prefer presenting music with others, playing in chamber groups and as soloist with orchestra. This CD opens with a vivacious rendition of Beethoven's Piano Sonata No.7 Op.10, No.3 in which the Largo is uniquely introspective and, as they say, worth the price of the disc. Then an elegant Schumann Kinderszenen and an animated Toccata Op.7 and Liszt's Hungarian Rhapsody No.6. Finally, a brilliant performance of Prokofiev's Third Piano Concerto accompanied by Carl Melles conducting the Cologne Radio Symphony Orchestra. The sound throughout the disc is first-rate.