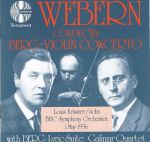 In 1991 a new record label came into being when Continuum/Testament issued seven CDs that restored several esteemed recordings from the past of interest to music lovers and collectors alike. Their first disc (SBT1001) featured acclaimed hornist Aubrey Brain, Adolf Busch and Rudolf Serkin playing the Brahms Horn Trio, Op.40 (rec.1933) coupled with Reginald Kell playing the Brahms Clarinet Quintet with the Busch String Quartet (rec.1937). The others for that year were two more Kell programs, discs by Richard Tauber, Yehudi Menuhin and a CD of Ten Top Tenors, a CD that included Caruso, Roswaenge, Thill, Martinelli and others. Quite unexpected was a CD of Alban Berg that included the Violin Concerto played by Louis Krasner, who commissioned the work, with the BBC Symphony conducted by Anton Webern! (SBT1004). The source was Krasner's own acetates which were far less than pristine, but that was soon overlooked after experiencing this enthralling and unique performance. Today, some 500 releases later, Testament is at the forefront of issuing and reissuing licensed recordings of outstanding performances of every classical genre by artists that are now deservedly legendary, including conductors, instrumentalists, singers, symphony orchestras, chamber groups and two Ring Cycles, Keilberth from Bayreuth (1955) and Kempe from Covent Garden (1957). From the last few months, here are four out-of-the-ordinary releases of special interest: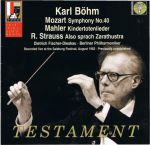 A 2-CD set from the 1962 Salzburg Festival features an August 19 performance with Karl Böhm and the Berlin Philharmonic (SBT2.1489). The program opens with Mozart's Symphony No.40 played in tempi that may sound to some ears to be on the slow side. However, that was how Böhm heard it and how he played it over the years in Dresden and everywhere else. As such the elegance is very pleasing. Hearing Dietrich Fischer-Dieskau singing Kindertotenlieder was always a moving experience and with Böhm and the Berliners supporting him, the 37-year-old singer is inspired. The big, after-the-intermission work is Also Sprach Zarathustra. DG had recorded a Böhm version in 1958 but this later performance is far more powerful, probing and intense. Böhm does not stay on the surface of the score to give a brilliant effect but is fully aware of and reveals the brooding energy beneath. A performance of this magnitude most certainly adds new dimensions to this mighty tone poem.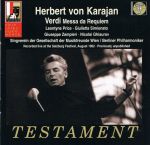 The Verdi Requiem was played by the Berlin Philharmonic ten days earlier at the same 1962 Salzburg Festival, on this occasion conducted by Herbert von Karajan. The soloists were Leontyne Price, Giulietta Simionato, Giuseppe Zampieri and Nicolai Ghiaurov with the Singverein der Gesellschaft der Musikfreunde Wien. Testament'sCD (SBT 1491) of the ORF's recording was authorized by the Salzburg Festival. Frankly, I wondered why issue yet another Karajan Verdi Requiem. From the ethereally balanced strings and voices of the "Requiem and Kyrie," the performance unfolded, not as expected but as a haunting and respectful homage to Verdi, empathizing with his emotions and his inspiration to write the work. The soloists and chorus are fully enrolled, all rising to the occasion.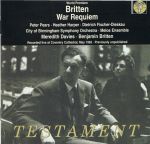 The world premiere performance of Britten's War Requiem, given in Coventry Cathedral on May 30, 1960 is finally available on CD (SBT 1490). Taking part in this historic event were Peter Pears, Heather Harper, Dietrich Fischer-Dieskau with The City of Birmingham Symphony Orchestra, The Coventry Festival Choir, Boys of Holy Trinity, Leamington and Holy Trinity, Stratford and John Cooper, organ, all conducted by Meredith Davies and the Melos Ensemble conducted by Benjamin Britten. The genesis of this work, commissioned in remembrance of the bombing of Coventry, is well known, together with the many obstacles to be overcome. This is from the BBC's original recording digitally remastered in 2013. There have been some picayune criticisms of the occasional untidiness in the playing and some off-the-beat entries or that the recording does not make certain passages as clear as they would be in a modern studio recording. For heaven's sake! This is not an audition tape! It's an "historic document"! We can now hear how that notable first performance sounded to the people in attendance 54 years ago. There is a sense of occasion throughout the performance from instrumentalists and singers alike as all three soloists demonstrate their total absorption in their roles. I find this monaural recording to be gripping, convincing and eminently moving.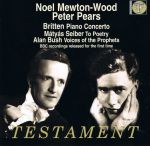 Noel Mewton-Wood was an Australian pianist, born in Melbourne in 1922. He studied at the Melbourne Conservatorium and was passionate about all forms of music. In the 1930s he studied with Artur Schnabel and later with Frank Bridge. He had an enormous talent and was highly regarded and respected by his peers and many conductors, especially Beecham with whom he performed often. Britten chose Mewton-Wood to premiere the revised version of his piano concerto and later to accompany Pears while he, Britten, was occupied with Gloriana. Pears commissioned pieces to be featured in their upcoming May 1953 concert. Later that year, devastated by the death of his partner, the 31-years young Noel Mewton-Wood knowingly ingested cyanide. The four-movement Britten Piano Concerto mentioned above was recorded in 1946 by Mewton-Wood with the London Symphony conducted by Basil Cameron. This BBC recording, previously un-released together with the songs commissioned by Pears for their recital, is now on Testament (SBT 1493) with comprehensive notes. The vivacious Britten concerto is played with great gusto and the song cycles, To Poetry by Mátyás Seiber and Voices of the Prophets by Alan Bush were recorded at the time for broadcast by the BBC.