The summer hiatus provided a comfortable window to leisurely absorb the many reissues that have arrived since the June issue.
None has given greater continuing pleasure than a fascinating eight-CD set from Radio France – 80 Ans de Concerts Inédits (FRF020-27, mono and stereo) – of live performances spanning eight decades given by the Orchestre National de France. A series of distinguished conductors and many renowned soloists are heard in 31 works, all but a few derived from performances in the Théâtre des Champs-Élysées. This orchestra was founded in 1934 in the midst of the Great Depression, angering many who viewed the expenditure at that time as ill-advised. In addition to artist profiles, the comprehensive booklet recounts the creation of the orchestra and details its history with its ups and downs over the years.
Record collectors will be pleased to know that there are no Beethoven or Brahms symphonies nor any warhorses that persons who assemble collections seem obliged to include. Each disc of the eight is a well-thought-out, eclectic concert of familiar or unfamiliar works that, curiously, hold the listener's attention to the end. Some examples:
Disc 1, "The French Tradition," contains Debussy Nocturnes (Désiré-Émile Inghelbrecht); Lalo Le Roi d'Ys Overture (Paul Paray); Roussel Bacchus et Ariane Suite No.2 (Charles Munch); Poulenc Chansons villageoises (Roger Désormière with baritone Pierre Bernac) and Magnard Hymne à la justice (Manuel Rosenthal).
Disc 2, "Expansion of the repertoire in the 1950s," contains Coriolan Overture (Carl Schuricht); Mahler Songs of a Wayfarer (Carl Schuricht with the 32-year-old Dietrich Fischer-Dieskau from September 9, 1957 in Besançon, about the time we heard him sing this cycle in Massey Hall); Till Eulenspiegels lustige Streiche (Joseph Krips); Alban Berg Altenberglieder (Jascha Horenstein with soprano Irma Kolassi); Ravel Deux Mélodies hébraïques (Paul Kletzki with soprano Victoria de los Angeles); Stravinsky Firebird Suite (André Cluytens).
Discs 6 & 7, "Sublime Encounters," contain once-in-a-lifetime performances of four favourite concertos…OK, warhorses. From April 9, 1964 with Eugen Jochum conducting, Christian Ferras plays the Tchaikovsky Violin Concerto with such dazzling virtuosity and daring that the audience bursts into spontaneous applause after the first movement. From 1969 Martha Argerich and Claudio Abbado imbue the Prokofiev Third Piano Concerto with fresh energy especially a "making-a-run-for-the-border" first movement. Then Eugene Ormandy and the unmistakable 1972 sonorities of Isaac Stern in the Brahms concerto and Charles Dutoit and Yo-Yo Ma bring the Dvořák to life in 1993.
There are many other inspired performances from the 22 conductors and 12 soloists, so please check complete details on the ArkivMusic site, arkivmusic.com/classical/album.jsp?album_id=1737327.
I continue to be very impressed by Radio France's stereo sound that may be described as incandescent. This is noticeably different from the various Rundfunk productions that, to finish the analogy, sound fluorescent.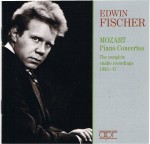 Edwin Fischer, the Swiss pianist, was born in 1886, studied at the Stern Conservatory in Berlin, a pupil of Martin Krause who also taught Claudio Arrau. Krause himself had been a pupil of Liszt. Fischer's core repertoire centred around Bach, Mozart, Beethoven, Brahms and Schumann. He was one of the first to direct concerted works from the keyboard and formed his own chamber orchestra for that purpose. A consummate musician, he was held in the highest regard by his colleagues and public alike. He faded from the music scene after 1954 due to ill health and died in January 1960.
Apian has issued a three-CD set of his complete Mozart studio recordings for EMI made between 1933 and 1947 on Mozart Piano Concertos (APR 7303). Included are three concertos with his chamber orchestra; Nos.17, K453 and 20, K466 and the Rondo K382. Three concertos, Nos.22, K482; 24, K491 and 25, K503 are with Barbirolli, Collingwood and Josef Krips and together with two sonatas and several solo works total almost four hours of sublime music-making. His love and understanding of the composer is complete, his playing is self-effacing but never tentative. I'm sure that this has been said before, that here the performer gets out of the way and the music seems to be playing itself. An exhilarating performance of the Haydn Concerto hob XVII:11 made with Fischer conducting the Vienna Philharmonic is the icing on the cake.
Some might dismiss these performances because of their vintage but those who do will miss hearing the most elegant, civilized and persuasive insights into Mozart. The transfers by ex-EMI producer Bryan Crimp retain all the sparkle of the originals with a minimum of artifacts.
Footnote: Testament issued a CD of a 1964 recording of Fischer conducting from the keyboard of the third and fourth Beethoven concertos with the Philharmonia Orchestra (SBT 1169). Praga has remastered a 1951 EMI recording of the Beethoven fifth concerto with Furtwangler conducting the Philharmonia (Praga PRD/DSD 350074, hybrid CD/SACD). Truly magic moments in this performance include the soloist's arched transition into the last movement in which Fischer's intuitive hesitations suspend the calm before the storm.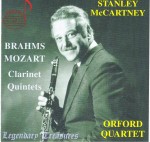 As a longtime resident of Toronto I was exposed to the artistry of Stanley McCartney, the principal clarinet of the TSO and later the COC orchestra, as a chamber musician in Stratford and as a member of the Toronto Woodwind Quintet. From its inception in 1965 the Orford String Quartet (Andrew Dawes, Kenneth Perkins, Terence Helmer and Marcel Saint-Cyr) was recognized as exceptional and would soon enjoy an international reputation.
McCartney was regularly heard with the Orford Quartet and on the occasion of July 14, 1969, they played the Brahms Clarinet Quintet Op.115 that was recorded by the CBC. That performance together with their 1970 live reading of the Mozart Quintet in A Major, K581 is now available on a DOREMI CD (DHR-6612). Both performances are outstanding, winningly alert and decisively expressive. The long second movement of the Brahms, the Adagio, is extraordinarily moving and I don't believe there is a finer, more sympathetic reading around. Brahms' exquisite score and the oneness of the five musicians reward the listener with a plaintively beautiful experience (overly sentimental I know but that's how it affects me, upon no matter how many hearings). In the equally introspective, more euphoric Mozart, the collective sound of clarinet and strings is again miraculous. I would rather that the undeniably well-deserved applause had not been included here. It jolts the listener back to earth.
It is for inspired performances as these that tape recordings were invented.