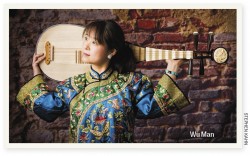 The historic trade routes collectively referred to as the Silk Road, an interconnected web of maritime and overland pathways, have, for centuries, served as sites for cultural, economic, educational, religious – and purely musical – exchanges. In that light, "silk roads" can be seen as a significant factor in the development of the ever-evolving hybridities that have shaped the face of the modern musical world.
In 1998 the Grammy Award-winning cellist Yo-Yo Ma proposed "Silkroad" as the name of his new non-profit organisation. That project, inspired by his global curiosity and eagerness to forge connections across cultures, disciplines and generations, has grown several branches, the first of which was the successful music performing group, Silk Road Ensemble (SRE). It has played to sold-out houses at Roy Thomson Hall in 2003 and 2009 and will return to perform at Massey Hall on September 15. (Serendipitously, Toronto audiences will have another opportunity to see the SRE up close this September. Morgan Neville's feature-length documentary The Music of Strangers: Yo-Yo Ma and the Silk Road Ensemble graces TIFF's red carpet, enjoying its world premiere.)
Wu Man's view from the pipa. Chinese-born Grammy Award nominee Wu Man, widely hailed as the world's premier pipa (Chinese lute) virtuoso, has a unique perspective on the SRE's career. An educator, composer and an ambassador of Chinese music, she has a prolific discography of 40 albums and counting. She was among the first musicians to get the call from Yo-Yo Ma to help in founding SRE.