World Music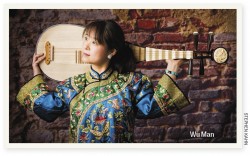 The historic trade routes collectively referred to as the Silk Road, an interconnected web of maritime and overland pathways, have, for centuries, served as sites for cultural, economic, educational, religious – and purely musical – exchanges. In that light, "silk roads" can be seen as a significant factor in the development of the ever-evolving hybridities that have shaped the face of the modern musical world.
In 1998 the Grammy Award-winning cellist Yo-Yo Ma proposed "Silkroad" as the name of his new non-profit organisation. That project, inspired by his global curiosity and eagerness to forge connections across cultures, disciplines and generations, has grown several branches, the first of which was the successful music performing group, Silk Road Ensemble (SRE). It has played to sold-out houses at Roy Thomson Hall in 2003 and 2009 and will return to perform at Massey Hall on September 15. (Serendipitously, Toronto audiences will have another opportunity to see the SRE up close this September. Morgan Neville's feature-length documentary The Music of Strangers: Yo-Yo Ma and the Silk Road Ensemble graces TIFF's red carpet, enjoying its world premiere.)
Wu Man's view from the pipa. Chinese-born Grammy Award nominee Wu Man, widely hailed as the world's premier pipa (Chinese lute) virtuoso, has a unique perspective on the SRE's career. An educator, composer and an ambassador of Chinese music, she has a prolific discography of 40 albums and counting. She was among the first musicians to get the call from Yo-Yo Ma to help in founding SRE.
Details

Andrew Timar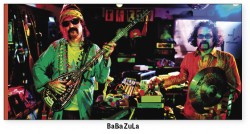 In my summer 2016 WholeNote column I mused on Luminato's repurposing of the cavernous decommissioned Hearn Generating Station. Would it work as a venue for symphony orchestra, for community cultural engagement, visual art, for Shakespeare? In the end, the capacious, though out-of-the-way, venue turned out to be a gamble that paid off handsomely for Festival organisers as well as for concertgoers. It appears to be part of the continuing recognition in our collective urban zeitgietst of the importance of reclaiming, revitalizing and honouring Toronto's industrial-commercial past.
In September it's the turn of another large scale 20th-century man-made structure to be repurposed as an artistic venue. Originally opened on May 22, 1971, Ontario Place, the government of Ontario-owned amusement park, was imposed into Lake Ontario, sited on three artificially constructed and landscaped islands. The futuristic buildings and entertaining amenities along Toronto's shoreline included the world's first IMAX theatre, the geodesic-domed Cinesphere, and the province's first waterpark.
Some of us old enough to have attended concerts there might fondly recall the spacious, leisurely rotating stage of the Forum. It's where I took my young kids for free summer concerts, including the memorable time we saw jazz great Miles Davis and his band. We bonded over cool jazz with attitude that sunny afternoon. Then early in 2012 most of the public sections of the park were closed for redevelopment – its 2017 projected completion date aimed to celebrate Canada's sesquicentennial.
in/future: After the venue has been shuttered for four years, Art Spin in partnership with Small World Music is re-animating Ontario Place's scenic 14-acre West Island. They've cooked up an ambitious menu consisting of 11 days and nights of arts programming from September 15 to 25, dubbing the festival in/future. Wishing to dig deeper, I spoke to Small World's executive director and in/future co-curator Alan Davis one hot sunny summer day.
"It's the 15th anniversary of Small World's fall festival," Davis began, "and we're delighted that Art Spin invited us to showcase part of our current season at in/future." Art Spin – Layne Hinton and Rui Pimenta's brainchild – has been active as a presenter for over seven years, re-activating decommissioned venues and public spaces to produce group exhibitions along with curated bicycle-led art tours.
"The festival will host site-specific projects by over 60 visual and sound artists," Davis continued, "with close to 50 music acts on the Small World stage (presented by Exodus Travels)." Films and videos will also be presented in the Cinesphere, as well as dance performances, a lecture series, and kid-friendly programming and activities at various sites.
"We're excited by this opportunity to connect with the larger community. Nostalgia for Ontario Place's illustrious musical past is one part of the draw, but so is engaging with young audiences. For example, site DJ activations will encourage a party vibe."
"We have also tried to squeeze the envelope with regard to genres, to mix things up, to embrace the entirety of the global musical spectrum. Cross-fertilization is one of the things we're aiming for. Though it's easy to say, it's hard to do," he added with a knowing smile.
I asked Davis to pick a few highlights. "We are leaning toward high-energy, festive acts suitable for an outdoor stage. An example would be BaBa ZuLa, Istanbul's legendary psychedelic dub band, which takes the stage Friday September 16 with a wide variety of influences and a truckload of instruments. They are followed by Mariachi Flor, a feminist Mexican mariachi group based in New York" he explained.
Saturday September 24, at the other end of the festival, is a day so chock full that space here permits only a partial mention. Headlining is the Dhol Foundation, a leading bhangra band making its Canadian debut. It's led by the U.K.- born master-dhol drummer and artistic director of the group, the "bhangra king" Johnny Kalsis. His London-based 12-piece band, which he first established about 17 years ago, places the musical focus tightly on the massive sound of closely miked multiple dhol drums, those icons of Punjabi bhangra music. Kalsis has since waded into transnational waters by fusing bhangra with a mixed bag of popular global genres including Afrobeat, reggae, hip-hop, EDM, and Bollywood with a Celtic fiddling twist. The resulting thumping beats are designed to lift audiences' spirits, moving everyone to dance.
Also performing on September 24 is the Shanbehzadeh Ensemble. It was formed in 1990 by Saeid Shanbehzadeh, a virtuoso of the neyanbān (Persian Gulf bagpipe) and the ney-e jofti (Persian Gulf double reed pipe). He is well known as a forceful performer of the traditional song, music and dance of the southern Iranian province of Bushehr, on the Persian Gulf. It's a region of Iran strongly influenced by African as well as Arabic culture, and its music and dance amply demonstrate those influences. Shanbehzadeh is no stranger to Toronto. In 1996 he taught a world music studio course at the University of Toronto and at the time I was impressed with his brilliant and charismatic solo performances, full of the feeling of his culture of origin. Now a resident of France, in recent videos he's increasingly playing alto sax, and including an electric guitarist and a DJ in his sets, in addition to the regional acoustic instruments he made his reputation with. It looks like in/future audiences can expect a mix of trance-y traditional dance music of the Persian Gulf merged with contemporary beats from Shanbehzadeh.
Much of the rest of the ambitious festival music program likewise appears to echo Alan Davis' dictum of high-energy, populist leaning, multiple genre-inclusive and at the same time genre-smearing music performances. While there is a place for nostalgia, this is perhaps the sort of non-nostalgic au courant musical cross-fertilization needed to re-activate the 45-year-old old Ontario Place and make it fun and relevant again – at least for 11 days this September.
Follow Your Heart: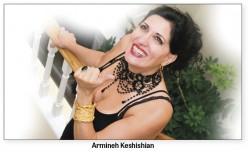 My second story is about a single production, but one which is no less ambitious in the size of its cast and the scope of national cultural elements and themes portrayed.
Four years in the making and workshopped at the Fleck Theatre in 2014, Toronto's Evolution Dance Theatre presents the premiere of Follow Your Heart, a "Broadway-style Middle Eastern multimedia extravaganza." The multimedia and multidisciplinary production runs September 22 to 25 at the Richmond Hill Centre for the Performing Arts. Follow Your Heart was conceived, written and directed by EDT founder and artistic director Armineh Keshishian. Rooted in the rich traditions of Middle Eastern dance and culture, the production tells its story with sound design, lighting, actors, dancers and three sets of musicians, 45 performers in all.
The production has both pre-recorded sound design cues, as well as live music, the latter provided by three culturally distinct groups of three musicians each. The Middle Eastern section is led by Persian percussionist Naghmeh Farahmand, the African section by master drummer Amadou Kienou and the Indigenous Canadian section by singer Sue Croweagle. In the show's finale, the three groups perform together, directed by Kienou accompanying dancers who likewise represent ethnic, cultural and gender mutual respect and harmony.
I spoke with Keshishian in between rehearsals about her show. "Follow Your Heart is a tale of love and struggle, with a special emphasis on the empowerment of women," she told me. "Our story centres around Almaza, a modern Middle Eastern woman, who falls in love with Jivan, a traditional Middle Eastern man – in contemporary Toronto. It's the journey of a woman who fights for love against all odds, a love story marked by both taboo and tradition." She concluded, "the story in the end explores unity and mutual understanding between peoples, a relevant theme in these troubled times," particularly in the Middle East.
Whether or not a "Broadway-style multimedia extravaganza" is your cup of tea, Follow Your Heart's inclusive and optimistic vision of a world where people born three continents apart can share their indigenous music and dance – even if it's only modelled for us briefly on stage – is cause for celebration.
Andrew Timar is a Toronto musician and music writer. He can be contacted at worldmusic@thewholenote.com.
Details

Andrew Timar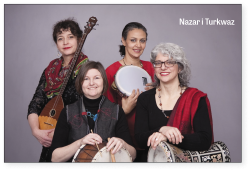 Summer in the city for me also means music in the city. No longer constrained by indoor concert halls and clubs, audiences can now enjoy an expanded range of venues and even performance genres, taking a cue from the rising temperatures shirtsleeve and sandals weather (at last!). That means outdoor venues like those at North York's Cultura Festival, Harbourfront Centre's weekend festivals and Toronto Music Garden, plus those at Roy Thomson Hall's Live on the Patio are animated with relaxed crowds. These and many other outdoor Toronto spaces resound for the summer with globally conscious music.
And that's just a partial urban list. It doesn't begin to touch on the wealth of outside summer folk festivals across Ontario or the curated concerts at city parks. Moreover, music presentations in the summertime include a huge range of genres, presenting an ideal opportunity to sample music you have been meaning to try, or never even knew existed – the latter's always a treat for sonic explorer types like me. This is a sneak peek at just a few.
Luminato at the Hearn: Every year for the last decade, Toronto's warm weather music season seems to begin with Luminato. The festival that set out to animate the city with music in June is ten years old this year. It also happens to be artistic director Jörn Weisbrodt's swansong year, a golden period in the tenure of any CEO. As it is for the present President south of the border, it's a tempting opportunity for Weisbrodt to affix his personal visionary seal on the organization he is about to pass on to other hands. And this year's festival is indeed a radical revisioning.
As opposed to the multiple outdoor venues of past years, music at Luminato will resonate from six sites all located within the caverns of the decommissioned Hearn Generating Station, as well as in one outside site, the Biergarten. Weisbrodt has chosen to program almost all Luminato events at the Hearn, dubbed by one wag "Toronto's concrete cathedral." It's an immense edifice of interconnected industrial buildings most notable today for its imposing mid-century industrial brick and concrete presence on Toronto's waterfront.
At one time the largest enclosed space in the country, the Hearn is three times larger than the Tate Modern art gallery in London. How big is that? The festival promo puts it into perspective: the "Statue of Liberty fits in it upright (or on its side)."
With 17 days of programming under one roof, "creating an exceptionally rich and uniquely integrated global cultural experience" becomes a more achievable lofty aim than past efforts to try to animate the whole downtown core. That being said, finding a world music through-line in their programming this year has proven to be a more difficult task than in some past years. One site however where it does appear is at the Bavarian-style Biergarten, where senior music curator Derek Andrews has programmed a lively mix of daily evening performances at the New Canadian Music Stage. Sponsored by Slaight Music, some of the themes Andrews explores this year in his roster of 14 acts include music from Francophone, Persian, Aboriginal and "roots" artists.
Andrews, in a late May phone interview, drew my attention to a Biergarten performance by the exciting Toronto female vocal quartet Nazar-i Turkwaz (My Turquoise Gaze), Saturday, June 11. The quartet is comprised of Brenna MacCrimmon, Maryem Tollar, Sophia Grigoriadis and Jayne Brown, four remarkable musicians who have, over their careers, immeasurably enhanced Toronto's world music scene, as well as individually performing on numerous video and film soundtracks and theatrical productions. For over three decades they have collected and performed traditional repertoire from the Middle East and Turkey, Greece and the Balkans. In Nazar-i Turkwaz, they collectively explore this repertoire, creating their own arrangements, cultivating in their vocal alchemy a very satisfying sonic union.
Sunday June 26, at the other end of this year's Luminato Festival, Biergarten-goers will find the Toronto-based band Zuze. As far as I could find out, it is comprised of Iranian and Azerbaijani musicians. Relatively new on the Toronto scene, Zuze presents a self-described signature mix of "popular & folk melodies of Iran and Azerbaijan set to Afrobeat rhythms."
The most unusual and perhaps the most inclusive event at this year's Luminato is scheduled for June 22. "Iftar at the Hearn" is billed as a "free, inclusive event welcoming newcomers from Syria." Iftar is the meal served to break the daily fast during the month of Ramadan. A social event involving family and friends, iftar provides an opportunity to share food as an act of kindness and generosity with members of the community. Toronto has recently welcomed thousands of Syrian refugees and Luminato brings together performers from across the city, as well as food and refreshments, to welcome and celebrate the presence of the newest arrivals to our famously multicultural city.
The free event opens with a greeting by the Ojibwe elder Duke Redbird, a journalist, activist, businessman, actor and administrator, followed by music by the Nai Children's Choir, a Toronto community group singing in Arabic, English and French. JUNO nominee Cris Derksen then performs on cello in an artistically edgy set with her trio which includes Aboriginal hoop dancer Nimkii Osawamick and drummer Jesse Baird. Derksen aims to blur genre expectations with her "electro-aboriginally influenced" cello compositions.
Capping the Iftar at the Hearn evening, just prior to the communal meal with traditional Syrian and Middle Eastern food, is a performance by Toronto dancer-choreographer Sashar Zarif. His set features collaboration with two leading young Azerbaijani musicians, the kamancha virtuoso Elnur Mikayilov and award-winning mugham singer Mirelem Mirelemov. Zarif is a multi-disciplinary performing artist, educator and researcher whose "artistic practice…is steeped in the artistry and history of traditional, ritualistic, and contemporary dance and music of the Near East and Central Asia." He has toured widely "promoting cultural dialogue through intensive fieldwork, residencies, performances and creative collaborations." Integrating dance, music and poetry the trio take themes from Sufi poetry in an enactment of sama (sufi ritual of dance music and poetry) for iftar, thereby celebrating the peaceful spirit of Ramadan and setting the mood for the communal supper to come. It sounds lovely.
Harbourfront Centre: Perhaps the granddaddy of all current Toronto summer music festivals happens down at Harbourfront Centre. For more than 40 years it has striven to present a cross-section of the "mosaic of cultures from within our country and around the world." I was among its early-adopter audiences and a frequent visitor, along with my children when they were young, enjoying its eclectic, though typically high quality music programming. Along the way I learned a great deal about diverse musics. It served me well in my various future careers – including this one!
One of Harbourfront's charms is the intimacy of most of its venues. It's where I saw and met many international musicians over the years, some of whom, like the Malian singer and guitarist Ali Ibrahim Farka Touré, subsequently went on to grand international careers. I saw him perform a laid-back but nevertheless memorably musical concert at the 150 to 250 seat Lakeside Terrace within sight of the sunlight glinting off the lake.
This summer's family-oriented themed weekend festivals in July include too many to discuss in detail here. I will however give my picks. Starting with "Ritmo y Color: The Streets of Mexico," July 15 to 17; we move to the Caribbean in "Island Soul" July 29 to August 1. The following month "Habari Africa" co-produced by Batuki Music Society, highlighting the "cultural diversity of global Africa," will take over the Centre's venues August 12 to14. The next weekend "TAIWANfest: A Cultural Tango with Hong Kong" is in the house August 26 to 28.
September 3 to 5 Harbourfront's festival season comes to a close with the "Ashkenaz Festival," produced by the Ashkenaz Foundation in partnership with Harbourfront Centre. It is North America's largest celebration of Jewish music, art and culture and its musical breadth and depth warrants a story of its own, perhaps in the next issue of The WholeNote.
Summer Music in the Garden: Another summertime music success story has been the annual Summer Music in the Garden concert series. It is produced by Harbourfront Centre in partnership with City of Toronto Parks, Forestry and Recreation, with the support of corporate and individual supporters. Located in a pleasant garden setting along the lakeshore, it's free, though donations are welcome. The 17th edition of Summer Music in the Garden runs most Thursdays at 7pm and Sundays at 4pm, weather permitting, from June 30 to September 18 in the Toronto Music Garden.
With Tamara Bernstein returning to her artistic director duties, the 18-concert program this year looks as eclectic and exciting as usual. I won't pretend to be all-inclusive; but here are my picks from the Garden's crop.
July 21: Persian percussion specialist Naghmeh Farahmand and young setar soloist Pejman Zahedian present "Becoming One with Universal Love: Ancient Persian Music for a New Age."
July 24: Toronto-based Subhadra Vijaykumar, violin, Vasudevan Govindarajan, mrdangam, and Ramana Indrakumar, ghatam, present "From the Banyan to the Willow Tree," featuring the melodies and rhythms of Carnatic classical music of South India.
July 28: Tamara Ilana and Ventanas have been making waves in the city's world music scene for a number of years. The six-member group presents a "trans-Mediterranean" program of North African, Balkan, Turkish and Spanish music.
August 7: Multiple JUNO-winning banjoist extraordinaire Jayme Stone, and his friends (Kristin Andreassen, voice; Sumaia Jackson, fiddle; and Joe Phillips, bass) return to the Summer Music in the Garden with "Deep River of Song." They will perform from their impressive album Tabula Rasa, featuring songs collected by American song collector Alan Lomax.
August 11: Sadie Buck and the He hi ye Girls present traditional and contemporary Haudenosaunee (Iroquois) music in their concert, "The Sweet Sound of Our Nature." It's rare to hear these songs cherished by the people who made their homes here before most of us, performed in public in the city. This is one opportunity I'll be sure not to miss.
August 18: Nagata Shachu, Toronto's leading taiko ensemble, returns to the lakeside garden with roaring rhythms and soaring melodies performed on Japanese instruments made of wood, metal and skin.
August 21: The Bachands, consisting of Qristina Bachand, violin/voice, and Quinn Bachand, guitar/banjo, perform "All in the (Celtic) Family." Expect Celtic roots music by the award-winning brother-sister duo.
QUICK PICKS
Lulaworld 2016, presented by Lula Music and Arts Centre, continues its festival into the second week of June with concerts every evening until June 10. Check the listings for details.
Aga Khan Museum: June 12 World Music Series: "Dusk to Dawn" features the renowned dancer Pandit Birju Maharaj in a program of kathak dance and Hindustani music. August 4 the Fanna-Fi-Allah Sufi Qawwali Party perform Sufi devotional music. August 11 The World Music Series presents the Mehmet Polat Trio in a program of Ottoman, Anatolian, Balkan and West African musical traditions played on the ngoni, oud and ney.
Cultura Festival, North York: Mel Lastman Square is home July 8, 15, 22 and 29 to an un-ticketed outdoor community-centric family-oriented arts festival. Each Friday night in July different musicians, buskers, art activities, international street food and films are featured. As of press time the programming hadn't yet been released, so check the festival website or print media closer to the festival dates.
Roy Thomson Hall: Live on the Patio: The concerts, which take place throughout the months of June, July and August, transform the Roy Thomson Hall patio into an outdoor downtown music venue. Groups such as Lemon Bucket Orkestra, Hampaté and Sahel Blues, Salsa y Fusion, Samba e Forró with Flavia Nascimento and World Fusion with the Villalobos Brothers and Alberto de la Rosa help enliven the large space a level down from King Street. Again, the listings hold the keys to the dates.
If you see me relaxing at one of these concerts, please say hello. And may you have a pleasant music-filled summer.
Andrew Timar is a Toronto musician and music writer. He can be contacted at worldmusic@thewholenote.com.
Details

Andrew Timar
To quote the chorus of a 1980s song, Up Where We Belong,"Love lifts us up where we belong/Where the eagles cry on a mountain high." Substitute the word "Spring" for "Love" and I'm singing along at this season with its onset of new green growth, and with its promise of renewal. All it takes is the first stretch of warm weather to melt even this crusty scribe's professorial attitude. So seasonally activated, my mind wanders easily far beyond my concrete condo to the wilds of the mountain high, to the sound of the soaring eagle's cry – the song's haunting metaphor for human love surmounting obstacles.
Though those lyrics seem to evoke a geo-spiritual alpine terrain far removed from our urban landscape, yet the two-metre wingspans and the morning cries of the majestic bald eagle are making a regional Ontario comeback. Along the vast stretches of the northern shores of the Great Lakes, hundreds of confirmed breeding pairs have been reported in the past decade. It's a heartening sign that efforts to rehabilitate our near-urban local environment appear to be bearing fruit. Mind you, I don't feel compelled to personally witness those high-flying raptors in action; even the thought of their living presence nearby is enough to make this confirmed urban Torontonian's heart soar.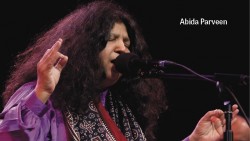 Abida Parveen, "My audience is my God": This season is full of human music too. May 15 the voice of Abida Parveen, unequivocally described by The Guardian as "the greatest female Sufi singer in history" – an opinion shared by many others by the way – will echo in the cavernous aerie of Roy Thomson Hall, her voice expressing the various colours of our species' yearning for union with the divine.
The Pakistani singer is an acclaimed Sufiana kalaam (Sufi music) exponent. Her primary mode of expression is through two poetic song genres, ghazal and kafi (a solo genre accompanied by drums and harmonium that uses a repertoire of songs by Sufi poets in Urdu, Sindhi, Saraiki, Punjabi and Persian). Taught by her father, Ustad Ghulam Haider, and by Ustad Salaamat Ali Khan, she has amassed legions of fans in her four-decade international career. The Icelandic diva Björk, a shrewd judge of both extreme vocalism and passion, counts herself among them.
Co-presented by the Aga Khan Museum and Roy Thomson Hall, this concert is undoubtedly a special one. RTH's director of programming and marketing, Chris Lorway, has dubbed it a "once-in-a-lifetime opportunity for Toronto." In his comments prepared for this column, Lorway emphasized its inter-institutional dimensions. "The chance to present an international icon like Abida Parveen is a thrill for us, and we could not have done it without the partnership with Amir and his team at the Aga Khan."
Lorway also underscored the importance of reaching out to the diverse enthic, national and faith-based communities in the city. "As we strive to make our venues more reflective of the city of Toronto, these collaborative initiatives are the only way forward. They allow us to combine our collective audiences of music lovers and the culturally curious in a way that has long-term benefits for both organizations."
For his part Amirali Alibhai, head of performing arts at the Aga Khan Museum, noted that Abida Parveen "has taken the kafi form of musically rendering the poetry of great mystics to new heights, which is quite significant for a practice that is traditionally dominated by men. Performing in several languages, Parveen's interpretations cross barriers of understanding through her passionate and possessed vocal expression." Making a bold comparative leap across cultural boundaries, Alibhai aptly observes that "she is to Sufi music what Aretha Franklin is to soul."
In addition he makes a well-observed case for the important role concert venues can play, "to bring such presentations out of less-than-ideal stadium and make-do venues into respectful spaces, bespoken for art and possessing exceptional acoustics, as is fitting for esteemed artists such as Abida Parveen."
A respectful space is what Parveen's spiritually motivated performance deserves. "My culture – our culture – is rich in spirituality and love," she told The Guardian reporter Nosheen Iqbal in 2013. "Sufism is not a switch, the music isn't a show – it's all of life, it is religion. If I want to be recognized for anything, if we should be recognized for anything, it's the journey of the voice. And that voice is God's." Parveen has been known to enter an altered consciousness while deep in performance. As The Guardian article observed, "she regularly sends her audiences in Pakistan and India into swaying raptures, swooning and fainting being quite standard reactions."
And her fans admire and adore her as much as they do her fellow compatriot singers, the late Mehdi Hassan (1927-2012) and Nusrat Fateh Ali Khan (1948-1997). She freely returns that love. "Poor people, rich people – we are all God's servants…I'm lucky. My audience is my God."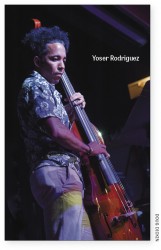 Lulaworld: From June 1 to 11 is the annual Lulaworld festival, presented by and at the Lula Music and Arts Centre. Now in its 11th year, Lulaworld is a showcase for Toronto's world, jazz, blues and Latin musicians, providing them a welcoming stage to present their latest work to local audiences, and encouraging collaboration, this year with more than a dozen celebrated international guests. The goal of the festival is to highlight "the incredible breadth and calibre of the Toronto world and Latin music scenes."
In addition, the festival will also include a day of free outdoor programming as part of Dundas West Fest on June 11, plus family workshops and a Brazilian parade that anyone can participate in. As in years past there's just too much going on during the festival to weigh in on every concert, so I'll just have to be satisfied with providing a little colour swatch of the entire 11-day tapestry.
Kicking things off June 1 is "Lulaworld: Opening Night Party," a night chock-a-block with Latin, jazz, pop, blues and world music, co-presented with the Toronto Blues Society. Added bonus: arrive before 8pm and you're joining the party for free. Headliners include Cuban-born, Toronto bassist, Yoser Rodriguez, whose debut album, Pollen, employs the talents of some of Toronto's finest Latin jazz players. Rodriguez has been touted as "the next generation of genre-defying Cuban singer-songwriters." Taking the stage next is Hamilton-based Laura Cole, her soulful and bluesy voice reflected in her debut album, Dirty Cheat. The album was crafted by Grammy-winning producers Steve Bigas (Taj Mahal), and longtime multiple top-tier album producer Daniel Lanois.
Rounding out the night is the guitarist, singer-songwriter Cécile Doo-Kingué. While her parents were from Cameroon, she was born and raised in NYC. Now based in Montreal, she blends blues, soul and jazz with her African roots with a sure hand, having shared the stage with the Blind Boys of Alabama and opened for Angélique Kidjo and Youssou N'Dour.
June 3 the Gabriel Palatchi Trio and Charangón del Norte take over the Lula Music and Arts Centre. Led by Toronto-based multi-instrumentalist Wilver Pedrozo, his 13-piece ensemble Charangón del Norte fuses Eastern Cuban changüí with other Caribbean music-dance genres including merengue, calypso, soca and Latin jazz. The group boasts a distinctive triple trombone section reflecting bandleader Pedrozo's upbringing in Southeastern Cuba where influences from Colombia, Mexico and Jamaica are part of the region's everyday musical fabric.
Evergreen: Whenever it comes to writing about concerts by the Evergreen Club Contemporary Gamelan, Canada's pioneer ensemble exploring common grounds between world and avant-garde musics, I mention, in the interests of full disclosure, my career-long involvement with the ensemble. There. Just did it again.
That being said, May 19 ECCG celebrates its latest CD, Higgs Ocean: New Music for Gamelan and String Quartet, in performance at the Music Gallery. The concert highlights its artistic director and soloist, Blair Mackay, plus its guest the Accordes String Quartet. Ten years in the making, ECCG's CD is surely among the first albums dedicated to the striking combination of ECCG's tuned percussion-rich gamelan degung indigenous to West Java Indonesia, and the string quartet indigenous to central Europe. The album contains Canadian composer Michael Oesterle's powerful Higgs Ocean (2008) for that instrumentation. Innovative works by Mark Duggan, Ana Sokolović, Peter Klanac and Linda Catlin Smith round out this all-Canadian album by the Toronto ensemble. Audiences will hear samples of that repertoire.
In addition, the ECCG has commissioned a new work for this exciting transcultural sound combination: Canadian composer Linda Bouchard's as yet untitled piece will receive its world premiere at the concert. A work for gamelan soloist and electronics by another Canadian composer Ronald Bruce Smith is also on the premiere docket.
World Fiddle Day: May 21 is the fourth annual World Fiddle Day Toronto, the second held at Toronto's Fort York National Historic Site, at the Blue Barracks. Last year's event hosted 96 players in the Around-the-World Jam – WFD's signature concert featuring music from at least 25 cultures – accompanied by a top-level house band led by violinist, ethnomusicologist and WFD artistic director Anne Lederman.
Aiming to present a global musical perspective, last year's "Fiddles at the Fort" featured both workshops and a concert with South Indian violinist Subhadra Vijaykumar and The Metis Fiddler Quartet, among others. The young violin students of Sistema Parkdale and Rosedale Heights School of the Arts participated in the workshops. This year's roster includes fiddlers Rosalyn Dennett (Appalachia), Dan MacDonald (Cape Breton), Mark Marczyk (Ukraine) and Yosvani Castañeda (Latin America), each representing their own cultural practice as it has evolved in Toronto today. Dozens of fiddlers of all stripes have been practising tunes from around the world for the Around-the-World Jam, some for as long as three months. I expect moments of the jam will take some listeners soaring well beyond the confines of Fort York's Blue Barracks.
Andrew Timar is a Toronto musician and music writer. He can be contacted at worldmusic@thewholenote.com.
Details

Andrew Timar
This month I have two tales to tell of musical diversity in this city: a tale of two presenters. One is of beginnings and continuity, while the other of (perhaps temporary) endings. Each story has a different focus, yet they run parallel in their organizers' mission of service to our city's heterogeneous communities of musicians sounding the music of the world's peoples and in their sincere dedication to serve globally curious listeners.
One door closes: The first story began early in March 2016 when I read Donald Quan's post on his "Musideum Performers & Supporters" Facebook group page. I've often written about what happens at Musideum - A World of Musical Instruments in these pages. Quan opened its doors in late 2007. He summed up his retail music store enterprise as a "look at music through the eyes of [ethnically diverse] musical instruments." He explained the name is an amalgam of three concepts: museum, music and deum. Inspired by his own challenging life journey over the past six years, he then morphed the Musideum into a special live concert room, inspired by an inclusive vision in which "everyone, regardless of their beliefs, religion, age or what part of the world they are from, can truly love one another and coexist in peace simply by speaking the magical language of music." And he's kept the place buzzing until today.
For those unfamiliar with its activities, Musideum has been a unique fixture in Toronto's music scene. It serves as a retail world-music instrument store by day. By night, starting about five years ago, it's been the venue for a very dense schedule of concerts in its intimate living room-like space - that's if your living room was chock-a-block with working instruments from around the world.
It's also the only store I can recall where John Cage's seminal score 4'33" was on prominent display, not as a prop but as a potent symbol of musical diversity – and merchandise.
John Terauds put his fingers on the special mojo of Musideum in a May 24, 2008, article The Star. "One customer was so inspired by the movie Kill Bill that he had to go out and get himself a Chinese bamboo flute. Until now, finding an ethnic folk instrument from a culture not one's own […was quite problematic]. But the mix of world cultures in Toronto has finally reached a point where an enterprising local musician thinks it worthwhile to open a store that offers musical instruments from several cultures from around the globe."
Quan's recent Facebook announcement, however, signalled a fundamental change in direction: "As I am extending my personal hiatus until late 2016, I am sad to announce that Musideum will be closing its doors as a store and venue at 401 Richmond on April 2, 2016. The Musideum name will live on and will be parked until a new opportunity arises. It will reawaken when the time is right."
The Toronto-born Quan, a musician and multiple award-winning composer of hundreds of television, film, radio and multimedia productions, stated that he needed to "take a well-deserved break, travel to see family, rest [his] weary brain and formulate some new and exciting projects for perhaps late in the year." He continued that although the impetus for this "change was mostly for health reasons, it is also [because of] the need to watch my kids grow up and to spend more time with family and friends. I also need a few months dedicated to practising to get my playing up to where I was before the [2007] stroke."
Musideum will be sorely missed. From the earliest days, Quan has thrown its doors open across numerous musical genres that thread through the city. I counted over 20 active Facebook pages he set up with straightforward names like "Musideum Invites Indigenous Music." (Long a contributor to the Canadian Aboriginal music scene, Quan was honoured in 2007 with the Music Industry Award at the Ninth Annual Canadian Aboriginal Music Awards.)
Other communities were encouraged to participate too on their own Facebook pages. "Musideum Invites Indian, South Asian Music," "Musideum Invites Experimental/Improvised/New Music," "Musideum Invites Singer-Songwriters" and "Musideum Invites World" are just a few examples of his global embrace. These pages collectively garnered thousands of "likes."
Within a week of his announcement to close, Quan reached out to community musicians, again on social media, to help in programming six concerts during the second half of March. Or as he put it, "to squeeze some final concerts in before Musideum closes up shop." True to form, each show had a different genre focus. I was invited too, and that's how I found myself on the pocket-sized stage playing Indonesian suling (bamboo ring flute) with Iranian drummer Naghmeh Farahmand and cavaquinho player Nuno Cristo on the designated World Music night, Thursday, March 17. About 14 other Toronto musicians took their turns too, including flutist Ron Korb, recently nominated for Best New Age Album at the 2016 Grammy Awards.
Fittingly, Quan served as MC. He spoke passionately about his dream space where he had tirelessly programmed well over 1,600 concerts in the last five-or-so years. Given that pace, and the fact that Musideum has been a hands-on manifestation of one man's passion, it's no wonder he needs an extended break.
Though closing his store/venue was "one of the most difficult decisions in my life to make," Quan nevertheless views it as a "decision that heralds a new positive, healthful, personal and creative direction for me." As a parting gift to the larger Musideum community of musicians and store customers, he has announced a "special inventory sale" for performers on April 3 and for the public on April 4.
I already miss Musideum. I, for one, will treat Quan's wish to "awaken [the space] when the time is right" as a promise, not just a hope.
Another door opens: From April 6 to May 29, in some 14 staged concerts and many more events at several venues across the GTA, Small World Music presents its 14th Asian Music Series, with the financial support of the TD Bank and in partnership with an array of other presenters. Fittingly, this year the series marks Asian and South Asian Heritage Month.
This year's AMS program features "a strong female presence, with two of the most significant artists in South Asian music - Anoushka Shankar and Abida Parveen - performing." As well as Indian and hybrid Indian music on stage, GTA audiences will also have the opportunity to witness leading performers of Japanese, Chinese, Pakistani and Iranian music, along with Latin, ethnic chaos and "telematic music." The latter is described on the Small World Music website as "live performance via the internet by musicians in different geographic locations, celebrating the notion of a smaller world."
In a bid to reach core audiences, AMS concerts take place at venues big and small, in and out of town. Roy Thomson Hall and Koerner Hall alternate with the Flato Markham Theatre, Japanese Canadian Cultural Centre, Aga Khan Museum Auditorium and Lula Lounge. The charming, intimate Small World Music Centre holds down home base.
New this year, Small World Music Society executive director Alan Davis and his team have cooked up an intriguing way to bundle concerts for audiences. These curated concert sets are conveniently tagged City, Fusion, Soul, Global, Classical and Legends. Those buying into a set of concerts also receive additional coupons for South-Asian themed self-improvement activities such as yoga, tabla or bansuri lessons, in addition to more typical bundle benefits of a coupon (e.g. admission to the Royal Ontario Museum) and of course discounted prices. It's an interesting way to systematically extend the tools of partnership, a presentational and marketing skill that Davis and Small World has honed to a keen edge over the years. It is perhaps a key ingredient in the company's success, a success which in turn enriches our entire community. It echoes a central aspect of Small World's mission: "to promote understanding between cultures."
Equitably reflecting such a sprawling mosaic of concerts is certainly beyond my means here. Probably the best tack is to put the spotlight on a select few April AMS concerts, leaving the later May shows to the next issue of The WholeNote.
April 6 AMS launches with a Koerner Hall presentation of the reigning diva of the world music sitar, Anoushka Shankar. About eight years ago, I reviewed her last appearance there with her late father, Ravi Shankar, for readers of this magazine. She has emerged since with increasing assurance not only as a sitar player, but also as as a composer in her own right, and as a collaborator with djs, dancers, flamenco musicians and singers and with Western orchestras. In her commercially successful albums, she has explored the interstices between Hindustani music and other genres, plus paying musical tribute to her father's vast legacy. Her fourth album, Land of Gold, is slated to be released just days before the concert, so I have no details to share of it yet. I am, however, sure that the audience will hear Shankar and her accompanists featuring music from the new album.
The next day on April 7 the venue switches to the Japanese Canadian Cultural Centre which presents a concert titled "Tsumugu." Featuring Japanese musicians, Keita Kanazashi, Anna Sato and Chie Hanawa, it's a mixed program: folk songs from Amami Island along with "bluesy" Tsugaru shamisen of Aomori prefecture, and coming to a thunderous climax with taiko drumming aimed to evoke the Japanese spirit.
Saturday April 9 Wu Man and the Shanghai Quartet take the stage of the Flato Markham Theatre, just north of Highway 7. That's unfortunately well beyond the reach of the TTC for those who love "The Better Way," but judging from pipa virtuosa Wu Man's moving performance last year with the Silk Road Ensemble at Massey Hall, it's a journey this downtown music lover will want to make. Presented in association with Flato Markham Theatre, the concert headlines Wu Man; abundantly gifted as a musician she has been called a "force of nature" by Gramophone magazine. Dusted magazine also praised her performance, describing it as deftly combining "earthly energy and celestial delight." Her masterful musicianship has also inspired several composers, including Terry Riley and Tan Dun. The Shanghai Quartet, among today's leading string quartets, will join Wu Man in a program of music composed or arranged by Chinese musicians called "A Night in Ancient and New China." Perhaps I'll see you there.
Our last peek into the Asian Music Series this issue: Indian master sitarist Shujaat Khan and Toronto vocalist Ramneek Singh take us deep into North Indian cultural poetics and centuries-old mystical traditions. Presented by Aga Khan Museum on April 29, the double bill concert, titled "Reflections on Kabir and Khusrau," is presented in the museum's Great Poets Series. Kabir was an important fifteenth-century Indian mystic, poet and saint. Amīr Khusrau (or Khusraw, CE 1253–1325) of Delhi was a Sufi musician and is often regarded as the father of Qawwali. His contributions to the advancement of poetry and music were immense and place him at the heart of the cultural history of the Indian subcontinent. In music, Khusraw is credited with the introduction of Persian, Arabic and Turkish elements into Hindustani classical music, as well as with originating khayal and tarana forms, features still central to the music today. It's a pretty safe bet we will hear vivid performances in both forms by Shujaat Khan and Ramneek Singh.
From Anoushka Shankar, one of the newest and most syncretistic voices in Hindustani music today, we get to sonically travel to one of the tradition's oldest innovators, represented by Khusraw - all in the space of one Toronto festival!
Like Donald Quan's Musideum, that's some story too!
Andrew Timar is a Toronto musician and music writer. He can be contacted at worldmusic@thewholenote.com