Toronto, meet TONE.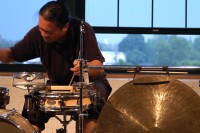 A new undertaking by Karen Ng, Tad Michalak, Ron Gaskin and Daniel Pencer, TONE is a newcomer to the local summer festival scene this month. But unlike other festivals this summer, this one focuses exclusively on experimental music—programming a breadth of artists known for their adventurous approach rather than zeroing in on specific genres or styles. And unlike most other first-time projects, TONE—which features no less than eight concerts between June 14 and 29—has a scope that echoes that fearlessness.
In a recent interview with NOW, organizer Tad Michalak talks about how TONE was conceived as a way of filling a void, in a city that often omits experimental music from its summer festival offerings. "Year after year, it got disheartening to see a scene we worked year-round to build and invigorate get ignored by many major festivals," he explains to NOW's Carla Gillis. "TONE came about essentially out of necessity."
If their goal was to do something about the dearth of summertime avant-garde music in Toronto, then TONE is a promising start. The festival features several sets of improvised music from both local and international artists, and aligns itself with some of the most active local venues for experimental music in the city. Acclaimed Japanese percussionist Tatsuya Nakatani opens the festival tonight (Wednesday, June 14) at the Tranzac, with other concerts taking place there in the following weeks, as well as at the Burdock, Array Space, the Jam Factory, and Ratio—which, having just announced its closure as a music venue, will present a TONE show on Saturday, June 24 as its last-ever concert.
Apart from a mandate for supporting experimental music, the TONE team—each of whom has a wealth of experience running music collectives and curating experimental music of one kind or another during the regular Toronto concert season—has been intentionally indiscriminate about genre. It means, ultimately, that among fans of the avant-garde, there really is something for everybody. Beyond opening night and the Ratio show, other standouts in the festival lineup include a three-set show co-presented with the Music Gallery on Thursday, June 15, featuring groups DKV, Icepick, and Invisible Out; an appearance by Berlin-based pianist Achim Kaufmann's trio Grünen at Array on Monday, June 19 (in a double-bill with local group The Cluttertones); and a co-presentation with Electric Eclectics on Wednesday, June 21 at the Jam Factory, which opens with a performance by Ethiopian jazz accordion virtuoso Hailu Mergia.
Tickets range between $10 and $22 per show, with a 4-show pass available for $45 and a full festival pass available for $85—all of which are available at the door or in advance at Circus Books & Music, Rotate This, and Soundscapes.
Congrats to TONE for being bold, for making a plan for re-invigorating the summer experimental music scene, and for making it happen.
TONE, curated by Karen Ng, Tad Michalak, Ron Gaskin and Daniel Pencer, runs from June 14 to 29 in multiple locations throughout Toronto. For details, visit www.tonetoronto.tumblr.com.
Sara Constant is a Toronto-based flutist and musicologist, and is digital media editor at The WholeNote. She can be contacted at editorial@thewholenote.com.