Luminato: Two years ago, in one of my first columns for The WholeNote, I interviewed the creative team of Theaturtle's Charlotte: A Tri-Coloured Play with Music, Canadian librettist Alon Nashman, acclaimed Czech composer Aleš Březina, and legendary British director/scenographer Pamela Howard, as they were presenting a series of work-in progress performances at the Luminato Festival before touring to Europe. The play is inspired by the real life and artwork of Berlin-born Jewish artist Charlotte Salomon who was sent to Auschwitz at age 26 in 1942, and who in the last two years of her life created a sequence of nearly 800 paintings accompanied by text and musical references to which she gave the title "Life? Or Theatre?" – works which, against all odds, survived. At the time I was bowled over by the wild theatricality of their vision and the bright central message of hope in the arc of Charlotte's story.
This summer, they are about to go on another tour, this time to Israel, Ukraine, and the Czech Republic, with first, a one-performance-only send-off at Toronto's Hart House Theatre on June 1. Always curious about what happens over time to things I first encountered as "works in progress," I plan to attend and to reach out to the creative team again to catch up on what has been happening with this exciting show between world tours. Stay tuned!
This year is, again, a Luminato hotbed of creation including a number of exciting music theatre productions from both home and abroad. Stories shaped by political extremes, and the need to find a personal path through societies characterized by prejudice and oppression, again are highlighted particularly in two Canadian productions that caught my eye: Nicole Brooks' large scale a cappella Obeah Opera and Tim Albery's one-man (with one-piano accompaniment) Hell's Fury; or The Hollywood Songbook starring Canadian opera superstar Russell Braun.
Obeah Opera has been in the works for ten years, a project of personal passion for creator, librettist, and composer Nicole Brooks. Inspired by a desire to tell the untold story of the female Caribbean slaves who were as much a part of the Salem witch trials as the white women and men whose stories have been recorded, Obeah Opera uses Caribbean-inspired music and dance to tell that story. Drawing on transcriptions of the actual trials in Salem, combined with in-person consultation with African spiritual practitioners, Brooks has created a libretto and score focused on the experience of Tituba (the Caribbean slave whom we know from Arthur Miller's play The Crucible), and her fellow practitioners of "obeah" (witchcraft). A necessary story for our times, it is a reminder of the dangers of societal paranoia and also of histories lost that should be recovered and shared. The cast is 20 strong, all female, all singing and dancing. The dances, showcased last October as part of the Fall for Dance North Festival at the Sony Centre, won rave reviews for their superb theatricality and energy.
Hell's Fury; or The Hollywood Songbook, on the other hand, is a one-man musical journey through the life of Austrian Jewish Marxist composer Hanns Eisler. Based on a concept from well-known opera director Tim Albery, it was originally developed with Soundstreams and Soundstreams' artistic director Lawrence Cherney and given a work-in-progress showcase during Luminato last year. Eisler fled Nazi Germany in 1933 and landed in Hollywood where he worked successfully, composing many film scores including the Academy Award-nominated Hangmen Also Die (Fritz Lang) and None But The Lonely Heart (Clifford Odets). Privately, at the same time he was writing Hollywood Songbook, an evocative song cycle full of both wit and melancholy, often using for words, poems by his frequent collaborator Bertolt Brecht, weaving a tale of the horrors of Nazi Germany, the seductions of Hollywood, and a longing to return home. In real life, the seduction of Hollywood was interrupted in 1948 when the House Committee on Un-American Activities banished Eisler from the US, labelling him an "unperson." The storyline is woven through the songs of Eisler's own Hollywood Songbook, and is performed by acclaimed Canadian baritone Russell Braun accompanied by JUNO Award-winning pianist Serouj Kradjian.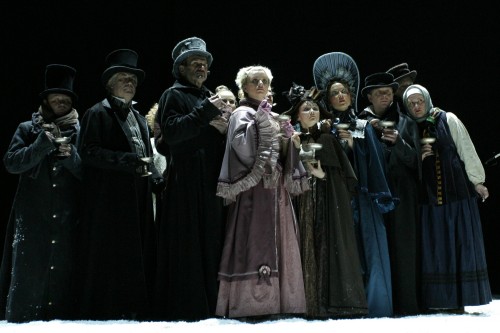 In contrast to these two overtly political story lines, and yet with a central theme illustrating the hidden masked cynical truths of society, is Masquerade, a lavish spectacle presented by the Vakhtangov State Academic Theatre of Russia, based on the verse drama of Russian poet and playwright Mikhail Lermontov. This production promises to be a tremendously theatrical event employing a clown-influenced physical theatre style of staging supported by and interwoven with a musical score by Faustas Latenas that incorporates the famous Waltz by Aram Khachaturian which was itself commissioned for a production of this play by the Vahtankgov Theatre in 1941. It also promises us "heaps of snow." Judging by last year's production of Uncle Vanya, this should be another theatrical feast.
Luminato runs from June 7 to 23 at various venues around Toronto; luminatofestival.com.
Stratford and Shaw
Once again we are entering the season of big musicals at the Stratford and Shaw Festivals. There is already great word of mouth about Stratford's production of Billy Elliot, the 2005 Tony Award-winning musical inspired by the 2000 film set during the British miners' strikes of 1984/85. Here again is a political setting, and a score that even includes a song, "Merry Christmas, Maggie," mercilessly mocking then-British prime minister, Margaret Thatcher. At the same time as depicting the destruction of a community, however, Billy Elliot is also a wonderful story of hope, of a young boy in a mining town who discovers an inborn talent for dance and finds a way to follow his dreams in spite of all the obstacles in front of him. Director and choreographer Donna Feore has reimagined the staging to work on the Stratford Festival thrust stage and talks in the show program about the inspiration of Elton John's brilliantly contemporary score. Billy Elliot plays at the Festival Theatre through November 3.
The Shaw Festival reaches further back into the traditional musical theatre canon to bring us a much more escapist romance than the musicals discussed above: Lerner and Loewe's 1947 classic Brigadoon, perhaps best known from the 1954 MGM movie starring Gene Kelly and Cyd Charisse. A brash young New Yorker, Tommy Albright, on holiday in the Scottish Highlands, falls in love with a girl from a magical village, Brigadoon, that only exists for one day every 100 years. After leaving Scotland Tommy finds himself torn between his increasingly empty life in the modern city and the love he left behind. Naturally there is a happy ending, though one could imagine a dystopian millennial sequel set 10 or 15 years later with Tommy now feeling trapped in the magical but tiny village. One of the great draws of the Shaw Festival's production will be seeing former Stratford musical star Alexis Gordon as Fiona. Brigadoon plays at the Shaw Festival until October 13.
MUSIC THEATRE QUICK PICKS
Around Ontario over the summer, there are many more musicals to be seen, with something for almost every taste. Consult our music theatre listings for details.
JUN 5 TO 22: Drayton Entertainment. Thoroughly Modern Millie. Huron Country Playhouse. The fun 1920s-set musical probably best known from the slightly goofy movie version starring Julie Andrews, Mary Tyler Moore and Carol Channing. And also from Drayton, Peter Colley's You'll Get Used to It!: The War Show, a nostalgic and fun Canadian look back at WWII with period songs, starting at St. Jacobs Country Playhouse, June 5 to 22, then continuing June 27 to July 13.
JUN 27, 8PM: Silly Stages. Chasing Rainbows. Songs of Judy Garland. Regent Theatre, Oshawa. The brilliant Canadian musical theatre star Louise Pitre sings Judy Garland.
JUL 24 TO AUG 16: Gravenhurst Opera House. Dean & Jerry: What Might Have Been. Created by Jesse Collins this two man show about Dean Martin and Jerry Lewis and their long partnership, has been gaining a growing loyal audience at summer stock theatres around Ontario.
Jennifer Parr is a Toronto-based director, dramaturge, fight director, and acting coach, brought up from a young age on a rich mix of musicals, Shakespeare, and new Canadian plays.