November is almost over and two shows stood out for me recently: The Musical Stage Company's Uncovered: Dylan & Springsteen with its brilliant storytelling through song, and the wild and wacky low-budget silliness of Christopher Bond's Evil Dead, the Musical – an incredibly clever tribute to and parody of musicals, low-budget horror movies and Sam Raimi's Evil Dead franchise in particular. (Good news is that the latter show's run has just been extended to January 7.)
Looking ahead to December there is a wealth of music theatre on offer. With the holiday season approaching, there are many family-oriented shows, including at least three versions of A Christmas Carol in which music is integral to the story and production. Ross Petty Productions gives us its usual anarchic take on a classic through the prism of the traditional English panto. At the Grand Theatre in London, new artistic director Dennis Garnhum is introducing himself to audiences through his own acclaimed version of Dickens' classic, described as "brimming with music, dance, and ... all of your favourite carols." And the Shaw Festival is joining the fray, with what I believe is their first Christmas season, in a production adapted and directed by new artistic director Tim Carroll with music direction by Paul Sportelli, movement and puppetry by Alexis Milligan, and as Scrooge, Michael Therriault, star of last season's Me and My Girl.
The Tale of a Town
In and among Toronto's rich smorgasbord of music theatre offerings to choose from, many of them not tied specifically to the season, two in particular (one in December, one in January) caught my eye because of their unusual – in different ways – weaving of music with text-based elements.
The second of the two, chronologically, is the Tarragon Theatre's rock-and-roll Hamlet commencing January 2. (You can read my interview with director Richard Rose elsewhere in the issue.)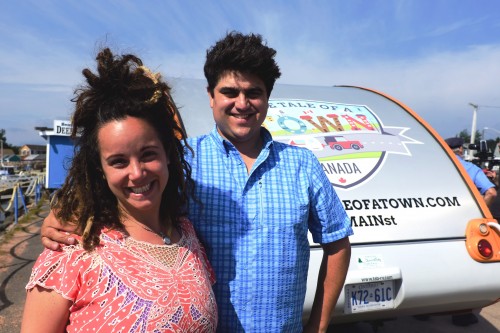 The other is Fixt Point's production of The Tale of a Town, the creation of husband-and-wife duo Charles Ketchabaw and Lisa Marie DiLiberto which returns to its starting place at Theatre Passe Muraille, December 14 to 17. Since the show's beginnings, Ketchabaw and DiLiberto have spent three years touring the country in their Storymobile (recording studio on wheels) gathering the stories and songs of communities from the Arctic to the East Coast and creating local performance installations. They also built a national story map that not only forms part of each local show but remains in place in each community, as well as online and as a ten-part series on TVO – a kind of national story archive.
I spoke with DiLiberto as well as with the show's current music director, Sophia Perlman, to find out some more details of the musical side of this project. What makes it "a musical"? was our starting point, and here is the essence of the conversation that followed:
DiLiberto: I wouldn't call it a musical per se, but music is an essential part of the process and the show, which features songs and audio and performance moments which are underscored live.
Perlman: You're right. It's not a musical, entirely. I am coming at this production from an early background in opera and music theatre, but with the last decade or so of my career being rooted mostly in jazz, blues and improvised music. Part of what I love about this piece is the process that has gone into preparing each show, and the insight that each member of the team brings to the table in terms of how music can help shape the story.
DiLiberto: For me, this is a real homecoming. We began this project at Theatre Passe Muraille, and have since toured to every province and territory in Canada gathering stories. To return back home to this theatre feels like the project is coming full circle. The music is such a huge part of the show. It reveals the essence of where we are, how we feel throughout the journey of the show. It lifts everything up into a heightened space – like in a musical – but in the case of this show it lifts up the audio, the verbatim performances, and helps us get from place to place. I'm so excited to share this epic story here in Toronto where it all began, partly because of how far it has travelled in the meantime. This production is a culmination of several years of touring, story gathering and local installation performances. During the process, we worked with these archives and adapted a lot of the score from the ideas and music created by the musicians who collaborated on these performances locally.
Perlman: And for me, personally, Queen West was one of the first communities that The Tale of a Town gathered stories from, and several places (like the coffee shop I used to go to in Parkdale and the Cameron House) are featured in the story. I lived in Toronto's downtown most of my life – and only left a few years ago. … After the amazing adventure I've had on the first part of this season's tour, it feels especially wonderful to have the chance to bring this story so close to home.
The WholeNote: So the version of the show we will see at Passe Muraille is still in development?
Perlman: We created a score that was an overall shape for the piece back in August and September. Lisa Marie [DiLiberto] is an actor, performer and musician, and there are songs that are sung by her and guest artists. She also plays cello and guitar! Charles Ketchabaw has a background in radio and audio tech and sometimes in terms of live music my role feels a bit more like leading a silent movie orchestra! But part of what drew me to this piece, creatively, was the fact that while the score has been "set" since August, the time we took in the rehearsal room to understand those choices has meant that everywhere we go the score can be adapted to fit different instrumentation, special guests or new local content.
DiLiberto: Each place we go there will be a new band, featured local guests and some kind of a choir ... Perlman: An amazing ad-hoc of musical collaborators and volunteers, you might say … And that becomes part of the story.
After the Toronto run, The Tale of a Town will hit the road again in January for dates in St. Catharines, Burlington, Milton and Kingston. See their website (thetaleofatown.com) for details or call 416-504-7529.
QUICK PICKS
To Dec 31: YPT's streamlined production of Disney's Beauty and the Beast, which started November 6, is aimed particularly at families and younger children and features a young, diverse cast including Celine Tsai, one of The Musical Stage Company's 2017 Banks Prize winners, as Belle.
Nov 23 to Dec 2: Two productions of the operetta Candide have popped up at the same time. Talk is Free Theatre present theirs at the Mady Centre for the Performing Arts in Barrie. Dec 28, 30, 31 and Jan 5, 6, 7, Toronto Operetta Theatre presents their take on the Bernstein/Sondheim classic at the Jane Mallett Theatre. Will the Barrie version have a more "musical theatre" approach?
Nov 28 to Dec 2: Randolph Academy presents the rarely seen musical Moll, with music and lyrics by Canadian composer Leslie Arden and book by Arden and Cathy Elliott, at the Annex Theatre. This is must-see for fans of Arden and Elliott.
Nov 30 to Dec 23: For fans of the comedy side of musical comedy, Theatre Orangeville presents a new Christmas musical, The Last Christmas Turkey, with book by Dan Needles, creator of the Wingfield plays, and music and lyrics by Clive VanderBurgh.
Dec 9 to Jan 21: For fans of the large-scale musical and for families over the holidays, Mirvish Productions offers a musical version of Dr. Seuss's The Lorax – music and lyrics by Charlie Fink, adapted for the stage by David Greig – at the Royal Alex; while Dec 12 to Jan 7, also from Mirvish, Million Dollar Quartet (which always seems to be playing somewhere) moves into the Panasonic Theatre.
Jan 12 and 13: There are only two days to catch triple-threat and Stratford star Juan Chioran, starring in Podium Concert Productions' concert version of Nine, the Maury Yeston and Arthur Kopit musical based on Fellini's film 8 ½, at Trinity-St. Paul's Centre.
Feb 4 to 25: Coal Mine Theatre, known for its riveting and dark-edged theatre productions, moves into musical territory with Rumours By Fleetwood Mac: A Coal Mine Concert. It will be interesting to see where this falls on the music theatre spectrum, particularly because artistic director Ted Dykstra is also well known for his accomplished work on musicals as both performer and director.
And more: for a more comprehensive overview of musical theatre listings over December and January, visit our music theatre listings on page 63 in this issue.
Toronto-based "lifelong theatre person" Jennifer (Jenny) Parr works as a director, fight director, stage manager and coach, and is equally crazy about movies and musicals.