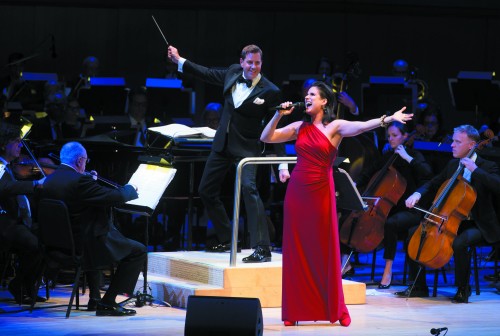 April provided a rich abundance of music theatre in Toronto from the traditional to the wildly experimental, from new creations to double adaptations. Early in the month the Toronto Symphony Orchestra celebrated the classic musical with the superb pops concert "On Broadway," under the skilled and energetic baton of Steven Reineke. On hand to sing the songs were the brilliant and brilliantly contrasting current Broadway stars, Canadian Ramin Karimloo (Phantom of the Opera, Les Mis) and Stephane J. Block (Falsettos, Wicked). These two stars had never worked together before and their personal styles could not be more different. Block, with a bigger, brasher belting style, practically channelled Barbra Streisand in a galvanizing Don't Rain on My Parade from Funny Girl and Karimloo, with a much quieter, focused presence, though equally powerful, captured the audience entirely with an exquisite rendering of Old Man River to his own classical guitar accompaniment partnered with principal cello Joseph Johnson. It was fascinating to see these giant talents each hold the audience in the palms of their hands and to come closer and closer as stage partners through various solos and duets, culminating in what felt like an anthem for each: Being Alive from Company for him and Defying Gravity from Wicked for her, and with a beautifully nuanced Move On by the two together from Sunday in the Park with George. It was an evening that reminded us of the power of the best Broadway scores to move our hearts with stories told through words and music; particularly in the hands of interpreters with such a profound connection to the material, with each other, the orchestra and the audience.
Other music theatre works attempting to take possession of our minds and hearts this past month ranged from a lesbian cartoonist trying to figure out her past in order to move on, a man trying to deal with a recent tragedy and escape his grief, a poor accountant whose life is irrevocably changed by the acquisition of a new coat, and an American GI staying behind in Paris after WWII to indulge his love of painting.
All but one of these are adaptations of other source material. Adaptations are often difficult to pull off, having to match script and score to the source and meet or exceed the expectations of an audience perhaps familiar with the original material.
Fun Home, the 2015 Tony Award-winner for Best Musical, based on lesbian cartoonist Alison Bechdel's acclaimed and bestselling autobiographical graphic novel, opened on April 17 at the CAA (formerly Panasonic) Theatre in a new production from the Musical Stage Company presented by Mirvish Productions. It connected so strongly with its first audiences that its run was immediately extended (currently to May 20). I wasn't familiar with the graphic novel before seeing the show, but the adaptation feels flawless. The characters are real, complex people, immediately recognizable; the script by Lisa Kron rings true and the songs by Jeannine Tesori (with lyrics by Kron) feel like necessary moments of heightened emotion, the musical style with a 70s feeling to it helping to create that sensation. The all-Canadian cast is excellent, led by Laura Condlin, Sara Farb, and young Hannah Levinson as central character Alison Bechdel at three different ages. (You can read my full review online on
thewholenote.com).
An American in Paris, another 2015 Tony Award-winner, also made its Toronto debut in April with the North American touring company coming to the Princess of Wales Theatre for a six-week run. In a way this could be looked at as a double adaptation. While this is a new stage musical inspired by/adapted from the famous MGM musical of the same name that starred Gene Kelly and Leslie Caron (and won a special Academy Award for the innovative and brilliant 17-minute American in Paris ballet that took Kelly and Caron's characters through a love story using panoramic sequence of Parisian painters), the film itself with a script by Alan J. Lerner, was built around earlier classic songs and works by George and Ira Gershwin.
In developing the new stage version, director and choreographer Christopher Wheeldon and book writer Craig Lucas have spoken in various interviews about how they wanted not to just "put the film on stage" but to create a new show with a deeper background. They wanted a more complex story, tied more closely to historical reality by setting it clearly in a Paris just beginning to recover from the ravages of occupation by the Germans. The first half of the show, I found, succeeds wonderfully in these goals. Paris slowly awakening from war and coming to life again becomes itself a character through the brilliant choreographed crowds who fill the stage from the top of the show, clearly signalling the style of the world we are about to enter. The characters we know and love from the movie are still there but slightly altered: Jerry Mulligan, the GI who has stayed after the war to paint, is here a slightly less confident character than in the movie, more uncertain in his talent, more affected by the war. Lise, Caron's character, has become an aspiring ballet dancer, but still works in a perfume shop, still torn between Jerry and Henri Baurel. Henri is no longer an established musical hall star but a would-be performer, though still in love with Lise. Interestingly, Oscar Levant's iconic cynical Adam has become the narrator and another would-be lover of Lise. Matthew Scott from the original Broadway company was so strong and likeable in this role that he stole the show from the other men.
While by intermission I felt won over by this new version of one of my favourite films, I found in contrast that the second half was a bit of a letdown, particularly in the iconic ballet sequence which here is very modern and abstract, and where Lise makes her professional debut and becomes a star. I found the choreography in this sequence dull and frustrating after the character and imagination elsewhere throughout the show, particularly in contrast to the movie, and not completely saved by the intense romantic pas de deux at its centre where Lise imagines that she is dancing with Jerry. I will say, though, that the audience around me did not seem to have the same reaction. It also seemed to me too easy and clichéd to make Lise a Jewish girl saved by Henri's family when her parents were killed by the Germans, instead of her being, as she is in the film, the child of Resistance fighters. Still, with those caveats aside, this is a show worth seeing, particularly for its re-creation and re-imagination of post-war Paris.
Overcoat: The other big new music theatre production, half opera, half musical, this month was the world premiere production of The Overcoat: A Musical Tailoring, a three-way co-production from Tapestry New Opera, Canadian Stage and the Vancouver Opera Company.
Highly anticipated as a new experimental exploration of Gogol's famous short story by Morris Panych (the director and co-creator of the famous wordless physical theatre production of The Overcoat 20 years ago that repeatedly toured here and internationally), The Overcoat: A Musical Tailoring is, as I wrote in The WholeNote last issue, also the first collaboration between Panych and acclaimed Canadian composer James Rolfe. When I spoke with Panych about the show before rehearsals began he talked about the scope of expectations that this new production was facing: people who had loved the original show so much and seen it many times told him they did not want to see this new version for fear that it would dilute that original experience. And yet the creative team were all so energized and excited by the possibilities of exploring the original source material again from new angles and with new artistic tools, that one couldn't help but feel as though they couldn't fail to bring something remarkably new to life.
The new Overcoat, with words and singers rather than purely physical performers, is definitely recognizable as a relative of the first production but also clearly something different. It realizes many of the goals of the creative team to explore more intellectual themes and ideas, and it explores the potential of melding purely physical theatre with new opera. To anchor the physicality, choreographed again by Wendy Gorling (co-creator of the original Overcoat), are two actors from that original company and while they stand out from the rest as they do not sing, they perform their function well of anchoring the audience's perception of the physical world in the style of movement presented, as well as leading the way for the rest of the cast. The singers do a wonderful job with the choreography, in fact seeming to revel in the extra theatricality, particularly the brilliant Peter McGillivray, a standout as singer and actor in his leading contrasting roles of Head of the Department and the Tailor.
The design team has created a clearly evocative world, a slightly macabre, slightly Dickensian, silent movie-in-looks world, dark with colours for highlights, faces all painted white with black-rimmed highlighted eyes exaggerating every facial expression. The music is clean and spare, toeing the line between new opera and new music theatre, occasionally going into flights of fancy (as when the tailor takes his snuff) and finding eerie harmonies for the mad-girl chorus who haunt the hero like an invisible three fates waiting for him to fall, commenting on his actions and predicting his end.
What I did miss was the odd aria, or solo song, to give the characters a chance to connect more deeply with the audience. Both librettist/director and composer spoke to me about wanting to give primacy to the words and ideas rather than musical ornamentation. But I missed the connection that an aria or solo can create between the stage and the audience, particularly for the lead character Akakiy, embodied well by Geoffrey Sirett, a simple man obsessed with numbers to the exclusion of almost everything else in his life. Oblivious to the attraction his rather Brechtian landlady has for him (she gets to tell us a little bit about this) he follows his daily routine and does sing to us a bit about numbers but not at any length or to any great depth. If the creative team still tinker with their creation as it goes on the road and goes into the opera repertoire I hope they will consider adding a solo or two.
Musicals, in my view, need to have these moments – in Fun Home, currently onstage, for example, the most powerful moments are captured in solo songs where the leading characters, unable to hold their feelings in, turn to the audience and sing. Middle Alison in Changing My Major and Small Alison in Ring of Keys, for example, offer clear moments of discovery for both characters.
That being said, there are some other very interesting dramaturgical choices that work well in this Overcoat. Taking Akakiy's original obsession with copying letters from the short story, turning it into an obsession with numbers and then throughout the libretto into combined themes of counting and measuring a man's worth, for example. The biggest dramaturgical choice that departs from the short story is the framing of the stage version with madness. When Akakiy loses his overcoat to thieves here, he goes mad rather than just getting mad, and the mad girls and physical performers become the inmates of a mad house where Akakiy ends up, wearing another sort of jacket altogether.
While there is a definite neatness to this concept, it is a bit frustrating in that it loses the universality of the original symbolism of Akakiy dying and his ghost continuing to haunt the streets stealing coats from passersby. There is a haunting moment in the staging where it looks as though this will indeed happen, but then it is gone. These caveats aside, this Overcoat is a highly accomplished, highly theatrical night in the theatre, and I'm sure it will live on and develop further.
QUICK PICKS
To June 3: Fans of TV Series Downton Abbey will be delighted to see Mrs. Patmore (Lesley Nicol) as Miss Hannigan in Annie (run extended to June 3), presented by Mirvish at the Ed Mirvish Theatre.
To May 6: Former composer for La La La Human Steps, Canadian Njo Kong Kie brings his musical collage Picnic in the Cemetery to Canadian Stage's Berkeley Street Upstairs Theatre.
Starting May 3: Grand Hotel begins at the Shaw Festival. Fans of the film starring Greta Garbo and John Barrymore may be curious to see this musical version.
May 4 to June 2: Soulpepper presents August Wilson's classic 1920s musical Ma Rainey's Black Bottom, starring Alana Bridgewater and a strong Toronto cast.
May 24 to June 17: Grease Toronto presents Grease. Music, lyrics and book by Jim Jacobs and Warren Casey. Winter Garden Theatre, 189 Yonge St.
Toronto-based "lifelong theatre person" Jennifer (Jenny) Parr works as a director, fight director, stage manager and coach, and is equally crazy about movies and musicals.