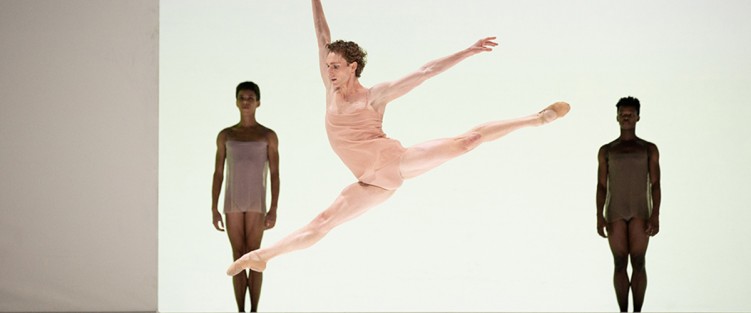 How does a theatre company stay connected to its audience when no one is allowed to be in the theatre to rehearse or perform, or to take part with the audience? As we have seen, the answer is usually to go online with shows that are live, pre-filmed, or a combination of the two, with the exact recipe varying from company to company and project to project. Nearly a year after the first lockdown began last March, the experiments in creating streaming content continue with a number of exciting new multi-part initiatives from three of our major companies debuting in early 2021.
National Ballet of Canada
Dance fans who have been missing the National Ballet of Canada's patented rich mix of full-length story ballets and mixed programs of shorter works that allow the company to experiment with cutting-edge choreography will be happy to tune in to the new Spotlight series on the company's website. Short films of ballet excerpts have been curated by artistic director Karen Kain to showcase the full range of ballet performed by the company's talented dancers and the wide variety of choreographers who have contributed to the repertoire. Each film debuts on a set date and remains available for 30 days for viewing online, at no cost, although donations are welcomed.
The series begins with Modern Masterpieces, a showcase of three exciting short works from the recent repertoire of leading contemporary choreographers Alexei Ratmansky, Jiří Kylián and Wayne McGregor, introduced by Kain. Immediately following is Power and Passion, which, in contrast, puts a spotlight on three full-length story ballets: John Cranko's gloriously romantic Onegin, Christopher Wheeldon's brilliant adaptation of Shakespeare's The Winter's Tale, and John Neumeier's non-linear version of Tolstoy's Anna Karenina. February 7 will see the digital debut of a full recent ballet: Robert Binet's The Dreamers Ever Leave You, inspired by the works of Group of Seven painter Lawren Harris. Dreamers was scheduled to be performed at Toronto's Harbourfront Centre this past fall before the pandemic made that impossible. Further films will follow every few weeks highlighting the works of choreographers John Neumeier and George Balanchine, Marius Petipa's classic The Sleeping Beauty, and a program of new works by Jera Wolfe, Alysa Pires, and Kevin Ormsby commissioned specifically for this project. For more information please visit national.ballet.ca.
While the ballet excerpts look wonderful on film there is no additional context supplied within the films themselves other than a short introduction to the series at the beginning of the first episode. And while there is detailed written information on the website about each ballet and choreographer, as an audience member I miss a more direct connection with what I am viewing. I hope that as the series continues the company will consider connecting more directly with audiences, certainly in the added web-based elements, and perhaps even within new filmed episodes as they are created.
Toronto Musical Stage Company
Toronto's Musical Stage Company, well-known for its excellent productions of socially relevant musicals, and incubation of new works, is already well on the path of experimenting with creating new ways to connect more directly with its audiences online: sharing with the public the masterclass talks from its Noteworthy composer/librettist program; and offering many different watch party options for its Uncovered concert this past fall.
This month, a new program is making its debut: The Musical Theatre Passport, responding to this desire for audience interconnectedness, while feeding our hunger for travel and new musical productions. Three unique virtual theatre outings are offered: to Vancouver, London (England) and New York, each including a curated pre-show chat with a member of the musical's creative team and facilitated post-show discussion and analysis with Musical Stage's artistic and managing director, Mitchell Marcus. The shows are an exciting mix, as well.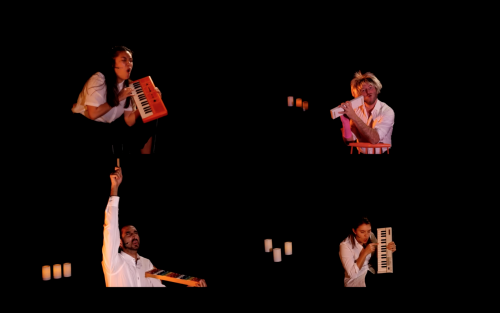 First up is Veda Hille and Amiel Gladstone's acclaimed popular hit, Do You Want What I Have Got? A Craigslist Cantata, livestreamed from all around The Cultch venue, with a fresh new perspective on social isolation. Second, is a bold new actor-musician production of Jason Robert Brown's The Last Five Years ‒ an award-winning, emotionally powerful show about two New Yorkers who fall in and out of love over the course of five years. And third, a performance- capture film of the 2015 Broadway musical Allegiance inspired by actor George Takei's own experience during the Japanese-American Internment during World War II.
The opportunity to share the experience of viewing these shows with others online and to hear from the shows' creative teams live is exciting. (For more information please see musicalstagecompany.com.)
I feel a song coming on!
Establishing this type of connection between audience and a show's creative team and company is also my favourite part of the Stratford Festival's online programming so far. From early last summer, Stratford has been giving us free livestreamed watch parties geared to their filmed Shakespeare productions on YouTube. The parties include new introductory pre-show (and sometimes also post-show) conversations among directors and cast members talking about the play, the approach and the rehearsal process – spontaneous interactions often including in-jokes and never-before-shared stories.
As the popularity of these Stratford watch parties has grown, so too has the desire of the watch party attendees to have the Festival do the same thing with their musical productions. Unfortunately this hasn't been possible, as filming most musicals (other than, say, Gilbert and Sullivan productions) is prohibitively expensive because of the rights involved. Understandable, yes, but on the other hand, fully 60% of the people who go to Stratford in normal times every season go for the musicals!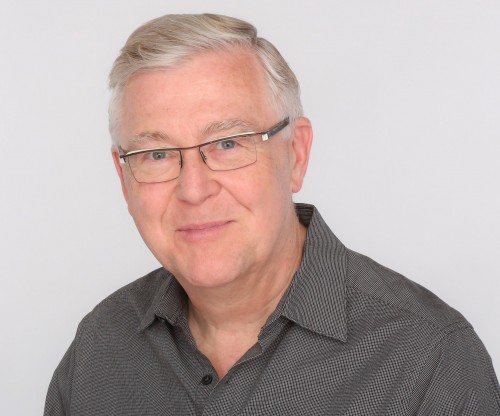 Knowing this, Richard Ouzounian, former Stratford associate director, longtime theatre critic and broadcaster, approached Stratford's artistic director Antoni Cimolino and executive director Anita Gaffney with an idea – to create a new musical series inspired by the cabaret scene he remembered from New York in the 1970s and 80s. "In those days," he says, "you could go to a tiny club and see a star perform onstage with nothing more than a microphone; all they would do is stand and sing and talk to you, but they would captivate the audience."
The series he proposed to Cimolino and Gaffney took this idea further. As he said to me, "Right now in the pandemic, I think people would like to be uplifted, but they don't want just fun and games. I have also often felt privileged in that I know a lot of the Stratford Company personally, and a lot of people out there don't. They know what they see onstage, but in some cases it is drastically different." This led him to the idea of letting each performer "speak for themselves." Once a list of performers was decided on, Ouzounian contacted each of them with the invitation to take part saying, "I want you to think of a story about your life right now that you want to tell us, and I want you to pick five songs that will help to tell that story. In between the songs you'll talk to us, sharing thoughts and bits and pieces of biography that illuminate things, telling the story you want to share."
"Nobody said no," he says, "but a lot of people were scared. In fact, Robert Markus, in his episode, says, 'I was terrified when they asked me to do this, because, you know, we're not used to speaking for ourselves as actors, we're encouraged to take other people's words and read them.'" Someone else asked if "everything was on the table" and they were told "yes" and that they would not be censored.
The only guidance given by Ouzounian in choosing songs was to say that "if there was a song that connected with their Stratford experience, to please use it, and that I would like the final number to have some sense of uplift or hope … Everybody does something different."
One of the hardest things, other than rehearsing and designing the show on Zoom, was getting the rights to use the songs, which took months. In some cases, rights could not be acquired and then the team of Ouzounian and music director Franklin Brasz would step in and help to choose alternate songs. The process has been intense, from the individual crafting of each episode, to Zoom rehearsals, to the filming with full production values (and under rigorous COVID protocols) in the Festival Theatre – the only fully staged performances of the 2020 season, though without any audience other than the production team watching.
So intense was the process that, while Ouzounian focused on the songs, he brought in another expert – veteran musical theatre and cabaret performer, Thom Allison – to work with the performers on fine tuning what they would say in between the songs.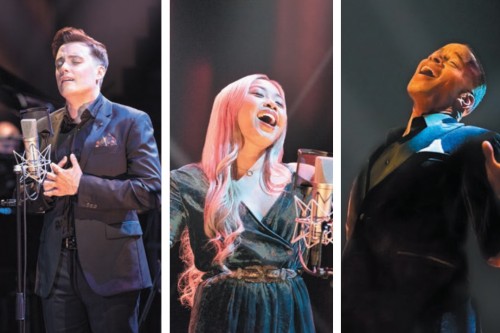 Having had the chance to pre-watch the first episode, Marcus Nance's Preacher's Son, which will debut on January 28, I have to say that the teamwork is impeccable. This first episode lives up beautifully to the series title, Up Close and Musical, alternating between stunning performances of the songs (with wonderful audio quality, rich lighting design and beautiful clothes) and the relaxed personal storytelling by a casually dressed Nance directly to the camera, not from the stage, but from a seat in the house. The tantalizing, mostly black and white, trailer for the series gives only a hint of the power of what these personal cabarets have achieved: a wonderful up close and personal introduction to some of Stratford's – and Canada's – top musical theatre talents: established Stratford stars Cynthia Dale, Dan Chameroy, Chilina Kennedy, Alexis Gordon, and Marcus Nance; more recent stars Vanessa Sears and Robert Markus; and newer members of the company Kimberley-Ann Truong who won over audiences for her comedic performances in The Rocky Horror Show and The Music Man, and Robert Ball, who would have made his Festival debut in the 2020 season.
Up Close and Musical will be available on Stratford's streaming service STRATFEST@HOME, with new episodes premiering every two weeks. Happily, each episode will also be part of the free weekly watch parties on Stratford's YouTube channel starting on January 28. For more information please visit stratfordfestival.ca.
Jennifer Parr is a Toronto-based director, dramaturge, fight director, and acting coach, brought up from a young age on a rich mix of musicals, Shakespeare and new Canadian plays.