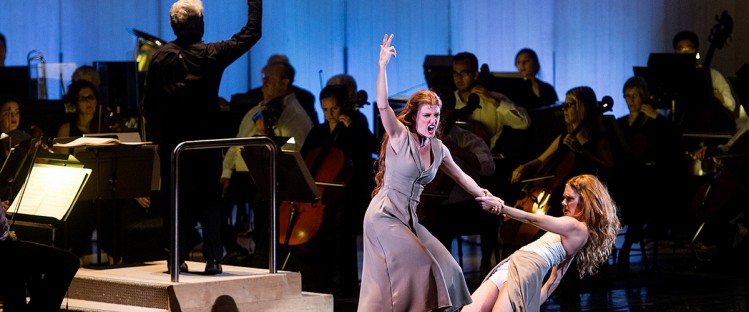 I have been friends with Jennifer Nichols since meeting as colleagues working at Opera Atelier more than ten years ago, and I have followed her freelance career with great interest ever since, sometimes reviewing or previewing her shows for The WholeNote: Kurt Weill's Seven Deadly Sins with the Toronto Symphony in 2017, for example which she choreographed and performed in, with mezzo Wallis Giunta; or 2019's Dora-nominated Pandora for FAWN Opera which, again, she both choreographed and danced in. One of the things I love about her work is how she is always looking for new challenges, new ways to push herself and discover more of what is possible in terms of choreography and performing to music.
In the May/June issue of The WholeNote, we found ourselves as virtual colleagues again – she wrote a moving guest article about how music is at the heart of all she does: dancing, choreographing, teaching, producing and, as she said to me the other day, even just walking down the street. Now, with the continuing need to physically distance ourselves from each other, thanks to the ongoing world pandemic, even walking down the street is bounded by restrictions; most of her other activities have had to be recalibrated, reinvented, moved online as much as possible, but somehow trying to keep that human connection that is created by dancing with, and in the live presence of, other people.
This ability to see the exciting possibilities in new situations is standing her in good stead given that the current crisis has turned the world of artists upside down. I reached out to her to find out how her plans are progressing particularly. She seems to be even busier than before the pandemic hit, I suggested, and she agreed: "I had been hoping for a respite but instead am busier in a really different way, scrambling to build the foundations of a new reality."
A big part of this new reality is having lost the studio she founded: The Extension Room, where she taught her ballet-based fitness program, The Extension Method, and not being able to teach classes in person. In response, with the help of her filmmaker husband she is undertaking the "huge endeavour of setting up a new online platform, dealing with the tech side, while also trying to keep teaching every day. It all just takes more time than you'd think." She is also trying to stay moving forward with creative projects and grant applications, but like many of us, is finding that it is much harder to "fully go there with the creative side," to keep inspiration flowing when you can't meet with fellow artists in person.
Since May/June when she wrote her article for The WholeNote, the world has been engulfed in protests against police brutality against Black and Indigenous citizens, and in the resurgence of a revolutionary desire for a better, more equitable society. I asked if this was having an impact on her work as well. "Yes, definitely! First of all, it required me to do a lot of introspective work for my students and teaching business, to dig deep in terms of whether I have gone as far as I could as a studio owner and teacher in that industry, to make sure I'm being as inclusive and welcoming to every community as I can. Ballet itself has a huge history of discrimination, elitism and white-centred practices, and that means that anybody working in the ballet industry has to take extra steps."
An example: she has always taken great pride in the fact that everyone who takes a class at her studio feels welcome and comfortable, in spite of the fact that ballet in and of itself is intimidating to many people. So, it came as a bit of a surprise in the first week after the initial protests while she was doing what we all were — listening, learning, trying to understand the depth of our complicity in our society's systemic racism — when one of her students sent her an email saying (paraphrased), "I'm Black and I have been attending your studio for two years, but while I have always felt welcome, and I've been really comfortable there, I can count on one hand how many fellow students are Black. As a leader in the industry you have a platform and you need to speak up." It's advice, Nichols says, that she takes to heart. But at the same time, she says, she recognizes that "the institution of ballet is what it is and the only way it is going to change is that from a very young age, from tiny tot ballet on, the marketing and messaging must be that this is an art form for everyone. The elitism has to be stripped away, and the socio-economic restrictions have to be dealt with as well."
It requires applying a ruthless microscope to her creative work: at her studio, as co-artistic director of Hit and Run Dance (which has always had a diverse casting mandate), and as an independent choreographer. And it's in the latter capacity that another of her projects, wrapped before the pandemic hit, is about to be launched.
While known for her exquisite work in live performance, she has also been building a choreographer's résumé in television and film, cutting her teeth on the series Reign (the historically anachronistic but addictively watchable teen-oriented series about the young Mary Queen of Scots) and going on to work as a guest choreographer on various other film and TV projects. This fall, a brand new television series based on the best-selling young adult novel Tiny Pretty Things by Sonia Charaipotra and Dhonielle Clayton will be launched on Netflix with Jennifer as head choreographer and dance consultant.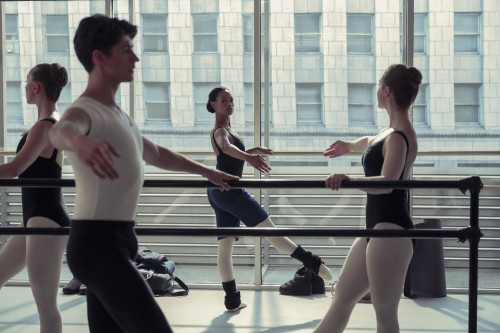 Set in the world of Chicago's only elite ballet academy, the Archer School, the feeder school for Chicago's renowned professional ballet company, Tiny Pretty Things charts the rise and fall of the school's students, young adults of widely varying backgrounds from around the country and beyond.
Listening to her speak about her involvement in the series, I was struck by how much it drew on the full spectrum of what she has done to this point in time. Her role was integral to maintaining the integrity of the depiction of not only the dancing in the show, but the psychological reality of the students' lives at a professional ballet school and what that means for their development, including the loss of the childhood that most children have.
It was this insight, in fact, that led to her becoming involved with the project in the first place, beginning with an impromptu meeting, at the suggestion of a friend, with the head writer and showrunner Michael MacLennan (Bomb Girls, The Bletchley Circle). MacLennan had been recruited by producer Jordanna Fraiberg to join her in turning the hit YA book into a series. Not being interested in something that was "all fluff, tutus and tiaras," he had agreed only if he could explore the darker, grittier aspects of growing up at a ballet school. Once officially part of the team, Jennifer's job encompassed everything from vetting potential cast members for dance ability, to reading all the scripts with an eye to dancers' vocabulary and slang, to choreographing much of what we will see in the class and rehearsal studios, to consulting on the choice of guest choreographers for each episode, to being part of the team in the edit suite in post production.
She was also part of the team determining the music that would be used for the dance sequences. Taking their cues from each episode's script, the show's two music supervisors, Scott Belluz and Natasha Duprey, would present a list of possible choices (from pop songs to hip-hop to classical music of different eras), to the team who would then choose what would work best, both dance-wise and narrative-wise in each scene. This was particularly important as "tucked into the excerpts of the dances the students are learning and performing are reflections of what they are going through in their lives, their sexuality, their frustrations, their struggle to find a place in the world."
It's is similar to the way original songs written for the TV series Smash echoed the characters' lives but, as Jennifer emphasizes, "this is unique in a TV show about dance," and she hopes it will help to draw viewers to the program. Part of what will make this so powerful, she believes, is how the complex musical tapestry weaves together contemporary and classical music, even counterposing the two, as when the choreographer of the school's year-end showcase decides to re-envision his ballet and the music gets changed from a classical string variation by British composer Benjamin Britten to a wildly modern work by Canadian composer Nicole Lizée. Weaving the whole together is the underscoring by show composer James Jandrisch.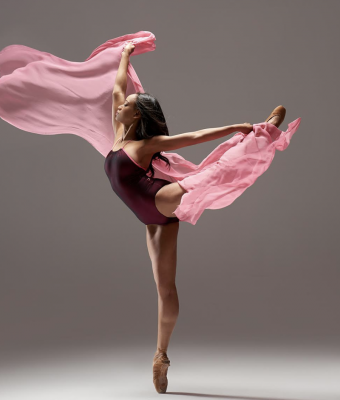 One of the central storylines — which seems prescient now in the wake of the first wave of protests, although the show finished filming in December — focuses on Neveah (Kylie Jefferson), a young Black girl from L.A. who, right from the beginning, has to fight the stereotypes typical of the ballet world, fiercely determined to prove her ability and her right to a place in the school. It's a through-line, Nichols says, that has the potential both to draw viewers to the show and new audiences and potential dancers to the art form. If the show is picked up for future seasons, she says, both she and her colleagues hope to continue exploring such current issues After all, "If we want to affect change in the ballet world as well as the world at large, this is a great platform. Through TV pop culture we can hope to really reach a lot of people."
Tiny Pretty Things will debut in the fall of 2020 on Netflix.
Jennifer Parr is a Toronto-based director, dramaturge, fight director, and acting coach, brought up from a young age on a rich mix of musicals, Shakespeare and new Canadian plays.