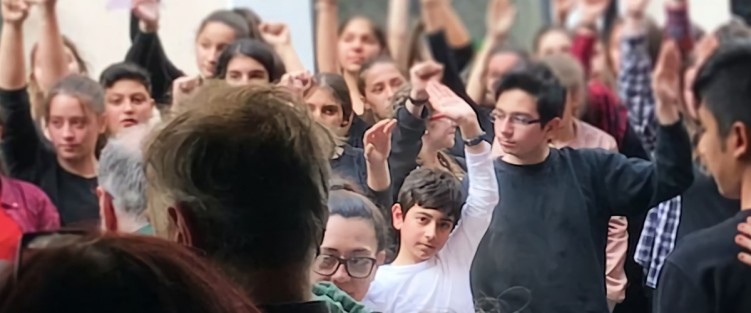 "Is there a radical hope to be found in the humble drama classroom?"
This question was asked (and answered in the affirmative) by Towards Youth, a play by Andrew Kushnir produced by Crow's Theatre and Project Humanity in the early spring of 2019, almost exactly a year before the current COVID-19 lockdown. Originally commissioned through, and inspired by, University of Toronto professor Dr Kathleen Gallagher's research project Youth, Theatre, Radical Hope and the Ethical Imaginary, the play was created from verbatim interviews with drama students in India, Taiwan, England, and Greece, resulting in a production described by Now Magazine as "ambitious, sprawling, and invested with tenacious heart" that captured the imaginations of audiences and critics alike.
In a time when the role of the arts in schools is under budgetary and philosophical attack, this is an exciting and crucial argument to the contrary. Now that – thanks to the ongoing pandemic – almost all live performance has been shut down, we are all feeling the lack of connection and community that live theatre provides. What better time to celebrate and explore the power of drama studies in schools, and the belief that exposure to (and participation in) the arts can not only change individual lives, but empower those individuals to change society for the better?
These issues are at the heart of Dinner and a Show: Back to School Special, an online event presented by Crow's Theatre and French brasserie Gare de L'Est with Project Humanity on September 24, 2020.
The show portion of the evening kicks off with the premiere screening of the 22-minute documentary Finding Radical Hope, which focuses on Dr. Gallagher's remarkable study about drama classrooms around the world – the initial inspiration for Towards Youth.
The evening will continue with a lively discussion hosted by Ngozi Paul, of Da Kink In My Hair, welcoming, alongside Dr. Gallagher, guests such as youth culture critic and author Dr. Jacqueline Kennedy (Carleton University) and Maureen Johns, Director of Education at Pasqua First Nations (Saskatchewan) who was recently profiled by CBC's The National for her innovative approach to in-person learning this fall. To add some fun and the verbatim youthful perspective, a group of TDSB drama students who are resuming their drama class this month will also be joining the discussion.
Of course, none of this will be in-person, but rather a virtual event hosted through Zoom. What makes it more of an occasion, though, is the pairing of the virtual livestream event with a real gourmet meal for two, delivered to the audience members' homes with full instructions for the final stages of preparation, along with a carefully chosen wine. Tickets for the livestream only are available (please see below for more information) but the meal option sounds like fun: the special menu created by Gare de L'Est Chef John Sinopoli, with a tongue-in-cheek nod to the "Back to School" element of the evening, begins with "grilled cheese and tomato soup" (actually heirloom tomato soup with mini grilled cheese croutons and chopped fine herbs), followed by "mac and cheese" (handmade in-house 'elbow pasta' with fontina and smoked 'scarmozza' cheese sauce and a gourmet topping of choice: smoked Atlantic salmon, duck confit, or mushrooms and black truffles). Meals are delivered in time to be enjoyed before the beginning of the livestream performance at 8pm.
Dinner and a Show: Back to School Special not only sounds intriguing and entertaining but it is also being produced in support of a new initiative created by Project Humanity with Crow's Theatre this summer in response to the pandemic lockdown: the Covid-19 Artist Apprenticeship Program (CAPP), which pairs youth in the shelter system with professional artists in one-to-one weekly online mentorship sessions in the art form of their choice. After a successful pilot project, and with 160 artists across 30 artistic disciplines already signed up, CAPP is aiming to fund at least 62 mentorship pairings by June 2021. This exciting new program will also be part of the evening's discussion.
Crow's Theatre and Project Humanity's Dinner and a Show: Back to School Special will be presented on September 24, at 8pm. For details and ticket information, visit https://www.crowstheatre.com/whats-on/view-all/dinner-and-a-show-towards-youth.
Jennifer Parr is a Toronto-based director, dramaturge, fight director and acting coach, brought up from a young age on a rich mix of musicals, Shakespeare and new Canadian plays.