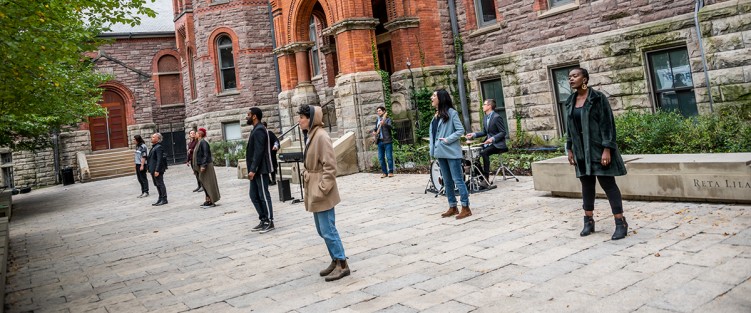 As Halloween approaches, I would normally be looking forward to going to Toronto's beautiful Koerner Hall for one of my favourite events in the fall music theatre calendar – The Musical Stage Company's annual UnCovered concert. Clearly, this won't be taking place this year as it usually does, so I got in touch with company founder and artistic director Mitchell Marcus to find out about how the company is reinventing itself in response to the pandemic. What struck me most in our conversation was a sense of renewed emphasis on the importance of creating, maintaining and expanding community through the sharing of music and storytelling.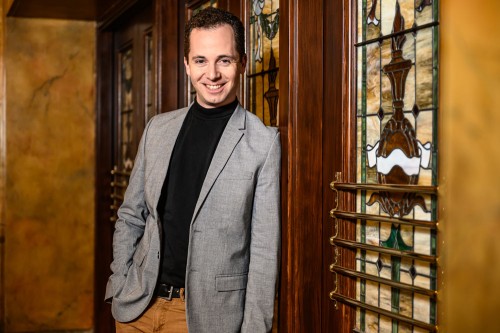 Community has always been at the heart of Musical Stage's mandate, he told me, but with the company's rebranding in 2017, and recent explosive expansion, "perhaps we have lost a little bit of that." But with the intense process of the last seven months it has come very much back into focus. Like other companies forced to pivot when theatres were shut down in the middle of March, MSC has leapt into the new world of experimentation: with small outdoor physically distanced live shows (Porchside Songs); with rehearsals and workshops conducted online via Zoom; and, most prominently, by reimagining their signature annual theatrical concert, UnCovered.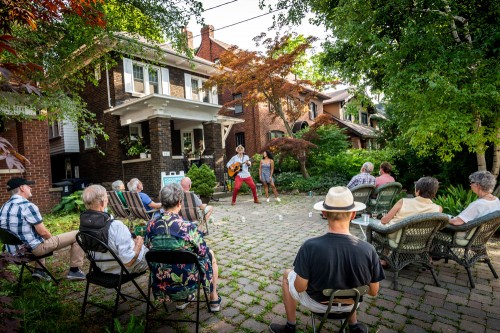 "I've never felt so lucky not to have a building," Marcus told me, "It meant it was easier to look at ourselves in the mirror in June and say the next year isn't going to happen in the way it was going to, and so now we are completely liberated. We can look at every program and ask first of all 'should this be delivered, does it have value in the world now during COVID?' and if yes, 'How do we now create the same outcome we had hoped for, but with a completely different methodology?' And, in a way, that was fun. This year's UnCovered is something completely different but it does feel as if it honours what came before and that is such an exciting thing. Compared to the last 13 years, this year's version feels as if it has been built specifically for a different medium rather than just capturing what we did online."
The first UnCovered concert I attended was in 2017, when the songs of Bob Dylan and Bruce Springsteen were showcased. I remember being blown away by how the songbooks of these two iconic singer-songwriters were not covered so much as uncovered – the story at the heart of each song brought into the light through the insight of superb performers in new, often unexpected, arrangements created by Musical Stage's longtime music director Reza Jacobs. Anchoring that 2017 show were Sara Farb as an intensely focused, sardonic Bob Dylan, and Jake Epstein as a charismatic, rock and roll Springsteen; both superb singer/actors, they not only gave us thrilling interpretations of the songs but also spoke to the audience directly, letting us into both well- and lesser-known key points in Dylan's and Springsteen's lives and careers, particularly where they intersected and influenced each other. The result was a richly textured narrative context for interpretation by Farb and Epstein weaving a cast of some of Canada's top musical theatre artists, individually and in groups, into the narrative. And it is precisely this mix of music and storytelling which has made UnCovered a signature event for MSC, showcasing the belief in the power of musical storytelling that is at the heart of the company's mandate.
For the past 13 years, the songbooks of a wide range of pairs of singer-songwriters have been explored: from Queen and Bowie, to Stevie Wonder and Prince, to Joni Mitchell and Carol King. This year, it was going to be Elvis Presley and Dolly Parton. The songs had been chosen and the cast hired and they were "ready to jump in" in Marcus' words, when the shutdown happened. "We very quickly felt that this was one of the projects we had to deliver," Marcus says. "Not Elvis and Dolly per se, but when the pandemic hit, it felt as though songs, particularly those by the great poets in other eras of change, when songs needed to be songs of hope, or conflict, or transformation, suddenly all had new meaning. That is UnCovered in a nutshell. If you take these songs that hold so much universal truth and put them in a new context, approaching them with an original arrangement and an original intent, people are going to respond to them in a new way. We'll be able to uncover just how much these songs hold. So, we opened ourselves up to a selection of songs that felt like they held something for the present moment – not that this would be a show about COVID – but it is about searching and hoping and looking at change."
An unexpected brand-new hurdle then appeared. They had to get the rights of these songs for recording on film, which turned out to be much more complicated than the "very easy" and inexpensive process for getting rights to sing a pop song live. From a list of 60 possible songs, after a process of two months, they had 12 or 13 to choose from. "Thankfully" Marcus says, "they are excellent songs and allowed us to build our list for the show." (The final list includes songs by Bob Dylan, Carole King, Bob Marley, Elton John and Billie Holiday, among others.) The next step was deciding who would sing what, followed by music director Jacobs "meeting with every artist on Zoom to talk about what their lives were like right now, what they saw in the song, and how it resonated with them. They had these beautiful conversations about life in the midst of everything that is going on, and then Reza took that away and created the new musical arrangements."
Rather than creating a stage show that would then be filmed, the decision was made early on to make individual short films, ten in total, each a separate music video with a narrative storyline based on Jacob's conversations with the artists. This also gave the opportunity of going outside to very specific locations in the city, even multiple locations within a single song. For example, Marcus said, "We were able to say, 'What you built into this song about thinking about your family and how much goodness there is in that, we are going to translate into shooting a music video with you in a tree house in your backyard, going through photo albums, storyboarding out the journey to match what is happening musically.'"
Normally, the next step would have been everyone rehearsing together. Instead, in order to keep everybody safe and follow all health and safety protocols, the show had to be built in stages. First the audio for each song was layered in, one voice at a time, in a recording studio with just one person there behind glass on one side, and the music director behind glass on the other side. Then a backup singer would come in and layer on top of that, then a drummer, then a bass player, etc. "Nobody was interacting but they were creating an ensemble." The filming of each song then followed.
Most of the films have a single artist onscreen, though a few have more, including a finale with everyone, including Jacobs and the band, on location, all physically distanced. In every case the artists are singing along to very high quality audio tracks recorded in the studio so while the sound is excellent, they do appear to be singing live. The show is very intentionally built to give each song its own unique personality, feeling and style, but they are linked by short interviews with the artists preceding each film, emulating the process, talking about what it is that speaks to them personally in their song. Also, in a nod to the usual connecting narrative, between the interview and the music video there will be a quote from the songwriter displayed onscreen that "connects the dots between the artist's feeling about the song, and what we are about to see." The entire show lasts approximately 65 minutes and Marcus' hope is that "audiences will feel that they are watching something of high quality that speaks to this moment, and that will resonate as much as, or even more deeply, than people gathering at Koerner Hall."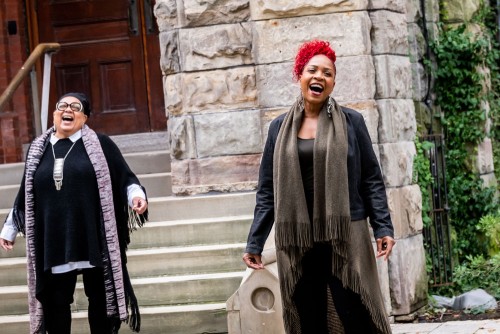 Tickets for UnCovered: Notes From The Heart will be timed for a specific day and hour in order to create a sense of "liveness" for everybody watching, something very important to the team. On top of that, there is a menu of Expanded Experiences available to add on from pre-show Zoom chats with artists to Deep Dive Dinners including a catered meal and a facilitated philosophical group discussion, to fully customizable group experiences, "all to help create that feeling of gathering together because we can't do so in person."
I asked Marcus if he felt this experiment was opening the door to something that could keep happening post pandemic. "I don't know," he said. "What is keeping me grounded at this time is to believe that there is a gift of experimentation right now. We are very privileged that we are not in crisis, that we are getting to play. I'm sure we're not nailing it across the board. I think some experiments have worked out better than others, but whether it was Porchside Songs this summer, or moving programs nationally online, or UnCovered, these are interesting … Maybe we'll just return to the way we were, but maybe the silver lining of having to pivot and work in a different way is going to uncover something for us that helps to inform the way we want to return and the way we can actually do our work even better."
Porchside Songs, for example, entailed pocket concerts played by two or three top-notch artists who could travel around the city with a makeshift audio kit, and provided what Marcus calls "a key example of illumination" – the balance at the heart of the company's mandate, between artistic content and community building. "The artists were all great," he said, "but what made these intimate concerts such a beautiful and powerful experience was seeing how communities, whether street neighbours or a group of friends, were being brought together by an event that had music and storytelling at its centre."
UnCovered: Notes From The Heart streams online from November 11 to December 6.
For further information, to buy tickets, or arrange a group event, see the company's website: musicalstagecompany.com.
Jennifer Parr is a Toronto-based director, dramaturge, fight director and acting coach, brought up from a young age on a rich mix of musicals, Shakespeare and new Canadian plays.