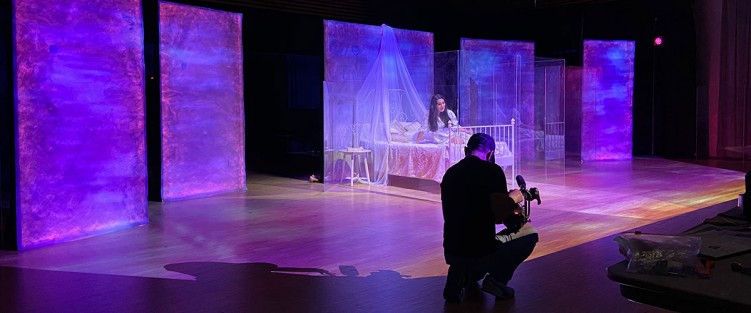 How do you teach opera during a global pandemic?
This was the question facing the team at the Glenn Gould School (GGS) in Toronto, tasked with planning its annual fall opera production. It was April 2020, and no one knew how long newly-imposed COVID-19 restrictions would stay in place, or what might be happening six months in the future when rehearsals were officially scheduled to begin. Little did they know at the time that they would be working on a new, operatic hybrid of stage and film – rehearsed, sung, and recorded for online consumption.
"My meetings in the spring and early summer were all about 'How can we do this? What kind of project can this be?'" explained director Amanda Smith when I spoke with her in November 2020. "Just trying to pay attention to what was happening in the world and what would be safe meant that it took several months to figure this out, always looking at the potential of what we could create."
The production was arranged as a double bill of two chamber operas with small casts, chosen by music director Peter Tiefenbach to minimize the number of singers needing to be onstage at any given time: Kurt Weill's well-known evisceration of capitalism, The Seven Deadly Sins, created with Bertolt Brecht in 1933, and William Bolcom's 2004 comic Zarzuela-meets-Commedia Dell'Arte work Lucrezia, with a libretto full of wicked pastiche by Mark Campbell. The two pieces are a fascinating combination with overlapping themes, as well as a shared cabaret musical influence. Rehearsals have taken place over fall 2020; the online premiere of the double bill is set for January 8, 2021.
The one thing the whole team, led by Smith and Tiefenbach, agreed upon from the start was that there had to be a live element to the process. After investigating early pandemic productions presented on Zoom, they were unanimous in wanting to experiment in another direction. As a professional school preparing young singers for a career in opera, Smith explained that even though the final product would likely be viewed online, the foundation of all their discussions was the need and desire "to give the students an in-person operatic learning experience where they could experience what it feels like to handle a character and be immersed in a scene, where they could learn staging and how to follow a conductor, and also to sing operatically in character, onstage with other performers." This last point led to another significant decision: that they would not dub anything. Unlike what many other current productions are doing, the music would not be pre-recorded but would be sung live as it was filmed, another decision that would inform the whole process.
After these initial decisions had been made, for Smith the rest of the process became defined by three questions. "First – what are we safely allowed to do?," she said. "Second – what can we technically do? And third – what kind of conceptual approach can we take?
"It felt like working backwards, in a way," she added.
Luckily for the GGS, Smith is well known for working within restrictions and for boldly pushing boundaries and incorporating multimedia elements into her shows. "We had to have someone who was willing to adapt and be open-minded about the show not being a 'stand and sing opera'," production manager Kaitlyn Smith told me, "and [Smith] really embraced that from the beginning."
Still, the project kept throwing up surprises. In spite of the constantly changing safety protocols, the team originally hoped that it would be possible to have at least a small live audience. It wasn't until August that the "pivotal decision" was made that the show would be built for an online audience only.
In consultation with an experienced cinematographer, Smith created a conceptual approach that would make use of the online viewing platform to amplify the two shows' themes, using projections to make the setting and action more dynamic. Also on the advice of the consulting cinematographer, the decision was made not to livestream, with the need for a much larger technical team and the risk of things not going as planned outweighing the draw of sharing a fully live experience.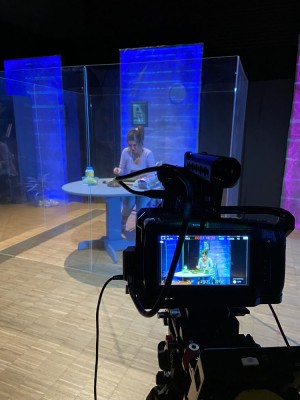 Safety also remained paramount for the team, with the first week and a half of rehearsals taking place on Zoom, and then, once they moved into the theatre, everyone (including the singers) wearing masks and maintaining a distance of at least six feet from one another onstage and off. Additional safety measures were also taken, with electrostatic foggers used to clean every surface and HEPA filter air purifying units deployed in each room, recycling 99% of the air every five minutes.
Plans for filming were underway and runs of each opera were taking place when the company arrived for a Saturday evening rehearsal in Mazzoleni Hall to discover that at midnight the night before, a new bylaw had been enacted mandating that Plexiglass barriers be placed between all singers onstage. It was immediately clear that the barriers would not fit on the stage, so the whole production would have to move – a week before the load in of final set and tech elements – from the traditional Mazzoleni concert hall to the Royal Conservatory's flexible Temerty Theatre, one floor above.
Of course, as well as the venue change (which would actually make the filming easier), the team also had to reconsider other aspects. "[We] had to change a lot of conceptual approaches as well as make changes in terms of how the project could be executed so that it still made sense, still looked good, and so that the singers could still sing," said Smith. "It was a pretty big moment of 'How are we going to do this?' But we basically re-conceptualized in 15 minutes."
A welcome unexpected bonus, Smith added, "was even though it created an immense number of restrictions in how to create a dynamic piece on a stage filled with boxes, I found that it actually helped me as the director to think more quickly, and the singers (now not needing to wear masks or be physically distanced) seemed more relaxed as well. I do think it was better for the performance in the end."
The boxes also play into the team's concept of The Seven Deadly Sins being set in a contemporary online gaming context, with the practical "Anna I" being an online "influencer" and her sister/other half "Anna II" serving as her online persona, the boxes helping to highlight the fact that the online content projections really are a character in this story. With Lucrezia, Smith took a different approach as they filmed, minimizing the visibility of the boxes, presenting the comedy as an absurd online soap opera. The two pieces will be clearly connected for the audience onscreen in an online world, as well as being linked thematically through the exploration of "the various strategies through which women can perceive their own value and get other people to perceive it as well."
"We followed a totally different process from either stage or film alone," Smith said. "We're creating a hybrid, and it has been a massive learning experience for everyone involved figuring out how to adapt the stage experience for the screen in a new way."
The Glenn Gould School Fall Opera, Kurt Weill's The Seven Deadly Sins and William Bolcom's Lucrezia, will be presented for free online on January 8, 2021 at 7:30pm (EST). Details will be made available on the website of The Royal Conservatory.
Jennifer Parr is a Toronto-based director, dramaturge, fight director, and acting coach, brought up from a young age on a rich mix of musicals, Shakespeare and new Canadian plays.