I am always intrigued by the connections I find, especially in the seemingly separate realms of literature and music, when something I am reading or listening to relates directly to experiences in my everyday life. I don't mean when I'm reading about something because it relates, but rather when in unrelated materials there turns up an unmistakably fortuitous reference to something that has just happened to me. I have been aware of this phenomenon for many years, but the first instance which made me really pay attention to this synchronicity was one morning at a friend's cottage when there was a thump on the window and we found a northern flicker lying, we thought lifelessly, on the deck. But moments later the bird shook itself and flew off. It was as if in a dream that I realized exactly this situation had been described in the Richard Powers novel I had been reading the evening before, right down to the breed of bird. Since then I have been aware, time and again, of how this in itself is, if not an everyday occurrence, at least something that happens regularly. (My wife Sharon says it could be because I read so much.)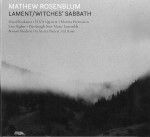 At any rate, this month's column is all about connections which might be construed as coincidences. The first relates directly to November's column when I wrote about Wlad Marhulets' Concerto for Klezmer Clarinet. Until that time I had not heard of the dedicatee David Krakauer, despite his prominence in both the worlds of klezmer and classical music. My ears pricked up immediately when I received another disc this month which features him: Mathew Rosenblum – Lament/Witches' Sabbath (New Focus Recordings FCR219 newfocusrecordings.com). Rosenblum is an American composer (b.1954) of Ukrainian heritage, and the title track is an in-depth exploration of his roots. The composer says the work "involves the rewriting of my personal and family history through instrumental sound (klezmer-tinged clarinet with orchestra) and the sound and texture of the voice (field recordings of Ukrainian laments; sung and spoken Ukrainian, Russian and Yiddish text by my grandmother). It is also about reconnecting with my high school friend and dear colleague, the amazing clarinetist/composer David Krakauer, for whom the piece was written. […] It is a tribute to my grandmother, Bella Liss." He goes on to mention that it is loosely based on the last movement of Berlioz's Symphony Fantastique and also references his grandmother's superstitious sensibility, which he says is grounded in Eastern European Jewish culture. It is a particularly moving work, with the haunting Ukrainian laments as prominent as the solo clarinet, soaring above the orchestral textures provided by the Boston Modern Orchestra Project under the direction of Gil Rose.
It seems I can't write this column without some mention of my day job at New Music Concerts. It was there that I was first exposed to the characteristic keening of Ukrainian lamentation when young Ukrainian-Canadian composer Anna Pidgorna wrote Weeping for our 2015 Ukrainian-Canadian Connection concert. For this piece the members of a sextet were provided recordings of traditional laments in order to better understand how to approach their instrumental parts, which were based on that tradition. This initial exposure made the laments included in Rosenblum's work hauntingly familiar.
I feel obliged to mention another coincidence related to my appreciation of Rosenblum's disc. The second work is called Northern Flicker, which is something I had not remembered when I wrote my introduction. The world works in mysterious ways indeed. Northern Flicker is for a solo percussionist who mimics and extrapolates on the distinctive sounds of this woodpecker in the wild. Lisa Pegher holds our attention throughout the witty and inventive piece. Soprano Lindsay Kesselman and the Pittsburgh New Music Ensemble under Kevin Noe then lead us through Falling, a dramatic work about the true tale of an Allegheny Airlines stewardess who was sucked out of a plane's emergency exit and fell to her death in October, 1962. Based on a poem by James Dickey, the piece incorporates a recording of the poet's recitation of his text which is then further expanded by the soprano. The composer's use of microtonality – Falling is dedicated to the memory of Dean Drummond, composer and co-artistic director of Newband who championed the microtonal work of Harry Partch among others – adds to the otherworldly and at times eerie homage. This composer portrait disc concludes with the at times raucous – recalling that woodpecker again – Last Round for amplified string quartet (FLUX) and the six members of Mantra Percussion. Another welcome and effective offering from New Focus Recordings.
The next connection encompasses both literature and music again. My wife, a secular and mostly non-observant Jew, does however spend Yom Kippur, the Day of Atonement, each year contemplating and reading something that relates to her heritage. Most years it is a book of history or theory or at any rate non-fiction, but this year, with nothing more appropriate at hand, she took my suggestion to spend the day with a novel. The Last of the Just by André Schwarz-Bart, a French Jew of Polish extraction whose parents were killed by the Nazis, tells the story of the family of Rabbi Yom Tov Levy, the only survivor of a pogrom in 12th century England. As legend has it, God blessed Levy as one of the Lamed-Vov, the 36 Just Men of Jewish tradition, a blessing which extended to one Levy of each succeeding generation. The story takes place over the next 800 years, through the Spanish Inquisition, to expulsions from England, France, Portugal, Germany and Russia, and to the small Polish village of Zemyock, where the Levys settle for two centuries in relative peace. It is in the 20th century that Ernie Levy, the title character, emerges in 1920s Germany, as Hitler's sinister star is on the rise and the agonies of Auschwitz loom on the horizon. Gilbert Highet, a Book-of-the-Month Club judge, called it, "the saddest novel I have ever read, almost as sad as history." I don't think Sharon thanks me for the recommendation.
It's been 20 years since I last read the book – that time in the original French – but it has always stayed with me, and so it was with curiousity that I recently picked up a CD by a Black jazz musician with the same last name as the author. I didn't really expect that it was anything other than a coincidence until I read the note inside and found that Jacques Schwarz-Bart is indeed the son of André. A bit of Googling turned up the information that during WWII Schwarz-Bart fought with the French resistance and was captured by and escaped the Germans. After the war he went to Paris to study at the Sorbonne, where he met and eventually married a woman from Guadeloupe named Simone, (who incidentally also went on to become a novelist and playwright).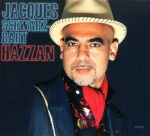 The disc is called Hazzan (enja yellowbird YEB-7789 naxosdirect.com/items/hazzan-468735). A hazzan or chazzan is a Jewish musician or precentor who helps lead the congregation in songful prayer, in English often referred to as cantor. The project, combining jazz with Jewish prayer chants, is meant as a tribute to Jacques' father who died in 2006. "As soon as I started working on the arrangements, it became clear that these powerful ancient melodies lent themselves to impressionist harmonizations, and could be enhanced with infectious rhythms from the African diaspora." He goes on to say "In The Morning Star my father describes a character who – just like me – is a jazz musician from Jewish and black descent. He refuses to be labelled half-Jewish and half-black and claims to be 200 percent: 100 percent Jewish and 100 percent black. I hope Hazzan will do justice to this conception of my Jewish identity as the blossoming fruit of universal cross pollination." Thanks to the Toronto Public Library I am now immersed in that posthumous publication by Schwarz-Bart's father and will shortly embark on a novel co-written by his mother and father (Un plat de porc aux bananes vertes).
My own exposure to Jewish ritual is limited to attendance at funerals, memorial prayers said and candles lit for my in-laws, and participation in "second night Seder" dinners at the home of WholeNote publisher David Perlman. It was therefore a wonderful surprise to me to recognize one of the melodies from Hazzan as being Dayenu ("It would have been enough"), a song I myself have participated in during those Passover meals. The overall feel of the album is surprisingly upbeat and contagious. Schwarz-Bart has indeed managed to paint a "mystical and uplifting fresco" and his saxophone playing is truly cantorial. By the way, it is not only his Jewish heritage that has inspired him over the years. The product of a double diaspora, Schwarz-Bart fils is the founder of Gwoka Jazz, based on Guadeloupian traditions, and has worked extensively in Voodoo jazz with Haitian colleagues. Where will literary connections take me next I wonder?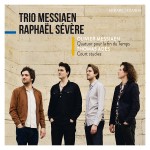 Next is a recording that features a work that has been a favourite for most of half a century – Messiaen's Quatuor pour le fin du temps – and once again there is a New Music Concerts connection. Recently, when we presented the Ensemble contemporain de Montréal, while the other musicians were out to dinner, Chloë Dominguez busied herself rehearsing the incredibly demanding cello part of the Quatuor which she would be performing with pianist Louise Bessette and other colleagues in Montreal in late November. I had a chance to chat with her after the concert and mentioned a new recording featuring clarinetist Raphaël Sévère and Trio Messiaen (Mirare MIR 334 mirare.fr) and the fact that the liner notes intrigued me with the mention of a piece I had never heard of before. I had always assumed that Messiaen, who had chosen the instruments for his quartet by what was available in the internment camp in Silesia where he was imprisoned during the Second World War (piano, clarinet, violin and a cello with just three strings), had invented that instrumental combination. But it turns out that Paul Hindemith had written a quartet for the same forces some three years earlier in 1938. This was news to me, and to Dominguez, and I have spent some time since listening to performances on YouTube. It is a very strong work and I found myself wishing that instead of just mentioning it in the notes, the recording had included the Hindemith instead of Thomas Adès' Court Studies, a chamber arrangement of some of the incidental music he wrote for The Tempest. I find the Adès, mostly light and indeed courtly, a strange pairing with the Messiaen quartet with its powerful, mystical mix of sombreness and ecstasy.
The performance of the Messiaen lives up to expectations heightened by countless other recordings over the years. From the opening movement for full quartet, growing out of silence with the awakening of birds at dawn, through the strident proclamations of the Angel announcing the end of time, the respite of the solo clarinet movement, again depicting birds, and the calm of the cello and piano Louange, to the furious dance of the seven trumpets (quartet) and final movement of Praise for the Immortality of Jesus, a quiet meditation for violin and piano, we are led on a wondrous journey, impeccably balanced and full of nuance. The booklet, in three languages, provides a thorough history of the genesis of Messiaen's iconic composition, along with historical and biographical context and some analysis. There are notes on the very accomplished young musicians as well, but I wish they had included some explanation for the name of the trio. With the addition of the clarinet the connection to Messiaen is clear, but as he never wrote a piece for piano trio (and almost no other chamber music), the name Messiaen Trio leaves me scratching my head.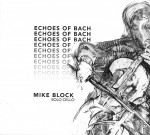 With well over a dozen recordings of Bach's Solo Cello Suites in my collection, plus transcriptions for 11 string "alto" guitar and for alto recorder (by Göran Söllscher and Marion Verbruggen respectively, both highly recommended), I find myself wondering, what does a new interpretation have to offer? This must be a daunting question for any young musician looking to make his mark in a world replete with existing renditions by virtually all of the greatest cellists of the past century, including Pablo Casals himself, who unearthed these masterworks that had languished in obscurity for nearly 200 years. One young man has answered the question by not tackling the canon in its entirety, but rather by selecting individual movements and juxtaposing them with contemporary works. On Echoes of Bach (Bright Shiny Things BSTC-0124 brightshiny.ninja) featuring Mike Block, an alumnus of Yo-Yo Ma's Silk Road Project, we hear alternately the Prelude from the first suite, the Allemande from the second and the Courante from the third separated by the two very different movements of György Ligeti's Sonata for Solo Cello in what is a brilliant stroke of programming. Later on we find movements from the other suites interspersed with music by Ahmed Adnan Saygun, a composer who pioneered Western classical music in Turkey; Giovanni Sollima, one of the composers associated with Silk Road (it's worth checking out the YouTube video of this piece Citarruni); and, strangely, Domenico Gabrielli, born a generation before Bach. Gabrielli was a virtuoso cellist and had the distinction of publishing the first works for solo cello and so has every right to be included here, but as the other non-Bach offerings are all contemporary the choice is somewhat surprising. Another surprise is the final track, the Sarabande from first suite played entirely without a bow. This seems quite a liberty to take, but I must say the pizzicato interpretation really works.
Mike Block is not only an accomplished cellist, but also an inventor. His "Block Strap" allows a cellist to harness the instrument to his or her body and play while standing, and even walking around. He has become quite adept at this, to the extent that even in this studio recording I get the impression from the occasion sound of footsteps that he is in motion. As one final nod to New Music Concerts I will mention that the first time I saw such a thing was when NMC presented Quatuor Molinari performing eight string quartets (at that time the complete cycle) of R. Murray Schafer at Glenn Gould Studio in 2003. For String Quartet No.7 Julie Trudeau had to construct a sling for the instrument to facilitate the movements that Schafer required of the cellist.
We invite submissions. CDs and comments should be sent to: DISCoveries, WholeNote Media Inc., The Centre for Social Innovation, 503 – 720 Bathurst St. Toronto ON M5S 2R4.
David Olds, DISCoveries Editor
discoveries@thewholenote.com