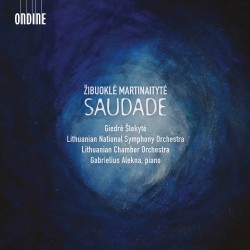 Saudade is the name of a new album of orchestral works by Lithuanian-American composer Žibuoklė Martinaitytė, and of the most recent composition included on the disc (Ondine ODE 1386-2 naxosdirect.com/search/ode+1386-2). According to Martinaitytė, the Portuguese word saudade means "a deep emotional state of nostalgic or profound melancholic longing […] sad and happy feelings together […]. For the last decade this thread of longing has been woven into my life, colouring all experiences." It is a sentiment which I'm sure most of us have been feeling during the past year of lockdown and isolation, so it is interesting that the four works presented were all written in the half dozen years before COVID reared its ugly head. Although evoking stark landscapes, there is a wonderful lushness to the music, which seems to grow inherently out of initial quiet in vast arcs of sustained tones and tremolos, occasionally erupting like bubbles exploding from some primordial soup. The music builds and recedes in many-textured layers with no melodies per se, just shifting colours that draw us in with a sense of yearning. Of particular note is the Chiaroscuro Trilogy (2017) for piano and orchestra that holds us enthralled throughout its three movements played without pause – Tunnel, Meteors and Darkness of Light. Gabrielius Alekna is the soloist with the Lithuanian Chamber Orchestra. The other works are performed by the Lithuanian National Symphony Orchestra, Giedrė Šlekytė conducting throughout.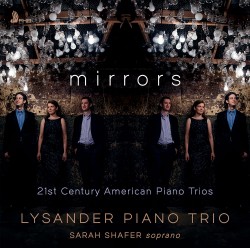 Martinaitytė mentions that one of the works on her disc was inspired by the films Cloud Atlas and The Hours (both based on books) as well as Italo Calvino's postmodernist novel If on a winter's night a traveller. I would not normally mention a CD that we have previously reviewed, but I found myself intrigued last month by Adam Sherkin's review of the Lysander Trio disc mirrors (First Hand Records FHR11 lysandertrio.com). Specifically it was Reinaldo Moya's Ghostwritten Variations that caught my attention, featuring "reimagined" music of fictional composers from four novels: Thomas Mann's Doctor Faustus; David Mitchell's Cloud Atlas mentioned above; Richard Powers' Orfeo; and Kim Stanley Robinson's The Memory of Whiteness, only the last of which I hadn't read. With time on my hands I decided to explore this 1985 novel set in a distant future of interplanetary travel and habitation, where the universe is controlled by an enormous synthetic orchestra and its master. Although I found Ghostwritten Variations less than convincing as a depiction of music by these invented composers, it was an interesting premise and a well-crafted result. I actually found the 2010 trio, An den Wassern zu Babel by William David Cooper with its retro-expressionist sensibility, perhaps a more convincing example of what Mann's character Adrian Leverkühn, loosely based on Arnold Schoenberg, might have written. That being said, I was happy to spend time with this well-performed survey of recent piano trios by contemporary American composers.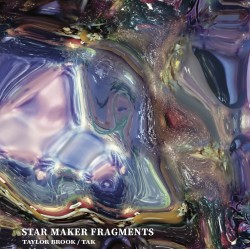 Music again led me to literature in the next instance, Taylor Brook's Star Maker Fragments, commissioned and performed by the TAK Ensemble (takensemble.bandcamp.com/album/star-maker-fragments). I had not previously read Olaf Stapleton's 1937 speculative fiction novel involving transcendental interstellar and time travel, and the melding of the narrator's mind with other sentient beings (of all shapes and sizes) from other planets and other galaxies, in a story that encompassed the entire history of the universe. It's also about galactic consciousness(es) and the creator – Star Maker – told from the perspective of a pacifist philosophy from a time when Europe was headed, seemingly inevitably, toward global conflict. Brook has excerpted fragments of the book for his text, which is narrated by the group's soprano, Charlotte Mundy, accompanied by flute, bass clarinet, violin and percussion, with electronics by the composer. The piece was written explicitly for recording, making extensive use of multi-tracking, processing, sound synthesis and field recordings, but may also be performed in concert with ensemble and live electronics once COVID is a thing of the past. It is a very convincing encapsulation of the striking landmark book, lasting about 45 minutes and followed by an instrumental postlude. If you're not familiar with Star Maker, this provides an intriguing introduction to the SF classic, whose more famous admirers include H.G. Wells, Virginia Woolf, Brian Aldiss, Doris Lessing, Stanisław Lem and Jorge Luis Borges, who called it "a prodigious novel." Recommended.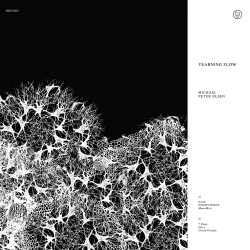 I sometimes multi-task, listening to music while reading. Pretty much anything with lyrics, especially narration, is off limits, because I cannot deal with words in my ears and words on the page at the same time. This meant not listening to Star Maker Fragments while reading the book, but I did find some music that seemed a perfect match to those interstellar wanderings, Toronto composer Michael Peter Olsen's Yearning Flow (handdrawndracula.com/artists/michael-peter-olsen). Olsen plays electric and acoustic cello with electronics throughout, and is joined by guests on four of the six tracks: Chris Evans, synth guitar on MoonMist; Todor Kobakov, modular synth on 7 Days; Brandon Lim, bass guitar on Ours; and Merival, in a beautiful vocalese duet with cello, on Cloud Parade. In addition to providing a marvellous soundtrack for the transcendental journeying mentioned above, Yearning Flow ​is evocative and visual, "a sonically deep album that layers ambient textures with tension and release," that also rewards concentrated listening. Perfect music for sitting in the dark and letting your mind go.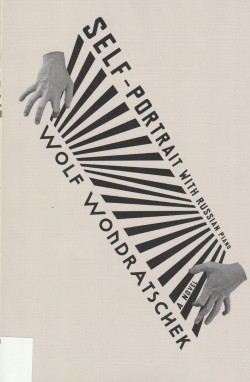 Brought to my attention by WholeNote reader and old high-school chum Doug Walker, Self Portrait with Russian Piano by Wolf Wondratschek is a compelling story of the narrator's friendship with a fictional Soviet pianist Suvorin, and Suvorin's own friendship with real-life cellist Heinrich Schiff (even including Schiff's recipe for caramelizing onions!). I find it interesting that a book about a pianist speaks of piano repertoire in only general terms, but when it comes to Schiff and the cello it gets specific, mentioning Beethoven's cellos sonatas and Triple Concerto. This led me to search out Schiff's performance of the Cello Sonata in A Major Op.69 on YouTube – his recordings of the five sonatas seemingly having fallen out of the catalogue – and to a brand new CD with the Beethoven Triple Concerto in C Major Op.56 featuring Isabelle Faust, Jean-Guihen Queyras, Alexander Melnikov and the Freiburger Barockorchester, conducted by Pablo Heras-Casado (Harmonia Mundi HMM902419 store.harmoniamundi.com).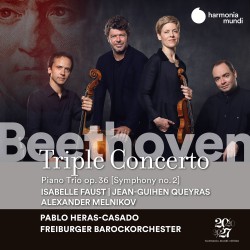 It had been several decades since I last listened to the "Triple" and it was a real treat to have occasion to revisit it, especially played by such amazing performers. The balance between the soloists and period orchestra (presumably supplemented from its Baroque size to the forces Beethoven would have had available at the time) is perfect, and the simpatico communion between violin, cello and piano is palpable. The album also includes a surprisingly full-bodied rendering of Beethoven's piano trio arrangement of the Symphony No.2 in D Major, Op.36. Quite a feast for the ears!
Piano trios seem to be a recurring theme this month and next on the agenda is a new recording of Eduard Steuermann's 1932 arrangement of Schoenberg's Verklärte Nacht Op.4 with Trio Karénine on La Nuit Transfiguré (Mirare MIR554 mirare.fr/catalogue). Originally composed for string sextet in 1899, Verklärte Nacht (Transfigured Night) is considered Schoenberg's first important work, and incidentally it was Pierre Boulez's Domaine Musical recording of the original version that provided my introduction to the music of this icon of the 20th century. Predating his development of the 12-tone system, this piece is a dense example of Expressionist art with the dramatic, and sometimes lugubrious, string textures full of Romantic angst. Although a purely instrumental work, it explores – verse by verse – a poem by Richard Dehmel in which a woman is walking with her lover, but is pregnant by another man. She is worried about the ramifications, but ultimately the beauty of the evening and the intensity of their love triumph. This tone poem departs from the tradition established by Liszt and later perfected by Richard Strauss, in that it is for chamber forces, not full orchestra. Trio Karénine's performance is intense and convincing, with the "orchestral" piano part conceived by Steuermann ably filling in for the missing strings. The CD also includes Tristia, Liszt's 1880 trio arrangement of the solo piano work, Vallée d'Obermann S. 723c, and Schumann's Six Studies in Canonic Form for pedal piano, Op.56 as transcribed by Theodor Kirchner.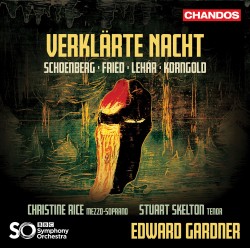 Steuermann's is not the only arrangement of Transfigured Night; Schoenberg himself expanded it for string orchestra including contrabass (adding to the abovementioned lugubriousness) in 1917, and again for similar forces in 1943, by which time the Austrian composer had moved to America. Verklärte Nacht, a new album from Chandos featuring the BBC Symphony Orchestra under the direction of Edward Gardner (CHSA 5243 naxosdirect.com/search/chsa+5243), includes this last arrangement, plus German orchestral songs by Franz Lehár, Oskar Fried and Erich Wolfgang Korngold. Lehár's Fieber (Fever) is the dramatic story of a young officer in hospital after suffering wounds on the battlefield early in WWI, as was the case of the composer's younger brother Anton. It is markedly different from the music of The Merry Widow and other operettas for which Lehár is renowned, although momentary hints of the waltz composer peek through. Fried's 1901 Verklärte Nacht is based on the same text that inspired Schoenberg, in this instance using Dehmel's words, sung by mezzo-soprano (Christine Rice) and tenor (Stuart Skelton). It is a quasi-operatic scene in post-Wagnerian style, of which Fried said in later years: "I myself find it too beautiful; I am drowning in this music." Korngold composed his four Lieder des Abschieds (Songs of Farewell) in 1920- 21, soon after his opera Die tote Stadt, when he was still in Vienna. It is the most tonal work on offer here (Fried's self-assessment notwithstanding), gorgeously sung by Skelton, whose full heldentenor is impressive throughout the vocal works on the disc, well matched by Rice in the Fried.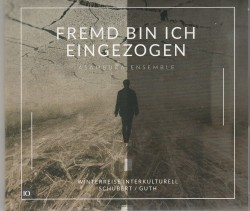 Speaking of arrangements, or in this case adaptations, regular readers will know that I am enamoured of Schubert's Winterreise in just about any shape or form. Other than Bach's Goldberg Variations I don't know of any work that has been interpreted in so many ways, for so many instruments. Perhaps the most unusual version I had encountered until now was Philippe Sly and Le Chimera Project's Klezmer/Roma rendition recorded for Analekta and later performed live for Toronto audiences at Koerner Hall in 2020, shortly before the lockdown. This has now been surpassed by a new disc from the Asambura-Ensemble, founded in Hannover in 2013 to interpret classical music in dialogue with non-European perspectives. Fremd bin ich Eingezogen (Decurio DEC-004 decur.io) is subtitled Winterreise interkulturell and it connects Schubert with Persian poems and music in an intriguing mélange that provides a multicultural gloss on the original text and accompaniment. The vocal soloists are Yannick Spanier (German) and Mehdi Saie (Persian), and the orchestration is a mix of Western and Eastern instruments: piano; violin; viola; cello; contrabass; flutes; clarinets; guitar; santoor; oud; tar; marimba; djembe; riq and dumbek. The title translates to "I arrived a stranger," the opening line of Gute Nacht, the first song of the Winterreise cycle, and it embodies the spirit of the project as stated in the booklet, "…in view of the homelessness of so many refugees." It is a haunting and evocative reinterpretation of a timeless classic, firmly rooting it in the troubled 21st century. A stunning addition to my Winterreise collection.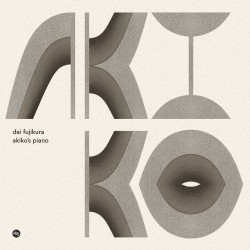 Two Japanese piano concertos complete this month's column, Dai Fujikura's Piano Concerto No.4 "Akiko's Piano" (daifujikura.com/#shop) and Toshio Hosokawa's Lotus under the moonlight on Hosokawa / Mozart (ECM New Series 2624 ecmrecords.com/shop).
Fujikura tells us that his "special piano concerto was written for and dedicated to the Hiroshima Symphony Orchestra's Peace and Music Ambassador, Martha Argerich. […] In Hiroshima, there is a piano that survived the atomic bomb, the smashed glass window from the blast is still stuck to the piano's body. This piano belonged to a 19-year-old girl, Akiko […] who was working as a mobilized student, when the atomic bomb was dropped. She walked and swam, as the bridge had been destroyed, to her home where her parents were that day. Then, the next day, she died [of radiation poisoning] in her parents' arms." In this recoding, two pianos are used; a grand piano for the body of the work, and then the cadenza at the end of the concerto is played on Akiko's Piano, the piano that survived the bombing. Fujikura says "To express such a universal theme of 'music for peace' the piece should portray that most personal, smallest point of view. I think that is the most powerful way, and only music can achieve this." I think he has done so admirably. The soloist is Mami Hagiwara and the Hiroshima Symphony Orchestra is conducted by Tatsuya Shimono.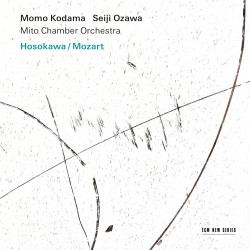 Hosokawa's concerto was commissioned by the Nordeutscher Rundfunk for the 250th anniversary of Mozart's birth. The composer was asked to select a favourite Mozart concerto and write a work for the same instrumentation. He chose the Concerto in A Major K488, and used the "beautiful slow movement" in F-sharp Minor as his point of departure. Hosokawa says "Of all flowers, the lotus blossom is the most highly valued in Buddhism. Many statues of the Buddha show him standing on a lotus blossom. […] In my concerto, the piano symbolizes the lotus flower (human) and the orchestra the surrounding water and universe. […] The work does not depict the lotus flower quietly but rather tries to express the mysterious energy of the universe that flows into the blossoming of the flower." For this purpose, Hosokawa has supplemented the orchestra with percussion instruments; dramatic bass drum explosions and the gentle tinkling of bells and chimes. He dedicated the work to Momo Kodama who premiered it in Hamburg in 2006. Her performance here is from the Japanese premiere, recorded later that same year, with Seiji Ozawa conducting his Mito Chamber Orchestra. As at the premiere, the recording pairs Lotus under the moonlight with Kodama's performance of the Mozart Piano Concerto in A Major that inspired it.
We invite submissions. CDs, DVDs and comments should be sent to: DISCoveries, WholeNote Media Inc., The Centre for Social Innovation, 503 – 720 Bathurst St. Toronto ON M5S 2R4.
David Olds, DISCoveries Editor
discoveries@thewholenote.com