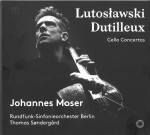 I must confess that German-Canadian cellist Johannes Moser was more or less unknown to me until the arrival of his recording of the Lutosławski and Dutilleux Cello Concertos with the Rundfunk-Sinfonieorchester Berlin under Thomas Søndergård (Pentatone PTC 5186 689 pentatonemusic.com). That's the trouble with having someone like Terry Robbins as delegate for most of the string recordings that cross my desk. Checking my archive I was surprised to note that Terry has reviewed two of Moser's discs since we instigated the Strings Attached column back in 2011. Fortunately for me, he has such a backlog of titles at the moment that I have no qualms about cherry picking for my own purposes – two months in a row – a few discs that would otherwise have gone to him.
You may recall from my column last month that Witold Lutosławski (1913-1994) is one of my favourite composers. I had the great pleasure and privilege of meeting that fine gentleman in October 1993 when he conducted the New Music Concerts Ensemble with soloists Fujiko Imajishi, violin, and soprano Valdine Anderson. We did not know it at the time, but that concert would turn out to be the last he ever gave; he died of cancer less than four months later. The recording of that concert was released independently and later reissued by Naxos (naxos.com).
By the way, the photo of Lutosławski that graces that album cover is by André Leduc, who you may remember from last month's issue. André and I also had the opportunity to meet Henri Dutilleux (1916-2013) when he was the guest of the Toronto Symphony Orchestra and the University of Toronto back in May 1998. The TSO performance of three of Dutilleux's large orchestral works under the direction of Jukka-Pekka Saraste was released the following year (Finlandia Records 3984-23524-2).
I sometimes wonder why it takes me so long to write this column. Often it is because of side trips such as this down memory lane, revisiting treasured recordings that slow me down.
So, back to Johannes Moser: it was an easy decision to keep this fabulous new CD for myself. His biography makes a point of saying that he was born into a musical family in 1979 with dual German and Canadian citizenship. I was not able to find anything more about his Canadian heritage initially, but Tourism Saskatoon provides the information that "Moser is the son of Saskatchewan musical royalty; [his] mother is Saskatchewan-born soprano Edith Wiens." He began playing the cello at eight. Ten years later, he was studying with the renowned Lithuanian cellist David Geringas, a pupil of Rostropovich, who won the Gold Medal at the Tchaikovsky Competition in 1970. In 2002, Moser himself received that same honour. He is enjoying an electrifying international career, performing with top orchestras around the world – the Berlin, Vienna, New York, Los Angeles and Israel Philharmonics to name a few – and has recently formed a trio with violinist Vadim Gluzman and pianist Yevgeny Sudbin.
Moser's performance on this new disc is superb. The Lutosławski concerto begins quietly, with an opening motive like a heartbeat that is intermittently interrupted by scurrying sounds above and below the pitch of the pulse. The interruptions gradually become more insistent and intense, all created by the cello alone. It is only after four and a half minutes, and a return to the heartbeat, that other members of the orchestra join in, with brazen fanfares from individual brass instruments. This pattern is developed throughout the Four Episodes of the second movement and the Cantilena third, with the solo cello as protagonist facing off with various orchestral disturbances, but also holding its own. And always returning to the heartbeat. It is only in the final movement that the full orchestra explodes in seeming fury. But the cello is not daunted and rises against the din with a repeated shrieking pulse, now more reminiscent of a heart attack than a heartbeat.
Dutilleux's concerto Tout un monde lointain was written in the same year as Lutosławski's – 1970 – and once again it is a dramatic work that starts in near silence. Its title and the epigrams for the five movements are taken from Baudelaire's Les Fleurs de mal. If you are not familiar with this work, or the Lutosławski, I urge you to rectify the situation with this very fine recording. Søndergård leads the Berlin RSO in what, for me, are definitive performances; and the sound is impeccable. I've never heard these concertos live and don't know whether it would be possible to achieve such a perfect balance between cello and orchestra in a concert setting. I hope someday to have the opportunity to find out, ideally with Johannes Moser as the soloist.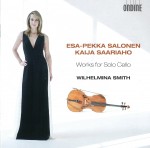 Sticking with a theme, the next disc also involves solo cello, but in this instance without an orchestra or any accompaniment whatsoever. Esa-Pekka Salonen; Kaija Saariaho – Works for Solo Cello (Ondine ODE 1294-2 naxosdirect.com) features American cellist Wilhelmina Smith in repertoire that pushes the extreme limits of the instrument. It begins with Salonen's YTA III, one of a series of works for solo instruments. Yta is the Swedish word for surface, and in this piece the pitch C, in any of five octaves, surfaces and resurfaces in what the composer describes as "a vision of the death of an organism"; in music this vision is "violent and ugly." Much of the disc gives this same impression and at times I found myself wondering where such anger was coming from. Even Saariaho's Sept papillons (Seven Butterflies) more often resembles the buzzing of angry bees than the floating grace of its namesakes. For all that, there is a compelling power to this music that drew me in and held my attention. And there are moments of respite, for instance in the middle movement of Salonen's knock, breathe, shine, where for an instant I thought the eerie sound coming from the cello was actually a theremin. But even with that I found that I could not listen to the whole disc at one sitting, despite the inclusion of a "palette cleanser" in the form of what may well be the first piece ever written for solo cello, Chiacona by Giuseppe Colombi (1635-1694).
Mystery Variations was a set of 31 pieces that were commissioned on behalf of Finnish cellist Annsi Karttunen, in which each composer would take as a foundation the above-mentioned Chiacona. Both the composers featured here contributed to the series; on this disc the original is bookended by Salonen's Sarabande per un coyote and Saariaho's Dreaming Chaconne. The first, after a stately opening, leads "the coyote into rough terrain, up rugged peaks of harmony and over precarious ridges of dissonance." In the second Saariaho "maintains the fundamental pitch structure of the Colombi, which is, however, in disguise behind the veil of shades traversed by the instrument and the performer." On first listening, without having read the program notes, I must confess that I did not hear the relationship of either to the original, which appeared as a wonderful aberration (apparition) in the midst of a very difficult listening session. But there is much here to be enjoyed, or at least marvelled at, including the vast technical acumen of Smith and the range of ethereal sounds she is able to coax, or wrestle, from her instrument.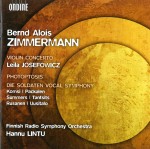 Bernd Alois Zimmermann (1918-1970) was already dead by his own hand when I first discovered his music in my formative years, but what a revelation that music was. From a piece for solo cello, to electronic compositions, works for large orchestra and the thought-to-be "un-performable opera" (due to its complexity and the sheer size of the resources required) Die Soldaten, I was blown away by everything I heard. Other than the early Sonata for Viola Solo performed by Rivka Golani and the late Four Short Studies for solo cello performed by Siegfried Palm, both under the auspices of New Music Concerts, I don't believe I have ever heard Zimmermann's music live. I take heart from a new Ondine release which confirms that his oeuvre is still in favour, at least in some parts of the world. Recent recordings of the Violin Concerto (1950), Photoptosis (1968) and Die Soldaten Vocal Symphony (1957-1963) are here performed by violinist Leila Josefowicz, vocal soloists, and the Finnish RSO under the direction of Hannu Lintu (ODE 1325-2 naxosdirect.com). It is the middle of these works that I would suggest as an introduction to this extremely forward-looking German composer. From the opening bars of Photoptosis (Incidence of Light) for large orchestra, which seem to emerge from some primordial ooze, the music grows in intensity through richer and richer textures. Out of this dense stew arise quotations from familiar iconic works – Beethoven's Ninth, Scriabin's Poem of Ecstasy and Tchaikovsky's The Nutcracker – and the tension recedes, only to build relentlessly again to an explosive finale.
During the years Zimmermann was working on his opera, he was also preparing a concert version roughly one third the length of the two-hour original. Calling for soprano, alto, contralto, tenor, baritone and bass soloists, and interspersing instrumental sections among the operatic scenes, the Vocal Symphony provides a precis of the extravagantly dramatic work. The opera was originally broadcast on radio in 1963 and received its first full staging in 1965 by the Cologne Opera under Michael Gielen. Since that time it has enjoyed several productions in each of the subsequent decades, most often in Europe, but also Britain, the USA and in 2016, Buenos Aires. In Zimmermann's centenary year, Die Soldaten enjoyed productions in Nuremberg, Madrid and Cologne. I have a feeling that recordings are as close as Toronto audiences are likely to get to the opera in the foreseeable future.
And to bring it full circle, I will mention one more of my "brushes with greatness," this time not in my formative years, but in those of the artist. During my time as a music programmer at CJRT-FM in the early 1990s, I had the opportunity to meet Leila Josefowicz as a child prodigy on her first press junket. I'm not sure if that was before or after her Carnegie Hall debut in 1994, but I expect it was in conjunction with the Philips release of her Tchaikovsky and Sibelius concertos the following year. She was born in Mississauga in 1977; her parents relocated to Los Angeles when she was three, and then moved to Philadelphia a decade later so that she could attend the Curtis Institute of Music. And the rest, as they say, is history. She is enjoying a significant international career, with well over a dozen recordings on such labels as Warner, Nonesuch, DG and Hyperion, with repertoire from Beethoven and Brahms to John Adams, and now Zimmermann. The craggy Violin Concerto is the earliest work on this disc, but its intensity, postmodernism, and its extremes of tonality, belie its origins. Josefowicz rises to all of the challenges and is obviously not daunted by "difficult music." When I was doing my program Transfigured Night at CKLN-FM in the 1980s, I used to present a Difficult Listening Hour – sit bolt upright in that straight-backed chair (with a nod to Laurie Anderson) – and any of these pieces would have (and likely did) find a home there. Not for the faint of heart.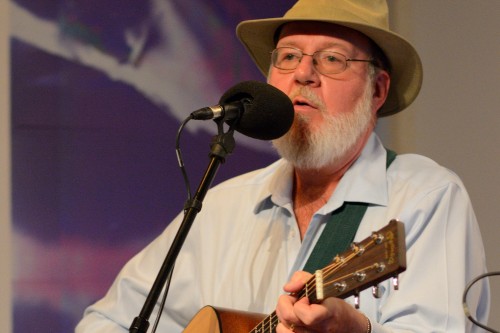 Shameless self-promotion: After 20 years as general manager of New Music Concerts I will be stepping down at the end of this season. As a parting gift to the organization, I am hosting a fundraiser on behalf of NMC, "Coffee House 345 Revisited" (aka Gallery 345 on Sorauren), on Thursday May 30. I will be bringing my eclectic repertoire, 6- and 12-string guitars and a few musical friends along for the ride. It's a benefit so the tickets are a little pricey – $60 each or two for $100 – but that includes complimentary snacks and drinks, and a charitable receipt for the CRA allowable portion. I hope you will join me. For reservations call 416-961-9594.
We invite submissions. CDs, DVDs and comments should be sent to: DISCoveries, WholeNote Media Inc., The Centre for Social Innovation, 503 – 720 Bathurst St. Toronto ON M5S 2R4.
David Olds, DISCoveries Editor
discoveries@thewholenote.com