In Terry Robbins' Strings Attached column this month he reviews two new recordings of Vivaldi's Four Seasons, each paired with more recent pieces of the same name. Further on in these pages Matthew Whitfield and Tiina Kiik discuss very different approaches to the setting of traditional liturgical texts by György Ligeti, Martins Vilums, Heidi Breyer and Jóhann Jóhannsson. With this in mind, it seemed fortuitous when I also found intriguing new takes on these themes by Žibuoklė Martinaitytė and Cheryl Frances-Hoad on my desk.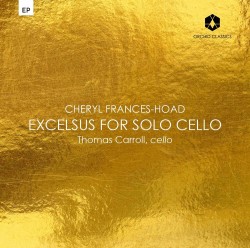 Frances-Hoad (b.1980) composed the solo cello piece Excelsus (Orchid Classics orchidclassics.comreleases/orc100188-excelsus/) for Thomas Carroll in 2002 on the occasion of his Wigmore Hall YCAT debut. She says, "I'd known Tommy for over a decade: arriving at the Yehudi Menuhin School in 1989 as an eight-year-old cellist, I was soon very much in awe of this much more grown-up player. I have memories of playing many of the great string repertory works […] with Tommy leading the section and me right at the back. These experiences shaped me as a musician, and I still look back with astonishment at the opportunities I was given at such an early age. By the time Tommy asked me to write something for his Wigmore concert (coincidentally my first premiere at the hall too) my dreams of being an international concert cellist had long since been diverted: Excelsus would be the first piece in my portfolio towards my Composition PhD at Kings College London. […] Quite why I thought a Requiem Mass was the appropriate vehicle for a Young Concert Artist's debut is beyond me these days. But I'm still proud of this early work which seems full of exuberance and utterly lacking in self-consciousness. […] Musically the entire work is based on two themes: one melodic, the Rex Tremendae or 'King of Awful Majesty' theme, heard at the very opening; and one chordal, the Lux Aeternum (Light eternal) harmonies, not revealed in their pure form until the pizzicato passage that concludes the suite. Other subliminal influences were the Bach and Britten cello suites, which I loved to play as a teenager."
The composer's self-described exuberance is an apt description of Excelsus, strange as that may seem for a requiem; perhaps more fitting for a celebration of life than a funeral service. The seven-movement work is uncompromising in the technical demands placed upon the soloist, but Carroll rises to the challenges with seeming ease in a mesmerizing and exhilarating performance of a breathtaking addition to the cello repertory.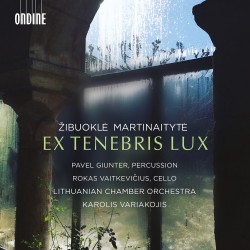 The Martinaitytė disc includes not only her own version of the cycle of the seasons, Sielunmaisema for solo cello and strings, but also instrumental works based on Latin texts, Ex Tenebris Lux (out of darkness, light) and Nunc fluens. Nunc stans., its title taken from The Consolation of Philosophy by Severinus Boethius: "Nunc fluens facit tempus. Nunc stans facit aeternitatum." (roughly "the now that passes creates time; the now that remains creates eternity").
Martinaitytė is a mid-career Lithuanian composer based in New York City whose 2020 awards included a Guggenheim Fellowship and the Lithuanian National Prize for Culture and Arts. When I reviewed her previous Ondine recording Saudade in March 2021, I said "evoking stark landscapes, there is a wonderful lushness to the music, which seems to grow inherently out of the initial quiet in vast arcs of sustained tones and tremolos, occasionally erupting like bubbles exploding from some primordial soup. The music builds and recedes in many-textured layers with no melodies per se, just shifting moods and colours that draw us in with a sense of yearning." Incidentally, Esprit Orchestra gave the Canadian premiere of Saudade earlier this year at Koerner Hall.
That description of her music could equally be applied to Žibuoklė Martinaitytė: Ex Tenebris Lux with the Lithuanian Chamber Orchestra under Karolis Variakojis (Ondine ODE 1403-2 naxosdirect.com/search/ode+1403-2). All the works here date from the past three years and are scored for string orchestra. Nunc fluens… includes a percussionist (Pavel Giunter), but his myriad instruments merely add to the dense, though gentle, textures. The title work, completed in 2021, involves 18 individual strings and was conceived as a commentary on the current world health crisis. The most substantial work is Sielunmaisema, which the composer says is a Finnish word meaning "soul-landscape, a particular place that a person carries deep in the heart and returns to often in memory. […] Soul-landscape is related to questions of identity and place which resonate with two parallel cultural identities that I carry within – my native Lithuanian and later acquired American. In this case, the piece itself becomes an ideal soul-landscape reflecting a native environment as seen through the prism of four seasons." Scored for "at least" 21 strings and solo cello, as in nunc fluens… the soloist (Rokas Vaitkevičius) is not a protagonist in some mythic battle with the orchestra, but floats above the ensemble often playing tremolo monotones and simply adding textures to the whole. The work extends beyond half an hour and the four movements, which may also be taken as stand-alone pieces, are played without pause when performed together. While three of the seasons share the quiet density of Martinaitytė's signature style, Spring bursts forth with an ebullience reminiscent of John Adams' Shaker Loops before the work returns to rich, dreamlike swells and respites. Stunning!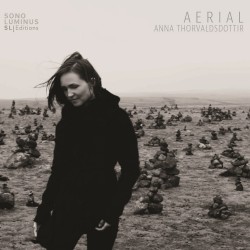 I reviewed Icelandic composer Anna Thorvaldsdottir's earlier Sono Luminus disc Enigma last September, noting her music "is replete with extended techniques, extra-musical effects, unusual timbres and juxtapositions. There are few melodies per se, but rather moments and strings of events that constantly surprise and command rapt attention." That release has been followed by the Sono Luminus (SL) reissue of the 2014 Deutsche Grammophon disc Aerial with the six original tracks supplemented by the addition of Aura from an earlier SL release featuring the LA Percussion Quartet. All the tracks have been remastered by Daniel Shores for this reissue (SLE-70025 sonoluminus.com). The sound is exceptional, but unfortunately the packaging is just as sparse as the original, with no program notes or biographical information. Fortunately the publicist was able to provide an article by Doyle Armbrust from Music + Literature dating back to the DG release that includes his extensive analysis of the works and interview excerpts with the composer, which provided a welcome context for this quite abstract fare.
Much like Žibuoklė Martinaitytė, Thorvaldsdottir's music is all about textures and colours. It moves at a seemingly glacial pace, or perhaps that of a cooling lava flow. In the pieces on offer here, the instrumentation is mostly sparse although the timbres are rich and dense. Aeriality, performed by the Iceland Symphony Orchestra under Ilan Volkov, is the only work for forces beyond a small chamber ensemble. As a matter of fact the opener, Into – Second Self for seven brass and four percussion, is performed by only three players through overdubbing, one each of percussion, trombone and horn. The overall effect is similar to R. Murray Schafer's Music for Wilderness Lake where 12 trombonists positioned around the periphery of a small lake play meditative music at dawn or dusk.
The longest work, at 15 minutes, is Trajectories for piano (Tinna Thorsteinsdóttir) and an electronic track is which we seem to hear, amongst other things, the tinkling of ice crystals as if in an arctic cove before freeze-up. True to its name, Shades of Silence for violin, viola, cello and harpsichord, written for and performed by Nordic Affect, is deeply meditative once again. The whole album unfolds as if in slow motion, but if you surrender to its pace, Aerial can be a transcendental experience.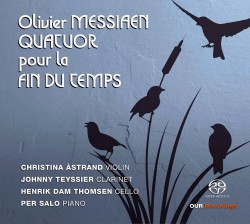 The final classical selection this month is Olivier MESSIAEN QUATUOR pour la FIN DU TEMPS (Our Recordings 6.220679 ourrecordings.com). The quartet is the only chamber-ensemble piece composed by Messiaen, and was written during his internment at a Silesian German POW camp in 1940-41. It is scored for musicians who were fellow prisoners in the camp, a violinist, a clarinettist and a cellist, with Messiaen himself at the piano. Messiaen was a deeply religious person and served as organist at l'Église de la Trinité in Paris for most of his career, even after he became world renowned as a composer. The eight movements of the Quatuor, with the exception of a brief Interlude, are based on biblical themes with titles such as Liturgy of Crystal, Praise for the Eternity of Jesus and Dance of Fury for the Seven Trumpets (of the Apocalypse).
The musicians on this recording, violinist Christina Astrand, clarinettist Johnny Teyssier, cellist Henrik Dam Thomsen and pianist Per Salo are all principals in the Danish National Symphony Orchestra and their performance is flawless. (My only quibble is the abrupt cutoff of the final note of the opening movement). Their unisons are so aligned that I keep finding myself straining to try and figure out just how many of them are playing at any given time. And Teyssier's dynamic control when building from absolute silence in his solo movement, Abîme des oiseaux, is amazing! But the real reason to add this disc to my extensive Messiaen collection was the excellent essay by Jens Christian Grøndahl. It incorporates passages based on eyewitness testimony, descriptions and statements from Rebecca Rischin's book For the End of Time: The Story of Messiaen's Quartet, as well as Messiaen's own preface to the score and excerpts from the Book of Revelation. There is also a translation of three stanzas of the poem Enfant, pale embryon (Child, pale embryo) by Messiaen's mother Cécile Sauvage who said "I suffer from an unknown distant music" before the composer's birth. It's truly enlightening.
I recently read Permanent Astonishment, the latest from acclaimed playwright and novelist Tomson Highway. It's a memoir of his first 15 years, growing up in northern Manitoba where it borders Saskatchewan, the Northwest Territories and what is now Nunavut. Far beyond where all roads end, access to the outside world was only by bush plane and local transport (i.e. a several hundred mile radius) was by dog sled and canoe. In spite of the hardships growing up in the bush with little-to-no amenities, Highway tells a charming story beginning with his birth (and near death) in a snowbank in December 1951. And later, of spying on his older sisters as they gather round a transistor radio to listen to country music from down south thanks to aberrant AM radio waves reflected through the atmosphere late at night. Even his time spent at a residential school is told fondly, albeit without glossing over the abuses perpetuated by some of the Christian Brothers.
Highway's latest project is a CD – Cree Country (tomsonhighway.com) – featuring a dozen of his songs in classic country style sung by his frequent collaborator Patricia Cano. I first heard that incredible Peruvian-Canadian singer in Highway's play The (Post) Mistress in which she sang in English, French and Cree and for which she won the Toronto Theatre Critics Award for Best Actress in a Musical in 2017. In this outing it's all Cree, but thankfully, English translations are included. As I say, it's in classic country style and I imagine it's not much different than the music he would have heard growing up in the 1950s on those long nights in the sub-Arctic. Highway penned all the music and lyrics, but the production and arrangements are by Toronto jazz singer John Alcorn, who also adds some background vocals. The band includes some big names in Canadian country music: Mike "Pepe" Francis (guitars and direction), John Dymond (bass), Steve O'Connor (piano), Sean O'Grady (drums), Don Reed (fiddle) and Steve Smith (steel guitar). Reed and Smith are stellar throughout, with authentic down-homey solos, and Francis' high-string acoustic accompaniment on Sassay Tipi-Skow (It's Night Already) is a real treat. Most of the songs are up-tempo, and even the ballads and laments are hopeful and uplifting rather than maudlin. No "high-lonesome" moaning here, even in Ateek Igwa Adele (Ateek and Adele), the story of 20-year-old Ateek, affianced to Adele, who drowns one day when "A wind came up | and the waves grew in size | He started sinking, Ateek's canoe started sinking | He drowned. He drowned. | Adele!" Interestingly Highway also gives us his take on the four seasons in the contemplative Ooma Kaa-Pipook (When It's Winter) "When it's winter, there is snow everywhere | But when it's spring, the snow disappears | When it's summer, the sun shines | But in the fall, the Earth will soon sleep. Life on this Earth | It works the same way | You are born, you live | But in the fall, you, too, begin to die."
Concert note: Tomson Highway hosts the launch of Cree Country at the Horseshoe Tavern on May 23. It's a digital release available now on all streaming platforms.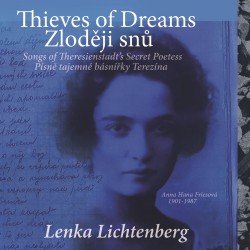 It's too late to attend the launch of Thieves of Dreams: Songs of Theresienstadt's Secret Poetess, the latest by Toronto-based Czech singer Lenka Lichtenberg (lenkalichtenberg.com) which took place at the Paradise Theatre on Mother's Day. That date had a double significance for Lichtenberg because it was also the anniversary of the liberation of the Nazi "camp-ghetto" Theresienstadt (Terezin), where Lichtenberg's mother, grandmother and grandfather were interned during the Second World War. Although her mother and grandmother survived, her grandfather was transported to Auschwitz where he was executed in a gas chamber.
Lichtenberg says "When my mother Jana Renée Friesová passed away in 2016, I was sorting
through her desk in Prague and discovered two small notebooks. They were filled with poetry my grandmother, Anna Hana Friesová (1901-1987), wrote in the Terezín concentration camp. I knew that both my mother and grandmother were imprisoned in Terezín during the war — my mother wrote a book about it in 1996, Fortress of My Youth. However, I knew nothing of my grandmother's experience. Most of us, if we're lucky enough, have a brief window with our grandparents. That time isn't typically spent listening to their traumatic stories. But there before my eyes were tattered pages with the handwritten dreams of my grandmother — and her nightmares in the camp, stories she never told me. So, I embarked on a quest to share her writing from the 'hell on earth,' to quote Primo Levi, and to bring her voice back to life in the way I best knew how: as music, in a project spanning eight decades and three generations."
Thieves of Dreams is the culmination of this project to set the poems of her grandmother to music. She wrote eight of the 16 tracks, produced the album and is responsible for most of the arrangements. The remainder of the songs were composed by her collaborators Milli Janatková, Rachel Cohen, Jessica Hana Deutsch, Shy-Anne Hovorka, Zita Petrak and Lorie Wolf. The styles range widely from pensive ballads and torch songs to jazz-tinged sketches, folk-inspired chorales and anthems. The vast cohort of musicians involved includes many familiar names such as David Buchbinder (trumpet and flugelhorn), Jessica Deutsch (violin, viola, cello), Beverley Johnston (marimba), George Koller (double bass), Fern Linzon (piano), Tomáš Reindl and Anita Katakkar (tablas) among a host of others, with harmony vocals by Auri Fell, Murray Foster, Milli Janatková and Andrew McPherson. Mám vlastni trud (I have my own grief) features narration by Lichtenberg's late mother. All of the songs are sung in Czech as in the original texts. The booklet includes facsimiles of the pages of Friesová's notebooks and full English translations. This is a glorious achievement and a wonderful tribute to Lichtenberg's forebears.
We invite submissions. CDs, DVDs and comments should be sent to: DISCoveries, WholeNote Media Inc., The Centre for Social Innovation, 503 – 720 Bathurst St. Toronto ON M5S 2R4.
David Olds, DISCoveries Editor
discoveries@thewholenote.com