The iconic American composer George Crumb died peacefully, at home with his family on February 6. He was 92. Of the many world-renowned composers I had the privilege to meet during my two-decade tenure at New Music Concerts, Crumb was among the most affable, knowledgeable and accomplished. In 2003 he spent most of a week working with NMC musicians, accompanied by his wife Elizabeth, son Peter and daughter Ann, who was the soloist in our Canadian premiere performance of Unto the Hills. It was a magical week and one that remains a cherished memory. Crumb had a long relationship with NMC and on a previous visit in 1986 he supervised the first performance of An Idyll for the Misbegotten, performed by its dedicatee Robert Aitken and three percussionists. You can find NMC's recording of that work among others on George Crumb (Naxos American Classics 8.559205 naxosdirect.com/search/8559205). In a tribute published by NMC, Aitken says "The music of George Crumb has the quality of an elixir, which keeps drawing you back through intricacies in time to a world you feel you know and look forward to enjoying but as many times as you have experienced it, the slightest change takes you to a different place, somewhere you have never been before and never thought of, but will never forget." I said something similar in a July 2020 review of Metamorphoses Book I: "There are many references to Crumb's earlier compositions and in many ways these new works sound familiar. One sometimes wonders 'Why does Grandpa keep telling the same stories?' but listen carefully; you'll find vast new worlds buried within them."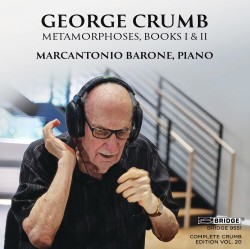 In December Bridge Records released Volume 20 in their ongoing series devoted to Crumb's complete works (BRIDGE 9551). Metamorphoses Books I & II features a remastering of Book I (2015-2017) and the first recording of Book II (2018-2020) performed by Marcantonio Barone, to whom the second book is dedicated. Subtitled Fantasy Pieces (after celebrated paintings) for amplified piano, each of the 20 depicts a different painting by such artists as Picasso, Chagall, Dali and Gauguin. In the excellent and extended booklet notes by Crumb scholar Steven Bruns we learn that "Rather than aiming for precise musical analogs, Crumb responds to the ethos, the characteristic tone of the painting, and often to the title as well. The music explores a dazzling expressive range, and Crumb positions the movements in each Book with the mastery of an expert gallery curator." You can read my impressions of those in the first book here: thewholenote.com/index.php/booksrecords2/editorscorner/30201-editor-s-corner-july-2020. Book II opens with two paintings by Paul Klee and includes others by Andrew Wyeth, Simon Dinnerstein, Gustav Klimt, Georgia O'Keeffe and the abovementioned Gauguin, Picasso and Chagall. The set ends with a stunning and ethereal interpretation of van Gogh's The Starry Night.
As always with amplification in Crumb's pieces, the purpose is not to produce loud effects, although there are a few jarring interpolations, but rather to make the most subtle effects audible. The pianist is required to venture inside the piano to pluck and strum and dampen strings, use fists and other implements, vocalize and employ a variety of small instruments to expand the solo piano into a real orchestra of timbres. Barone worked extensively with Crumb for two decades and his understanding of the sensibility, and his command of the techniques required, and often invented, by the composer makes this recording definitive. Bridge Records here provides an exhilarating tribute and important addition to the recorded legacy of this master composer. The Complete George Crumb Edition now numbers 21 CDs and one DVD and is currently available at a special price (US$190) from the Bridge Records website (bridgerecords.com).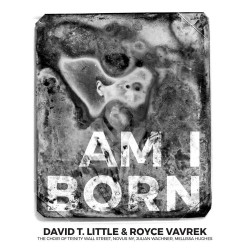 The oratorio Am I Born by David T. Little with libretto by Royce Vavrek (Bright Shiny Things BSTC-0152 brightshiny.ninja) is another spectacular work that finds its inspiration and context in a painting. The painting in question is Francis Guy's 1820 Winter Scenes in Brooklyn, depicting a neighbourhood destroyed for the construction of the Brooklyn Bridge. Originally composed in 2011 for the Brooklyn Youth Chorus, Am I Born was the first collaboration between Little and Vavrek, who went on to great success with the operas Dog Days and JFK. This SATB version of the oratorio was commissioned by Trinity Church Wall Street where it premiered in 2019. Opening with big bass drums blazing and full fortissimo chorus reminiscent of Carmina Burana, the listener is captivated immediately. Throughout its half-hour duration the drama does not let up, although there are moments of respite along the way and beautiful soprano solos by Mellissa Hughes before the haunting denouement. The libretto draws on Ananias Davisson's 1816 hymn Idumea with its lyric "And am I born to die? / To lay this body down! / And must my trembling spirit fly / Into a world unknown?" The solo soprano personifies Guy's painting, which hangs in the Brooklyn Museum. She gradually draws consciousness and understanding from the crowds of spectators passing by each day, until, urged on by the chorus, she is "born" out of the frame and enters a confusing and lonely present-day reality. At that point, the philosophical speculation "am I born to die?" is modified to the much more pressing and immediate: "am I born?" Hughes and the Choir of Trinity Wall Street are accompanied in this powerful performance by the NOVUS NY orchestra, all under the direction of Julian Wachner.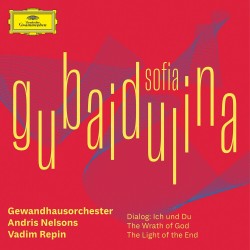 Like George Crumb, Sofia Gubaidulina (b.1931) has shown no signs of slowing down creatively in her later years. To honour her 90th birthday Deutsche Grammophon has released a disc of world premiere recordings of two recent works and the earlier The Light of the End, written in 2003 for the Boston Symphony (deutschegrammophon.com/en/catalogue/products/gubaidulina-nelsons-repin-12472). Andris Nelsons conducts the Gewandhausorchester Leipzig for which Gubaidulina has served as composer-in-residence since 2019. The last-mentioned work is based on a fundamental conflict that characterizes the physics of music, namely, the irreconcilability between the natural overtone series, played here by the horns, and the tempered tuning of the rest of the orchestra. This conflict leads to a series of dramatic crescendos and climaxes and is illustrated to exemplary effect in a duet between solo horn and solo cello.
The disc opens with Dialog: Ich und Du (Dialogue: I and You // Violin Concerto No.3). It was written for Vadim Repin in 2018, and he is the soloist here. This and the companion piece The Wrath of God are extrapolated from Gubaidulina's oratorio On Love and Hatred (2016-2018), which constitutes her appeal to humankind to follow God's commandments and to overcome hatred through the conciliatory power of love. The title of the violin concerto deliberately recalls religious philosopher Martin Buber's Ich und Du (I and Thou) which describes the world as "dichotomous," contrasting two things that are opposed or entirely different, here represented by a conversation, often interrupted, between the solo violin and the orchestra. The Wrath of God is a shimmering depiction of the Day of Judgement, or Dies Irae, for enormous orchestral forces. "God is wrathful, He's angry with people and with our behaviour. We've brought this down on ourselves," the composer explained in the preamble to the first performance in an empty Vienna Musikverein in November 2020, a result of the coronavirus pandemic. Gubaidulina has dedicated the piece "To the Great Beethoven" and we can hear hints of the Ninth Symphony peeking through in the dramatic finale.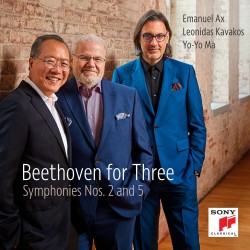 Speaking of Beethoven, following on their recording of his complete works for cello and piano, Yo-Yo Ma has once again teamed up with Emanuel Ax, this time with violinist Leonidas Kavakos, on Beethoven for Three – Symphonies Nos. 2 & 5 (Sony Classical yoyoma.lnk.to/SymphoniesNos2and5). The arrangements are by Ferdinand Ries, under Beethoven's supervision (No.2), and the contemporary British composer Colin Matthews (No.5).
It must be a daunting task to adapt the full resources of a symphony orchestra to just three players, even if we concede that the pianist's two hands can render separate independent lines. Still we must realize that in Beethoven's day arrangements were the norm, and in many instances the only opportunity to experience great works of orchestral repertoire. Recordings were still a hundred years in the future and orchestral concerts beyond the reach of most people. I am pleased to report in this instance both of the arrangements are convincing and satisfying. On the one hand I am amazed at how the trio is able to convey the musical scope and range of emotion of these familiar orchestral masterworks. On the other, I was intrigued to realize how reminiscent some of the movements were, especially the scherzo of the second symphony, of Beethoven's early actual piano trios. I suppose that's not really a coincidence.
Satisfying as I found this recording, likely another result of COVID-imposed restrictions, I must confess it inspired me to revisit the cycle of nine symphonies in all their orchestral majesty, and for this I chose Simon Rattle's live set from 2002 with the Vienna Philharmonic (EMI Classics). So thanks to Kavako, Ma and Ax for an inspirational and illuminating experience, and for an excuse to look up some old friends.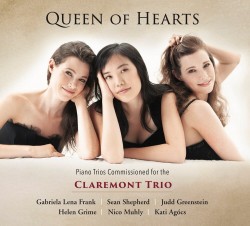 Founded 20 years ago, the Claremont Trio (Emily Bruskin, violin; Julia Bruskin, cello; and Andrea Lam, piano) has been commissioning works for much of its existence that expand the repertoire and in some instances push the traditional boundaries of the contemporary piano trio. Queen of Hearts (Tria Records amazon.com/Queen-Hearts-Claremont-Trio/dp/B09RQDVRVV) brings six of these works together with compositions by Gabriela Lena Frank, Sean Shepherd, Judd Greenstein, Helen Grime, Nico Muhly and Kati Agócs. Frank's Four Folk Songs draws on her Peruvian heritage on her mother's side for a set that ranges from lyrical to playful and to frankly disturbing. Shepherd's Trio was commissioned for the opening of Calderwood Hall in the Isabella Stewart Gardiner Museum, Boston. It was inspired by the architecture of Renzo Piano and the three movements consider different aspects of the construction. Most compelling is the finale, Slow Waltz of the Robots.
Muhly's Common Ground (2008) and Agócs' Queen of Hearts (2017) mark the earliest and latest works on this compelling CD. Muhly's title refers to the ground bass à la Purcell that appears in the final section of the work. Agócs also employs a repeating bass line, in this case alternating with a lyrical melody. She tells us that "A life fully lived may see challenges that can seem insurmountable. The work's variation structure, by representing tenaciousness and ingenuity – continuously finding new ways to respond – ultimately reveals an inner strength and an emotional core that hold steadfast and unshaken no matter how they are tested. The title Queen of Hearts […] symbolizes resilience, magnetism, nobility, empathy, decorum, a flair for the dramatic, and a distinctly feminine power." This piece makes a powerful end to a diverse disc with fine performances right across the board.
I spoke earlier about musical works inspired by paintings. I have experienced two artistic epiphanies in my life, one visual and one audial. The first was on a family trip to Washington in my teenage years when I turned a corner in the National Gallery and came face to face with Salvador Dali's The Sacrament of the Last Supper. I gasped and said to myself "Oh, that's what they mean by a masterpiece!" The second was in 1984 when I attended the CBC Young Composers' Competition and had the most visceral musical experience of my first 30 years. Paul Dolden's The Melting Voice Through Mazes Running, which won the only prize in the electroacoustic category that year, was unlike anything I'd ever heard before. Although it sent some audience members rushing to the exits with hands pressed over their ears, it held me riveted to my seat and ultimately inspired me to commission a new Dolden work (Caught in an Octagon of Unaccustomed Light) for my radio program Transfigured Night at CKLN-FM. Now, some three and a half decades later, Dolden has published his entire catalogue of works and writings and I'm very pleased that Nick Storring has agreed to review The Golden Dolden Box Set in these pages. Storring is a composer in his own right, a generation younger than Dolden, who uses some similar techniques in his own work. I believe his insights are extremely apt and articulately expressed and I welcome him aboard the WholeNote team.
We invite submissions. CDs, DVDs and comments should be sent to: DISCoveries, WholeNote Media Inc., The Centre for Social Innovation, 503 – 720 Bathurst St. Toronto ON M5S 2R4.
David Olds, DISCoveries Editor
discoveries@thewholenote.com