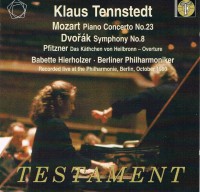 When Klaus Tennstedt defected from East Germany in 1971 he was already an acclaimed maestro. He was granted asylum in Sweden and accepted engagements in Gothenburg and Stockholm and in 1972 he became general music director of the Kiel Opera. In 1974 he made his North American debut in Toronto conducting the TSO in Massey Hall. I remember to this day a gangly figure, singularly animated, who generated an unforgettable Beethoven violin concerto with Itzhak Perlman. Soon he was in demand worldwide and he followed Solti as conductor of the London Philharmonic from 1983 until 1987. He guest conducted the Berlin Philharmonic from 1977, leading 23 concerts over 14 years. Karajan, it is said, talked of him as his possible successor... perchance to keep pretenders at bay. Testament has licensed five complete Tennstedt/Berlin concerts in the Berlin Philharmonie between 1980 and 1984 recorded by Rundfunk Berlin-Brandenburg. The first CD (SBT-1446) contains an unusual and exciting 14 minute overture, Das Katchen von Heilbronn by Hans Pfitzner, followed by Mozart's Piano Concerto No.23 with Babette Hierholzer and concluding with Dvořák's Eighth Symphony. Hierholzer was only 23 at the time of this concert, October 7, 1980 but had made her debut with the orchestra two years earlier. A critic at the time was impressed by the seamless give-and-take between piano and orchestra.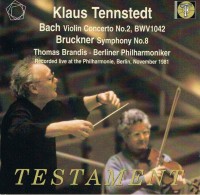 The other four Tennstedt concerts are each contained on two-CD sets which are issued at a reduced price. Each concert features a notable soloist. The first concert dating from November 21, 1981 opens with Bach's Second Violin Concerto BWV1042 played by the orchestra's concertmaster Thomas Brandis and Bruckner's Eighth Symphony (SBT2 1447). The Bach is elegant with Brandis reliably polite and solid. The Bruckner is a different story. The work was a Karajan specialty and it is quite illuminating to hear Tennstedt's more personal vision: "less solemn, less calm, but more colourful than usual" according to one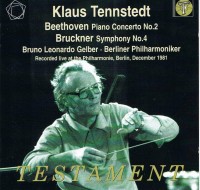 critic. The second concert (SBT2 1448) dates from December 14, 1981 and features the Bruckner Fourth Symphony preceded by a very fine version of Beethoven's Second Piano Concerto joyfully played by Bruno Leonardo Gelber whom Arthur Rubinstein considered to be one of the greatest pianists of his generation. Schubert's Symphony No.9 is the main work on the concert from April 19, 1983 which also featured American violinist Peter Zazofsky playing the Dvořák Violin Concerto (SBT2 1449). The concerto comes off very well but the Schubert is a different matter. Tempi are often quite different from those chosen by his peers and may, and in fact did to the critics, sound like a series of miscalculations. However, on second hearing it all sounds fine and of a whole and quite magnificent. Reviewers with deadlines at a live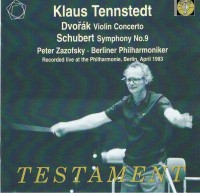 performance do not have the luxury of returning to that same performance and listening with new ears as we able to do listening to a recording. (Still, critics have their place... I know several regular concert-goers who express guarded opinions, or have none at all, until they read what the local pundit(s) declare.) The last concert in this Testament series (SBT2 1450) is an exciting one.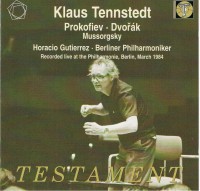 Mussorgsky's original version of A Night on Bare Mountain sounds, as it should, lurid, threatening and scary. The Prokofiev Second Piano Concerto (my favourite of the five) is given a no-holds-barred performance by Cuban born Horacio Gutierrez. A great work and a superlative performance. Closing out this concert of March 13, 1984 is a beautifully balanced, dynamic Dvořák Symphony No.9, From the New World that, in earlier days would top the charts.
These five Testament releases are well timed as there is a growing interest in Tennstedt's artistry, thereby generating demand for his live performances both on CD and DVD. The Testament recordings were re-mastered this year and the dynamics are accurate and the imaging has a believable depth of field in a sympathetic acoustic. Listening to them all was, and continues to be, a great pleasure.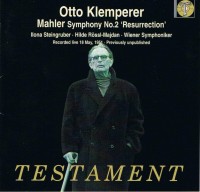 One other 2CD release from Testament must be mentioned (SBT2 1456): a Mahler Second from May 18, 1951 conducted by Otto Klemperer with the Vienna Symphony Orchestra, the Akademie Kammerchor, and Ilona Steingruber and Hilde Rössl-Majdan. Sound familiar? A performance involving all the above, recorded in the same month was issued by Vox in the early 1950s. Testament states that their performance is previously unpublished. This is a monumental realisation that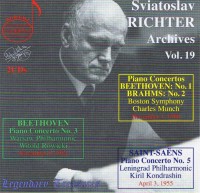 belongs in the pantheon of Mahler performances. Disc one contains a 2010 meticulous remastering which sounds quite robust in clarity and dynamics. Disc two takes this new remastering and subjects it to "Ambient Mastering that utilises very small frequency delays to give a sense of space and width to a mono, or very narrow stereo." I was rather doubtful about the efficacy of this process but there was now air around the instruments, tuttis were opened up and individual instruments were more discernable. The recording was easier on the ears and more immediate and based on this example, this is a very effective and worthwhile process. The 2CDs are issued at a reduced price.