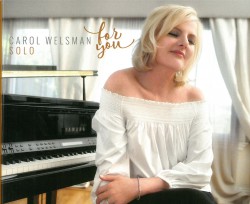 For You
Carol Welsman
Welcar Music WMCD369 (carolwelsman.com)
I have long been up for any recording by Canadian jazz singer and pianist Carol Welsman (now Los Angeles-based), and my admiration continues with her most recent CD, For You. It is a solo recording except for three tracks on which expert guitarist Paulinho Garcia plays. The title refers to a social media process: after listening to 30-second soundbytes, around 5,000 voters selected the songs. The result is 16 standards in a wide variety of moods, styles and languages, each song presented with enough musical intimacy to suggest that it is indeed, For You.
On this disc Carol Welsman sings in English, French, Spanish, Portuguese and Italian – regardless, her excellent diction and sense of style are convincing as is heard in such titles as Les Parapluies de Cherbourg (Legrand) and Corcovado (Jobim). American numbers show the same clarity and sensitivity to lyrics, suggesting many different moods. Her delivery is direct and almost non-vibrato in Bewitched, Bothered and Bewildered, breathy and sensual in My Foolish Heart, and vulnerable, almost down to a whisper in Skylark. Those remembering her exuberant singing and pianism in earlier times may be surprised by the restrained contralto and spare apt accompaniments on this CD. Yet she conveys a feeling of optimism, and a sense of more closeness is now gained, perhaps abetted by producer Takao Ishizuka. The disc has already been a bestseller among jazz listeners in Japan.