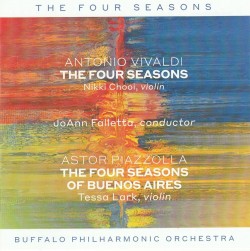 Vivaldi – The Four Seasons; Piazzolla – The Four Seasons of Buenos Aires
Nikki Chooi; Tessa Lark; Buffalo Philharmonic Orchestra; JoAnn Falletta
Beau Fleuve Records 605996-998562 (joannfalletta.com/discography.html)
This CD's two works based on the "four seasons" idea is intriguing, since Astor Piazzolla's The Four Seasons of Buenos Aires makes references to Vivaldi's familiar The Four Seasons violin concertos. Canadian violinist and Buffalo Philharmonic concertmaster Nikki Chooi and the JoAnn Falletta-led Buffalo Philharmonic play the latter with vitality, colour and precision. For example, in the concerto La primavera Chooi brings clean intonation and articulation, the orchestra adding fine dynamics and lots of bounce. Slow movements of concertos evoke night in different ways. Outstanding is L'autunno with soft chromatically connected string chords sounding over a steady harpsichord. Given our present frightful winter, the first movement of L'ivorno seems especially effective: shivering string tremolos; raw cold of a harsh violin bow stroke; a fateful mood in the steady bass tread and relentless harmonic sequence of fifths. In the finale Chooi takes advantage of opportunities for free-tempo playing that come often in this concerto cycle – here because the solo protagonist is walking on ice!
Piazzolla's tango-based The Four Seasons of Buenos Aires (1965-70), written for a cabaret group, became a four-piece suite for violin and strings arranged by Leonid Desyatnikov in 1998. Soloist Tessa Lark has plenty of technique and temperament for rapid mood changes in each piece. Summer begins in a chugging offbeat-accented rhythm, followed by a violin solo with occasional references to Vivaldi's work. Languid playing with frequent slides alternates with faster jazzy passages. The following enticing pieces show similar variety.