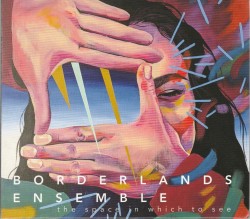 The Space in Which to See
Borderlands Ensemble
New Focus Recordings FCR299 (newfocusrecordings.com)
The Tucson, Arizona-based Borderlands Ensemble is oriented towards diverse communities. This CD explores Arizona-Mexico musical connections, featuring four premieres from 2019. Participants include artistic director-hornist Johanna Lundy, violinist Ellen Chamberlain and other string chamber musicians, plus cross-disciplinary collaborators. Performances are excellent: Lundy's versatile mastery and the able string players (with guitar sometimes) produce a unique, compelling recording. Anne Leilehua Lanzilotti's title composition carries expressive power. Its four sections explore aspects of Indigenous identity and place. Especially striking are opening string drones with crescendos and silences, and percussive or pitched strings plus vocal breathing around clarion horn notes in the following part.
Charles Daniels' Dream Machine gathers diverse material into a convincing, well-timed three-part work. Perpetual motion sections, the second having more complex rhythms, frame a pensive centre. Still chords close this beautiful work. The longer Ometéotl – named for the Aztec creation god – by Mexican Alejandro Vera brings a variety of musical material both more ancient and more modern than this disc's other works. Passing Ships by Jay Vosk is intended to represent the experience of migration, often setting the horn (i.e. ship) against the string quartet. The piece made me compare land migration experiences in the Borderlands to those by sea of my own ancestors. Songs and Arias by noted American composer Vivian Fine (1913-2000) is clever but I found it dated. Attractive arrangements of three well-known Mexican songs complete the recording.