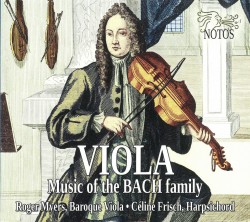 Viola Music of the Bach Family
Roger Myers; Céline Frisch
Notos NOTOS001 (rogmyers@austin.utexas.edu)
Music on this album brings up fragments of Baroque and Rococo worlds in the form of elegant phrases and courtly dances, lovely nuances and surprising virtuosity. As I was listening to this recording on a quiet, snowy day, I realized there was quite a resemblance between colours and textures of the Baroque viola sound and the feel of the winter day – both dark, somewhat restrained, but so rich in understated expression and depth.
In this fine selection of 18th-century viola repertoire there are sonatas by Carl Philipp Emanuel Bach, Wilhelm Friedmann Bach and Johann Joachim Quantz, a movement from a concerto by Johann Cristoph Friedrich Bach and an aria from a cantata by Johann Sebastian Bach. Other than the obvious family connection between J.S.Bach and his sons, there is another one – the Court of Frederick the Great in Prussia. A big supporter of art and music, Frederick had assembled one of the finest orchestras of that time and employed many exceptional musicians, C.P.E. Bach and J.J. Quantz among them.
Roger Myers executes delightful and sensitive performances of these pieces and offers greatly detailed liner notes. His masterful tonal aesthetics and his virtuosity are most evident in the sonata by W.F.Bach; this composition showcases the viola's darker sonorities while bringing forward the speed and brilliance of the virtuosic capabilities of the instrument, something that had not been heard before in the viola repertoire of the time. The chemistry between the performers is refreshing – Céline Frisch is every bit as poetic in her interpretation as she is virtuosic in her technique.