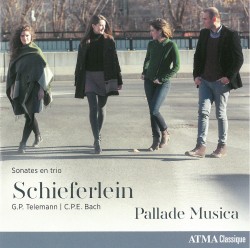 ATMA ACD2 2744 (atmaclassique.com)
Listen
Sonata a 3 en mi mineur I Adagio
Sonata a 3 fa majeur III Adagio
Sonata a 3 en la majeur V Allegro
Read the Review
The importance of this disc by Pallade Musica cannot be overstated, for without the compelling performance of three sonatas Otto Schieferlein might have remained the historically curious academic that he has been for almost 300 years. Although each of his three sonatas does not deviate far from the dictates of the Baroque era, with its contrapuntally driven form fashionable after J. S. Bach, there is a unique, languid elegance in the manner in which each of the sonatas flows.
Moreover, Sonata No. 2 in F Major is extended by a slender, statuesque French Menuet, a gorgeous five-minute depiction of the vivid spectacle that often filled 17th-century ballrooms. The sonatas demonstrate Schieferlein's skill at plumbing the depths of feeling. In sweeping movements Sonata No.1 in E Minor evokes dark and light, the solemn and the sparkling through interweaving lines of unflinching passion. The writing here as well as in Sonata No.3 in A Major is at once fierce, haunting and mystical.
Georg Telemann's Trio Sonata, and Carl Philipp Emanuel Bach's Fantasia in D Major and Sonata in G Major for flute, violin and continuo, are not mere musical appendages. Each has individual character. The willowy sinews of Telemann's sonata break through the balletic Siciliana movement to the spikey energy of the final Allegro assai. And the Fantasia and Sonata by C.P.E. Bach are quiet personal evidence of an inspired artistic genius.