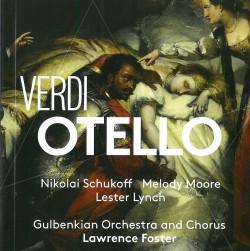 Verdi – Otello
Nikolai Schukoff; Melody Moore; Lester Lynch; Gulbenkian Orchestra and Chorus; Lawrence Foster
Pentatone PTC 5186 562 (pentatonemusic.com)
Apart from Nabucco, all Verdi operas contain important tenor roles, but the demands in his penultimate opera Otello are much greater than those in his earlier work. Many readers will recall the sad time when Carlo Bergonzi attempted the role (Carnegie Hall, 2000) and was unable to finish. Bergonzi was already 75 then. Perhaps he simply left it too late. I think it is misleading to call the part that of a heldentenor, yet it is worth adding that several of the finest interpreters of the role, notably Ramón Vinay and Jon Vickers, have also been known for their singing of Wagner.
The Austrian tenor Nikolai Schukoff has sung a large assortment of roles (they include a great deal of operetta) and he has also performed some important Wagnerian parts: Lohengrin, Siegmund, the Götterdämmerung Siegfried and Parsifal. These CDs show that he is certainly up to the part of Otello, both in its heroic qualities and in its more tender moments. I like the tone of the soprano (Melody Moore), although her diction is not always clear. She is very affecting in the opera's final act. The Iago (Lester Lynch) is first-rate.
A peculiarity of the recording is that the voices seem recessed in contrast with the clarity of the orchestra. This brings out orchestral detail in ways that recordings generally don't, but it is only by using a very high volume that one can hear the singers properly.