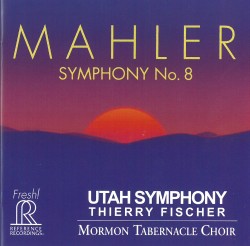 Mahler – Symphony No.8
Utah Symphony; Mormon Tabernacle Choir; Thierry Fischer
Reference Recordings FR-725 SACD (referencerecordings.com)
In 1963 the Utah Symphony was the first American orchestra to release a pioneering stereo studio recording of Mahler's monumental Eighth Symphony, followed by performances of all of Mahler's formerly under-appreciated symphonies. Under the 32-year nurturing leadership of the venerable Maurice Abravanel, the ambitious Utah ensemble rose to national prominence, with over 100 recordings on various labels released during his tenure.
Happily for this orchestra it seems that history is destined to repeat itself. The Swiss conductor Thierry Fischer arrived in Utah in 2009 and holds a contract there until 2022. After a long silence the orchestra is again releasing recordings under Fischer's direction on the audiophile Reference Recordings label. The present recording of the Eighth was preceded by a well-received disc of Mahler's First Symphony; both of these constitute the beginnings of this orchestra's 75th Anniversary Mahler Cycle project. The results are impressive to say the least.
The Eighth Symphony is Mahler's most gargantuan and atypically affirmative symphony, ofttimes hyped as the "Symphony of a Thousand," though in the present case the forces involved number closer to 500 performers. The legendary Mormon Tabernacle Choir, along with the Madeleine Choir School Choristers, form the nucleus of the mighty choral forces; both are exceptionally well prepared and project an admirable diction. The cast of eight superbly matched vocal soloists includes sopranos Orla Boylan, Celena Shafer, Amy Owens and Charlotte Helekant, mezzo-soprano Tamara Mumford, tenor Barry Banks, baritone Markus Werba and bass Jordan Bisch. The tenor soloist Banks in particular is outstanding, able to project without straining in the extremely demanding heldentenor part which has proved a stumbling block in many a performance of this work.
The production team from sound/mirror has worked miracles in this live performance from the acoustically quirky Salt Lake Tabernacle, utilizing a minimalist core of five microphones. I can only imagine the impact the SACD layer of this double CD recording might have. Fischer's interpretation is flexible and affectionate, a winning formula in a work that can easily feel bombastic in the wrong hands. This is an outstanding performance that deserves pride of place in the discography of this work.