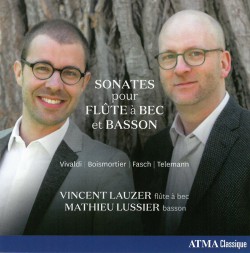 Sonates pour Flûte à Bec et Basson
Vincent Lauzer; Mathieu Lussier
ATMA ACD2 2753 (atmaclassique.com)
The alto recorder gained its greatest popularity with professional players, as well as with amateurs, round about 1730. The most popular form was the sonata for solo recorder and basso continuo, but sonatas for two recorders and continuo also became popular. This CD examines another variant: the trio sonata for treble recorder and bassoon with basso continuo. A CD devoted to these instruments could easily become repetitive but some variations are built in; while many of the works recorded show the interplay between the treble and the bass instruments, the first work on the CD (Vivaldi's Sonata in A Minor) contains a slow movement which is really a recorder solo with the bassoon being part of the accompaniment. Moreover, further variety is provided by two works (by Chédeville and Telemann) being for recorder alone and two others (by Telemann and Fasch) for solo bassoon.
There are a number of first-rate recorder players in Montreal and Vincent Lauzer is among the very best. He excels both in sweetness of tone as well as the virtuosity which these sonatas require. He is ably partnered by the bassoon player, Mathieu Lussier. Anyone who thinks of the bassoon as just a useful bass accompaniment will be struck by the singing tone Lussier achieves.