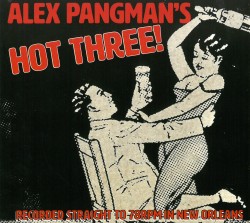 Alex Pangman's Hot Three
Alex Pangman
Justin Time JTR 8610-2 (alexpangman.com)
In his 2010 book Perfecting Sound Forever, Greg Milner describes how Thomas Edison mounted thousands of "tone tests" across America in the early 20th century to prove how his Diamond Disc record player "perfectly" represented sound. The phonograph would play while a singer would perform intermittently and the audience would be stunned by how closely the recorded and live performances meshed. The "secret" of this demonstration was that the singers emulated the "pinched" quality of the recording which was the baseline against which everything else was measured. "Recorded versus live" has had a fascinating history, with many opinions regarding which sound is the best.
With Alex Pangman's Hot Three, the Toronto jazz singer has created a bold experiment of her own by travelling to New Orleans and, with local musicians, recording an album of seven standards live to an acetate 78 rpm disc. She wanted to "explore the roots of the recording medium and how and why early recordings have the energy they do." The results are conveniently available on CD.
This disc literally crackles with excitement; you can hear the sound of the needle cutting through the acetate and there is a low hum throughout. For authenticity only one microphone was used and the sound is high on treble but Tom Saunders' excellent bass sax playing produces a solidly articulated bottom end. Matt Rhody (violin) and Nahum Zdybel (guitar) are also top-notch and Pangman's vocals are energetic and manage to be nuanced within the limits of the medium. These tracks do not have the fidelity we are used to hearing and that is part of their appeal.