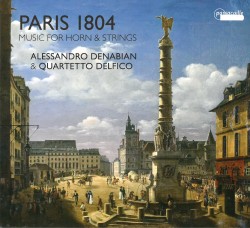 Paris 1804 – Music for Horn & Strings
Alessandro Denabian; Quartetto Delfico
Passacaille 1032 (denabian.com)
Despite the political, economic and social turmoil that plagued France during the years following the revolution, musical activities carried on as best they could. Paris remained the centre of European culture and while concert societies were now a thing of the past, the period saw the establishment of the Conservatoire in 1795. Such is the background for this attractively packaged disc of music for natural horn and string quartet by Cherubini, Dauprat and Reicha titled Paris 1804 and featuring Alessandro Denabian with the Quartetto Delfico.
Cherubini arrived in the French capital in 1786 and ultimately enjoyed a long association with the Conservatoire. His two short sonatas for horn are lyrical pieces closer in style to études. The first has a slow introduction followed by a jovial second movement while the second sonata is a single-movement Larghetto.
More ambitious are the Quintet Op.6 No.3 by Louis François Dauprat and the Grand Quintet Op.106 by Anton Reicha. Although hardly a household name today, Dauprat was renowned as a horn player, composer and music professor at the Conservatoire. The quintet is one of innumerable works he wrote for horn, the three contrasting movements providing the soloist ample opportunity to demonstrate the instrument's capabilities. What strikes the listener here and throughout the disc is the wonderful sense of intimacy achieved, the transparency of the strings blending perfectly with the solo horn. Denabian proves himself to be a true virtuoso, handling the technical demands of a natural horn with apparent ease.
Reicha's more familiar Grand Quintet is a true tour de force, a model of classical symphonic writing with a rollicking finale that brings the piece – and the CD – to a fitting conclusion.