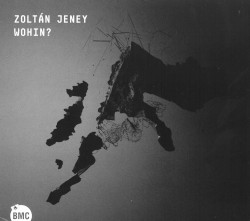 Zoltán Jeney – Wohin?
Various Artists
BMC BMC CD 240 (bmcrecords.hu)
Wohin? gives international listeners a valuable insight into the postmodernist Hungarian concert music composer Zoltán Jeney (b.1943), featuring recent works for solo piano, voice, cello and piano, string quartet and orchestra. Jeney has been a major voice in Hungarian concert music circles since the 1960s. In 1970, in collaboration with five other leading Hungarian composers, he cofounded the influential group Budapest New Music Studio, which introduced the aesthetics and music of John Cage and Minimalism at its public concerts.
The most provocative work on this album is the title track, Wohin? (German for "Where?") A five-minute orchestral score featuring a truncated chorus in its last 30 seconds, it's his response to the Allied invasion of Iraq. Jeney offers a withering parody in his postmodern mashup of recognizable bits of Beethoven's Ode to Joy. As the anthem of the European Union proclaiming that "All people will be brothers," Jeney couldn't have chosen a better subject with which to convey his deeply ironic view of the war.
Pavane (2007) for orchestra, the last and most substantial work here, employs a 128-note melody derived from a fractal series. Its first section recalls Ligeti's Atmosphères with amorphous, shifting orchestral textures and tight heterophony. The second section, characterized by jagged polyphonic lines is brief, succeeded by a much longer final movement featuring a continuous, harmonized melody. The music builds into a kind of halting secular chorale – punctuated by irregular percussive accents – fading out on a quiet yet ultimately unsettled unison.