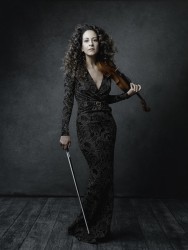 "Almost Unplugged," Soundstreams' latest Ear Candy concert on February 1 at the Buddies in Bad Times Theatre Cabaret, was an experience in contrasts. Two very different violinists – Andréa Tyniec and Jesse Zubot – took the stage to present their own mini-concerts, then came together at the end in a structured improvisation.
First up was Andréa Tyniec, a passionate performer raised in Montreal and currently pursuing an international career both as a soloist and a collaborator in dance and theatre. Her set featured two works by Canadian composers – Love Song for MAD by Terri Hron and Stand Still by Michael Oesterle – and began with a 1923 composition by Eugène Ysaÿe, a Belgian violinist, composer and conductor who was regarded as "the King of the Violin" in his day. Tyniec performed the Prelude of his Sonata No. 2 with agility and virtuosity, moving around the sixteenth-note passages with ease. Direct quotations from one of Bach's partitas appeared throughout. Tyniec is one of the fortunate violinists in Canada to be loaned a violin from the Musical Instrument Bank of the Canada Council for the Arts, so we were treated to sounds played on the 1689 Baumgartner Stradivari violin.
The Ysaÿe composition ended up serving as a link to Hron's 2013 composition, created in collaboration with Tyniec. Hron asked Tyniec to record something so she would have the violin sound in her ear as she composed, and Ysaÿe's composition was the one chosen. Hron states that the piece became a key element in her compositional decision-making. Love Song for MAD is part of Hron's Sharp Splinter cycle, a project dedicated to an exploration of her family archive of letters, audio cassettes and films. These were documents made by her parents and grandparents, particularly during the time they were separated by the Iron Curtain. The four-movement composition is scored for audio playback and solo violin and features the sound of a typewriter along with excerpts of conversations between her sister Madelaine Hron and their parents. Tyniec's solo performance ended with Oesterle's four-movement Stand Still (2011), which was full of fast rhythmical and repetitive patterns that created intense pulsations of sound.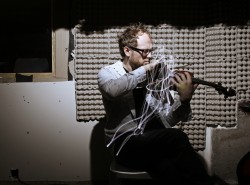 Jesse Zubot and his violin have an intense connection, and are like an extension of one another. Added to that mix was a series of foot pedals controlling an array of effects that Zubot danced his way around. The end result was something akin to "violin-plus-plus" – and that's not a criticism at all. In fact, the sonic world that Zubot created was mesmerizing and fascinating – an endlessly-changing kaleidoscope of colour, with the violin sound almost fading into the background at times. Having only heard him live as a member of Tanya Tagaq's band, this gave me a chance to listen with focused attention for each new twist and turn of his imagination as he navigated his way through one seamless improvisation that never wandered. At several points he moved his bow so rapidly across the strings that the bow became a blur, creating a fluttering sound somewhat like the movement of a hummingbird's wings.
Zubot grew up studying classical music but has diversified over the years to explore multiple forms. He produced Tagaq's Polaris Prize-winning Animism album and her 2016 shortlisted follow-up Retribution. Improvisation is his great love and passion, which was so evident onstage. The concert ended with a structured improvisation that Zubot created for himself and Tyniec to play, titled Collab. Just before they began, Zubot quipped that he hoped he didn't get lost in one of the sections; however, to my ears, everything flowed with ease as they moved between scored material, at times in unison, and improvisational material. It was a most satisfying way to end the evening, with two extraordinary and distinctive violinists coming together to create a flurry of acoustic sound on two unplugged violins.
Soundstreams presented "Almost Unplugged," featuring violinists Andréa Tyniec and Jesse Zubot, on February 1 at Buddies in Bad Times Theatre, Toronto.
Wendalyn Bartley is a Toronto-based composer and electro-vocal sound artist. sounddreaming@gmail.com.