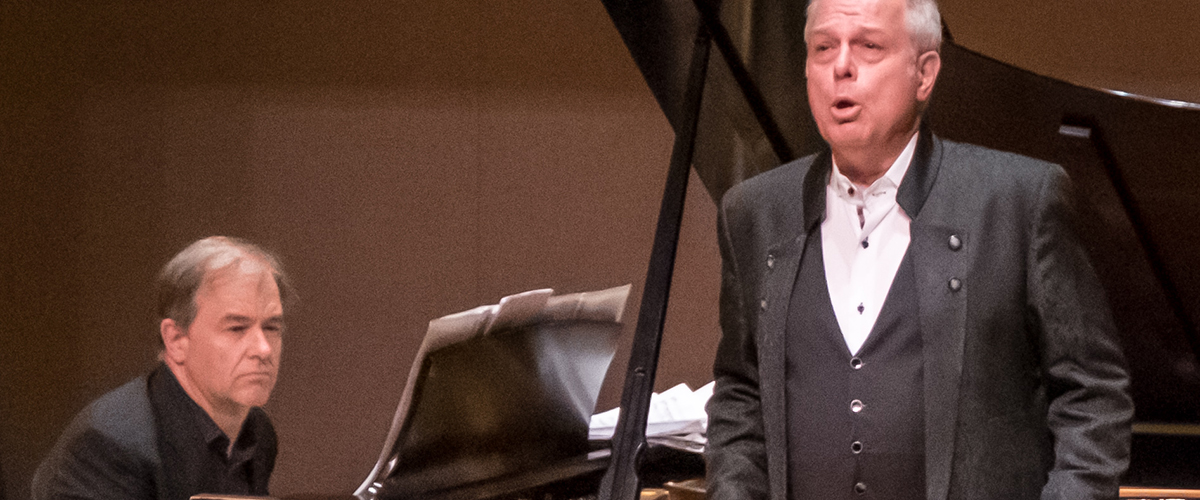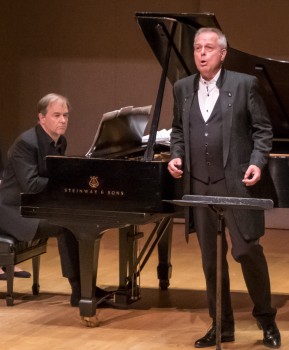 Toronto Summer Music (TSM) is in full bloom, and will be past its midpoint by the time you read this. Here are some of the highlights of the festival so far, beginning with the world-class pairing of tenor Christoph Prégardien and pianist Julius Drake, July 19 in Walter Hall.
Drake's pianism is pointed, characterful and tells a story; he is an equal partner with the singer. Their well-chosen program of Mahler (before intermission) and Schubert (after) – especially Mahler's Das Knaben Wunderhorn No.9 and Ich bin der Welt abhanden gekommen, from Ruckert-Lieder – was the first of many transfixing moments in my personal journey through several TSM mainstage concerts. Indeed, the second moment came during Du bist die Ruh, D776 (from another Ruckert poem), the loveliest of ten Schubert songs (including two encores) with Pregardien bewitchingly conveying the ardour of the smitten narrator.
In his masterclass two days later on July 21, Prégardien encouraged the piano and tenor to be of equal voice in Schubert's Liebesbotschaft from Schwanengesang, an intimate dialogue between a young man and nature. He suggested to tenor Joey Jong that he be more natural onstage, be more into the real situation of the song (just as Prégardien himself had done in his own recital). "Where your eyes go is very important," he said. "Give the impression that you are really in a garden." Masterclasses are a great window into performance practice – whether it be the importance of a beautiful legato line to Brahms' phrasing, the connection between two notes being a little more elegant in a Hugo Wolf song, or the expressive, operatic, vocal lines (like recitative) in Schubert's Der Doppelgänger.
And of course, a masterclass can provide insight into the mindset of the mentor himself. Prégardien told us that Mahler's Kindertotenlieder No.3 is so powerful that he has to step back when he sings it. "The expression comes from the music as it goes higher," he said.
Kinan Azmeh, the Syrian-born clarinetist (and member of the Silk Road Ensemble) who has been based in New York City for nearly two decades, brought an immediacy to TSM's Memories of War theme when he performed as a member of the Kinan Azmeh City Band quartet July 18 in Walter Hall. Memories of his Syrian home (now engulfed in a horrific civil war) inspired several of the pieces the band played in a concert that turned out to be a life-enhancing shout of joy. Azmeh, whose round, sometimes sweet tone is capable of all sorts of dynamic expression, began with a haunting pianissimo note on his clarinet, then picked up a rhythmic figure in the guitar, drums and bass, and danced down the backstreets of a Middle-Eastern city seemingly across time, centuries collapsing from the past into the present. After intermission, the quartet was joined by the sublime pianist/composer Dinuk Wijeratne (who is writing a concerto for Azmeh) in the first piece Azmeh composed after moving to NYC – Love on 139th Street in D – a subtle confection that conveyed the sound of a big city. The evening ended with a dazzling evocation of weddings in a Syrian village public square, music that reinforced Azmeh's stated belief that "simply falling in love is a right no authority can take away."
Two concerts in Koerner Hall on July 19 fell directly within the Memories of Wartime theme, with each of the works having its own unique connection. Aaron Copland's Appalachian Spring was written during WWII but looks inward to the American countryside for one of the Brooklyn-born composer's most aspirational and exultant pieces of music. The TSO Chamber Soloists (led by TSM artistic director Jonathan Crow) teamed up with eight fellows of the TSM Academy to recreate the 13-piece chamber orchestra that accompanied the original ballet. The result was a lighter, more transparent rendition that avoided the moribundity that sometimes weighs down the orchestral version.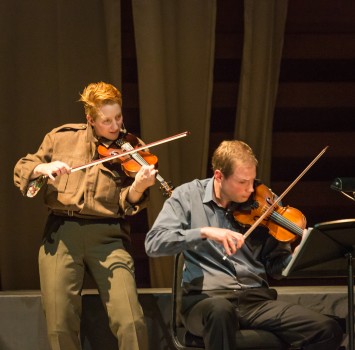 After intermission the TSO Chamber Soloists re-formed into a septet to accompany the full-length version of Stravinsky's L'Histoire du Soldat, complete with narrator, actor and dancer. Written as WWI was winding down, this tale of a violin-playing soldier, whose instrument is sold to the devil for uncountable wealth, is a virtuoso showcase – especially for violinist Crow, Andrew McCandless (cornet) and percussionist Charles Settle – but Miles Jaques (whose clarinet playing was the centrepiece of the Copland), Kelly Zimba (flute), Michael Sweeney (bassoon) and Gordon Wolfe (trombone) all performed Stravinsky's cross-rhythms splendidly.
Jaques and Crow were joined by cellist Julie Albers and pianist Natasha Paremski for a transfixing performance of Messiaen's Quartet for the End of Time, written in a German prisoner-of-war camp in 1940 where Messiaen was being held after being captured. Ethereal, otherworldly, quietly mysterious, replete with birdsong and fervent religiosity, the work demands the highest performance standards from violinist and clarinetist in particular; Crow and Jaques were up to the task and the total effect seemed to pass through the time-space continuum.
Crow returned July 24 to Lula Lounge as a member of the New Orford String Quartet for an electrifying (pun intended) performance of Steve Reich's late 20th-century masterpiece, Different Trains. Reich took a childhood memory of transcontinental train trips he made before WWII and contrasted that with an imagined trip to the Nazi concentration camps (based on interviews with Holocaust survivors) and a third trip just after the war in which Holocaust survivors came to America to rebuild their lives. The quartet has to tailor their playing to a pre-recorded soundtrack of train whistles and track noises, as well as to repeated vocalisms from interviewees, as the piece moves from childhood wonder to mass murder to a rekindled optimism, all brought to life by the New Orford's magnificent evocation of the relentless power of Reich's writing.
The evening was completed by George Crumb's Black Angels, composed during the heyday of the War in Vietnam. The quartet unlocked the feral beauty in Crumb's radical work, an austere experiment in sonic variety that the New Orford made instantly memorable, proving once again that the immediacy of live music cannot be overstated.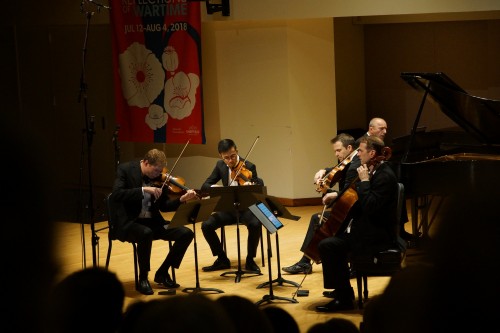 A few days later on July 27, the New Orford found themselves in Walter Hall performing Beethoven's String Quartet No.11 in F Minor, Op.95 "Serioso." They displayed vibrant ensemble playing in this work that is compressed both musically and chronologically, falling just before the famous Late Quartets. They saved the best for last with a ravishing rendering of Elgar's Piano Quintet in A Minor, Op.84 (the accomplished Pedja Muzijevic was at the keyboard) which the composer began in 1918 as WWI was winding down. A Romantically rich work, with melodic wisps curdling into Brahmsian harmonic colouring in its intensely lyrical opening movement, the work's heart is in the slow middle movement with the players giving rapt attention to the subtleties of Elgar's writing that is pure English musical poetry.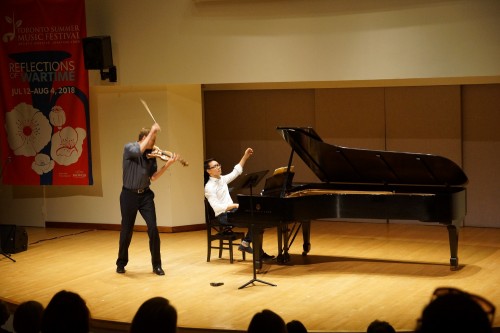 Back in Walter Hall on July 30 for "A Tribute To Yehudi Menuhin," Crow devoted his recital with Phil Chiu, his dexterous regular pianistic collaborator, to works the celebrated violinist played for the Allied Forces during WWII and on a momentous tour of Germany with Benjamin Britten immediately after the war. Crow exhibited a sweetness and grace in the various versions he and Chiu cobbled together of Corelli's Sonata in D Minor, Op.5, No.12 "La Folia." The duo's playing of Beethoven's Violin Sonata No.9 in A Major, Op.47, "Kreutzer" had the urgency and intensity the work demands, bringing an intimacy to the second movement's theme and variations and a sparkle and drive to the third. Crow next served up three bonbons by Fritz Kreisler and we discovered that these musical embers from an older world still glowed. A bravura performance of Ravel's Tzigane elicited a vigorous standing ovation; the sorrowful beauty of Ravel's Kaddish made for an appropriate encore. Not only did it put a bow on the Menuhin tribute, but it harked back to Different Trains and looked forward to "War in the 20th Century," the August 1 concert that includes two works by composers who died in the Holocaust. It's just one of many connections that enrich this year's edition of TSM and illustrate Crow's skills as artistic director. We are fortunate to have him in our midst.
Toronto Summer Music continues with concerts in various venues throughout Toronto until August 4.
Paul Ennis is the managing editor of The WholeNote.