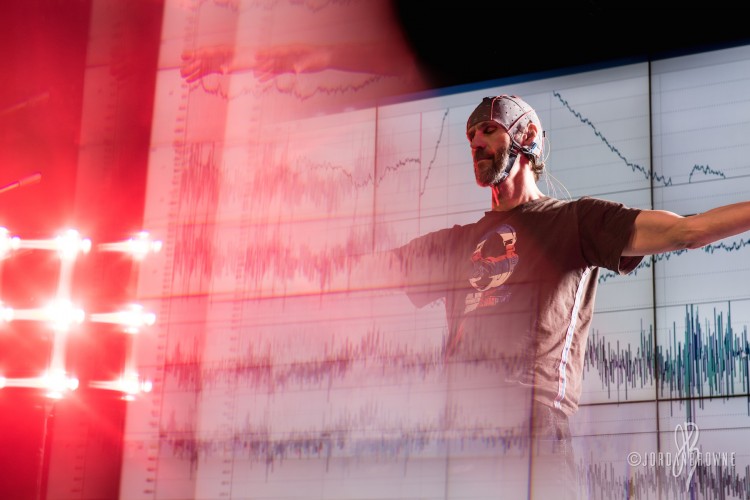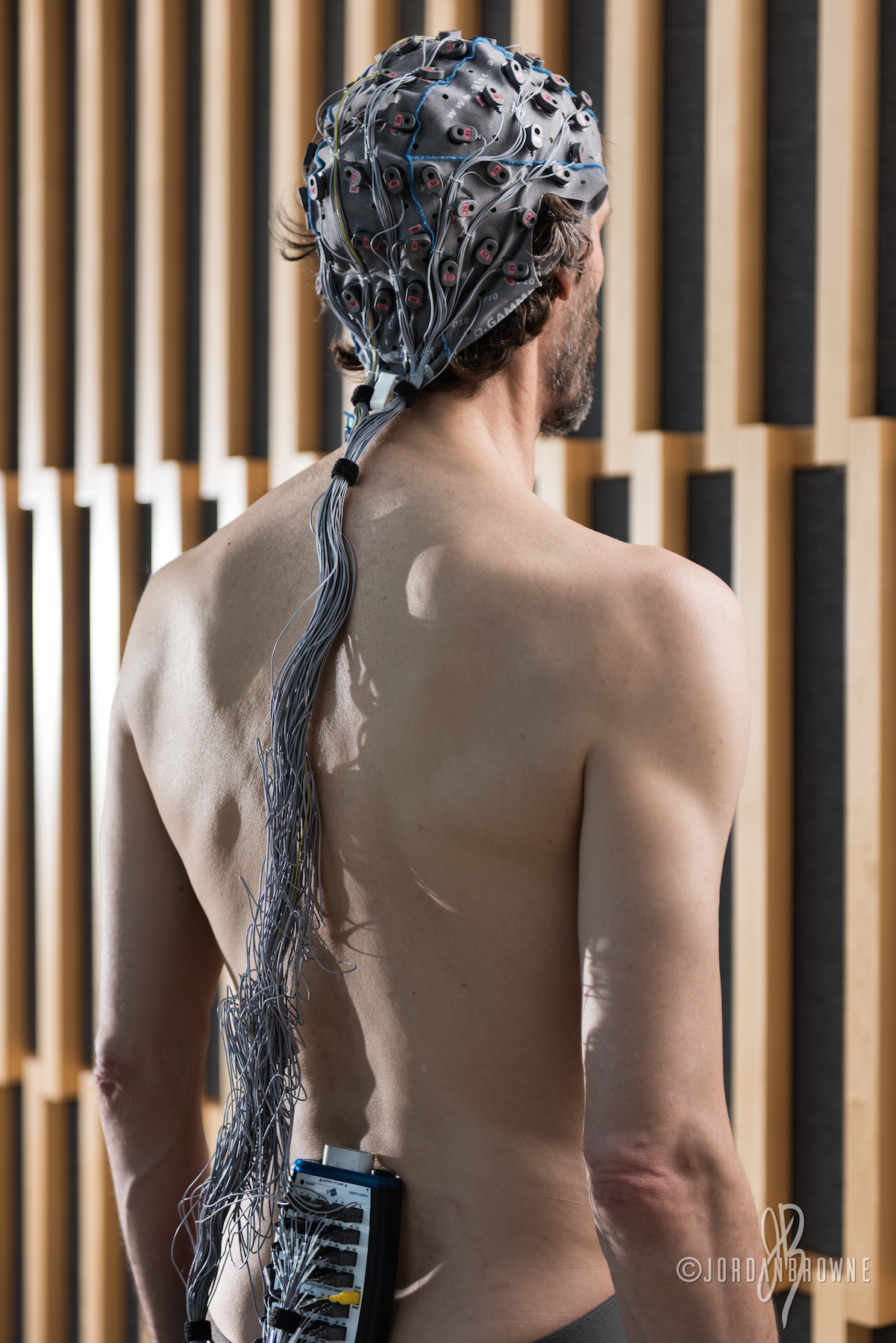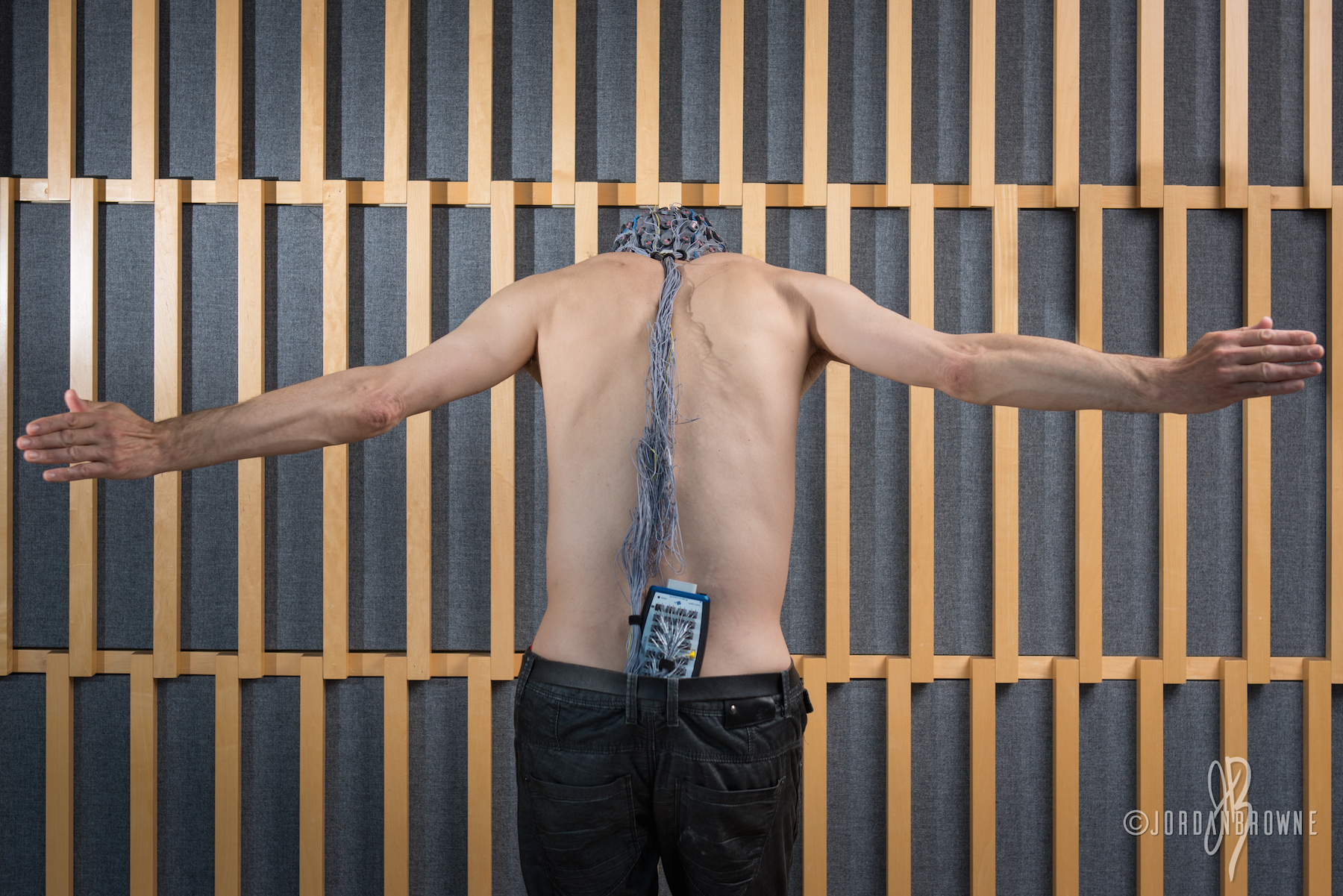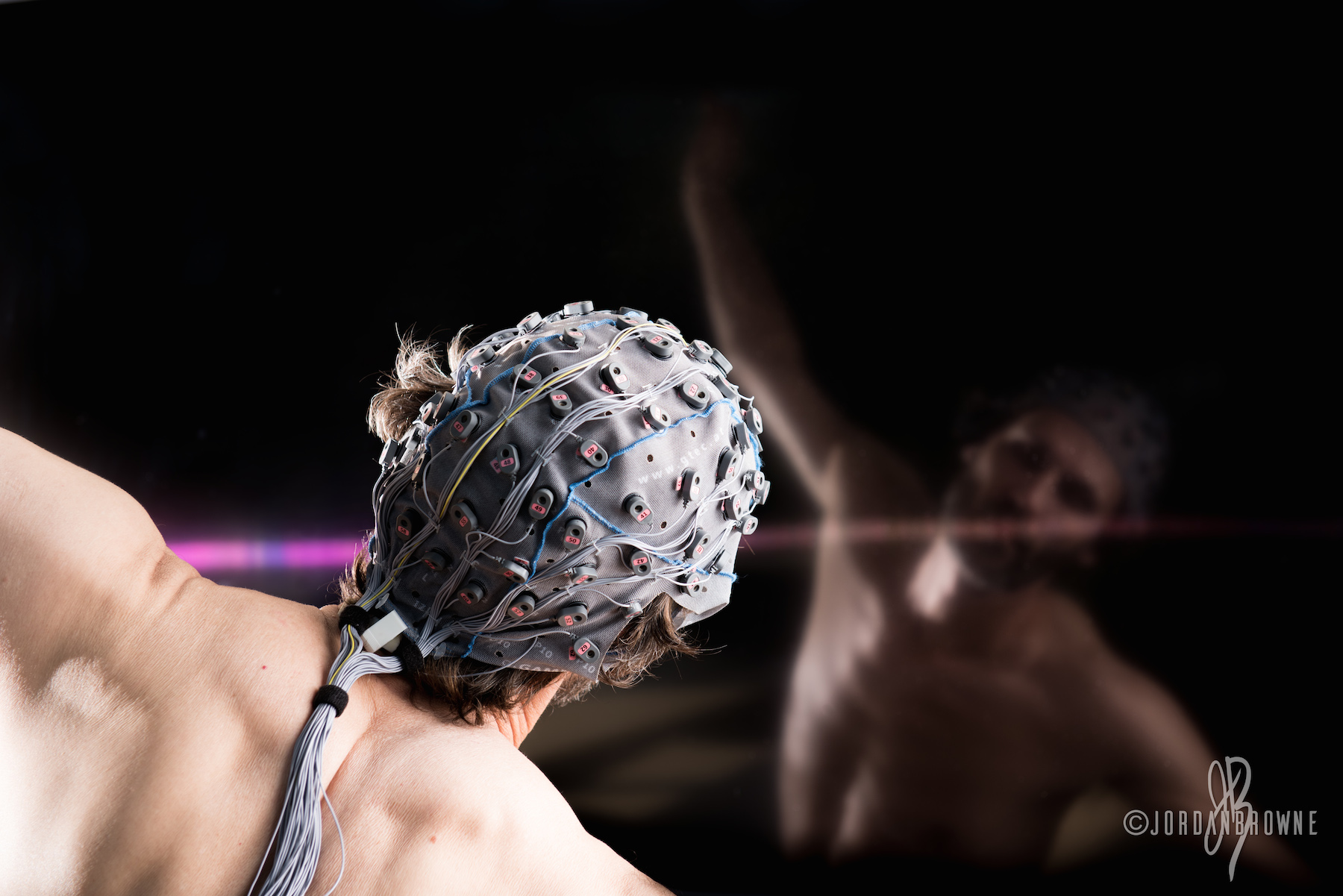 "Dance Brain is a highly innovative performance work in which brainwaves are converted into music in real time, which is then danced to. It interfaces neuroscience and performance practice, and takes advantage of the state-of-the-art technology in the LIVELab at McMaster University, Hamilton."
That description, from the Facebook page for an event at McMaster on September 20 this year, certainly piqued my attention – yet I had a feeling for what may be brewing at the LIVELab. As an undergrad studying electronic and many other music genres at York University in the very early to mid-1970s, I witnessed and also participated in pioneering brainwave music experiments and performances under the direction of noted composers, musicians and sonic explorers David Rosenboom and Richard Teitelbaum.
Teitelbaum was the first to use a synthesizer to sonify his alpha brainwaves, along with other biological signals such as heartbeat and breath, in his composition In Tune (1967). Five years later, Rosenboom's Portable Gold and Philosopher's Stones incorporated the brainwaves of four "biofeedback musicians" into a unified musical work. While both Americans, they were teaching then at what was considered Toronto's "other" university, making York for a time in the '70s a centre of brain wave music.
Last week I spoke with Monahan, the 2013 Governor General's Awards winner for Visual and Media Arts and the composer/sound artist behind the project, about the ambitious-sounding Dance Brain concept.
"McMaster neuroscience professor Steve Brown received a research grant to explore the intersections of music, dance and neuroscience," said Monahan. "He was joined by Dan Bosnyak, neuroscience professor and the technical director of LIVELab, an advanced acoustic space and PA system at McMaster University, Hamilton. After a lengthy search for suitable artistic collaborators, he found dancer Bill Coleman and me last January."
The process began with Brown and Bosnyak sending Monahan samples of recordings of alpha and delta brainwaves in the 8 to 16 Hz range (sub-audio for many of us) that they had produced at the lab. Monahan then transposed those samples up a few octaves using the software program Reaper, so they could be audible.
"Upon arriving at the LIVELab to begin work [in June], however, Prof. Brown pointed out to me that straight transposition resulted in a very compressed audio spectrum, which distorted the signal," Monahan said. "Rather than additive transposition, as happens in music notation (when say transposing up an octave), in consultation with the scientists we tried a multiplication process which results in a full sound spectrum. Invoking my composer's prerogative, I then made the decision to choose to use both processes (additive and multiplicative), resulting in the possibility of more and richer musical variation."
This led to the development of several discrete compositions, each of which uses a different technological strategy. These pieces will be heard in Dance Brain's premiere performance on September 20.
"The first work uses frequency analysis of transposed live brainwave audio brainwave audio which triggers midi notes," says Monahan. "I then developed a patch in Max [a visual programming language for music and multimedia] to perform notes on a Yamaha Disklavier [a midi-controlled keyboard] combined with sampled sounds of an orchestral harp.
"The second piece uses brainwaves generated live by the dancer while performing, as do all the works on the program," he adds. "These signals are hooked up to a motor which plays a snare drum, as well as to another motor which plays a long wire attached to another snare drum acting as an acoustic resonator."
The third work uses aspects of Dollhouse, a work that Coleman and Monahan have already been performing for a few years. "It uses multi-channel spatialized dispersion and reverberation controlled by brainwaves generated in real time by the dancer," says Monahan. "During the course of Bill's performance he strips down to reveal the source of some of the acoustic sounds the audience hears: a number of plastic cups attached to his clothing. There's certainly an element of slapstick humour in this part of the performance."
What are the roots of this kind of performative-scientific exploration? Monahan immediately replied: "To me, this work shows a direct influence of Alvin Lucier's pioneering Music for Solo Performer (1965)." Many consider the piece to be the first musical work to use brainwaves to directly generate the resultant sound.
"I bought a copy of David Rosenboom's book Biofeedback and the Arts: Results of Early Experiments (1975) at the Music Gallery around 1980-81," continued Monahan. "That text was a point of departure for me when starting Dance Brain."
Are there future plans for Dance Brain? "In the scientific experimental tradition, we're aiming to learn something from this development and performance process," noted Monahan.
He has found working with the McMaster scientists in this project a productive challenge. "For one thing, it appeared surprising to one of our scientific collaborators when I referred to my individual Dance Brain works as 'compositions.' It seems to me that it can be a challenge to establish a protocol between composers, choreographers and scientists. In any case, we work together well and there are many promising aspects to the work that we've developed."
It's the kind of negotiation artists have to conduct when taking a major creative risk, particularly one which involves working with other disciplines. I invite you to join me for the premiere of Dance Brain on September 20 and explore this fascinating inner-outer sound-body landscape for yourself.
The premiere performance of Dance Brain takes place on September 20 at 8pm, at McMaster University, Hamilton. For details, see https://www.facebook.com/events/1087454958072962/.
Monahan and Coleman perform their work Dollhouse on September 22 at 8pm, at 201 Geary Ave., Toronto. Details at https://www.facebook.com/events/1867792106667915/?active_tab=about.
Andrew Timar is a Toronto musician and music writer. He can be contacted at worldmusic@thewholenote.com.