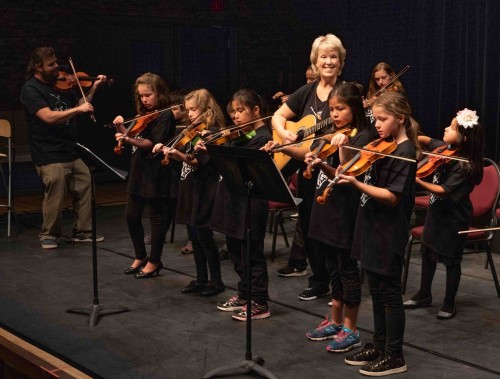 Each year that enough donations are secured means another year of free traditional fiddle and guitar camp for Indigenous children at the Parry Sound Friendship Centre. The camp is part of Strings Across the Sky (SATS), initiated by former Toronto Symphony violinist Andrea Hansen in 1987, and led by her niece Deb Jones since Hansen passed in 2014. The not-for-profit organisation works with Indigenous youth, both to reinvigorate a long history of fiddle playing (brought over from the Orkney Islands) in Canada's Northern communities, and provide a fun week of fiddling and playing guitar for approximately 30 students between the ages of 6 and 17.
Jones organises the SATS week, working with contacts in Northern communities. In addition, she leads the teachers and students, animatedly singing and playing the guitar – with an occasional expert yodel thrown in – at the open-plan rehearsal space nested in the Centre's sky-blue barn-like structure on the outskirts of the Sound, away from summer tourists.
The Parry Sound Friendship Centre is an Indigenous-led, membership-driven space dedicated to serving Indigenous people living in urban communities – one of 121 such volunteer-run centres across Canada. Emerging from a grassroots movement in the early 1950s, this network of Friendship Centres provides off-reserve services for Indigenous communities. The Parry Sound location, founded in 1966 under the Ontario Federation of Indigenous Friendship Centres (OFIFC), was one of the first in the province.
"Any time I've walked into a Friendship Centre, they've treated you like they've always known you. They just want to help in whatever way they can," says Samantha Depatie, a fiddling instructor at the camp who also teaches at the year-round SATS program at the North Bay Indigenous Friendship Centre administered by Michele Longshaw.
The will to push ahead with the SATS program, despite limited resources, is thanks to years of volunteer teaching up north by Andrea Hansen. While on tour with the Toronto Symphony in 1987 in Aklavik, she met future SATS co-founder Frank Hansen, who coincidentally shared both her last name and a desire to revive the fiddle tradition, being himself a fiddler of Danish and Inuvialuit origins. SATS has since run programs in 17 High Arctic communities and transported over 450 donated violins, free to students be they involved in programs at Algoma University, one-week workshops in Indigenous schools, or at the annual summer camp.
The SATS instructors are attuned to the importance of learning by watching – despite the challenges that sometimes-limited access to instruments can present. Andrea introduced a method that supports this, with wooden spoons standing in for fiddles, dowels for bows, preparing hand positions for the rapid experiential learning session that culminates in a performance just five days after – for many – picking up a violin for the first time.
And it works. I arrived two days before the concert, shocked to see the students' progress. While several students, not more than 6 or 7, struggled to pay attention, most stared bright-eyed as Depatie, classical violist Ann Armin and fiddler Dan MacDonald positioned themselves among littler kids, while Niagara Symphony violist Marlene Dankiew attended to the older students.
MacDonald hails from Cape Breton and has several decades of fiddling and teaching under his belt. "It's a way to help out in this community," says MacDonald of his experience teaching fiddle at SATS since 2016. "This gives me a chance to make a difference hands-on. The kids are mostly here because they want to be here." In June, Depatie's North Bay class played with esteemed Canadian fiddler Scott Woods and a full band in what she described as a Don Messer-type setting. "For a lot of the kids the fiddle is in their blood. It's such a Canadian instrument," she says. "The fiddle is basically the sound of fun."
Around 2005, a number of guitars were donated to the program, bringing with them a place for guitar teacher and prominent Toronto jazz guitarist Graham Campbell. Seventeen-year-old Ravin has been in Campbell's "guitar orchestra" for eight years, starting first on fiddle and later adding guitar. "I was drawn to Andrea," she says. "I like playing and then having the guitar match my voice, and just being able to create something."
The full house at the Saturday 28 July concert in Parry Sound's Stockey Centre seemed to like the results. Students have been receiving (generally, and certainly this time) standing ovations. MacDonald and Campbell opened with a rousing Mason's Apron. Juniors and seniors all had their turn, playing the basic finger routines with patterns sung by Jones accompanied by five guitarists. Frank's Delta Dream was played, homage to Frank Hansen and its composer Andrea Hansen. A young boy kept the beat on an Anishinaabe hand drum during the Canoe Medley. And they Walked the Line before launching into the eponymous Orange Blossom Special, key to the Sound given the sonorous whistle of the trains that blast through it nightly, precisely mimicked by festival director and renowned clarinetist James Campbell who jumped in on whistle.
"The Festival of the Sound has a long-term commitment to Strings Across the Sky," says James Campbell. "Their program fits perfectly into our mandate of community outreach and education." Jones recounts former student and gigging fiddler Charlie Wabano's desire to take the program to his hometown of Fort Hope, saying, "There's a real lightness of spirit that comes through. I know the difference it can make with these kids."
Strings Across the Sky presented its final summer 2018 concert on July 28 at the Stockey Centre, Parry Sound, as part of the 2018 Festival of the Sound.
Janine Armin is a writer and organiser based in Amsterdam.