The month of May brings a full blooming spring along with a packed 21C Music Festival, now in its fourth year. Running from May 24 to 28, the festival has had a significant impact on bringing new music to a wider audience, with five days of a wide range of musical voices and approaches to sonic experimentation spread over nine concerts, including 31 premieres. One of the themes this year, Canada 150, will be marked through collaborations with the Canadian Opera Company, the Canadian Art Song Project and Soundstreams.
Another is the festival's strong focus on women composers and performers, with Korean-born Unsuk Chin as the featured composer. This focus makes for a perfect follow-up to my last two columns in which I explored stories about how issues of gender, race and musical diversity are impacting both large festivals such as the TSO's New Creations (March issue) and individual projects, such as the work Century Song (April issue) performed and co-created by Neema Bickersteth.
Cecilia String Quartet: One of the 21C concerts that caught my attention is "Cecilia String Quartet Celebrates Canadian Women" on May 25 by the Toronto-based Cecilia String Quartet. In a conversation with the Quartet's cellist Rachel Desoer, I discovered that the vision for the project began three years ago when the all-female quartet was inspired to encourage the representation of women's music within their own genre. After looking at some of the existing string quartet repertoire, they decided to get involved in the curating process and commissioned four different composers as a way of encouraging these talented women to write for string quartet. The composers they chose were Katarina Ćurčin, Kati Agócs, Emilie LeBel and Nicole Lizée.
There has been much conversation over the years around the pros and cons of creating concerts that feature only women composers, but that is not the topic I particularly wish to delve into here. Rather, as I took a look at each piece on this program, I saw something else emerging that I hadn't noticed so distinctly before in other women composer concerts. The pattern I noticed here was that the focus each composer chose for their piece harkened back to topics that characterized earlier movements of feminist art practice. Back in the 1970s, American women such as visual artist Judy Chicago and performance artist Suzanne Lacy, for example, began creating work organized around specific feminist principles. Their goal was to create work that influenced cultural attitudes so as to transform stereotypes. Strategies they employed included bringing awareness to women's experience and history, as well as incorporating traditional forms of women's creativity into their own work. This may seem not so revolutionary now, but at the time it was a bold departure from accepted practices. This movement however did not create strong inroads into the contemporary music world, although there was definitely a movement to research and perform music by women composers from the past.
So it was through this lens that I observed that each of the four works on the Cecilia String Quartet concert program shared something in common with these earlier feminist practices. When I asked Desoer if the quartet had given any guidelines for the pieces, her response was: "At the beginning of the project we wondered about creating a theme or having another piece of art for the composers to respond to. But instead, we let the artists decide, and were curious about what they would choose." The quartet was delighted to discover that each composer found their inspiration in other art forms, texts and other women artists without any direct request.
Katarina Ćurčin's String Quartet No.3 is based on a folk-song melody from her Serbian roots. The song tells the story of a young woman who feels trapped inside the house, expressing outrage at her mother for keeping her housebound. In Ćurčin's quartet, her characteristic vibrant and rhythmic style aptly captures the song's strong emotional journey, beginning with expressions of anger and finally dissolving into resignation. This work captures well the sense of limitation that has characterized women's lives over millennia.
Kati Agócs's music has been described as encouraging audience members to listen and be changed. In Tantric Variations, she bases her musical explorations on the word tantric, which means woven together. Using a one-bar motive as the basis, she weaves "a landscape that really goes everywhere you could imagine," Desoer said. Desoer was originally drawn to Agócs' music when she performed her Violoncello Duet (I And Thou) and was inspired by all the sounds she didn't know her instrument could make. Starting with a word referring to the practice of weaving, Agócs is able to both reference the traditional craft as well as evoke the universal idea of weaving strands together to create a unified whole.
With Emilie LeBel's Taxonomy of Paper Wings, we get a glimpse into one aspect of the work of writer Emily Dickinson, who lived a mostly introverted and confined life. Dickinson wrote a series of poems on fragments of used envelopes, using the shape of the paper to influence her placement of words on the page. LeBel uses the shape and structure of one of these envelope poems, which resembles the hinged wings of a bird, to inform the musical structure of her piece. The bird element translates into an ethereal texture in the music and as Desoer describes it, LeBel "explores the subtleties of softer sounds on string instruments in a way that is rare."
Risk-taker and fashion designer Isabella Blow is the figure behind Nicole Lizée's work entitled Isabella Blow at Somerset House. The composition is a response to a posthumous Blow photo exhibit of disembodied mannequin heads wearing Blow's designs. These macabre images inspired Lizée to translate techniques from her background in vintage technologies and looping into instrumental gestures that "ride a beautiful line between roboticism and humanity," says Desoer. This is a rare acoustic work for Lizée and yet she manages to expand the sound world of the string quartet with a few additional sources.
For a project that began with a search for repertoire by women, it's inspiring to see how each of the composers addresses themes important in the early days of feminist art practices. For the quartet, the project has blossomed into something for which "it's hard to see an end date" Desoer said. It certainly has inspired them with a desire to commission more repertoire for string quartet by women composers and to encourage other quartets to do so as well. (The quartet will also be performing both the Lizée and Ćurčin works on May 6 as part of a program presented by the Kitchener-Waterloo Chamber Music Society.)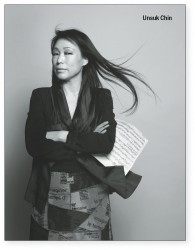 Unsuk Chin: There will be plenty of opportunities at 21C to hear the music of featured composer Unsuk Chin. On May 24, the Canadian Opera Company Orchestra will perform her work snagS&Snarls in Koerner Hall and on May 27, her Piano Étude will be performed in a concert in the Temerty Theatre that also includes works by Alexina Louie, Raphael Weinroth-Browne, Kotoka Suzuki, and Aaron Parker. Chin will also join Canadian composer Chris Paul Harman as mentors for Soundstreams' Emerging Composers Workshop with the final concert featuring world premieres by the six composers on May 26.
The showcase concert of Chin's work will be on May 28 in a co-presentation with Soundstreams with performances of her Advice from a Caterpillar and Cantatrix Sopranica. (The concert will also include Harman's works Love Locked Out along with the world premiere of It's All Forgotten Now.) A major theme that emerges in Chin's music is her fascination with word play and word games. In a written correspondence, I asked Chin to describe the relationship between the music and the projected text one sees during the performance of Advice from a Caterpillar. This piece for bass clarinetist is "part of my opera Alice in Wonderland, in which the performer is dressed up as a caterpillar" she replied. "In my opera, the caterpillar, one of the grotesque characters in the Wonderland, questions Alice, who is in the midst of an identity crisis and seeks advice. Instead of replying to her questions, he talks to her in bizarre riddles. By playing the bass clarinet, the Caterpillar 'speaks' his lines and the musical gestures are inspired by the Caterpillar's words."
In speaking about her work Cantatrix Sopranica, she expands upon her fascination with "the threshold regions between music and language. The piece was inspired by the ideas of OULIPO (a loose group of French-speaking writers and mathematicians), and the texts, which I wrote during the process of composition, mostly consist of palindromes, acrostics, anagrams and other wordplays. I used the texts as totally flexible musical material – just like pitches, timbre or rhythm. The piece is "about the act of singing itself, and plays with all kinds of clichés about singing. There is a good dose of black humour in it."
Regarding questions of identity of gender or race in music, she responds that she has not "pondered [the subject] during the 30 years I've been in the business since that would have been stifling for my compositional work." However, she did bring up a more pressing concern for her – "that young musicians (female, but also male) who refuse to play the glamour game are easily disadvantaged. There is the problematic tendency that the focus is less and less on music and more on marketed image." She did note too the growing number of excellent female conductors, "one good example being the Los Angeles Philharmonic's new principal guest conductor Susanna Mälkki."
The question of gender in contemporary music is varied and complex and I've tried to shine a light on some aspects of the issue within the context of the 21C Festival offerings. There is much more to explore in the festival programming than is possible to cover here, so I encourage you to check out the listings. As for other goings-on in May, here is a quick look at upcoming concerts by local new music presenters:
QUICK PICKS
May 17: The Evergreen Club Contemporary Gamelan will be celebrating their new double CD release, performing arrangements of Indonesian songs as well as Translating Grace, for gamelan, voice, cello, organ, bass clarinet and film.
May 19: Contact Contemporary Music is back with two programs: "Without a Net" with works by Tina Pearson, John Mark Sherlock, Anna Hostman and Jerry Pergolesi; and Jun 2: "Feeling Backwards" with works by Christopher Reiche, Allison Cameron, Nephenee Rose, Annette Brosin, and Julius Eastman.
May 24: The Thin Edge New Music Collective also has two upcoming programs with their "Keys, Wind and Strings Festival, works by Allison Cameron, Gregory Lee Newsome, Solomiya Moroz, Uroš Rojko and Marielle Groven; and May 25 works by Jason Doell, Germaine Liu, Fjóla Evans, Kasia Czarski-Jachimovicz and Tobias Eduard Schick.
Jun 3 and 4: Continuum Contemporary Music presents Four Lands in collaboration with Jumblies Theatre.
Jun 3: Spectrum Music presents "Tales from Turtle Island" featuring new compositions along with storytelling.
Additional events:
May 10: Burdock. "A Strange Impulse."
May 12: Anne Mizen in concert: "Celebrating Canada" includes Schafer's Snowforms.
May 12: Gallery 345. "From Sea to Sea: A Celebration of Canada 150 in Poetry and Music." David Jaeger, composer.
May 14: Orpheus Choir of Toronto. "Identities: Glorious and Free," with compositions by Kuzmenko and Estacio
May 27: Array Ensemble. "Young Composers' Workshop Concert."
Wendalyn Bartley is a Toronto-based composer and electro-vocal sound artist. sounddreaming@gmail.com.