Welcome back to another season of auditory excavation and resistance. For isn't that what diving deep and creating new expressions using sound is all about? During the upcoming X Avant Festival produced by the Music Gallery – which takes resistance as its theme – this is definitely what will be occurring. Using this theme as a lens for this month's column, I will be taking an overall survey of what you can expect both in the upcoming season and also during the month of September.
The Music Gallery
The big news at this hotbed place of sonic experimentation this fall is their change of venue. Due to renovations both at their usual home at St. George the Martyr church and in the neighbouring church lot, the Music Gallery's programming will be happening at a variety of different venues for the foreseeable future. In my conversation with artistic director David Dacks about what sort of impact this change in venue will have, he noted that the Gallery's Departure Series has already been creating programming in different venues for the last few years. The goal of this series is to make sure that the MG isn't just identified with one place and to highlight their role as a presenter.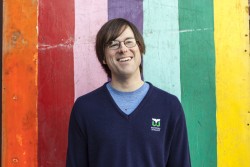 For the fall of 2017, the Gallery's programming will be happening at 918 Bathurst, a not-for-profit arts and culture centre located in the heart of Toronto's Annex neighbourhood. Dacks mentioned that this location is actually closer to where many of the gallery's patrons live, and this new location will provide opportunities for audience outreach in a more residential area of the city. And so it is fitting that the first show of the season on October 11 at 918 Bathurst will be a concert in the Departures Series with a performance by Man Forever aka Kid Millions touring a new album, Play What They Want. Joining the bill on that night will be Toronto-based percussionist, performer and composer Germaine Liu and her ensemble, along with Luyos MC/Reila. Expect an evening of indie rock, water-based music, electronic soundscapes, traditional chant and frequency art.
While changing location could pose a potential hazard for audience attendance, Dacks isn't too worried. Last year was the MG's biggest year to date where attendance was up by 40 percent, with seven sold-out concerts within the year. Each of those seven events was a partnership, thereby boosting audience numbers and reaching out to new communities. As I mentioned above, "Resistance" is the theme of this year's X Avant Festival running from October 11 to 15. "It's the thing to do right now, for obvious reasons, and more artists are exploring ideas that fit into this theme," Dacks said.
One of the festival concerts will feature the music of composer James Tenney, who lived and taught in Toronto from 1976 to 2000 and had an important influence on many local composers during his time here. The program will include Pika-Don, which Tenney composed in 1991, a piece that features the voices of many local artists, including my own, which was a surprise to me when Dacks mentioned it. Rusty memory! Preceding the concert will be a panel discussion on questions such as what it means to be a socially conscious composer now as opposed to 20 to 30 years ago, and what audiences expect from socially conscious music in the concert hall. The festival is also hosting another Deep Listening workshop led by Anne Bourne, taking place at the Tranzac Main Hall. In last year's festival, Deep Listening pioneer Pauline Oliveros was a featured guest, and her sold-out concert was the last time she appeared in Toronto shortly before her passing in November.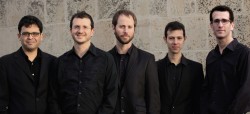 And of course the Music Gallery will continue its tradition of co-presenting with various partners. One such concert to note coming up on October 22 is the New Music Concerts' season opener. It will be an opportunity to hear Tel Aviv's Meitar Ensemble, whose membership comprises quite an array of virtuoso performers specializing in contemporary music.
Indie Opera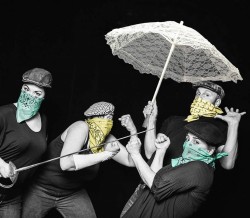 Toronto is becoming known as a major centre for contemporary indie opera. In the recent summer issue, I wrote about one such opera, Sweat, performed by the Bicycle Opera Project. I had an opportunity to experience the performance of this work of "resistance" this past summer and one of the highlights for me was the ensemble singing, which composer Juliet Palmer spoke about in our interview. The stage dynamics between the a cappella singers intermixed with their interlocking rhythms made for a stunning and compelling performance. The mere fact of giving such a prominent role to an ensemble of singers breaks operatic traditions while laying new ground for a different approach to this older art form.
Sweat was originally workshopped by Tapestry Opera, a major player in the current indie-opera scene, who are starting their season early this year with a performance of Bandits in the Valley. This opera is set in 1860s Toronto, and will be performed at Todmorden Mills, located, appropriately enough, in the Don River Valley. The story brings together a local bandit group with a troupe of travelling Gilbert and Sullivan singers who conspire to steal a mysterious object from a wealthy home situated in the valley. This story is reviving part of Toronto's history by highlighting the fact that the valley was a haven for smugglers and bandits during the late 1800s. The work was composed by Benton Roark with libretto by Julie Tepperman, and features six performers moving throughout the various locations at the Todmorden site while singing and playing a variety of instruments. It will be an intimate setting with limited space, so audiences must reserve tickets. The good news is that the performances are free and run throughout the month of September.
Gallery 345 with Arraymusic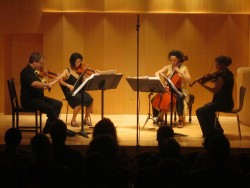 Gallery 345, located at 345 Sorauren Avenue, is another hotspot of performances spanning many genres. This month sees them partnering with Arraymusic on September 19 to present Montreal's Quatuor Bozzini performing Cassandra Miller's Jules Léger Prize-winning piece About Bach. Miller began this work as a solo piece for viola specifically for violist Pemi Paull. She focused in on Paull's musicality, first creating a transcription of his performance of Bach's Partita No. 2. She then added her own harmonies to create something akin to a chorale, while setting up a process that takes the musical materials through a meandering journey. This version for string quartet is the result of many years of working with Quatuor Bozzini. The evening will also include a performance of Bryn Harrison's new Piano Quintet by English piano virtuoso and experimental music champion Philip Thomas.
Toronto Symphony
Later in September, the TSO will be performing two newly commissioned works by Canadian composers. First of all, on September 22 and 23, their "Tribute to Glenn Gould" concert will include the world premiere of Kelly-Marie Murphy's Curiosity, Genius, and the Search for Petula Clark, a work that the composer wrote based on the impact that Gould had on her creative life. The evening will begin with a performance of Wīhtikōw, composed by Yannick Plamondon, another in the series of "Sesquies" that have been occurring all year. A few days later, Alexina Louie's Triple Concerto will have its world premiere. This piece was co-commissioned by the TSO, the Montreal Symphony and the National Arts Centre Orchestra, and will feature the concertmasters of all three orchestras. The Sesquie for that evening is Hyacinth, by composer Rolf Boon. I will be writing more about Murphy and Louie in upcoming issues this season, so stay tuned to hear more about these pieces as well as what is currently, and coming up, on the composing plates of these two dynamic and innovative creators.
Wendalyn Bartley is a Toronto-based composer and electro-vocal sound artist. sounddreaming@gmail.com.