Recent world events, and particularly what's happening to our southern neighbours in the US, have had a great impact on most of us. I've been reflecting on the question that always seems to resurface throughout the ages during times of chaos and disturbance: how can music (and other creative arts) affect and support social change, transformation and even revolution? I agree with the notion that pursuing the creative act itself is one form of resistance. Yet I wonder what these times are asking of us regarding the creative process itself.
On November 23, I attended the Rainbow Nation concert presented by Soundstreams. It was a tribute to the legacy of Nelson Mandela and included a beautiful array of artistic styles and performers from South Africa, Canada and the US. During one of the short theatre skits that functioned as interludes between musical numbers, a conversation between a father and daughter brought home a profound truth. The father was distraught that his daughter was involved in student protests, particularly since his generation had struggled so much for the right to education. Her ringing reply was "Just listen." The importance of listening is a message I've seen written over and over again in the numerous articles that have flooded my social media pages since the US election.
Warbler's Roost
In my September column, I wrote about New Adventures in Sound Art (NAISA)'s programming of three sound installations as part of the in/future Festival at Ontario Place, noting how the practice of creating site-responsive works requires attention to the multi-layered elements of any given environment.
A few weeks ago, I travelled to a place called Warbler's Roost to participate in a listening and soundscape weekend. A small group of sound artists gathered at this artist retreat and performance space, located about one hour north of Huntsville, to engage in the process of listening, recording and creating. Organized by the Toronto Soundhackers Meetup group in tandem with Darren Copeland, artistic director of NAISA, we began early on Saturday morning with a soundwalk – a collective act of walking in silence and listening to the environment. We then spent time both individually and in small groups making recordings of both the soundscape and of our sonic interactions with the environment. Back in the Warbler's Roost studio, we listened to the recordings and then, again collectively, created a short composition from them that was performed later that evening as part of a NAISA concert. Within one day, we went from the simple act of being present with the sounds around us to a form of witnessing through recording and interacting to the act of creation and sharing. In a sense, this is the heartbeat that drives the musical creative act: cultivating presence and witnessing through creativity. These simple actions point to a way forward in generating listening behaviours that can inform and model how to live in a complex and diverse world.
I often find myself writing in this column about the culture and practice of listening. For example, in the October column, I spoke about the listening legacies of both R. Murray Schafer and Pauline Oliveros, along with the next-generation approach of Oliveros' collaborator Doug Van Nort.
Dealing with these larger questions of social impact is an ongoing process of paying attention to what is emerging from the grist of what is being offered by those committed practitioners involved in the day to day music-making world. So with these thoughts as a background, let's turn now to what is happening locally in the upcoming months of December and January.
Stephen Clarke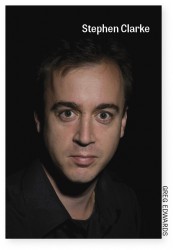 Early in the new year, at Gallery 345 on January 8, Arraymusic Ensemble member Stephen Clarke will present a concert of solo piano works by four composers, each of whom has a very distinctive voice: Giacinto Scelsi (Italy) Udo Kasemets (Canada), Horatiu Rădulescu (Romania/France) and Gerald Barry (Ireland). I talked with Clarke about the repertoire and his interest in the music of these composers, two of whom he has had personal friendships with.
It is the more mystical approach that both Schelsi and Rădulescu share that intrigues Clarke, as both these composers incorporate different influences from Eastern philosophies and religions. In fact it was Rădulescu's interest in Hindu and Byzantine music and the way it works with natural resonances that sent him in the direction of pursuing what is known as spectral composition, a style that focuses on working with the overtone or harmonic series. Clarke will be performing Rădulescu's 1968 piano sonata, Cradle to Abysses, a tightly structured atonal work with a mystical atmosphere, which was written just before the composer made his shift to spectral-based music. It is often thought that spectral composition began in the mid 1970s with French composers such as Grisey and Murail. However, Rădulescu's forays into working with overtones, which can take one into a deeper relationship with the natural acoustic world, predate the French school.
To highlight the contrast between spectral and non-spectral approaches, Clarke chose to include Udo Kasemets' Feigenbaum Cascades (1995) in the program. Hence the title of the concert: "Cascades and Abysses." The Kasemets piece, a spectral work written originally for Clarke, works with the harmonic series in a "beautifully pure mathematical way that speaks for itself." In sharp contrast to this simplicity, Clarke will perform two works by Gerald Barry, a composer known for his more hyperactive and ironic approach as demonstrated in his ability to use banal material and infuse it with a highly charged energy. In Humiliated and Insulted, Barry's piece written for Clarke in 2013, the audience will hear a work that sounds like a congregation singing a hymn, yet something has gone terribly wrong. Everyone is singing together, but not from the same spot in the score and, to make it more pronounced, no one even seems to notice.
Other opportunities to hear Clarke perform include a concert in early March where he will present a complete program of Rădulescu's music on the Bosendorfer piano at St. Andrew's Church. This piano comes equipped with extended lower notes, which are called for by the composer in these works. This concert will give fans of spectral composition ample opportunity to hear Rădulescu's masterful approach. Clarke will also be performing on February 5 in a concert of works by Italy's Salvatore Sciarrino, this year's visiting composer at the University of Toronto's New Music Festival. This final concert of the festival is a collaboration with New Music Concerts during which four of Sciarrino's works spanning 1981 to 2015 will be heard.
U of T New Music Festival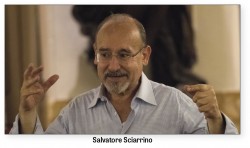 Sciarrino, one of Europe's leading composers, writes music that seeks to portray the fragility of life, often creating pieces that are on the edge of audibility and pushing the instruments to their extreme limits. In his biography, he describes his style as "leading to a different way of listening, a global emotional realization, of reality as well as of one's self." Sciarrino's music can also be heard during the festival at a concert featuring music for piano on January 30, which will also include works by Nono, Fedele and Berio.
The festival highlight will be the performance on February 1 of Sciarrino's opera The Killing Flower (Luci mie traditrici) produced by Wallace Halladay and Toronto New Music Projects. The libretto is based upon the play Il tradimento per l'onore, which was first performed in Rome in 1664. A story of intrigue, love, betrayal and murder, the opera has become Sciarrino's most often performed work out of his 14 music-theatre pieces composed to date. He recognizes the influence cinema plays in the creation of works for the stage and approaches his own creative process with this in mind. He openly declares that what he really wants through his composing is "to change the world." Additional festival events include the performance of the Karen Kieser Prize-winning work by Sophie Dupuis, Perceptions de La Fontaine, a noontime lecture by Sciarrino on February 2, and a concert of music by contemporary Italian composers on February 4.
Electroacoustic Technologies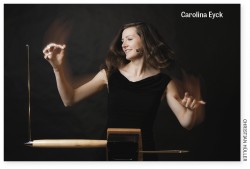 Turning now to innovative performers using electroacoustic technologies, two women making waves in this field will be visiting Toronto over the next two months. First, American composer and sound artist Andrea Parkins, along with her ensemble, will be performing at the Music Gallery on December 20, using interactive electronics to create relationships and contrasts between the real and the ephemeral. She will collaborate in this performance with local artists Lina Allemano, Germaine Liu and Jason Doell. On January 7, theremin virtuoso Carolina Eyck from Germany will perform the world premiere of her latest composition as part of a New Music Concerts program. She will also be in town to celebrate the release of hew new CD, Fantasias for Theremin and String Quartet. Other composers whose works will be presented at the NMC event include Canadians D. Andrew Stewart and Omar Daniel, Bohuslav Martinů from Czechoslovakia and Maurice Ravel.
Two events that Soundstreams will be offering will be the return of the popular "Electric Messiah," December 5 to 7, featuring wild and wacky renditions of Handel's classic with singers Christine Duncan, Carla Huhtanen, Gabriel Dharmoo and Jeremy Dutcher, with electronic backup from Cheldon "Slowpitch" Paterson on turntables, Jeff McLeod on organ and John Gzowski on guitar. Moving ahead to February, Soundstreams is celebrating 100 years of Estonia's independence by bringing the Estonian Philharmonic Chamber Choir to town on February 2, performing world premieres by Canadian composers Omar Daniel and Toronto-born Riho Esko Maimets (who is of Estonian heritage), along with compositions by Arvo Pärt.
QUICK PICKS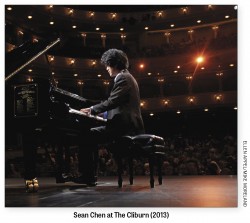 Canadian Music Centre
Dec 12: Centrediscs CD Launch: Canadian Flute Masterpieces.
Dec 15: "Class Axe" – a concert of new works for classical guitar by M. Côté, J. Denenberg, M. Horrigan, A. Jang, T. Kardonne and S. Marwood.
Canadian Opera Company
Jan 5: "Vocal Series" – First Nations mezzo-soprano Marion Newman presents a concert on the theme of reconciliation, featuring works by Canadian composers.
Feb 1: "Dance Series" – Peggy Baker Dance Projects; music by Debashis Sinha.
Other
Dec 12: Toronto Masque Theatre – No Tongue Will Tally by Harry Somers and Claude Bissell.
Jan 10: Music Toronto – Sean Chen plays two works by Ligeti, as well as his own piano transcriptions.
Jan 21: Music Gallery – "The New Flesh."
Wendalyn Bartley is a Toronto-based composer and electro-vocal sound artist. sounddreaming@gmail.com.