With the arrival of warmer weather, it's time to dive into the world of summer music festivals. One that caught my attention this year is Festival of the Sound, located in the heart of vacation country, the town of Parry Sound. This year's festival, which runs from July 20 to August 11, is offering two unique contemporary music events, both of which focus on themes related to cultural identity, history and place. I'll be concluding the column with a summary of a few new music events happening this summer within the city of Toronto.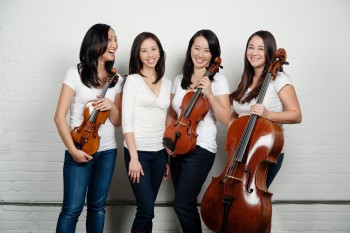 The piano quartet Ensemble Made in Canada will be premiering their unique and ambitious Mosaïque Project at Festival of the Sound on July 26. The ensemble got their start in 2006 at the Banff Centre for the Arts, when Angela Park (piano) and Sharon Wei (viola) were inspired to begin a chamber music ensemble that would enable the two of them to play together – thus a piano quartet was formed rather than the usual choice for chamber ensembles, the string quartet. Additional members of the current quartet include Elissa Lee (violin) and Rachel Mercer (cello), and it was Lee who I had a conversation with about Mosaïque.
A few years ago, the quartet began brainstorming about future projects, and had the vision of travelling across the country by train. Not able to physically manage it – since until recently taking a cello on VIA Rail was not allowed – they came up with the idea of commissioning a piece of music that would do it for them.
The original idea was to commission 13 composers (one for each province and territory), but later this increased to 14 composers, who were then selected based on the quartet's attraction to their individual compositional styles rather than on where they lived. After the composers were on board, the quartet then came up with a strategy to allocate a specific province/territory to each composer to serve as the initial starting point for their compositions. As things turned out, even though each composer was given free reign to find their own inspiration related to the assigned province/territory, a majority of them chose the theme of water as their point of departure. In our conversation, Lee remarked how nature is "so close to our hearts as Canadians," so it's no surprise that this would emerge as a common thread amongst the creators. Each of the pieces is four minutes in length, and in the premiere performance in Parry Sound, all 14 of these miniatures will be woven together. An extensive tour is planned across the country after the premiere, with dates and locations scheduled into the fall of 2019 and a changing set list of Mosaïque selections for each show. Audiences in Toronto will be able to hear the complete set of 14 works on November 15, as part of Music Toronto's concert season and their full touring schedule is available on their website.
One of the distinctive features of this project is a visually based component that will engage the audience. During the concert, audience members will have the opportunity to doodle or draw while listening. Lee explained that many audience members only want to experience familiar music and are more skeptical of contemporary pieces. Based on Lee's own practice of doodling while talking on the phone, she had the inspiration that if people were doing something more unconscious like doodling, "they could abstract the music and be less apt to judge it. By engaging in a drawing experience, people are able to tap into their own creativity and draw something based on what they're hearing to inspire them. It opens up a different approach to how you digest the music and is much more friendly. People may find themselves hearing something in the music they would otherwise miss," Lee said. The other goal of the visual element is to concretely capture how the music is inspiring the audiences. "Canada is inspiring the composers, the composers are inspiring the ensemble, and since the concert is travelling throughout the country, the music is inspiring a nation-wide audience. We can capture what is being created and put it on our website, creating a visual mosaic as another layer to how we celebrate and represent our country." Through the Mosaïque Project, Canada's diversity and richness are celebrated not only through the music, but also through the eyes and ears of its people.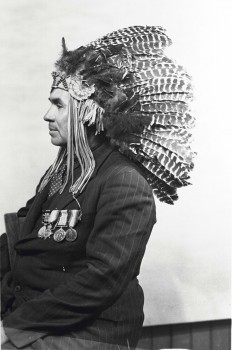 Sounding Thunder
The second contemporary music event at the Festival of the Sound is the world premiere of Sounding Thunder: The Song of Francis Pegahmagabow, composed by Timothy Corlis and written by Ojibwe poet Armand Garnet Ruffo. Corlis explained that the work is not an opera, but rather a story that includes a narrator, a chamber ensemble of instrumentalists, three Ojibwe singers and an actor who plays Pegahmagabow. Performing this role is Brian McInnes, the great grandson of Pegahmagabow and writer of an extensive biography of his great grandfather. Other direct descendants have acted as advisors for the project. Pegahmagabow was born in 1889 on the Parry Island Indian Reserve (now the Wasauksing First Nation), an Ojibwe community near Parry Sound, Ontario. He was considered the most effective sniper of World War I and was decorated with various military medals. The writer Armand Ruffo took great pains to reference real events in the script, Corlis told me, using either things commonly talked about in the family or documentation from books.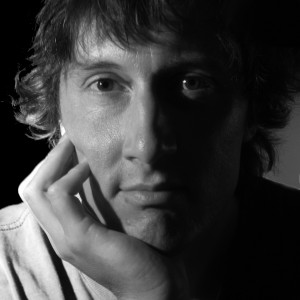 The instrumentation of the music was designed to be a copy of what is used in L'Histoire du Soldat, Igor Stravinsky's piece about World War I. Corlis' vision is that for future performances, excerpts of Stravinsky's work will be performed on the same program, thus presenting different viewpoints of this cataclysmic world event. Sounding Thunder is divided into three acts, with the first focusing on Pegahmagabow's childhood and formational spiritual experiences, including an encounter with the spirit of his clan – the Caribou. In the music, Corlis has created a Caribou motive using interlocking patterns invoking the sounds of a large herd. One of the singers will portray the spirit of the Caribou throughout the work, which opens with Pegahmagabow acknowledging the four directions while vocables are sung. At another point, the instruments foreshadow the war with rippling gunshot sounds on the drum. Act Two takes us to the battlefield in Europe and musically, the score has many references to European music and its harmonic traditions. Corlis said that the music even sounds a bit like Bach's St. Matthew Passion, yet there is another unmistakable component – the presence of the drum, which is played with great force underneath the European-based music. This was one way Corlis brought together references to both cultures, as the drum is a significant element in Ojibwe culture and customarily resides in the home of its owner.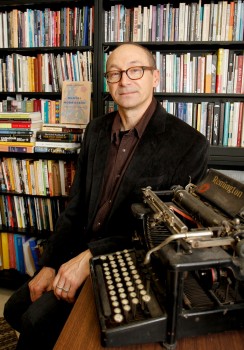 Act Three focuses on Pegahmagabow's life after returning to his home after the war. Despite his many accomplishments on the battlefield and his ability to gain loyalty and trust in his role as an army sergeant, when back on the reserve, he had to once again face the systemic racism towards First Nations people. Much of the third act portrays his struggles with the Indian agent, fighting for the rights to receive his military pension and for all Indigenous people to have access to legal advice. Writer Armand Ruffo is a strong activist for Indigenous rights, and this is very evident in the script. The work ends with Pegahmagabow's death, with the instrumentalists surrounding him onstage while playing gentle light trill motives to represent the ascension of his spirit, with the finale being the performance of a traditional Ojibwe song.
City Summertime Listening
Somewhere There: On June 10, at Array Space, Somewhere There will present the first screening of Sound Seed: Tribute to Pauline Oliveros, a performance by Vancouver-based integrated media artist Victoria Gibson. The piece draws on Gibson's 2009 encounter with composer Pauline Oliveros and members of the Deep Listening Band, who invited her to document their 20th anniversary that took place in the underground cistern in Fort Worden, Washington with its spectacular 45-second reverberation. This was the site of the groundbreaking 1989 recording Deep Listening, which launched both the term and concepts of Deep Listening, Oliveros' signature work which invites us to engage with and contribute to the sonic environment from a place of inner focus and awareness. The concert includes a launch of the DVD along with two sets of music. Vocalist/composer Laura Swankey opens the evening, with the closing set featuring Gibson performing with Heather Saumer (trombone) and Bob Vespaziani (electronic percussion), a version of Gibson's variable-member project, Play the Moment Collective.
Contact Contemporary Music: A unique concert on June 14 co-presented by ContaQt and Buddies in Bad Times Theatre, "Many Faces: We Are All Marilyns," will explore the themes of vulnerability, strength and defiance, topics that are particularly relevant in light of recent issues of violence within Toronto's queer community. Music by Eve Beglarian, Amnon Wolman and John Oswald will be performed, along with choreography by Laurence Lemieux. Fast forwarding to the Labour Day weekend, Contact's annual multi-day festival INTERSECTION takes place from August 31 to September 4, and is a co-presentation with Burn Down the Capital. This year's event offers an extensive lineup of musicians, with their opening concert featuring NYC-based experimental metal guitarist and composer Mick Barr, the Thin Edge New Music Collective, and heavy metal band Droid. The day-long event on September 2 will take place as usual at Yonge- Dundas Square, with music performed in the midst of an intense urban scene. By contrast, the final concert will take place at Allan Gardens, with another opportunity to hear Laura Swankey, amongst others.
Luminato: An exciting new work which combines sound, image and an unspoken narrative, Solo for Duet: works for augmented piano and images, will be performed by pianist Eve Egoyan on June 19 and 20. I refer you to my April column, which features a more detailed description of this work, along with a look at Egoyan's performances of long-duration works. On June 24, Icelandic composer and musician Ólafur Arnalds premieres his new work All Strings Attached, featuring a wired ensemble of string quartet and percussion, with Ólafur performing on an array of pianos and synthesizers. A highlight of this work will be Ólafur's use of intricate algorithm software, which he designed to control two self-playing pianos acting as one.
Wendalyn Bartley is a Toronto-based composer and electro-vocal sound artist. sounddreaming@gmail.com.