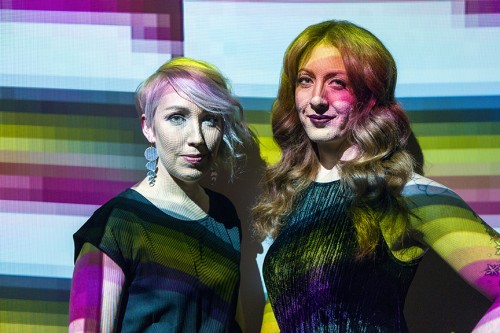 September has arrived and with it comes a new season of new music performances. The boundaries and edges of what I cover in this column are continually expanding, offering up a diverse array of perspectives and sounds. One of the contributing voices to this sonic smorgasbord is the Thin Edge New Music Collective (TENMC). It was founded in 2011 by co-artistic directors pianist Cheryl Duvall and violinist Ilana Waniuk, and includes an additional 15 performers listed on their website as part of the larger collective. Their new season begins early this year with a mini three-day festival running from September 20 to 22, comprised of three performances at the Music Gallery, 918 Bathurst, and a live-streamed workshop held at the Canadian Music Centre. The title of this festival is ONGAKU – a Japanese word meaning "music,"and true to its name, the performances will present a spectrum of compositions by both Japanese and Canadian composers. I spoke with Cheryl Duvall about what audiences can expect to hear during this three-day feast.
Duvall and Waniuk originally met while students at Wilfred Laurier University and became very involved with performing contemporary music and working with the various student composers studying there. That's where they met composer Daryl Jamieson who moved to Japan a decade ago, and in the intervening years, the three artists have been organizing various cultural exchanges between the two countries. In September 2018, Duvall and Waniuk travelled to Japan to perform a series of solos and duos with electronics from the repertoire they had built up since the beginning of TENMC. They presented pieces by Kaija Saariaho, Linda Catlin Smith, Kotoka Suzuki, and Brian Harman, as well as music by young Tokyo composers Yuka Shibuya and Takahiro Kuroda. This year's ONGAKU festival in Toronto is a continuation of that cultural exchange.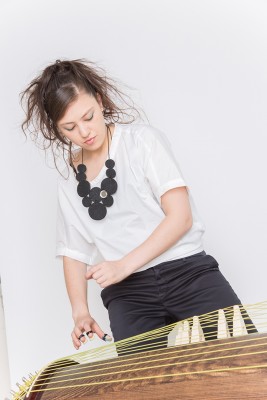 The first concert on September 20 will be an evening of chamber works featuring guest Japanese artists Miyama McQueen-Tokita who plays bass koto, Ko Ishikawa who performs on the shō, and Akiko Nakayama, a visual artist who performs alive painting using different types of liquids to create images inspired by the music and projected during the performance. The evening will include world premieres by Japanese composers Hiroki Tsurumoto, Takeo Hoshiya and Yuka Shibuya as well as works by Tōru Takemitsu, Miya Masaoka, and the Canadian premiere of Malika Kishino's Qualia for bass koto and ten-channel electronics.
On the afternoon of September 21, the free workshop, at the CMC's Chalmers House, will be an opportunity to meet with some of performers and composers. Ishikawa and McQueen-Tokita will demonstrate their respective instruments – the shō and bass koto, and talk about the challenges in composing for them, followed by a panel discussion amongst the various Japanese and Canadian composers whose works are part of the festival. The evening concert, back at 918 Bathurst, will feature members of TENMC performing works by Jo Kondo and Yoshiaki Inishi; improvisations by McQueen-Tokita; and an improvisation set featuring Ishikawa on shō, Ami Yamasaki's experimental vocals and Nakayama's alive painting.
The festival will conclude on September 22 at 918 Bathurst, with Canadian premieres of works by Yuka Shibuya and Toshia Watanabe, along with world premieres of two large-scale multimedia works by Daryl Jamieson and Juliet Palmer. Jamieson's work is titled Utamakura 5: Mount Kamakura. The word utamakura refers to the practice of using place names in Japanese poetry to honour and recognize specific locations with spiritual significance. Over time, many Japanese composers, poets and playwrights have reused these place names in their works. Jamieson's piece focuses on Mount Kamakura, just south of Tokyo, a location that has been associated with the sounds of lumber being harvested, grass being cut, and birdsong. This new work is a reflection on both the ancient and contemporary associations with Kamakura and will include references to a Shintō shrine located in the area. The work is scored for piano, cello, violin, flute, clarinet, percussion, bass koto, electronics and video, and will include soundscape recordings from the area. The other large-scale work on this program is Ukiyo, floating world, created by Urbanvessel's artistic director and Toronto-based composer Juliet Palmer. The work arose from a recent research trip to the beaches of Ojika-jima in Japan where large amounts of ocean garbage wash up. Palmer, along with Urbanvessel members interdisciplinary artist and designer Sonja Rainey and percussionist Germaine Liu, created improvisations with elements of this floating debris for the new work, which is essentially a dialogue between the live musicians and video footage of these floating-world improvisations. Performers include Aki Takahaski on shamisen and voice, McQueen-Tokita (bass koto), percussion (Liu), violin (Waniuk) and piano (Duvall).
I asked Duvall about TENMC's interest in exploring contemporary Japanese music. She said that what draws her is the "beautiful balance in the music, in particular how the instruments are balanced against each other. Rhythms are complicated but don't sound that way, rather there is a sense of floating and of pureness. Often there is a counterpoint, a passing of one voice to another creating a beautiful line in the music." She mentioned also that the legendary Japanese composer Jo Kondo was a huge inspiration to many of the Japanese composers she has met, and his legacy lives on in their music. As in Toronto, there is a supportive community for contemporary music culture in Japan, but in comparing the two countries, she stated that audiences there are not that accustomed to hearing music by Canadian composers; in fact, there is more of a European influence in Japanese contemporary music since many young composers go to countries such as Germany and the UK to study. This opportunity for exchange between the artists of Canada and Japan will no doubt foster more opportunities for creative interaction with audiences as well.
Back in 2016, TENMC produced a remarkable event titled "Balancing on the Edge" that combined contemporary music with contemporary circus arts. The well-attended run of this production at Harbourfront spoke to the ways modern humanity is precariously balanced on the edge of survival and evolution. This challenging production that included a total of 40 artists will now see a new incarnation, with TENMC undertaking the development of four new works, all to be created collaboratively between the circus performers, musicians, composers and choreographers, and due for final production in June 2021. The first work for this future production, Study in Exile: Home is not a place on the map, featuring First Nations dancer Amy Hull, has already been workshopped and performed in 2018. Another recent performance from this past July that demonstrates TENMC's love of interactivity and movement included Triptych, a new work by composer Peter Hatch, which saw the musical performers walking, talking, and creating exaggerated movements.
In their upcoming seasons over the next three years, TENMC's vision is to create space for more diverse voices, working with composers from under-represented groups. In February of 2020, the Japanese theme continues, with a concert of solos and duos by Dai Fujikura in a concert co-presented by Arraymusic and the University of Toronto Faculty of Music. Their concert in March 2020 will present five world premieres by emerging Canadian composers, while in June 2020, a newly commissioned long-form piano quartet by Linda Catlin Smith will be performed. In September 2016, TENMC performed Morton Feldman's final work, Piano, Violin, Viola, Cello, which has a duration of 75 minutes, and this experience of playing longer duration works is the inspiration behind the Smith commission. During Duvall and Waniuk's time at Wilfred Laurier, Smith was an important mentor to them, and has given them guidance over the ensuing years. Now they are able to work with her, and appropriately, Smith has important ties to Feldman's music. Two other works on that program include a premiere by Canadian composer Alex Sang and Iranian Nasim Khorassani. Stay tuned as the Thin Edge collective continues to grow and evolve.
Contemporary Orchestral Music
On September 19 and 21, the TSO brings together two dynamic musicians who both perform and conduct. Soprano Barbara Hannigan returns to conduct classical works by Beethoven, Haydn and a Dutilleux nocturne featuring John Storgårds on violin. Storgårds in turn conducts a work by Sibelius and British composer Brett Dean's And once I played Ophelia, with Hannigan as soloist. Dean was the featured composer during the TSO's New Creations Festival in 2016, while Hannigan appeared as a soloist in both the 2015 and 2016 iterations of the same festival.
On October 6, Esprit Orchestra launches its new season with a concert titled "I Hit My Head and Everything Changed," which is also the title of a newly commissioned work by Brian Harman that includes video art projections by Moira Ness. This concert will also be the venue for the presentation of the 2019 Canada Council Molson Prize in the Arts to composer Alexina Louie, whose 1989 composition, Love Songs for a Small Planet, for chamber choir, harp, percussion and string orchestra, will be performed. Works by English composer Thomas Adès and Danish composer Hans Abrahamsen will complete the program.
Wendalyn Bartley is a Toronto-based composer and electro-vocal sound artist. sounddreaming@gmail.com