The dictionary defines a conflagration as an extensive fire that destroys a great deal of land or property. (The recent Notre Dame fire in Paris on April 15 can be considered such an event.) It is also the very word that the beloved Toronto-born poet and novelist Gwendolyn MacEwen (1941-1987) used, metaphorically, to describe Nikola Tesla, the Serbian-American inventor and electrical engineer who brought us alternating current (AC) – the electricity system we use every day. In the last paragraph of the opening section of Tesla, MacEwen's verse-play for radio, she states: "He set the entire earth in electrical vibration with a generator that spouted lightning that rivalled the fiery artillery of the heavens….Tesla was a conflagration."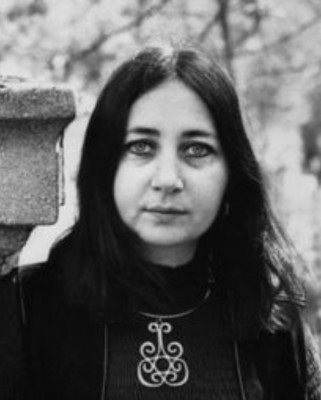 Tesla was one of two MacEwen verse-plays that were commissioned by and broadcast on CBC's Anthology program in the early to mid-1960s. The Tesla piece explores Tesla's achievements and his AC current that was used in the hydroelectric plant at Niagara Falls, the first of its kind. It also covers the highly controversial "War of Currents" he was engaged in with Edison and his direct-current (DC) system to determine which system would power the world. Tesla won. The second was Terror and Erebus, the names of the two ships used in the Franklin expedition to discover the Northwest Passage. Franklin's Arctic expedition, had a less auspicious outcome: the two ships became icebound for three years, and despite several attempts to find them, the entire crew eventually died. Only the Inuit knew where they were.
TIO at Array: May 26 at the Array Space, the Toronto Improvisers Orchestra (TIO) will present a performance of both of these radio verse-plays, featuring actors Rod Campbell and Randi Helmers with an original score by composer Eugene Martynec for the Tesla piece, in an event that promises to be something of a conflagration of mixed art forms. Using the wireless technology that Tesla himself foresaw, I had a Skype conversation with TIO members Martynec and Campbell to hear more about the TIO in general and about this upcoming performance which is part of a series of events that the TIO has initiated to celebrate great artists and improvisers from Toronto.
The orchestra itself is the inspiration of Martynec who started it up about seven years ago after returning from a three-year stay in London UK where he played several times with the well-seasoned London Improvisers Orchestra. One of the hallmarks of that ensemble is the use of conduction cues, a series of hand signals used by a conductor to guide the musicians through an improvisational performance. These were originally designed by American cornet player and composer Butch Morris and have become a standard system used by many improvising ensembles in Europe and North America.
Currently, the TIO performs twice a month – at the Tranzac Club and the Array Space – and is a very musician-centric ensemble. These gatherings consist of a one-hour rehearsal beforehand to warm up and go over the cues, and then the actual improvisational performance begins. "The hand signals are there to help us out, not to tell people what to do" Martynec explains. The basic guidelines are that players are asked not to play in their usual genre (jazz, classical, blues, etc), melodies are to be atonal only and extended techniques on one's instrument are highly encouraged.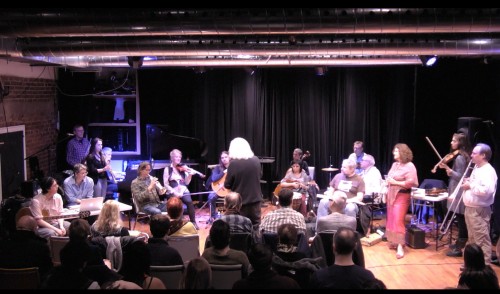 Listening is key to making the music work, and for improvisers this includes not playing too much or louder than everyone else, enhancing what is happening, and knowing when to stop. Sometimes doing nothing at all can be the most appropriate contribution to the whole. There is a core of about six to eight players; for special events, such as this one in May, the orchestra grows to about 18 players. Instrumentation varies according to who participates, but usually consists of trumpet, piano, classical guitar, zheng (Chinese zither), flute, banjo, soprano sax, electric guitar and Martynec's unique and custom-made laptop instrument that emulates an old Atari computer. He has designed several digitally based instruments that can be accessed through different types of controllers and mouse gestures.
For the Tesla piece, as I mentioned above, Martynec has created a score, which may seem contradictory for an improvisational ensemble. Martynec, though, describes the score as "a series of cues that are constrained improvisations." Campbell will be conducting it and although the musicians will have seen the score before arriving, they will not have read the radio scripts and so it will truly be an improvisatory interaction. One aspect Martynec wants to include is the electronic sounds created when one unplugs a guitar from an amplifier, for example. These sounds are at 60 Hz, the frequency of alternating current (AC) and he is also requesting players tune to 60 HZ if possible, which is between B flat and B. The plan is to create a drone-like effect at one point during the Tesla performance. There will be no score for Terror and Erebus, and players will be asked to be ready to play sounds that reflect the ideas of ice and the North. Of course for Tesla, other encouraged sounds will be electronic and crackling in nature. Interestingly, in the original CBC production of Tesla, MacEwen had an instruction in the script that stated: "Wherever sound effects are indicated in the play, I have assumed these would be electronic. Oskar Sala's Five Improvisations on Magnetic Tape would be an ideal record, although not necessarily the sole possibility." Apparently, that's not what was used in the end, and Campbell said when he listened to the archival recording, there were a lot of oscillator-like sounds used.
To conclude our conversation, I asked both Campbell and Martynec why they are drawn to improvisation. Campbell said he enjoys both listening to and playing improvised music and feels it is a natural thing for musicians to want to engage in. He is particularly curious about where it can go and especially those occasions when everyone stops at the same moment. "How did that happen?" they both exclaimed in chorus. Martynec enjoys the conversation that occurs along with the surprises, and due to the nature of his digital instrument, it's the only situation he can play in, he said. They also both spoke about how sometimes things can go wrong, but that's okay because it's improvised music. For example, Campbell said, "The conductor can give a cue to a player, and then it goes somewhere different. It's not wrong but different enough that everyone will then switch to accompany that person. It takes its own direction and eventually things work out."
No doubt there will be plenty of surprises, and alternating currents, taking place during the performance of these two legendary radio verse-plays by MacEwen, whom author Michael Ondaatje referred to as "the last great bardic poet" since all her readings were done by memory.
IN WITH THE NEW QUICK PICKS
MAY 2, 8PM: Spectrum Music presents Coding Chaos with compositions inspired by the Creator archetype, with a pre-concert chat with software artist Ryan Kelln at 7:30. New compositions exploring artificial intelligence and a deeper look into the digital world by Spectrum composers Mason Victoria, Chelsea McBride, Jackson Welchner, Suzy Wilde with guest composers Nebyu Yohannes and Harrison Argatoff.
MAY 3, 8PM: The Music Gallery. In this final Emergents concert of the season, the experimental music theatre group Din of Shadows will present their newest project Material Mythology with a team of performers, composers, dancers and visual artists. The piece speculates about the hidden meanings and mythologies behind everyday actions, objects and spaces.
MAY 9, 12PM: Canadian Opera Company presents "Between Sound and Silence," in their chamber music series, featuring Movement by German composer Helmut Lachenmann. Performed by the Glenn Gould School New Music Ensemble directed by Brian Current. Free.
MAY 10, 7:30PM: Upper Canada Choristers mark their 25th anniversary with the world premiere of Teasdale Love Songs by Canadian composer Stephen Chatman, a song cycle in six movements set to the poetry of Sara Teasdale. The evening includes Five Hebrew Love Songs by American composer Eric Whitacre and performances by the Cantemos Latin Ensemble performing the music of Venezuelan composer César Alejandro Carrillo.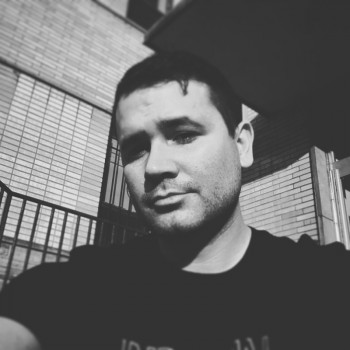 MAY 10, 8PM: Continuum Contemporary Music presents "RADIOfänik" filled with music from various new genres including Sub-Club Drone, Indie Crossover and Gen-X Jams. Canadian works on the program include a new commission by Maxime Corbeil-Perron, two by Nicole Lizée including the world premiere of her Marsh Chapel Experiment and Doubt Is a Distance by James O'Callaghan. Pieces by Israeli composer Yair Klartag, Danish composer Simon Steen-Andersen and Polish composer Jagoda Szmytka complete the program. The Continuum Ensemble will be joined by Rob MacDonald on electric guitar.
MAY 26, 8PM: New Music Concerts presents "Iridescence," their last concert of the season, featuring works by three Canadian composers: Matthias McIntire's Cathedral Grove (and the Gray Jay) for solo violin with electronics; Samuel Andreyev's Iridescent Notation for soprano and ensemble; and Ana Sokolović's Evta for solo violin and ensemble. Violin soloists Matthias McIntire and Andréa Tyniec will join the New Music Concerts Ensemble directed by Robert Aitken.
Wendalyn Bartley is a Toronto-based composer and electro-vocal sound artist. sounddreaming@gmail.com.