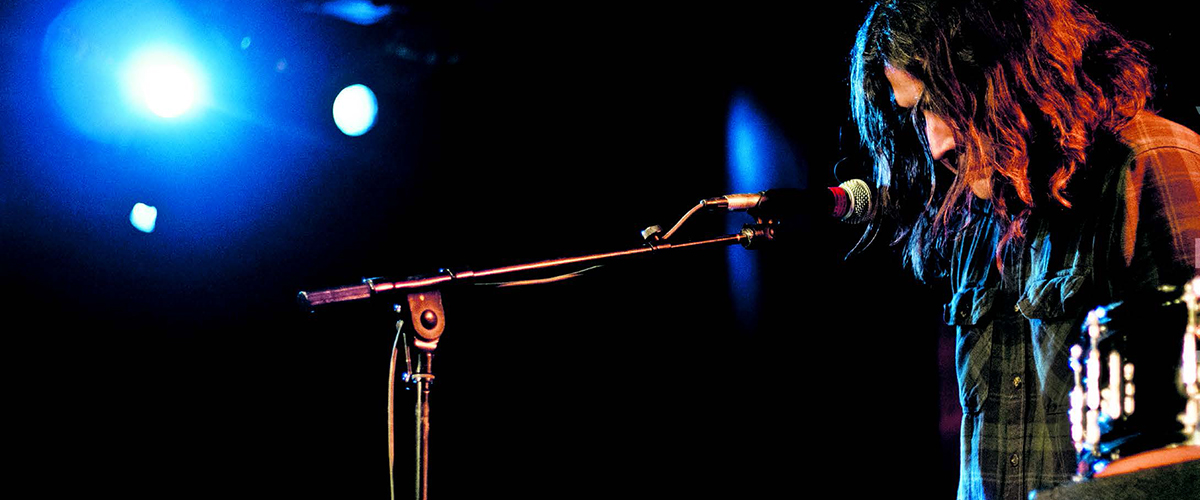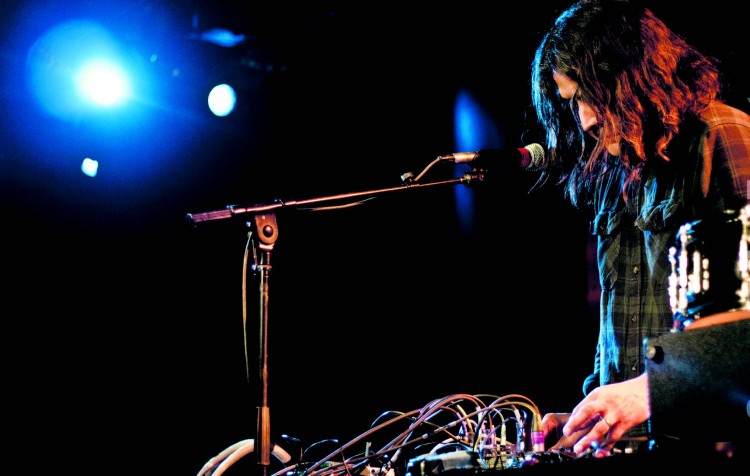 Back in November 2018, I wrote about a conversation I had with David Schotzko, Arraymusic's new artistic director. One of the things he told me about at the time was his plan to continue Arraymusic's community-based focus through co-productions as well as the presenting of mini-festivals that highlight the music of specific composers. On the weekend of April 12 to 14, one such co-produced mini-festival will come to fruition, bringing together Arraymusic, the Music Gallery and Native Women in the Arts to present the music of Raven Chacon.
I had a chance to speak with Chacon about the music we'll be hearing during the festival as well as acquaint myself with some of his other artistic projects and his thinking about music and composition. What I discovered was an intriguing body of work that was coming from a unique perspective: one that not so much pushed against established new music norms, but rather one that originated from a different place, a different mind.
Before we began our conversation, Chacon handed me a large-sized postcard with an image from Canyon de Chelly on the front, with recording grooves, playable on a turntable, imprinted upon the cardboard paper. It was a field recording he had made in 1999 from the Canyon de Chelly, located in the state of Arizona, east of the Grand Canyon – a visually stunning place close to the Navajo Nation home where he grew up. Later in our conversation he spoke about this recording: "It was made in a quiet place at a quiet time of day. In the studio, I turned the volume up to the max. It's not about the pristine anthropological capturing or listening to this place. It's about letting this place scream. Speak and scream," he said.
Even though we were sitting in a Toronto café for our conversation, I felt the presence of this other space as we spoke about his chamber music compositions, noise-based pieces, score notations, installations, films and his various collaborations.
The mini-festival begins on April 12 with a concert of Chacon's chamber music performed by the Array Ensemble. One piece on the program will be his solo cello work Quiver, commissioned by Michelle Kesler in 2018 and one of a three-part series of pieces connected to hunting. This hunting series began with his piece Taa'go Deza [Three Points], three songs for singing cellist commissioned by Dawn Avery in 2007. During that piece, the performer sounds like an animal being chased while having to sing and play simultaneously. Invisible Arc for solo cello, written in 2017, is inspired by a traditional Navajo hunting song and reflects the process of waiting for the animal as a prayer for the life of the animal about to be killed.) Quiver, Chacon explains, is about conflicting actions, much like what happens when one tries to rub one's stomach in a circular motion while patting the head. During the hunt, the conflict comes in the trading of one life for another, the need to hunt and kill an animal so one can survive. One instance of this occurs musically when the cellist is asked to perform circular bowing in one direction while drumming with their fingers on the bow.
Other works on Friday night's concert include Lats' aadah, for solo violin (2004), a word which means the number 11 in Navajo; Naakishchiin Ana'i, for flute and marimba (2004) which includes a lot of silence during the piece; and a newly commissioned work titled (Bury Me) Where The Lightning [Will] Never Find Me for violin, cello, clarinet and percussion. In this piece, he is experimenting with zigzag forms within melodies, rhythmic patterns, timbral shapes and tempo accelerations; it is a continuation of a previous work, Atsiniltlishiye, from 2003.
The Saturday concert will feature four works that are part of Chacon's ongoing project For Zitkála-Šá. Each piece in this series is written for a specific performer, and during the festival, we will hear the pieces he created for Cheryl L'Hirondelle, a Toronto-based singer of Cree descent; Suzanne Kite, a Lakota composer and performer currently based in Montreal; Laura Ortman, a White Mountain Apache violinist and improvisor from New York City, and Carmina Escobar, a Mestiza experimental vocalist and composer living in Los Angeles. Chacon originally wanted to write a large symphonic-like work about Zitkála-Šá whom he discovered while researching to find out who might have been the first recognized native composer. Zitkála-Šá was a Dakota woman who was an activist and writer of fiction and non-fiction, including political op-eds and essays, Chacon told me. She was also a composer and violinist, co-composing The Sun Dance Opera in 1913 with William F. Hanson. It is hard to know precisely what her contributions were to the creative process, Chacon says, but he speculates that she played or sang melodies that Hanson transcribed. "The more I researched her life, the more I realized she was a polarizing and controversial figure, even today, with how she had to navigate herself as a Native woman in the early 20th century. I abandoned the idea of writing about her and instead decided to write a series of solo pieces using graphic scores for 13 contemporary Indigenous women composers." Besides the four pieces we will hear on the April 13 concert, pieces for two other local composer/performers – Barbara Croall and Ange Loft – are part of the ongoing project, as well as plans for a lecture series and a book. During the second half of Saturday's concert, Chacon will perform with the trio c_RL (Allison Cameron, Nicole Rampersaud and Germaine Liu), whom I also wrote about back in November.
Sunday's concert will begin with an opening set by Anishinaabe-Irish (Nipissing First Nation) saxophonist Olivia Shortt, followed by Chacon performing an electronic noise set. The main instrument he will use is a pair of hyper-directional speakers that will beam sound on audience members. The sounds being played back are field recordings he made at Standing Rock during the Dakota Access [oil] Pipeline protests.
Chacon's ideas about music and composition are intriguing and inspiring. "I'm always trying to think of what I'm defining as music. For me it shifts. Sometimes there is a clear difference between music and sound art. Music is something that doesn't ever need to be explained or spoken about, it's already doing that. It doesn't need to be justified. The more I think about music, the less I'm confident that it requires sound." That seems contradictory, so I asked him to elaborate, and he spoke about time, positions in time and about how the events that arise in time are more important than the actual sound. He painted a picture of how a performance could be likened to the situation of he and I sitting in the café, engaging in actions along a timeline.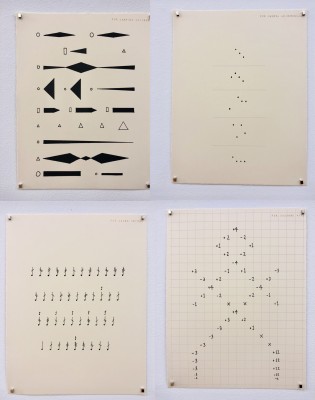 "We are syncing up," he said, "because we are consciously connecting, or placing ourselves in the context of this space together. I think what's interesting is how the events that you do and the events that I do might align or not align. Within such a situation, artifacts will arise – artifacts such as sound or moving image, a meditation or prayer or some other experience we don't know how to define. When I say artifacts I mean the leftovers of the real-time experience which might not be the main guts of the thing." Most of the chamber works we will hear in the first concert on Friday night are pieces coming from this point of view, works "that are primarily written for the people who are playing them and nobody else. The audience just happens to be there," he said. With the solo works, there is a feedback loop built into the piece. "In Quiver, for example, this happens a lot, with the performer interacting silently with the audience. Dynamics are written on the rests to show how the performer might interact, to indicate the intensity of the way they manage that feedback loop."
In the course of our conversation, we also spoke about a work composed for the Kronos Quartet as part of their Fifty for the Future project (something Toronto audiences were introduced to in 2016 when Kronos performed during the 21C Festival). In Chacon's Kronos piece, The Journey of the Horizontal People (2016), he worked with the idea of a future creation story, "an alternate universe creation story" with people dispersing from a place to find other people like them in order to survive. "This could be related to the need to create diversity in philosophy, world view, or genetics," he explained. "The music is written in such a way that the players will get lost, even the virtuosic players of Kronos. For example, at one point, the first violinist is asked to speed up, the cellist to slow down, the second violinist to stay at the original tempo, and the viola to speed up immensely." Another aspect of the piece, he says, is that it stipulates that a woman must be in the quartet, as she is the one called upon to realign the other performers when they get lost. "And if no woman is in the quartet?" I asked. "Two options are possible: the eldest person in the quartet takes on that role, but more preferable would be for the man who most identifies as a woman. If more than one woman is in the quartet, the oldest one is chosen." In this way, the matriarchal worldview found in many native traditions becomes an integral aspect of the piece, but as Chacon adds, "This should reflect everyone's worldview."
Another significant aspect of Chacon's creative work has been his involvement in Postcommodity, a collective of Native American artists that began in 2007 and with whom he worked from 2009 to 2018. Much of Postcommodity's work is installation-based with sound being one of the main mediums used. One of Chacon's favourite pieces with the collective, he says, is the four-act opera The Ears Between Worlds Are Always Speaking, from 2017, a site-specific work using LRADs (Long Range Acoustic Devices) to project hyper-directional sound upon the ruins of Aristotle's Lyceum in Greece. Each day, the installation performed music from Greece and the Southwestern United States, with a libretto both spoken and sung that told stories of long-walk migrations. Another collaboration is a performance art film created with Postcommodity member Cristóbal Martínez that tells the story of two characters searching for the mythological cities of gold which the conquistadors believed were in New Mexico. The piece has been showing this past winter at the Agnes Etherington Art Centre in Kingston as part of an exhibition titled Soundings that explores the question of how a score can be a call, and tool, for decolonization.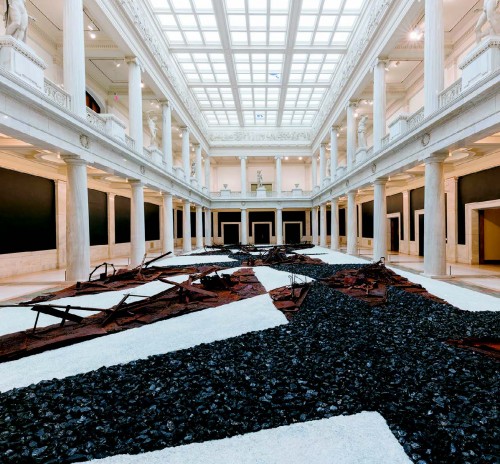 Currently, Chacon is feeling the pull back to composing chamber music, finishing pieces already started or developing ideas he has been working on for a while. One major project due to be performed this November is Sweet Land, an opera with American composer Du Yun. They will be working with Yuval Sharon, the artistic director of The Industry, a company dedicated to new and experimental opera located in Los Angeles. The opera is an alternate history of the United States focusing on encounters such as ships arriving on a shore, railroads cutting through the country, and feasts or welcomings that turned out one way or the other. The opera will be telling of these encounters and contacts between Indigenous people and others coming to visit.
Overall, the weekend of April 12 to 14 provides an excellent opportunity to hear a body of work that combines many refreshing ideas and creative strategies from someone relatively new to local audiences. I for one look forward to having a unique experience of engagement with the musical imaginings of Raven Chacon.
Raven Chacon: Mini-Festival takes place at 918 Bathurst Street, Friday to Sunday April 12 to 14.
Wendalyn Bartley is a Toronto-based composer and electro-vocal sound artist. sounddreaming@gmail.com.
In with the new Quick Picks
APR 5, 7PM: Esprit Orchestra presents "New Wave Reprise" with world premieres by five emerging composers. The evening includes a keynote address by Montreal composer John Rea.
APR 6, 8PM: Spectrum Music presents "Jests in Time!" with compositions inspired by the Jester archetype and a pre-concert monologue by an emerging Toronto comedian. New pieces by Spectrum composers Chelsea McBride, Mason Victoria, Jackson Welchner, Graham Campbell, Tiffany Hanus and Noah Franche-Nolan will be presented by performers Simone Baron, accordion, the Odin String Quartet and Alex Pollard, dancer.
APR 28, 3PM: The Music Gallery presents "Sounding Difference," another in their Deep Listening experiences with Anne Bourne performing the text scores of Pauline Oliveros. Free.
APR 28, 8PM: New Music Concerts. Their "Luminaries" concert remembers the music of two friends of NMC over the years: Gilles Tremblay and Pierre Boulez. The evening includes the performance of Tremblay's work Envoi for solo piano and ensemble, and Boulez's iconic masterpiece Le Marteau sans maître poems by René Char for voice and six instruments.
MAY 3, 8PM: The Music Gallery. In this final Emergents concert of the season, the experimental music theatre group Din of Shadows will present their newest project Material Mythology with a team of performers, composers, dancers and visual artists. The piece speculates about the hidden meanings and mythologies behind everyday actions, objects and spaces.