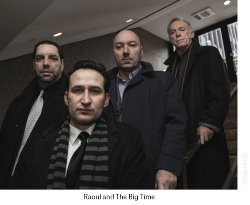 Pat Taylor, co-founder, with the late Jim Galloway, of Toronto Downtown Jazz, producers of the the TD Toronto Jazz Festival has stepped down this year, after 30 years on the job. Stepping in as CEO is Howard Kerbel, who has for nine years been a member of the eight-person TIFF (Toronto International Film Festival) leadership team, with a special focus on branding and marketing strategy. Taylor remains as a member of the programming team and an advisor to Kerbel.
"This transition will allow me more time to focus on strategic initiatives and allow Howard to develop one of the country's favourite brands," states Taylor in the official release announcing Kerbel's appointment. "After 30 years at the helm, I have confidence that Howard has the passion to build upon this foundation and take it to the next level."
What that "next level" will be is anyone's guess. (After all, when TD Toronto Jazz started out 30 years ago, who would have thought it would end up with such places as the Second Cup at King and John, or the posh department store Holt Renfrew for that matter being listed as "official festival venues"? And how does a pop star headliner Sarah McLachlan at the Sony Centre or film star Kiefer Sutherland playing country at the Horseshoe fit into a jazz festival lineup? Taylor is refreshingly blunt. "Balancing the books," he says. "Thirty years ago we were the only game in town. Now there are 21 jazz festivals in the GTA. Every concert hall has a jazz series. That's what we wanted to see happen. In our mind, jazz is doing well in town. I'm not making a living as a musician but I'm sure it's better than 30 years ago…"
As a musician trying to make a living now, particularly since the Internet took over the world, I'm not so sure about the "better" bit. As in many industries, the value of music has so drastically changed that as of the time of this writing, each play on Spotify equates to small fractions of a penny, and even the penny has been discontinued as physical currency due to its worthlessness.
Speaking of balance, the free outdoor shows of any music festival are crucial to the creation of new musical connections, for audiences and musicians alike. As unexpected as venues like Holt Renfrew and Second Cup are, it sure would be nice to see live music in these places all of the time, if only for the element of surprise that is so essential to jazz music. It's fun to watch passerby reaction, especially when it's with a smile and a head bop.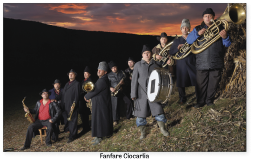 And if you'd like to get to know a budding musician, on Saturday June 25 between 2 and 4pm the Regent Park School of Music will help animate Nathan Phillips Square with musical demonstrations and interactive opportunities. Following the performances, the audience is invited to try out the instruments, or as it has become known, an "instrument petting zoo." Perhaps best of all, Dave Clark and his Woodshed Orchestra will lead you on "a raucous, romping march" through Nathan Phillips Square. Not to be missed!
Nathan Phillips Square is once again the hub of TD Toronto Jazz, balancing paid and free performances throughout the festival. The lunchtime concerts at 12:30pm will introduce ears to a diverse offering, including the Toronto Mass Choir, Brian Barlow Big Band's salute to Ellington at Newport with special guests Guido Basso, Dione Taylor and the Backsliderz and Jim Galloway's Wee Big Band, directed by Martin Loomer. And an additional outdoor stage at Nathan Phillips Square will include jazz and blues performances during the afternoon and early evening, from the sizzling soul of Tanika Charles (Sunday June 26 at 2:30pm) to the disco-flavoured spun vocal sugar that is The Spandettes (Monday June 27 at 6:30pm) to charismatic blues brother Raoul and The Big Time (Saturday July 2 at 6:30pm), and…to a visiting artist worth highlighting: Welsh singer, songwriter, multi-instrumentalist Gwyneth Herbert (Thursday June 30 at 6:30pm) who will be making her Toronto debut.
I met Herbert unexpectedly, sharing a cab in Bremen, Germany, en route to the Canadian Blast concert at jazzahead, just weeks before writing this article and was blown away, both by her story and how she told it. (You'll get some sense of this unique individual in the sidebar to this piece!)
In this crazy age of streaming music for fractions of pennies, my hope is that when Gwyneth Herbert performs her free June 30 concert (right before a Molly Johnson-Jane Bunnett double bill!), that all will sell out of CDs and merchandise. To support this music, all you have to do is show up! Look for ticket contests on the festival's social media outlets.
Sometimes these ticketed shows can be priceless. Jazz piano fans should not miss Oliver Jones (June 28 at Jane Mallett Theatre), now 81 years old and still swinging his behind off. Beyond this, one concert that I would guarantee a good time or your money back will take place at the Opera House on Wednesday, June 29. Romanian super band Fanfare Ciocarlia opens for local band of heroes Lemon Bucket Orkestra. Do YouTube searches of both brilliant bands! Instant fanhood is guaranteed.
Finally, an exciting development at the Toronto Jazz Festival this year is the returning commitment to a nightly late night jam session at the Rex Hotel Jazz & Blues Bar, hosted by local saxophone great Chris Gale nightly at 1am. Seen frequently around town as a sideman who sensitively adds just the thing to any musical situation, Gale has been hosting the weekly Tuesday night jam beautifully and inclusively. Please come out and support the jam session!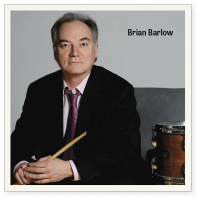 Botos and Barlow at PEC Jazz fest: Speaking of jazz jams that are worth the drive to Picton, reading up on various festivals that will take place in July and August, I stumbled upon the programming of the 16th Annual Prince Edward County Jazz Festival, which features a jazz jam hosted by the Robi Botos Trio, no less. I contacted PEC creative director, drummer/bandleader Brian Barlow to discuss PEC Jazz, starting with the success of these jam sessions.
"The After Hours Jam Sessions have been very popular" he told me. "One of the things that make our festival unique is that we encourage musicians to spend time in the county by providing them with multiple gigs over a number of days. It's not unusual for a musician to have six or seven gigs in the five or six days they spend with us. This not only works out well for them financially, it also give them the opportunity to relax and get to know the county. Since they're staying overnight, and there's not a great deal to do in Picton after 10pm, they tend to come out to the jam sessions. Robi has done these often but not every year. Many of the mainstage Regent Theatre artists have come to the jam sessions, including Ellis Marsalis, Vincent Herring, Louis Hayes, Guido Basso, Ranee Lee and Chet Doxas."
Prince Edward County is a magnet for people in the arts and they are all very supportive of each other, so the local audience tends to be quite hip and informed where jazz is concerned, Barlow tells me. "There are many fine jazz musicians living in the county and surrounding area. Guido Basso has lived here for over 35 years, and Belleville is home to the Commodores' Orchestra, a big band that holds the record for being the longest continuously performing big band in the world, having been formed in 1928." And the festival builds its audience from very early spring (as early as February in some years) with our Jazz Dinners and then in April "our TD Jazz Education Program that finishes up with a concert at the Regent Theatre. So the festival itself has an almost six-month presence in the county."
A unique feature of this festival is that Prince Edward County is an island, forming a natural boundary to work within. "We usually have about 40 events at venues from the soft-seat Regent Theatre, to wineries, restaurants, pubs, community centres, churches (and church steps), a farmers' market and a cemetery. We also have a Jazz Van that drives around the county putting on concerts.
The band is all acoustic with nothing to set up so they simply arrive, jump out and play a 45 minute set. Then they jump back in the van and drive to the next location. It's very popular and some people spend the day following them from place to place. This festival is all about Prince Edward County and all it has to offer, from art galleries, to beaches, to wineries.
It's also all about cultivating the future of the music. "Our programs for young musicians have been a main focus for us for many years now and will probably be the most important legacy of the festival" Barlow says. It begins with their TD Jazz Education Program in the spring, with four high school jazz ensembles chosen out of the many who ask to come each year. "This year we hosted 90 students. We tend to look for schools from the smaller communities where funding for music programs is not as readily available, but we do have schools from the GTA from time to time. We also like to have schools come two years in a row when possible. We find that the second year the students know what to expect and get in the groove a lot quicker." And then there's the "Rising Young Star" that is a feature of every August's festival. "We receive applications from all across Canada and the chosen candidate receives a cash award plus the opportunity to perform each evening at the Regent Theatre with our mainstage artists. The RYS is also featured at our evening Jam Sessions and performs a concert of their own on the Friday of the festival week." Many of these musicians have gone on to be professional players and several have come back to the festival as main-stage artists (Marika Galea, Ian Wright and Eli Bennett).
And then there's their Young Jazz Series, providing paid concert performances for students in the post-secondary school system (UofT, Humber, York). Among several other excellent young artists, vocalist/pianist Hannah Barstow will appear, as well as versatile singer Kalya Ramu who can be heard around Toronto regularly singing not only jazz standards but also blues and rock with Angora, and winning folk in the duo Mermaid and the Bear.
From jazz as big brand to keeping the real thing alive, here's hoping you, dear WholeNote reader, will come around the jazz clubs this patio season, get out and about, and spread the word. Without an audience, live music cannot live. And live music can't be Spotified!
Ori Dagan is a Toronto-based jazz musician, writer and educator who can be reached at oridagan.com.
Gwyneth Herbert's Toronto Honeymoon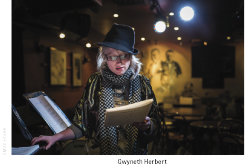 How did you end up on a label so quickly?
When I was supposedly studying English Literature at university, I actually spent the majority of my time singing jazz with fellow student Will Rutter, a guitarist and kindred spirit with whom I'd roam the cobblestones of the North of England – along with Edinburgh, Paris and Amsterdam in our holidays – busking and hustling for gigs in pavement cafes. When we graduated we moved down to London together, a couple of wet-eared country kids with no concerts, no money and no contacts, and picked an area of the city a day…armed with an A-Z map, Will's guitar and a fistful of demos recorded in a bedroom, we went into every pub, wine bar, cafe and restaurant and asked if they'd give us a gig.
You kind of got used to asking the tattooed, muscle-necked landlord if he'd mind turning down the racing while you played Fly Me to the Moon to the corner clientele who'd just tried to sell you a VCR on the way in, and invariably if the bar-owner didn't offer us a gig they'd give us a drink on the house. At the end of one of these long, street-peddling days, I'd sipped enough Dutch courage to go into the legendary Pizza Express Jazz Club in Soho. The visionary manager there at the time, Peter Wallis, was famed for championing new talent – he gave Norah Jones and Diana Krall their first breaks in the UK. Fired up by my day's refreshment, I asked to speak to the manager, and when asked if I had an appointment, I ordered a large brandy (which I'd never drunk before, but it seemed like it sounded sophisticated) and said, "Just tell him it's Gwyneth Herbert." When Peter arrived, I came clean and said that of course he had no reason to know who I was, but that I loved music more than anything and that I wasn't looking for a gig, but any advice would be so gratefully received, and with shaky fingers thrust our little demo into his hand.
He gently but firmly explained that he received over 300 such demos a week, but, admitting that no one had quite approached him like that before, said he'd try to give it a listen. Within two weeks, Will and I were signed to his indie label Dean Street records, had the amazing vocalist Ian Shaw as a mentor and producer, and were recording our debut album First Songs and touring with Jamie Cullum and Amy Winehouse soon after. Jamie Cullum sang a duet on that record, it started getting some airplay and - riding high on their recent success with Jamie – it wasn't long before Universal came sniffing and snaffled me up.
But you left the label to pursue life as an indie artist. Why? Having a major deal gave me lots of great things. The ability to work with exceptional musicians, a press profile, a new haircut…I'm so pleased that I had that opportunity as for so many artists it – even in the current climate – remains the holy grail. But it just didn't work for me. I got signed so young and I soon found that it was my own stories that I wanted to tell, that didn't fit in with the label's marketing strategies and formulas. Much of the discussions had nothing to do with creativity and everything to do with finance – naturally, because a big label's purpose is to make money. I'm also really grateful because it gave me something to kick against – I got signed so young before I had a clear idea of what I wanted to say and make, and it made me find answers through the questioning.
As an artist who frequently records your own compositions, what degree you fit within the term "jazz." I grew up listening to jazz and blues. I'd sit and learn all of Billie Holiday's phrasing and mimic Big Maybelle's tone and try to feel Anita O'Day's timing deep in my bones. As a tiny teen in an ever-so-English village in a totally different era, I'd hear and hold the heartbreak and the joy and feel it as if it was all my own. I still love those old songs – they speak of huge human experience in simple poetic language and they're true and vast. And I love diving back into them now, from time to time, to see what they help me discover.
But now I live the miraculous life of a discoverer, a story hunter – finding and animating hidden stories, finding new ways to give them breath. There are melodies and rhythms everywhere, and the flavour of my work's always informed by the music and language of the particular world it inhabits...There are seagull cries and pub chatter, there's the rattle of a ship mast and the hum of an escalator. There are shanties and funerals and newspaper headlines. I do work with amazing jazz musicians in my band, and one of the wondrous things about playing with people with that sensibility is the improvisatory language they bring – there's a push and a pull and then we navigate the journey together. It's fresh and it's a different kind of magic, every time.
And the British music scene in London and beyond? After 13 years in London, I've run away to the sea – I live on the beautiful south coast in Hastings. There's a real buzz about this little town, people making things everywhere, skiffle and poetry and metal in the pubs, parades through the streets. I love coming back to London – my favourite club is the 606 in Chelsea which feels like an extension of my living room, an underground secret dive bar vibe with the most amazing international musicians both on the stage and hanging at the bar and some delicious nachos. Performing for me is like coming home, but I spend most of my time these days working on wonky art/music/film/theatre commissions in collaboration with sculptors and directors and clowns and communities all over the country and beyond…Today I was exploring the process of contraception through the medium of dance for a music theatre piece I'm writing with playwright Diane Samuels called The Rhythm Method. I have so many hats that are interchangeable on a daily, sometimes hourly basis – it's exhausting and challenging but somehow each hat feeds the others and I'm constantly learning - as a performer, as a writer, and as a general human being stumbling through the world.
You've been to Montreal before but this is your Toronto debut, yes? This is indeed my Toronto debut, and I am so excited to be exploring so much more of Canada for the first time. I'm joined by the incredible percussionist and multi-instrumentalist Dave Price, and also my very newly wedded husband Ned Cartwright on piano – I have a feeling this is going to be a musical honeymoon to remember!