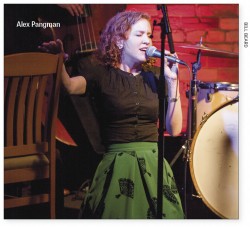 Researching the subject of this month's column, I found myself on the website of the late Herman Leonard, jazz photography master and pioneer, whose work provides a crystal clear window to the smoke-filled Greenwich Village of jazz's golden age. To name a few examples, Leonard's soulful stills of Ellington, Parker, Davis and Holiday provide definitive glimpses into each artist's personality, one magical moment at a time. Google him and you will discover a remarkable career in which this man immortalized everyone from Art Blakey to Zoot Sims. Herman Leonard's priceless prints are collector's items that sell for top dollar, which is cool considering that some were shot for free in exchange for the price of admission.
Which brings me to my interview with Bill Beard, local shutterbug with a real good eye and a heart to match. His knees are not so good – as we sit to speak at a local Timmy's he is readying himself for surgery, and disappointed to be missing out on live jazz until he heals up. For Beard photography is a serious hobby which provides both pleasure for himself, and a service to the community.
"I was senior project manager in IT for a large bank, but I'd always been photography-minded," he says. "I was taking city stuff, abstract, some nature. No musicians."
All this changed around the time of his retirement, when his brother, a big jazz fan, brought him out to see local jazz group Red Hot Ramble, a unique local quintet that performs music inspired by New Orleans. Beard brought his camera along and began taking photos of the band; before long he became a regular fan and their official photographer.
"I took their pictures and got to know them, kept shooting, then I branched out into all sorts of other things. One of the great things about doing this is that I've become friends with a lot of these musicians. I remember one night a few months back we were at the Old Mill to see Joe Sealy, and then I said I was going to The Rex, so a whole bunch of these singers and players all joined me. There I was hanging out with these amazing artists and staying out late at night…felt like I was living the life! I certainly never spent nights like this when I was in the corporate world."
Just how did Beard initially begin to hone his craft?
"The best thing that I ever did was join a photography club – the Toronto Guild of Photographic Art, as it was called then, back in 2004. Being surrounded by all these amazing photographers, I learned a lot from them, and before you know it they asked me to come along and shoot with them. Me! With them! I couldn't believe it. I guess it's kind of like when a musician is asked to sit in with a great band. I loved it and I learned a lot."
Nowadays he greatly enjoys volunteering with JAZZ.FM91.
"It's the greatest gig for someone who's retired. I get to go to all their shows, meet the artists and photograph them. I've learned about so many different types of jazz!"
On the challenges of photographing this music:
"The biggest one for a photographer is the low light in most clubs, so once you have the right equipment you can get past that. It's also very important to know the person you're photographing and the special things they do on stage, so you have to watch for a while, then you photograph them. Everyone has their own special way of singing or playing an instrument and you want to capture their uniqueness. The biggest thing is to watch. It's like when you go out to do street photography. You don't just get off the streetcar and start shooting. You always take the time to look around. It's the same with jazz musicians. Certain bass players will play the bass a certain way, same with horn players and so on. So you're always kind of waiting for them to do that thing that they do. You want to get that picture that captures their energy."
Red Hot Ramble was the first band that inspired Beard, so they hold a special place in his heart – and a lot of space on his hard drive.
"They're the most fun band I have ever photographed. They're always having fun on stage. And they're great people. I know them all now. They're joking around when they play, and the music is so high energy, it's contagious fun."
The band's drummer and one of its founding members, Glenn Anderson, sings Beard's praises:
"Upon retiring, Bill took every opportunity he could, in every venue possible, to photograph Red Hot Ramble. We are a five-piece band, and Bill soon became our unofficial "sixth Rambler," even travelling with the band to hone his photography skills. Over the past four years, it has been interesting and exciting to compare the parallels in the evolution and growth of both Red Hot Ramble as a band and our friend Bill Beard as a photographer."
Check out Red Hot Ramble's monthly gig at The Rex Hotel on a Sunday afternoon from 3:30 to 6:30 and it will be difficult for you not to smile all the way home. Oozing charm with every note, Roberta Hunt plays double duty on piano and vocals, while swingin' firecracker Alison Young on saxophones is an active volcano of fiery soul. Along with the solid-as-a-rock Anderson on drums, the band is made all the more red hot by trombonist Jamie Stager and co-founding bassist Jack Zorawski. I asked leading lady Hunt how the band got started:
"Red Hot Ramble was conceived by Jack Zorawski and Glenn Anderson. They imagined the sound of Alison Young and me joining forces long before Alison and I had even met! They wanted to build on their love of traditional New Orleans jazz and blues by adding a saucier, bolder and funkier angle. Turns out their idea was a keeper! New Orleans music is about groove and ensemble playing while leaving room for individuals to share the spotlight. RHR truly is the sum of all parts, kinda like a spicy gumbo of music!"
Pangman: Another artist that Beard loves to photograph is vocalist Alex Pangman, who, fresh off a national tour, plays a few groovy gigs this month, from Rimouski to Gravenhurst, and a few Toronto stops too, including the Reservoir on September 10.
"I started photographing Alex with JAZZ.FM and later branched out to also photograph her when she sings with her husband Colonel Tom. She's such a nice lady and so photogenic on stage. Always wears great outfits. And I love her music."
Pangman is a great admirer of Beard as well: "It has been really interesting to watch Bill's photographic style develop around his ardent appreciation of jazz music, musicians and imagery. More than that, he understands that live music is best. I fully believe he's in the audience as much to enjoy the music as for the images. He's there to make a visual record of live shows. We could send his images out in a spacecraft or time capsule so they could see what jazz looked like in Toronto in 2015."
Indeed, you'll always find Beard taking a moment to contribute to the tip jar in between framing his shots.
"The nice thing about it is that I don't usually work for money…I just find that I come in – I cruise in – I'm one with the artist and I just shoot what I feel in the moment. There's no preconceived idea about what I'm going to get, because then there's a pressure that comes along with that. I like it to happen naturally. I've had years of corporate pressure. Now that I'm retired it's nice to go in, watch them, shoot, and give the photos away to them. It's my way of giving back. They're giving me so much entertainment."
Ori Dagan is a Toronto-based jazz musician, writer and educator who can be reached at oridagan.com.